Day 22 Thursday, July 18, 2013
After a good night's sleep, we packed up and left our campsite in the Uncompahgre National Forest and headed further south through western Colorado.
Our site in the Sunshine campground. Julie notes "As you can see we didn't have to ask for our money back based on the name. Brad has been entertaining me each morning by doing things like hitting his head on cupboard doors, spilling all the fresh washed berries on the floor, pouring coffee all over the counter… Still trying to impress me I guess. And I am learning some new Spanish words."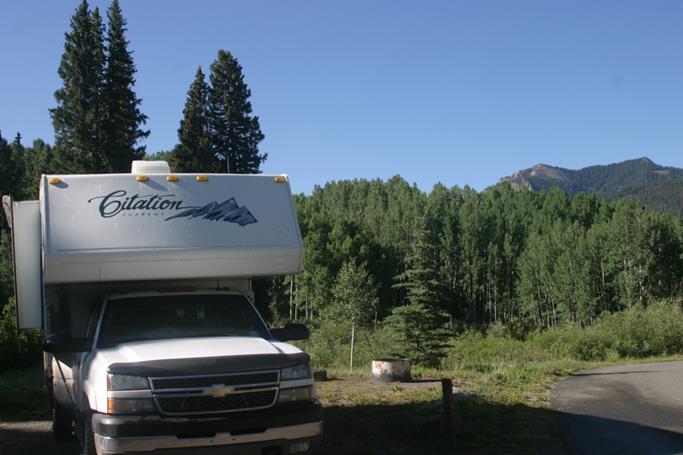 A view from one of the short trails near the campsite.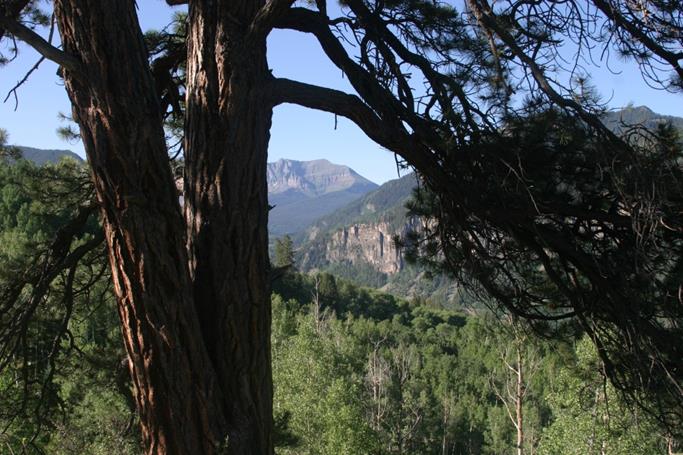 We spotted some livestock in Cortez, Co. They grow them big here Rhonda and Michel. You should find out what they are feeding them. Julie notes "That's a lot of Bull… And we aren't even in Texas yet!"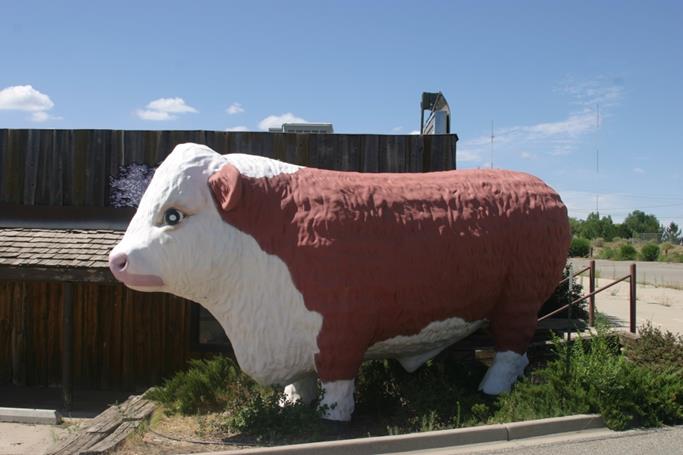 We did some errands in Cortez, Co and then checked out the visitor centre for some information and free wifi. The chatty clerk talked so much that Julie couldn't keep up with all the information she was providing, relevant or not. In the end, she got the information she needed for our trip into Mesa Verde National Park. Julie notes "Yes if you wanted to know how many bathroom breaks she needs when she goes these trips or her theories on the missing man in the park or a warning on drinking and driving she is the gal for you, all the while drawing circles and letters and numbers all over your map that you have no idea what they mean. But I took every other word she said and made a plan and it worked as you shall see."
Before we could leave Cortez, Co I had to wash the truck and camper after our trip across the red mud road near Telluride. I miss our Canadian loonies and twonies. I didn't know how much until I got $20 worth of quarters. Wow! That's a lot of quarters. Julie notes "Luckily he had a belt on. It's hard washing the truck with your shorts weighted down around your ankles. But funny to think about."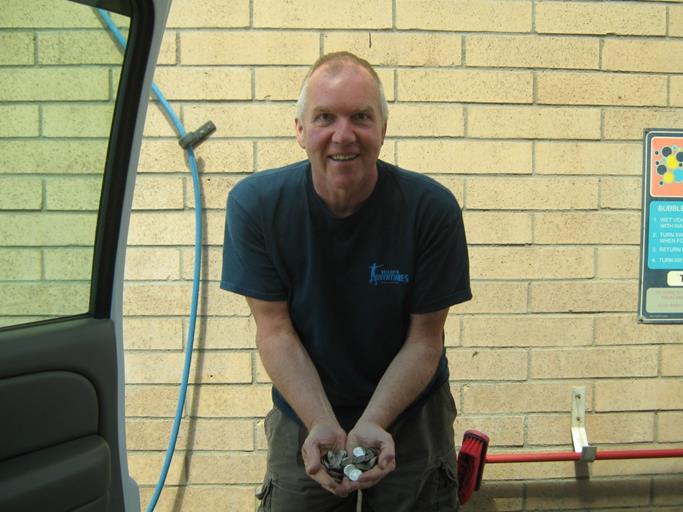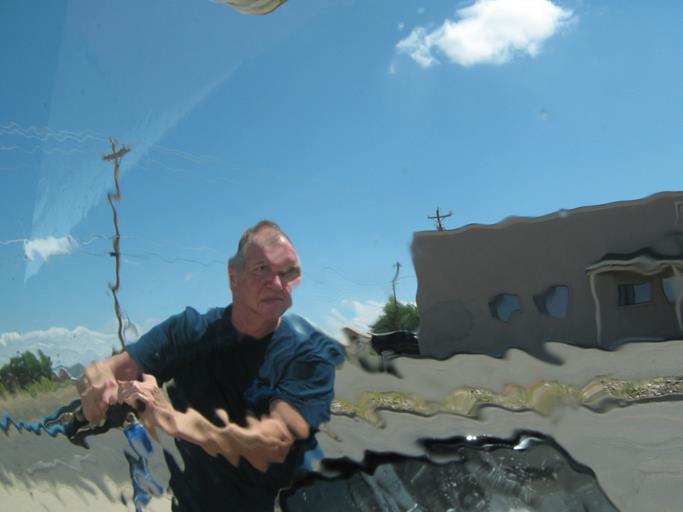 The few pictures below are just a handful of the 117 shots we took in Mesa Verde National Park, A UNESCO world heritage site. The place is really quite amazing and rich in Anasazi history. Julie notes "The word Anasazi is now being phased out and replaced by Ancestral Puebloans reflecting their current day descendants but they will always be the mysterious Anasazi to me. My name, if I had been born in this time (~700 to 800 years ago), would've been, Girl Who is Too Afraid of Heights to be any Use To Us or the shorter version "Toss'er'over."
Park Point Fire Lookout – 8,572′. Julie notes "Our frenemy fire has visited this area a number of times but in its path it has uncovered archeological finds. Looks like we are doing some kind of rain dance here, or just scaring the out of country tourist who took this shot."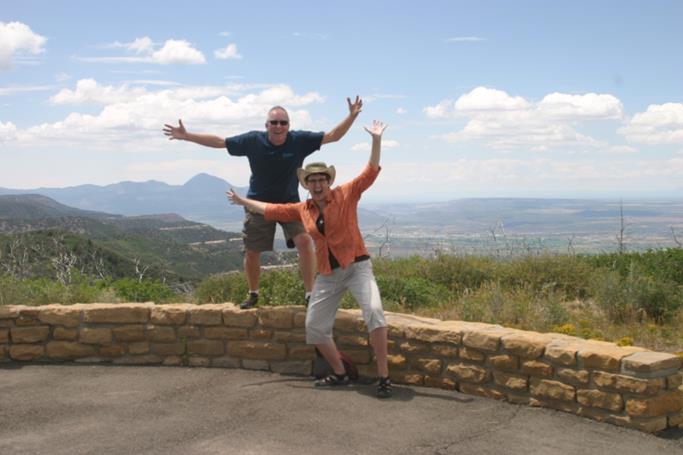 Spruce Tree House in Mesa Verde NP. Julie notes "I am just going to say this was so amazing. I have read about these places and seen pictures, but you must come here to really grasp how incredible and interesting these places are."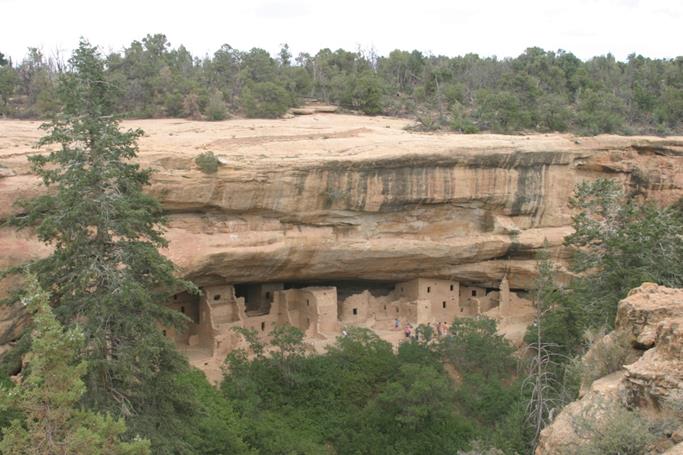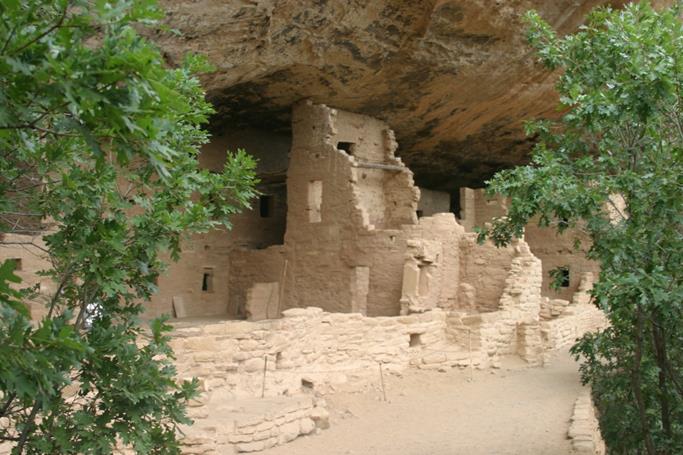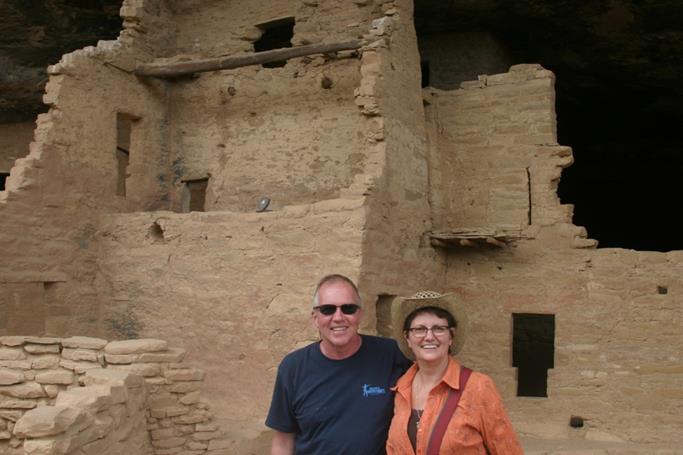 Julie right in her glory climbing out of an Anasazi kiva. After all the books she has read on the life of the Anasazi she gets to experience it in person. I think this was an amazing day for both of us, but Julie especially because of her keen interest. Julie notes "Ditto that!"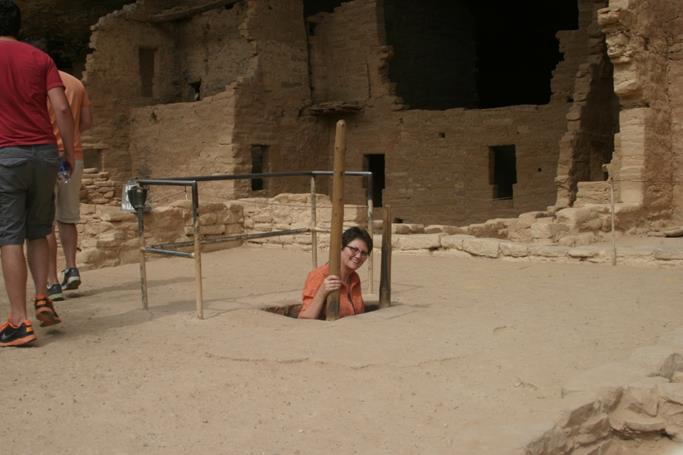 Cliff Palace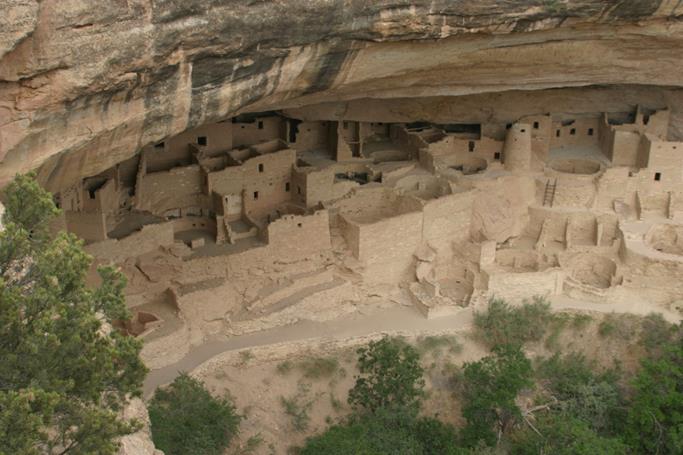 House of Windows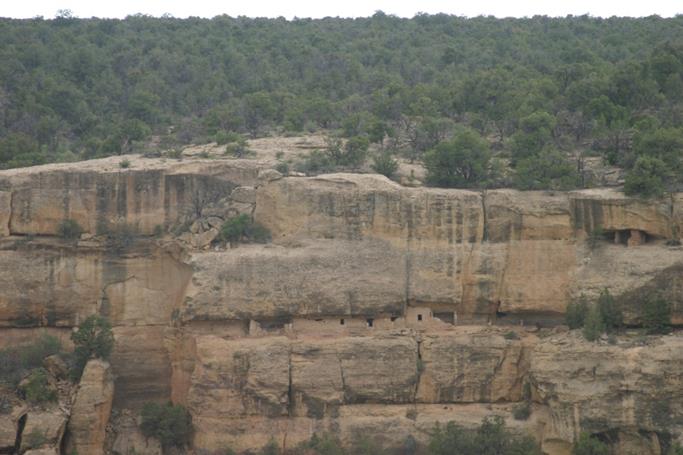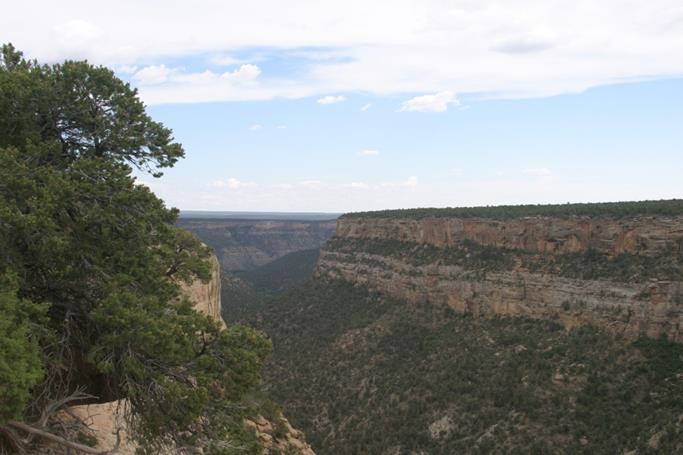 Square Tower House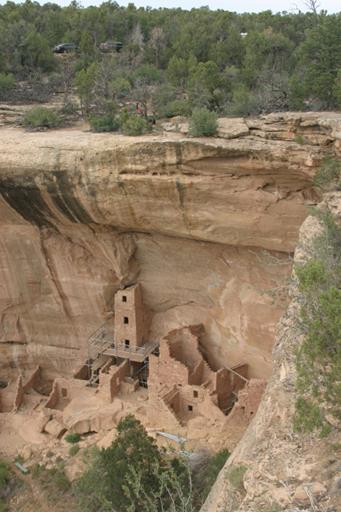 Balcony House – I think?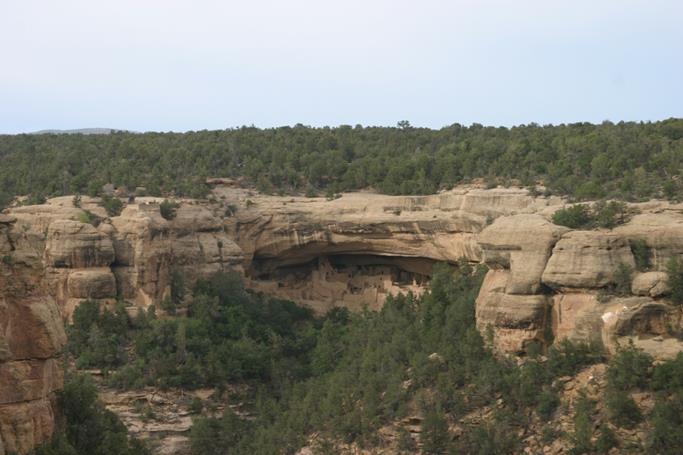 We stopped at numerous other overlooks for some more amazing views of cliff dwellings.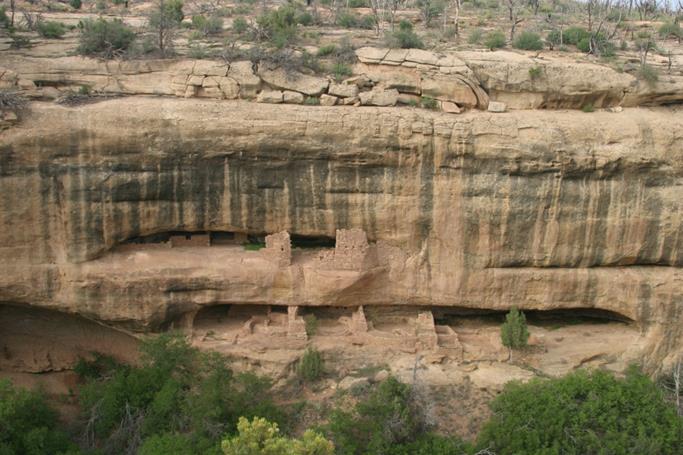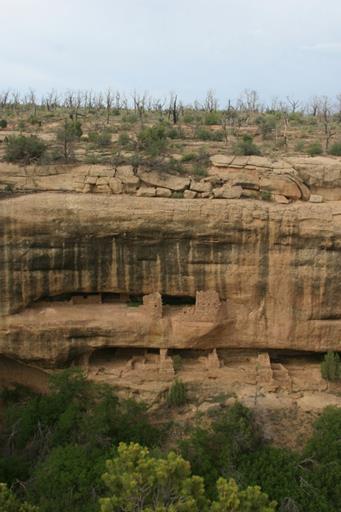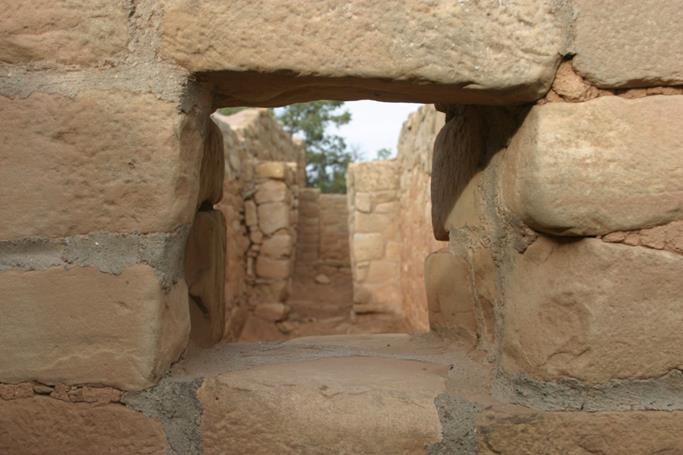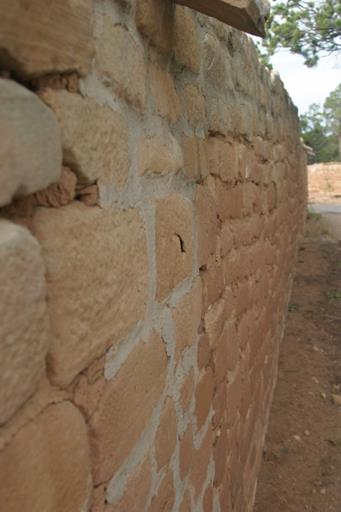 After touring sites all afternoon, we treated ourselves to a delicious dinner in the Metate Dining Room in Far View Lodge. Julie notes "Metate is one part of the grinding tools the Anasazi used to grind their corn, etc. that they grew on top of the mesas above their cliff homes. See I retained a bit of info even after I drank that big prickly pear marguerita."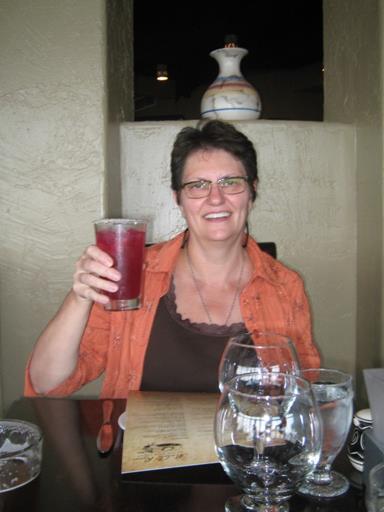 We shared a Wild Boar quesadilla appetizer.
Julie had the recommended duck breast with polenta and vegetables. Julie notes "Fia, our lovely waitress, recommended this delight. We got to talking and she is from Peru and will be going home to do the Inca Trail around the same time as we will be at Machu Pichu. Wouldn't that be funny if we met up again?"
I choose the market special with an Elk tenderloin, quail, and wild boar sausage with garlic mashed potatoes and vegetables.
It was a great meal to finish of a great day. Although I may have had one too many J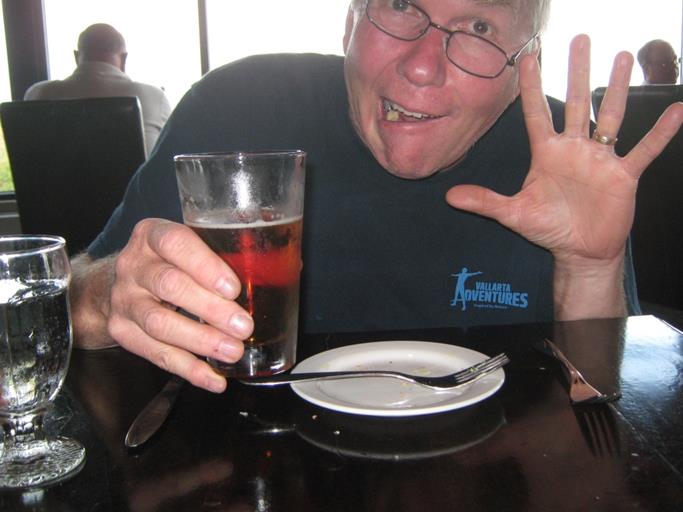 …an amazing day in Mesa Verde, take care all, over and out from Morefield Campground – the muleskinner and his sidekick.
Julie notes "As we enjoyed our 'regionally sustainable' fare at this fine dining restaurant, the amazing view was further enhanced when a doe and her 2 small fawns leisurely wandered past the large picture windows. I am guessing she knew that deer wasn't part of the market grill special for that evening. We don't have photo proof of that but a young lad there excitedly claimed to have at least 40 shots of it on his camera!