Day 36 – Thursday, August 1, 2013
We spent another day in Tecolutla, MX. Most of the group went on a tour to the neighbouring town to tour a vanilla processing plant. They have a storefront in Zamora and the new processing plant just outside the town. We sampled some very smooth vanilla liqueur and of course I bought a bottle. Julie and I spent another relaxing afternoon at the beach.
For breakfast, we walked downtown to an air conditioned café for coffee and food and free wifi. The local entertainment was there performing for tips and we snapped this shot of Julie with the youngest costumed member of the group. For some reason he wouldn't stand too close to Julie and I had to gently coax him over with a push on the shoulder. Julie notes "Can't say I blame him. This was 'day before a real shower' day or to put it bluntly '5 days of gringo stink build up'.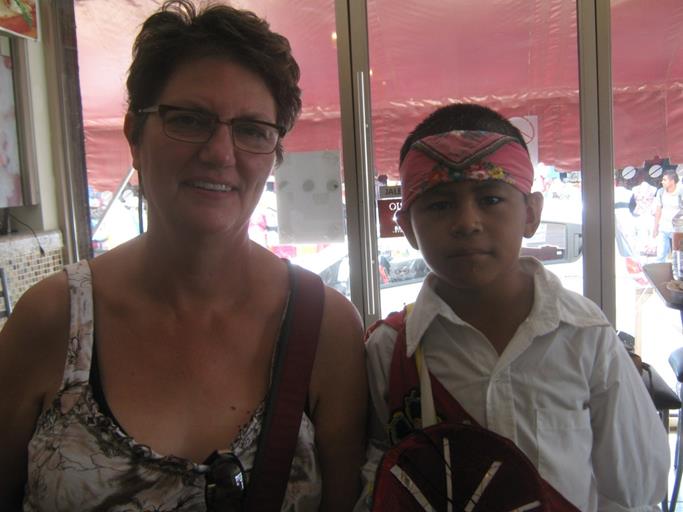 Our guide showing us the growing operation for the vanilla plant tour.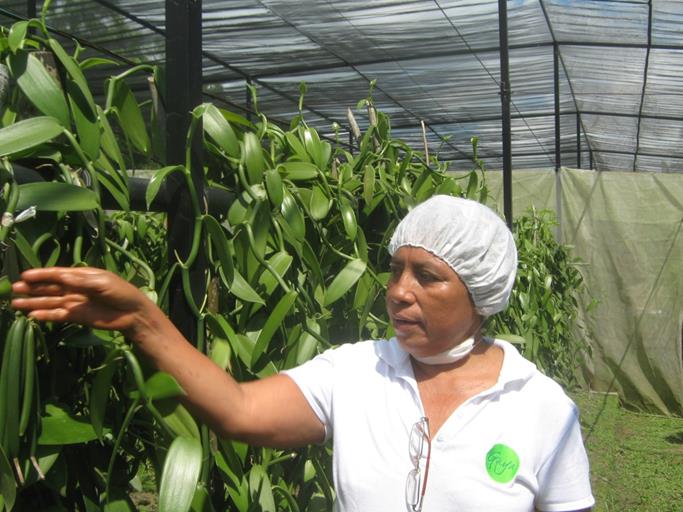 I gladly accepted the offering.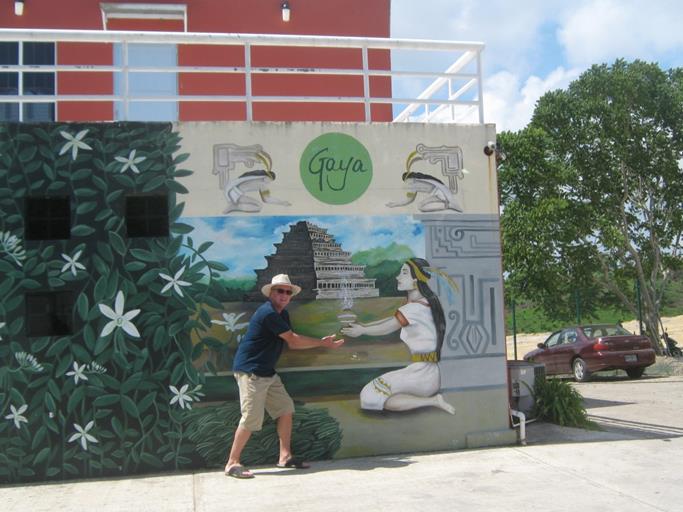 The final sizing and grading operation done with great care and attention. Julie notes "After the tour you are invited to try some ice cream and more shots of liqueur at their on-site shop. We couldn't say no to that on a hot day. Best vanilla ice cream ever! And tequila ice cream! A whole new way to get your daily dose of tequila."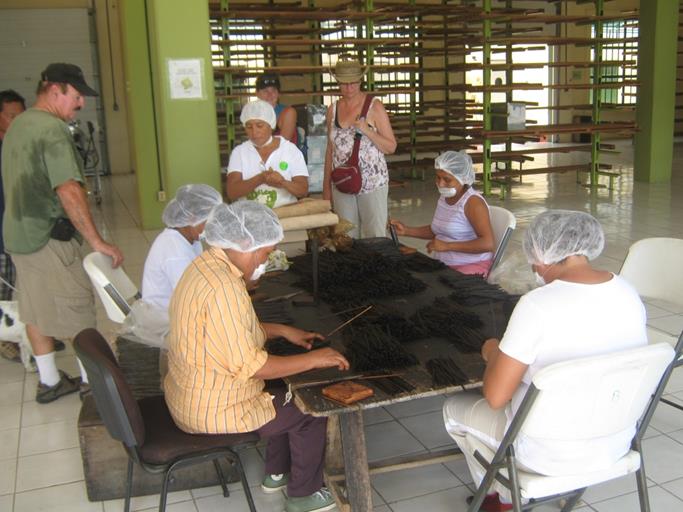 Some downtown Tecolutla street scenes.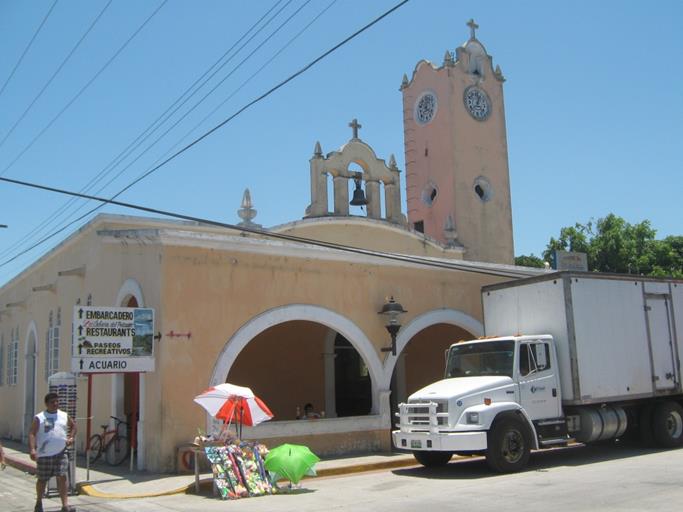 Julie notes "Our taco stand. The second night we ventured out on our own for supper again. With much gesturing and partial words we ordered the taco combination plate. We are still trying to figure out what the different meats were but we know for sure one was tripe. Which is not a fish. Just so you know."
"Also in the foreground is a stand on a tricycle that can be pedaled to destinations. We saw so many interesting ways that the locals utilized this type of large 3 wheeler without the sales cart on top, very clever and resourceful; we saw whole families (as many as you can pedal) babes in arms, grandma needing a ride to the market, avocados delivered downtown, cement to the construction site, tortilla pick up, racing your brother up the street, laundry cart, just going for a ride, or my favourite, taking your 3 beagles for a 'walk'. Never had my camera out quick enough when the boys drove by with their beagles riding in luxury."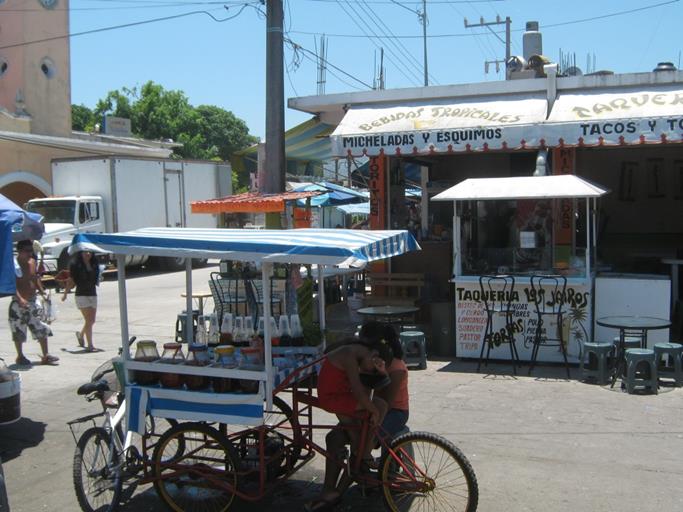 The local tortilla shop owner and her new Chihuahua. Julie notes "We were amazed at this little tortilla business. They start up at 5ish in the am and shut down in the late evening. The squeal of the squeaky conveyer belt was our clue that the tortillas were heading through the oven. The corn tortillas are bundled in 1 kilo packages and there is a steady stream of customers, from little kids on bikes picking up a stack of breakfast tortillas for mom to the restaurant delivery man on his scooter with the blue cooler balanced across the handle bars, picking up big orders for the local restaurants. They are always eaten fresh that day. We were parked across from her shop and enjoyed watching the comings and goings and faces became familiar."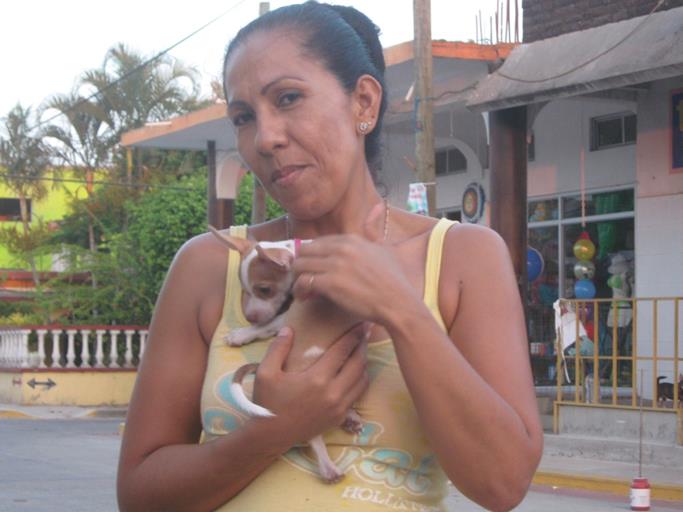 All kinds of vendors and entertainment wanders up and down the 2 km beach area. This trumpet and drum band that set up right behind our rented table was particularly painful to my sensitive ears. J All the rest were actually quite good. It was the close proximity of a trumpet and snare drum that was a little grating. Julie notes "We paid him to move on. Just kidding. Actually Brad jumped up and started dancing and they left very quickly, yelling 'loco gringo!'"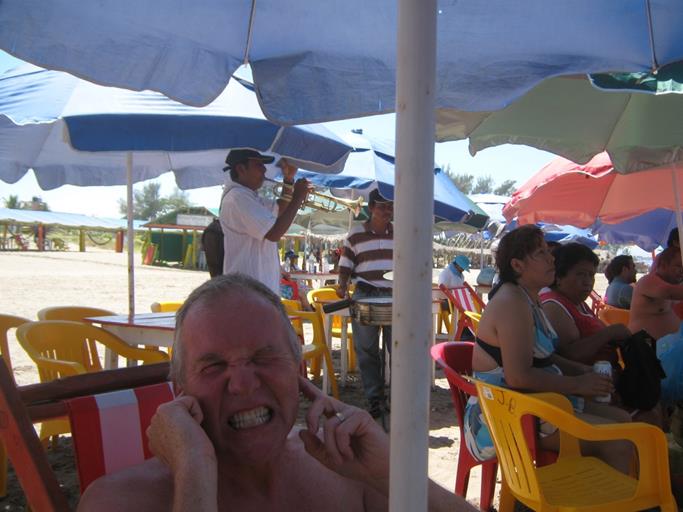 …over and out from Tecolutla, MX – the muleskinner and his sidekick
Julie notes "For those of you keeping a wild life tally of what we have seen, you can add the 'Exotic Whooooot, Whooooot' bird to the list. (Common name the Great-Tailed Grackle or Quiscalus Mexicanus) This bird becomes less exotic the earlier in the morning that you hear it. We also were serenaded at all hours by an invisible rooster."