Day 40 – Monday, August 5, 2013
Today was spent in the city of Tapachula, MX without my trusty sidekick. It was a productive day. The city has many of the big name stores including Walmart, Sam's Club, and Home Depot. We started the day out on the beach in Puerto Madero, MX. After a leisurely start to the day we all drove the 25 or so kilometers into Tapachula. We set up our base in the very large mall parking lot and had brunch at Toks. It is a chain restaurant similar to those in Canada.
I picked up a few things at Home Depot to fix my water filter system plumbing. I think I have what I need now to get it working without leaks. I got a haircut for 90 pesos and I'm looking fine, if I don't say so myself. I then picked up a few groceries a Sam's Club for the road. Finally, after much searching and gesturing, I was put in touch with a cell phone company network engineer who can unlock my cell phone. Victor and I hopped in a taxi and headed downtown at lightning speed with Mario – yes, Mario, but not with the last name Andretti. He just thought that's who he was. J Having the cell phone unlocked means we will be able to use much cheaper SIM cards from various countries we will travel through. The process has started and will take 1 to 3 days to complete. We hope it is successful. I am keeping my fingers crossed. I could not find any wifi hotspots today however and cannot seem to get a data cell phone connection so this post will be delayed until we reach another wifi hotspot.
Our camping spot for tonight – the parking area of a large mall.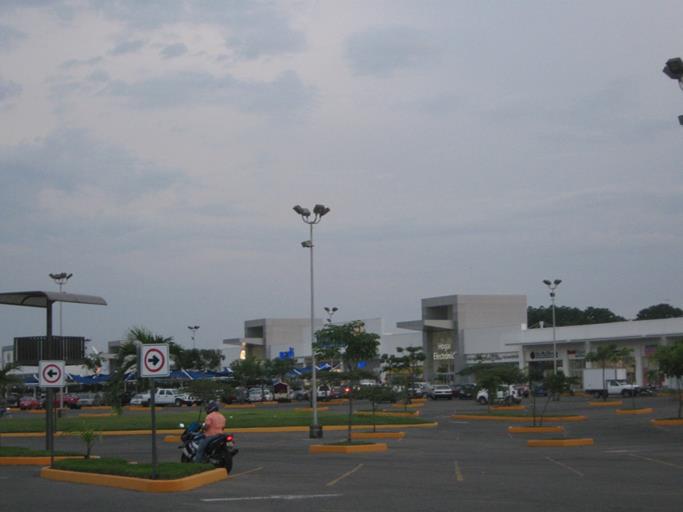 …on to Guatemala tomorrow, take care, the mule skinner without his sidekick