Day 73 – Saturday, September 7, 2013
Julie notes "Okay! Before we even start into the day, let me tell you about our night. You know those funny National Lampoon ish type movies, where it's dark and the family finally picks a place to stop in an innocent looking spot. The sun comes up and they are actually in the middle of a wrecking yard, or a gorilla pen or as was in our case, party central for a national football game being held one street over. So yes it's Friday night but it gets dark here early and yes we go to bed early and yes what I am about to describe took place between the seemingly civilized hours of 9 pm and 1 am but it was traumatic none the less. We'd been sleeping like babies for an hour or so enjoying this quite pleasant and quiet Pizza Hut parking lot in Danli, when an announcement of some sort was made over a loud speaker and a roar went up from a large crowd, a marching band started playing. Then more roaring of the crowd, more marching band, then every person in town who owned a truck, car, motor bike, bicycle, stroller, basically anything with wheels and a noise making device, started driving past blaring their horns, revving their engines and chanting. And let's not forget the fireworks or perhaps random volleys of gun fire, we're not sure which. In the background there were still the announcements and crowd roaring and I thought a demonstration of some sort was happening. But then we remembered we'd heard something about a big game but thought it was televised not actually happening right there. A group of fans took up the lawn right under the Pizza Hut sign waving large banners and revving up the fans that circled in their vehicles. The honking and yelling and chanting and random firework volleys plus parking lot dancing and my laughing (possibly hysterically, because really you can't make this stuff up) died down after about an hour and a half. That was nice because then we could hear the real party music blaring from the field where more festivities were going on. Things seemed to wind down around 1 am. Let's keep in mind our time change mix up from the yesterday morning and coupled with another noisy night and that may explain the following frayed nerves. Now back to Brad."
After some heated debate with our guide about our next destination, we headed for Lake Yojoa in Honduras. Julie notes "I reminded Brad calmly that our guide DOES know how to point and say in Spanish 'illegal alien'. We weren't on the road for more than a few kms, smoke still issuing from Brad's ears and excuses spewing from the 2 way radio when the iTunes came to the rescue with a Styx song, 'Crystal Ball'. Brother in law, Ron will know this chorus being a Styx fan. 'Tell me tell me, where I'm going, I don't know where to go, Tell me tell me, where I'm going, I don't know where I've been…' It made us chuckle as it seemed like the perfect synopsis of our trip and the steam in the cab evaporated a bit."
We first had to travel through the large city of Tegucigalpa. I don't think that I had ever heard of this place but it appears to be a very large city. The traffic and roads were for the most part a nightmare. It is a crazy experience driving our big rig through the cities. Julie notes "My legs are still sore from backseat braking on our crazy Granada cab ride. I was literally weak in the knees after this experience. For countries that rely a lot on pedestrian, bicycle, horse and buggy transport they haven't made allowances for protecting them from the busy traffic. We hold our breath each time we have to pass someone." We made a stop for some groceries at a very modern grocery store. Then it was on to the freeway and stop and go traffic for miles and miles. Finally, we passed by the parade on the closed side of the freeway. Once out of the city, we travelled through some more very mountainous areas. The mountains and pine trees reminded us a bit of British Columbia. We stopped for a tour at the underground caves "Cuevas – Taulabe". After the tour we travelled another hour or so until we reached a real campground for the night. We will spend tomorrow here hiking to the waterfalls and exploring another nearby river area.
Our pizza hut campground and the view we had of a large cross on a hill with a trail leading up to it. Julie notes "Looks innocent enough doesn't it, but now you know the real story."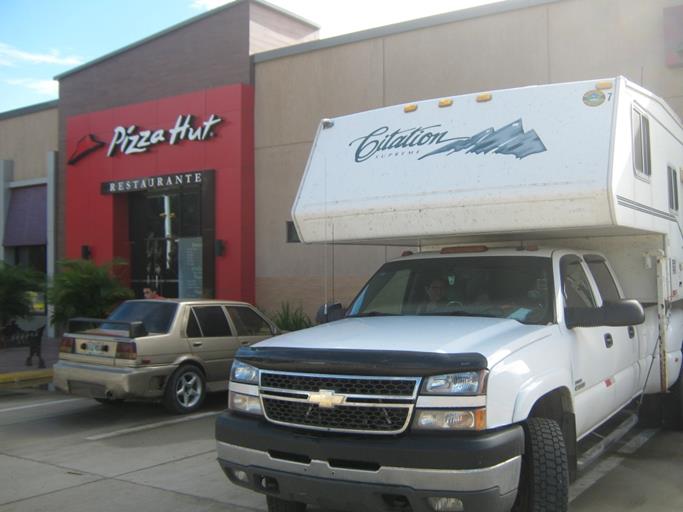 Julie notes "Maybe it's time for us to crawl up this hill and ask for forgiveness for whatever we're being punished for. Couldn't hurt? Well it would likely hurt. We'll keep it in mind."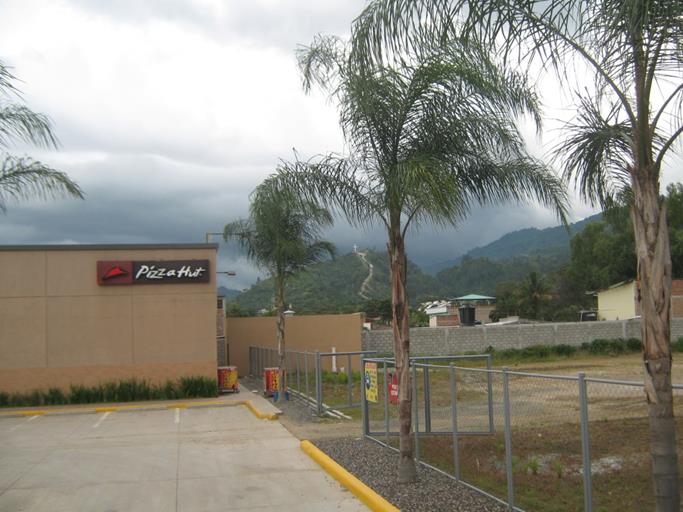 Following a convoy of large trucks while being passed.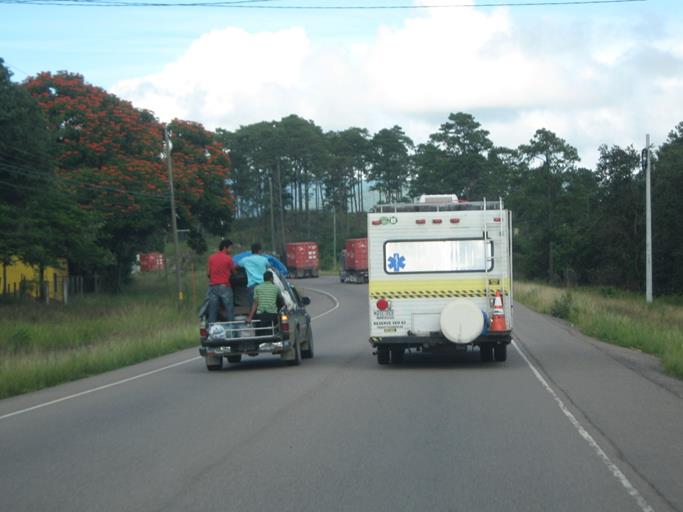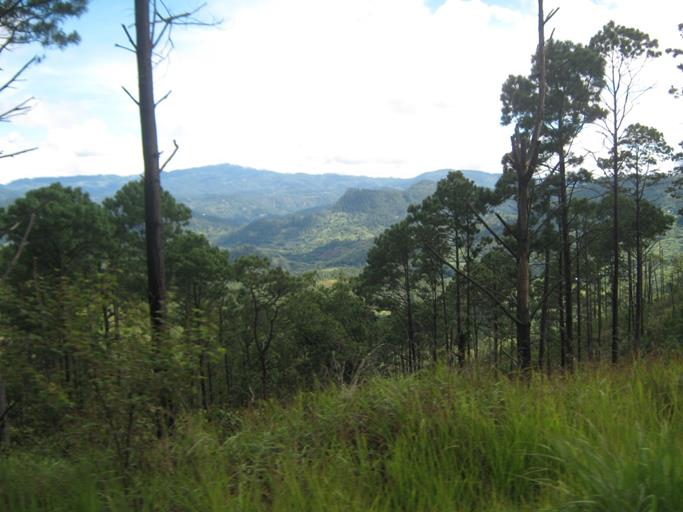 Driving in Tegucigalpa Julie notes "This was quite the place. You can see the houses hanging off the hills in the background of this picture. I have about 50 more of the amazing real-estate precariously hanging in these valleys if you're interested. Brad can attest to that after sifting through 130 some pictures from today. And I wonder why the batteries keep dying."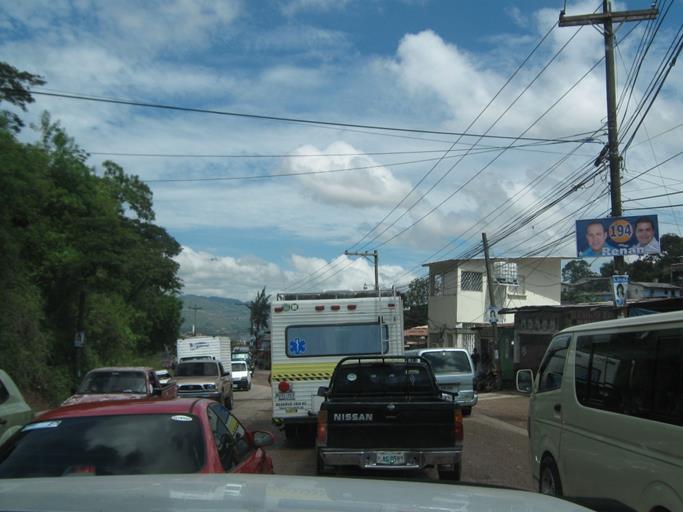 Very modern grocery store. Not really sure why I need to show you a picture of a grocery store but I guess it is the extreme contrast between abject poverty and apparent wealth that I find disturbing but interesting.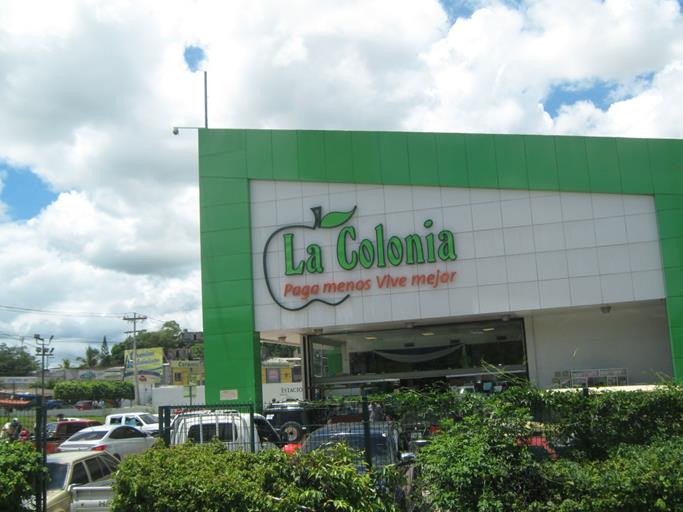 The freeway parade. Maybe this is where the kids from the border ended up? Julie notes "I did see a banner saying "Festival de Maize" so I am making a corny educated guess that this was what was going on. It may not have a kernel of truth in it though. Kids dressed in marching uniforms, pageant gowns, costumes from butterflies, lady bugs, lions, zebras and on, majorettes with pom poms and batons and gogo boots. I didn't see anyone dressed as a cob of corn though, but there was one girl whose dress was made of colourful bottle labels and bottle tops. Not sure of the beverage. Hope it wasn't cerveza and she had to help with collecting."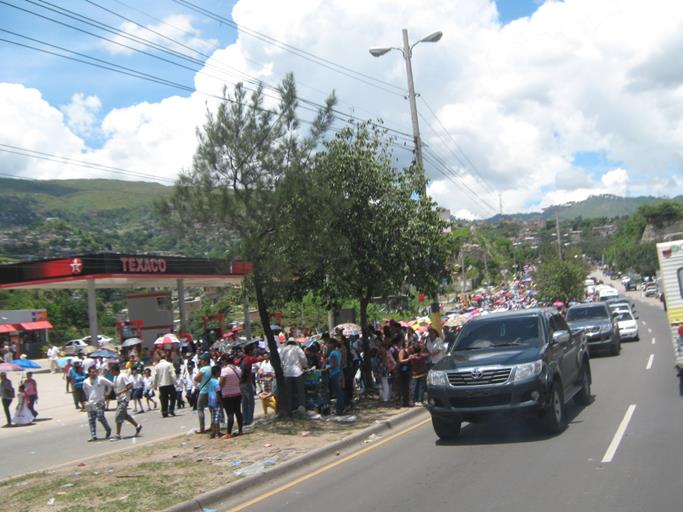 A high mountain pass northbound through Hounduras.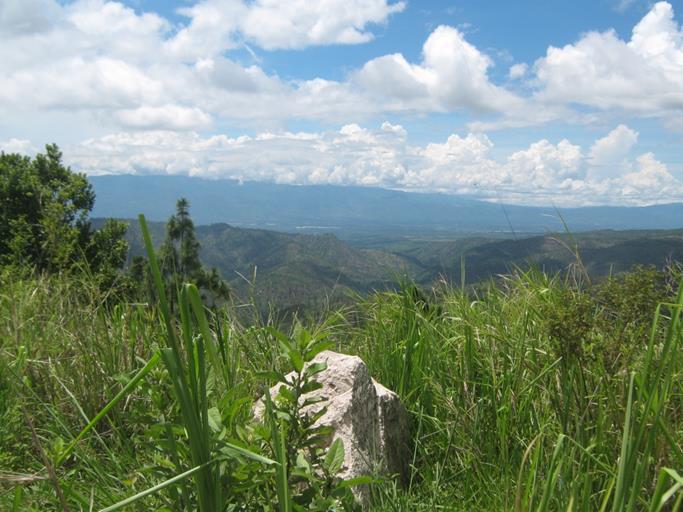 The road we will follow through the mountains and many switchbacks but it is probably the best highway we have been on in all of Central America.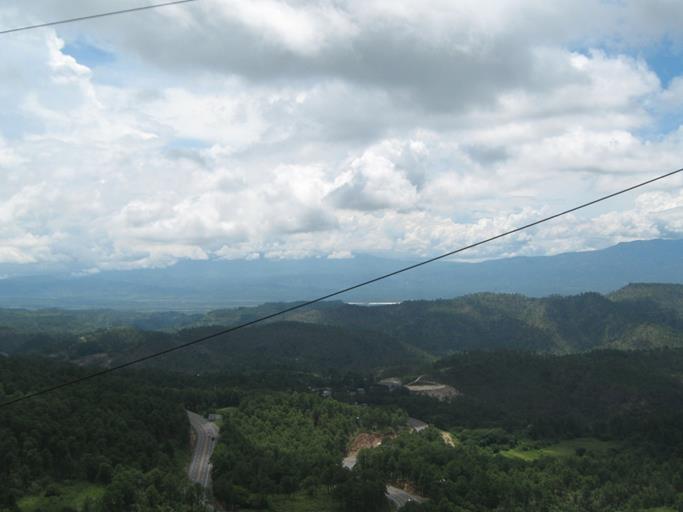 Pretty scared before entering the caves. Julie notes "Well I have to give him credit for not saying he encountered just one old bat in the caves. I bet he was thinking that though so I will add that to the stuff to hold against him."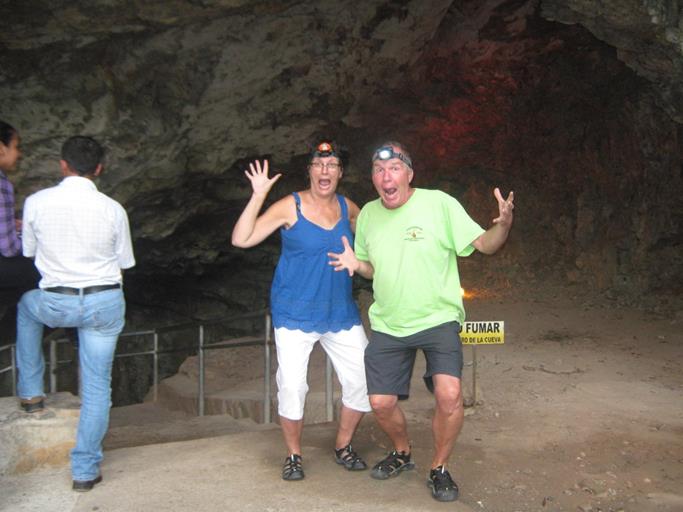 The caves.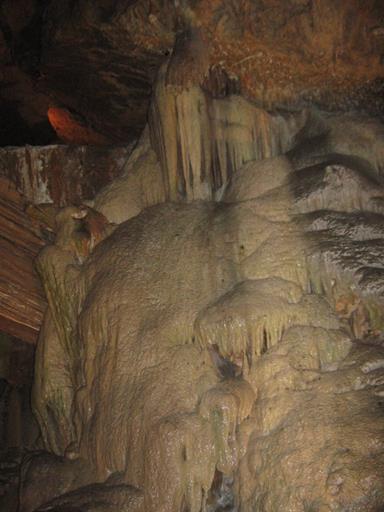 …that's it for today folks, the muleskinner and his sidekick
Julie notes "We are in an actual campground in Honduras, go figure. Not your typical Canadian campground, mind you. We do look out over a barnyard but it is forested and we sat out in the dark before supper watching an amazing firefly show, listening to crickets chirp and also something unidentifiable creature making a constant low noise. Pretty sure snakes or spiders don't make that noise. And there is a really long bare trail just outside our door that leaf cutter ants have cleared and we've watched them haul their precarious huge loads back to their nest. Now I'm not an ant (I am just an aunt) but why wouldn't they forage out in a circle from their nest instead of this long trail. I don't know. What I do know is if you stand in their trail they will bite you. Okay here is to a good night's sleep in the peaceful campground tonight."