Day 81 – Sunday, September 15, 2013
Today is our 34th wedding anniversary. We were married in the Moscow United Church on September 15, 1979. Julie notes "Obviously he robbed the cradle. I've been telling folks, quite convincingly I think, that I am only 35."
We enjoyed the warm sunshine today in the RV Park full of families celebrating Guatemala Independence Day. We made friends with one large extended family who were very interested in the RV and our travels. We showed them, in small groups, the interior of our camper. Julie notes "Once again Brad's unit draws the attention of young and old. At one border crossing even a traveling circus was awed by it. They wanted to sign up Brad and his unit to the greatest show on earth. Unfortunately they weren't in need for a bearded lady so we declined. There will be other circuses. "
We also showed them the picture books we have of our family, friends, city, animals, and our adventures. Freddy, the spokesman for the family, brought me over an ice cold Gallo (Guatemalan beer) at 10:00 in the morning. A great way to start our anniversary. Julie notes "I was offered grapetti gaseosa grape pop, and not a big jug of wine as I had hoped to start off my anniversary." We gave the kids a big bag of candy and the adults some Grande Prairie souvenir pins. At about 1:00 PM they brought each of us a plate of typical Guatemalan BBQ food; grilled chicken, beef, sausage, potatoes, beans, guacamole, and tortillas. It was excellent and the woman had prepared all of this on a small charcoal grill. She fed 10 or 15 people. (Julie notes "Plus 2 gringos!") Amazing.
Our van picked us up at 2:00 PM and drove us to our beautiful hotel in Guatemala City, the Barcelo. The hotel was a top pick on trip advisor and we were not disappointed when we arrived. We ordered a bottle of wine, Julie enjoyed the real bathtub (Julie notes "Not quite the Trump tub, but a good soak nonetheless."), we watched some TV, and tried to decide on a place for dinner. Julie notes "Believe it or not, but 99.9% of the channels in the 2 hotels we've stayed at are Espanola. Crazy eh? There is one CNN station (showing us over and over again the bad weather heading towards both sides of Mexico) and 1 comedy station that has Spanish subtitles for a few shows. Who knew we'd be so excited to watch 'Friends' re-runs?" About 7:00 PM we went to the Japanese restaurant, Kyoto, located in our hotel. Julie had the lobster teppanyaki and I had the assorted sushi, sashimi, and maki plate. We both started with a bowl of the best miso soup we have ever had. It was all delicious and a great celebration of our anniversary.
Our new Guatemalan friends. Julie notes "Just your typical family – funny, interested, caring and happy to share and try to communicate. The 4 women's names all began with the letter 'M'. Which made them giggle when Brad figured that out. The fellow in the back with the mustache brought Brad a 2nd cerveza with a long story in Spanish. Either he has been sober for 3 years and he doesn't get drunk under the table anymore or the more probable story, you have to drink alcohol under the table as it is not allowed in these parks and maybe you'll go to jail for 3 years. Something was happening with 3 years anyway."
My new amigo and I enjoying a Gallo. He reminds me of some of my Grande Prairie amigos who have the same outlook on life. J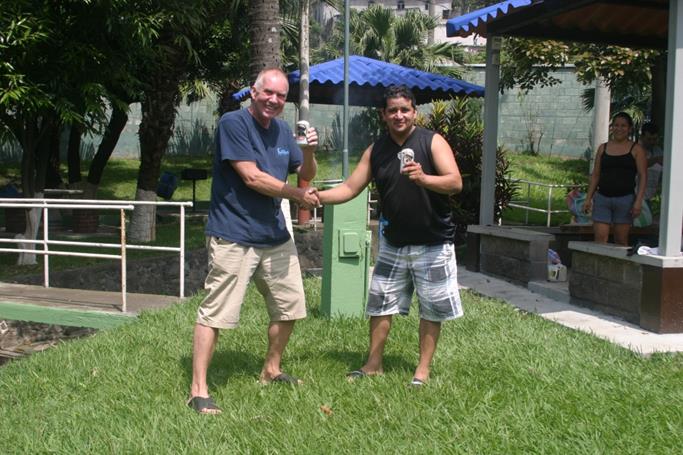 This little girl enjoyed the natural warm water, heated by the nearby volcanos, more than the 7 large pools and waterslides nearby. Typical kid. Julie notes "She reminded me of a little someone back in Edmonton. So I only took about a hundred pictures of her."
The extended family on the other side of us were celebrating a first birthday with a couple of piñatas. The one of Mario was really well done. They had him set up so they could pull him back and forth on a rope while all the young to old "kids" took turns swinging wildly with a piñata bat. They were having a great time.
Our delicious lunch provided by our new friends.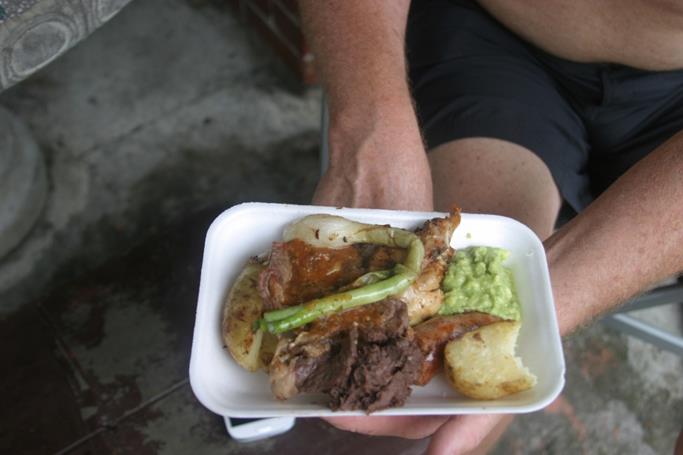 The happy good looking couple in the Kyoto restaurant. Julie notes "We can actually say the 'happiest, best looking couple' as we were the only couple in there, at least when this picture was taken."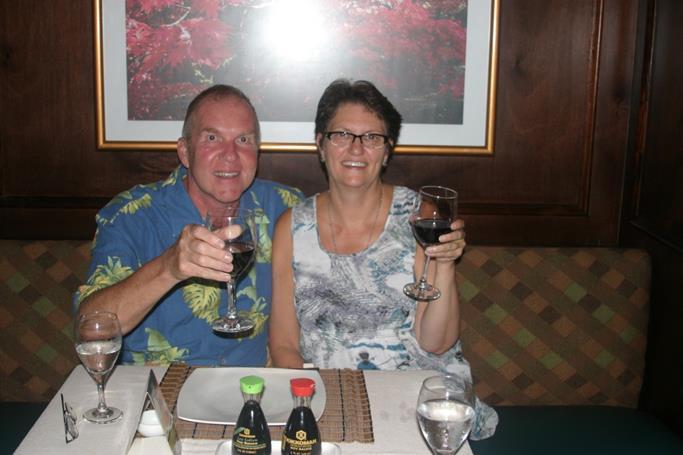 The meal! Yummy stuff.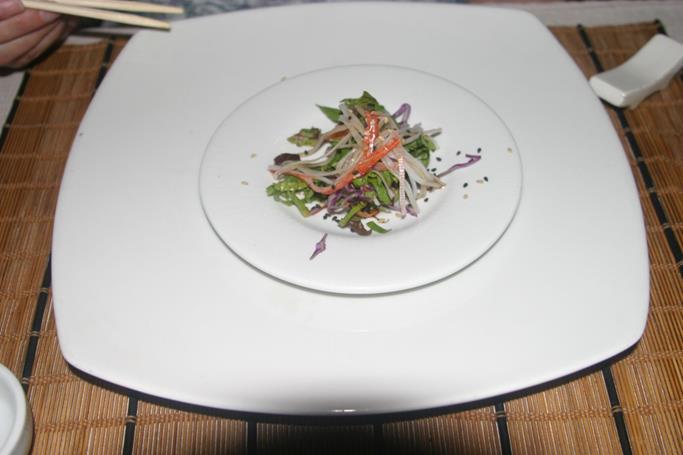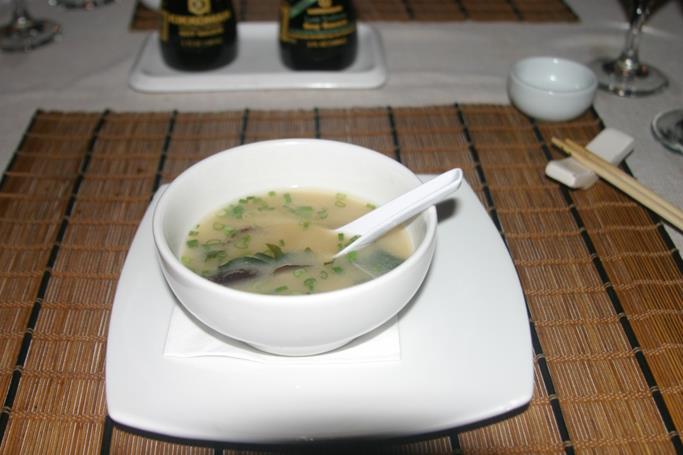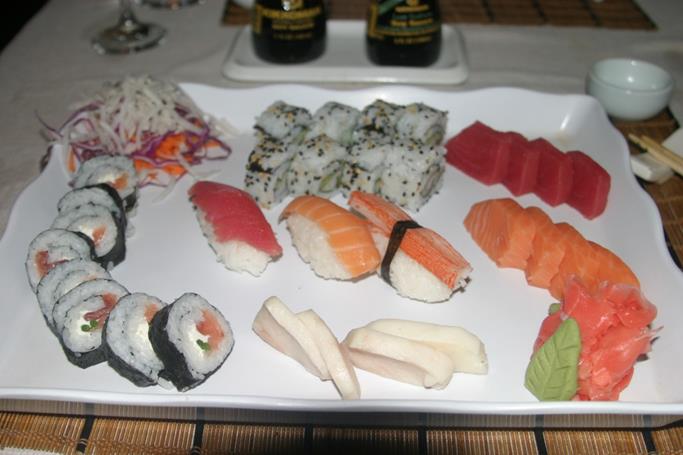 And finally, how our guide may look at the end of this trip. J Julie notes "L"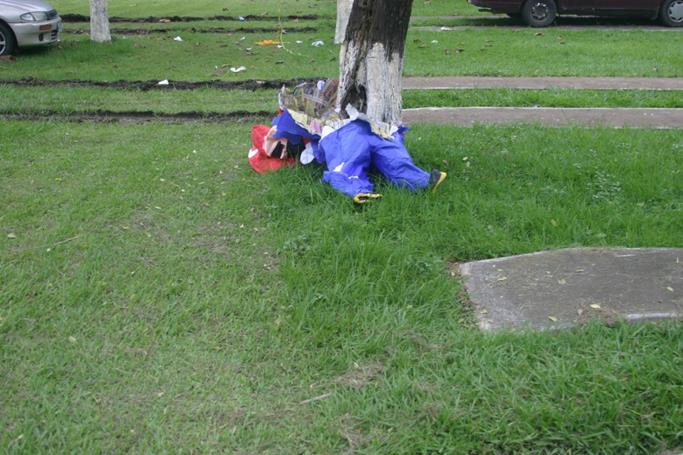 …this is one day Julie is adding to the "good" list. For some reason, there is lots of room to add things on that side of the list. …over and out, the muleskinner and his official sidekick of 34 years.
Julie notes "I think I get to count these last few months as double so it just feels like it's been 35 years. Of gloriousness of course. (pretend that this J is winking).
PS Happy Independence Day Guatemala and your other Central American cousins! Your country pride has been very noticeable these past few days."