Day 85 – Thursday, September 19, 2013
We don't have much to report today. We spent most of the day at the RV reading, "putzing", surfing the net, and checking the vehicle over for our planned departure to Antigua today. We did make a run into Amatitlan for groceries and a few supplies. Other than that, I grilled a big beef tenderloin, and made some baked potatoes and carrots for supper. Julie notes "Supper was fabulous! But since it is a slow news day there a few things I'd like to share from our upcoming book 'Grocery Shopping in Central America':
#1 As I eluded to a few days back, margarine, by any other name, can be a surprise to your senses when you first take off the lid. It should be called 'I can't believe I bought this instead of butter!'
#2 Speaking of butter, I love the Spanish word 'mantequilla' and will from now on refer to butter by its Spanish name only.
#3 All crema is NOT coffee crema. You may find yourselves trying to squeeze sour cream out of a bag into your morning coffee. Not as yummy as you might think. And even when you think you have diligently read the labels each time you shop, somehow you have 3 open containers of sour crema in your fridge and no coffee crema.
#4 Speaking again of coffee crema, you cannot buy a large cup of coffee anywhere but you CAN buy industrial sizes of CoffeeMate, that are just 'that' much bigger than the North American size so they won't fit into your camper pantry.
#5 Every supermarket has armed guards at the doorways and in the parking lots. So far though they have not stopped us to ask what we are using all of that sour cream for.
#6 Requeson means cottage cheese, however as in both the margerina and coffee crema, beware the fine print and be prepared to be flexible with your cottage cheese palate.
#7 Mystery meats are fun, so far.
#8 Don't let your husband add chocolate and crocodile to the grocery list right after he's been hearing about Mayan kings and their aphrodisiacs. It turns into a time consuming mission on all counts.
#9 Don't freak out when you find the eggs in a regular aisle and not refrigerated. Remember there are men with guns just waiting for a reason to use them.
#10 Sweet buns look a lot like our sandwich buns but don't taste quite the same with mayo and mustard and meat on them. I never thought I'd find a bun Brad didn't like. The search has ended at Guatemalan sweet buns.
That's just a little teaser. You'll have to buy the book for the rest."
Our guide's part was to arrive today and he had a mechanic lined up to install it. We would then be off to Antigua. Guess what. The part was here but held up in customs. One more night here, I guess. Julie notes "It's time to move on. Some teeny tiny ants (and not the cool kind of teeny tiny Aunts) have made their way into our camper. Nothing makes me grumpier than ants in my house except for maybe a guide who keeps telling us fibs."
My friend, Alejandro, from the RV Park. He is a great guy. He keeps the other employees and guests laughing at his antics; signing, dancing, imitating different animals and their sounds, and joking around. He keeps morale high for everyone around him. Julie notes "This is not a camera trick. This is how Brad looks standing beside most of the people of Central America. Don't have much trouble losing him in the crowds."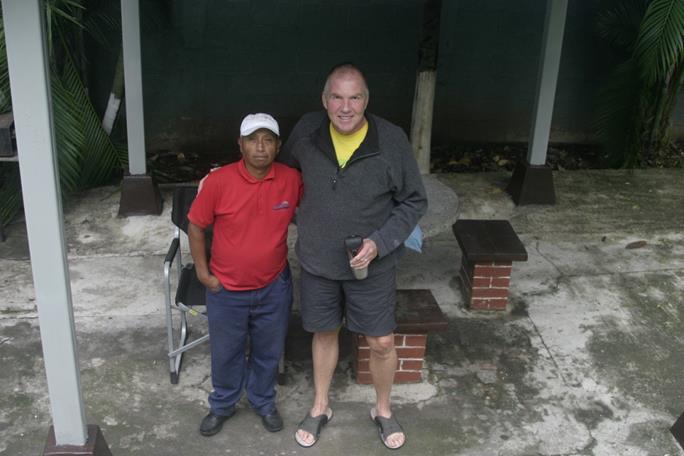 Preparing our veggies for supper. Julie notes "Doing the recommended decontamination of all fruits and veggies and so far Brad's diligence has paid off."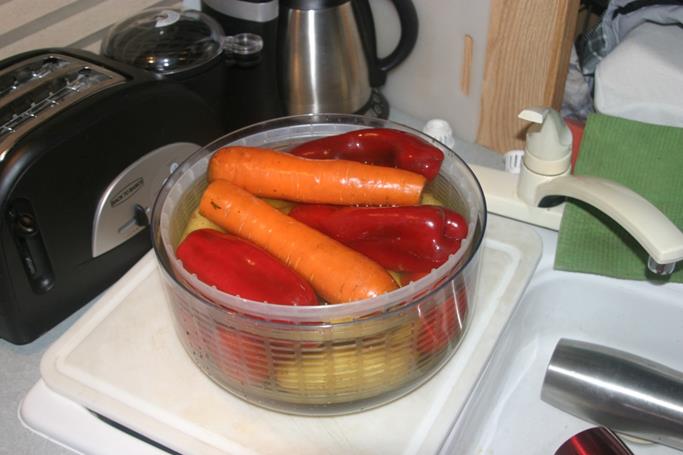 …over and out, the muleskinner and his sidekick.