Day 95 – Sunday, September 29, 2013
We had the option to stay another day and night in Tecolutla or move on to Tuxpan for the day. We did not stop at Tuxpan on the way south so decided we should travel the 150 or so kilometres. It was a good decision. The beach at Tuxpan is wonderful. The waters are clean and warm and we could camp close to the beach. We left around 1:00 PM and were in Tuxpan by 3:00 PM. Julie notes "Hmmm a hot, noisy street next to the squeaky wheels of tortilla torture or a beautiful beach with the ocean breezes and clean sand between your toes. Tough choice. Makes us wonder what reasons Norm has for staying in Tecolutla. Is it really just the shrimp cocktail?"
We went for breakfast at a local Tecolutla restaurant we had been to on the trip south. Julie ordered an omelette. Bad choice. I had the huevos rancheros. Better choice. Lesson #95; order what they make locally. When the waitress has to check with the cook to see if he can make an omelette, you know you've made the wrong choice. I think this lesson has already been mentioned in the blog somewhere else but sometimes even the authors forget. Julie notes "I think the cook that day was her dad, the owner, filling in on a slow Sunday morning. There are a lot of pictures in the restaurant of him catching fish, but none of him cooking them. The little town was much quieter this time around even for a weekend making us think that we must've been here during a holiday last time through. But the party bus still drives up our street with the music blaring and horn honking despite few partiers. Brad wanted to get on and dance the night away but I wouldn't let him. No seatbelts."
And for our high class friends that like to travel to Mexico for their luxury vacations, I think we have found the hotel for you in Tecolutla. See the pictures below. No need to book early as there has not been anyone there on any of the days we were here; both times. But don't let that stop you. It's called Hotel Malta in case you can't read the hand painted sign. There is no A/C but who needs A/C when you don't have windows or doors? Julie notes "Brad is exaggerating. There is someone living in the bottom left hand suite with the blanketed doorway. And we even saw food being delivered to him. Bonus. Plus a short walk to the beach and have we mentioned the tortilla factory almost right next door? What do you say Lola? Maybe check it out on Vacation Rental by Owners' website."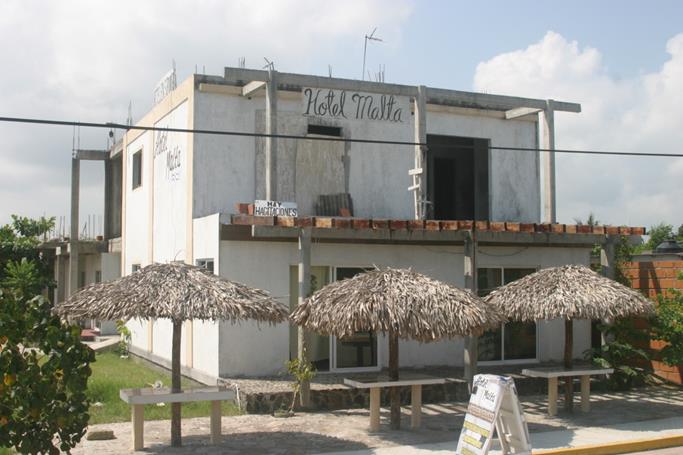 Our campsite across the street on a foggy Sunday morning. Julie notes "or Brad just coming out of a fog. And again, our choice was to stay here or a beach. What would you choose?"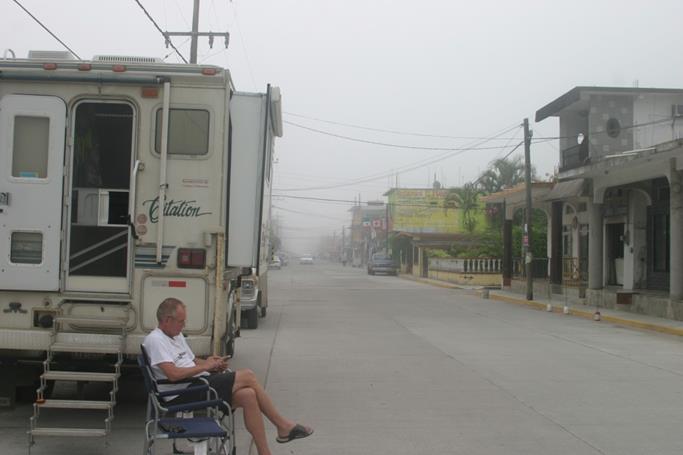 These shrines are all along the highway. Some have burning candles inside when we go by. We assume someone stops and lights a candle on their way to work each morning. Julie notes "We have seen these everywhere ranging from very simple similar to roadside markers to elaborate to actual small chapels. The entrances to towns, gas stations, malls, grocery stores usually will have one. Very devout and it is interesting to see the mix of state and religion."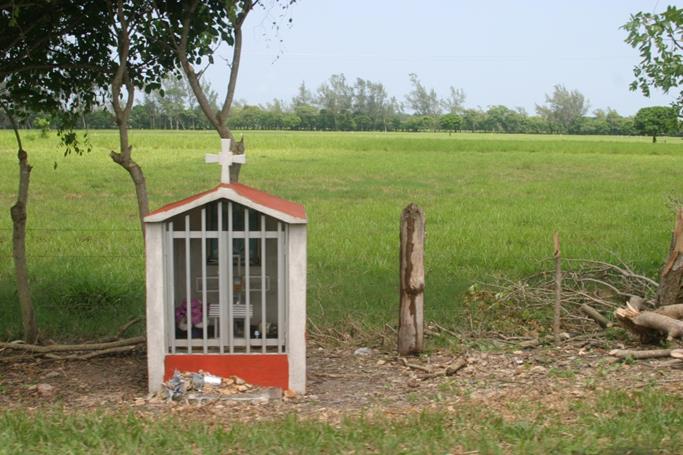 Another lab for the QEII folks to envy. Julie notes "I had hoped to go into one of these little places but haven't been forced back into employment just yet."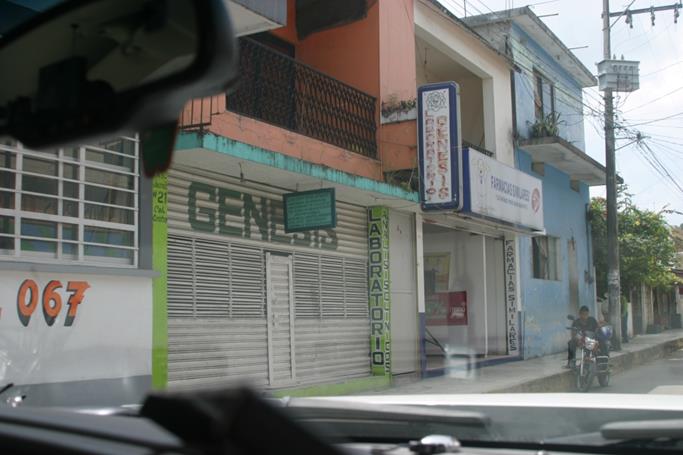 Good toll highways to travel on again today.
Some farmland scenery you might see north of the border.
Tuxpan is a shipping port with deep water access from the river to the Gulf of Mexico.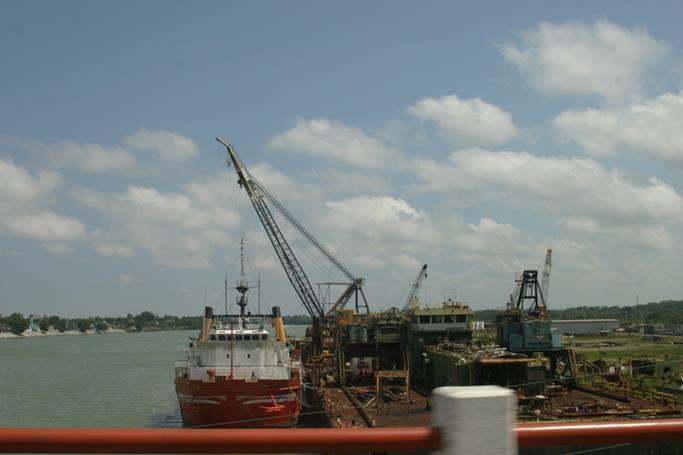 The view from our camper door at our beachfront site. The ships you can faintly see on the horizon are waiting to enter the port.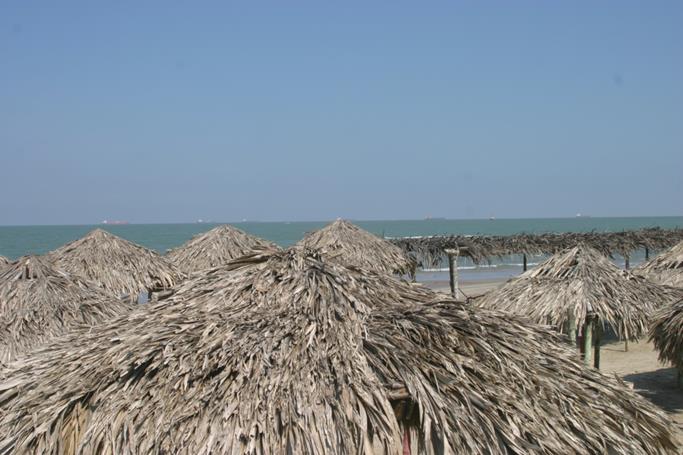 Julie's fancy schmancy fruity drink that wasn't really a drink. It had a spicy concoction poured over top of the fruit. The fruit was very nice and I think she enjoyed it. Julie notes "What kind of a face is that? The fruit was delicious but the straws were deceiving as there was nothing but a tiny dribble of pineapple juice in the bottom. Could be it dribbled out the bottom during the vendor's trek across the beach. So I guess it's my WTFDd face. (Where's The Fruit Drink dammitt).
We bought this cart of beach wear and toys to bring home for our friends and family. You should be able to spot us pulling into Grande Prairie with this cart strapped to the roof. I hope it's still there when we get home or there will be some disappointed faces. Julie notes "You guys know the rule. No asking or you don't get anything!"
…over and out, the muleskinner and his sidekick
Julie notes "Border crossing was coming up soon, we hoped, back to the states and therefore we needed to cook up all raw items we had. So I was boiling eggs and potatoes inside and Brad had a meat fest going on the grill with chicken and sausage and peppers. It was a delicious supper but I'm not sure the beach restaurant workers were happy to see the potential competition. We could've fed quite a people and made a few pesos."