Day 96 – Monday, September 30, 2013
How bad are we? We failed to mention the 4th anniversary of our son and daughter-in-law on September 26th. Happy Anniversary Jordan and Alison. Julie notes "Jordan, I'm pretty sure that our mother and son dance song 'Mama' played on your anniversary day (give or take a day or 2) but it made me laugh and remember your special day. We're proud of the strong couple you have become and the hard work, fun and love you put into your relationship. Love the PUs. Now a few more grandkids wouldn't make us sad. Just saying."
Today was a big travel day. We left the beach around 8:00 AM and headed north. Our guide would make a decision at Tampico on which of the 3 routes we would take back to the US. We headed to the Federal Policia office at the airport in Tampico to check on routes. They advised us to take the route through Victoria and Monterey to Laredo, TX. This route was a few hundred kilometres longer but maybe safer. We made it to a small village near the airport in Victoria where we camped for the night. That left about 520 kilometres for tomorrow and a border crossing.
I spoke with our guide that night about getting an early start so we could ensure making back to the US or at least make our best effort. He said that he never travels in the border area of Mexico before 8:30 or 9:00. This is when the worst of the muleskinner appeared to Julie's horror and disappointment. This was clearly not true. I pointed out to him that on July 28 we left McAllen, TX at 6:30 and crossed into Mexico before 7:30 AM. This was just one more of his misinformation statements that pushed me over the edge, unfortunately. Two things that I inherited from my dad that trigger my temper are people who are not trustworthy and/or honourable. I will spare you further details about my rant and tirade but will tell you that he wrote up a little report on the incident. We did not get a copy, so we're not sure what his version of events looks like. Julie notes "I'd like to put a humorous spin on this but I don't see how. Although I agreed with the points Brad was trying to make, his frustration with the situation overrode his better judgement, BIG TIME! Unfortunately it garnered the attention of the locals and there is probably a new folk song about the Windmill Man. Maybe cousin Barb, who seems to always have her ear on the latest folk trends, has heard it and can give us the lyrics. I'm thinking it starts off a little like this 'Oh, oh Windmill Man, where ya gonna run to…"
There were lots of kids in the area playing soccer and visiting with us. We found a little more candy to pass around. This was the last of our candy, for sure. Julie notes "Well I have 2 restaurant mints and a few tums on reserve in my purse, if need be. Brad has enjoyed his 'Albert' moments for sure as giving out candy was something his dad would do at the store. I am also happy to note that Brad did not strike a deal with one funny young man, the night before, who was trying to trade his motorbike for; the truck and camper. Once he found out that I was one of the options that came with camper he wasn't as interested anymore. He really gave everyone the giggles imitating us driving the motorcycle on our Canadian icy roads."
Our campsite near the beach at Tuxpan with the lighthouse nearby. Julie notes "Okay this brings me to our nocturnal story for this campground. If you recall we were enjoying our beachfront camping spot immensely, probably letting our relaxed happiness show too much. Because right about the time we are smiling and sighing and letting our guard down a bit, enjoying the breeze and the view, our guide comes along and tells us we have to move up to the dirty, hot, garbage filled parking lot for safety reasons. So we enjoyed the beach as long as we could and then packed up and moved where Norm was parked. We understand the safety in numbers and well lit areas so resigned ourselves to the new sleeping spot. Not only was it much hotter than the beach, but it was across from a popular beach restaurant with the obligatory thumping music. We're pretty used to that by now but if you look at the picture below you can see the lighthouse behind us. We had our blinds and windows open in hopes of a breeze but even blinds wouldn't block out the intense strobe light that of course goes all night long. We were right in its path and accompanied with the music, it was like we were trapped in a hot and steamy discothèque. Brad was tempted to don his John Travolta suit that he always carries with him for moments just like this. It was another long night."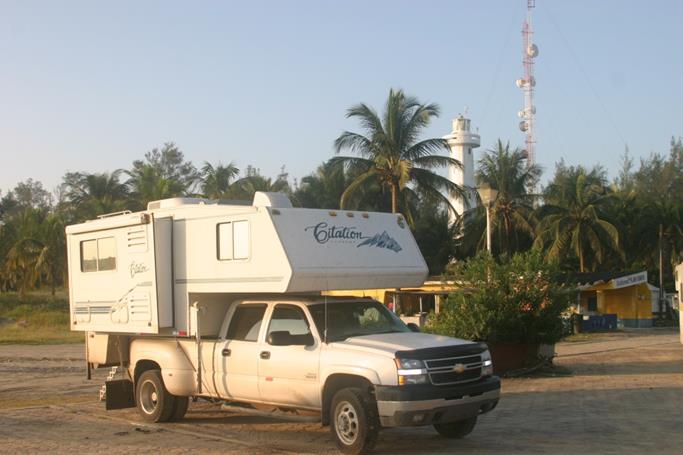 Julie notes "Okay Kelly M. since you were so smart with your other cement answer, what is this structure? If it helps, there was another identical one located down the beach. Accepting all guesses. Your prize will be first choice from the beach accessory wagon we purchased the other day."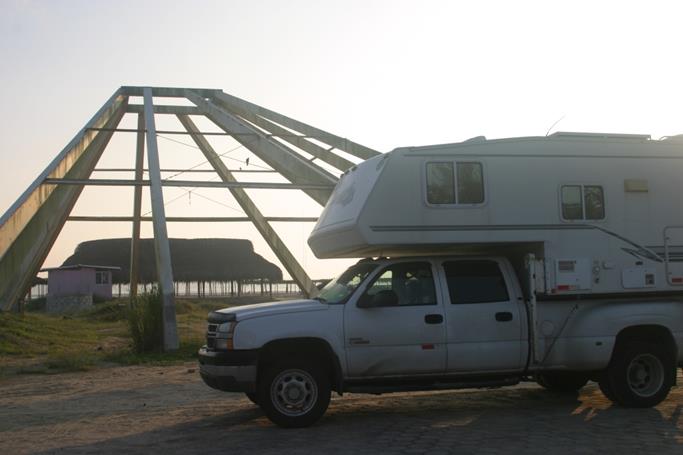 In Tuxpan, they have a beautiful divided boulevard along the river, lined with palm trees, and what we now know are exercise machines stationed at various intervals. Julie notes "We figured it out because a block up the street, most were in use as it was early morning. Yesterday afternoon when we passed the other way, I thought they were some surfboard inspired modern art."
Some of the scenery along the way.
We stopped to get some fresh "string" like cheese. Very good stuff. Julie notes "Yes he was seriously this happy."
Crossing the large bridge into Tampico.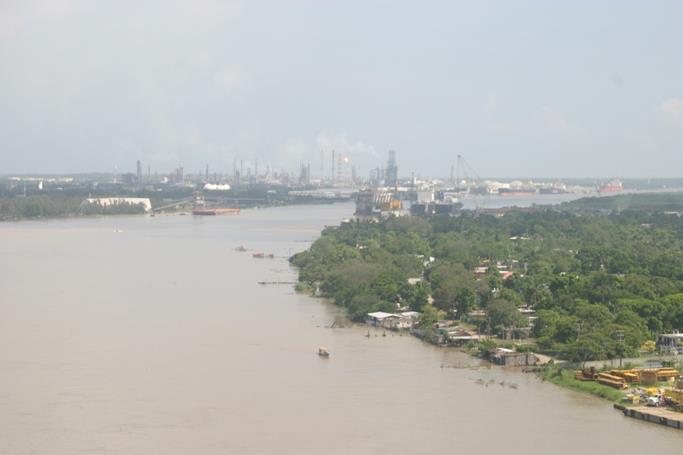 The land flattens out as you move further north. There is some fertile farmland with mountains in the distance. Julie notes "You farming folk out there, what is this crop? It looks similar to a corn plant when it starts out, then grows a tall flowered spike that turns the yellow that you see here. Many fields of it. We'd ask our guide but he's full of manure most of the time."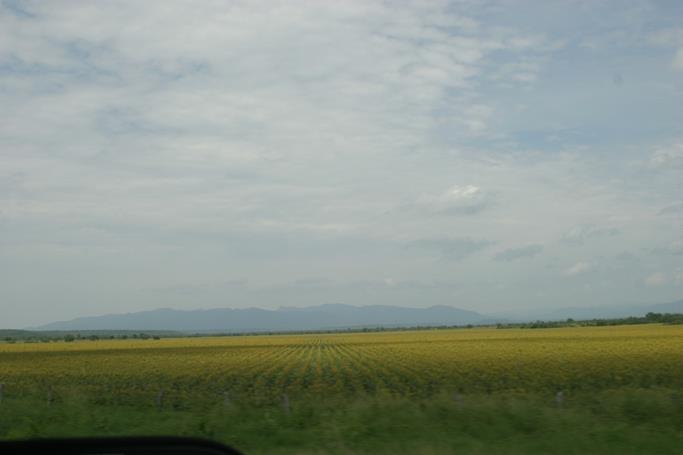 The obligatory laundry shot. Julie notes "Bonus, a nice pink house for Jaime. She wanted one when she was in her pink phase growing up. Maybe she still does?"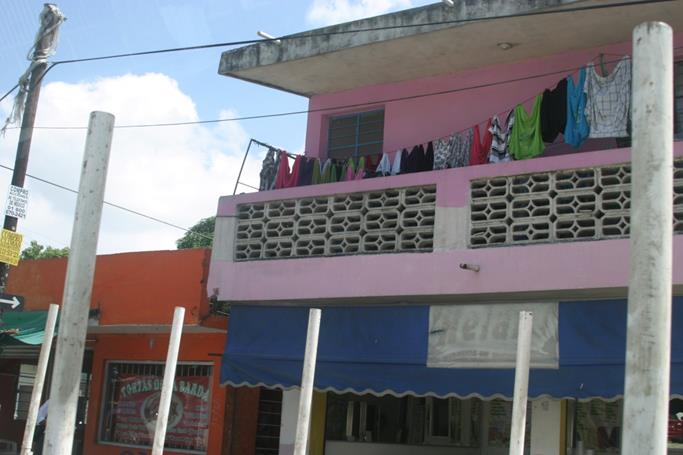 My friends in the small village near Victoria where we camped for the night. Julie notes "Some of these guys would pass by us up and down the sidewalk saying 'hello, goodbye', using their English words as we were replying in Spanish. They thought they were hilarious. This was a very nice school ground and the uniforms a beautiful red and beige. A colour combo we hadn't seen before. But they all rushed home to change out of their school clothes before coming back to check us out more closely. Good kids."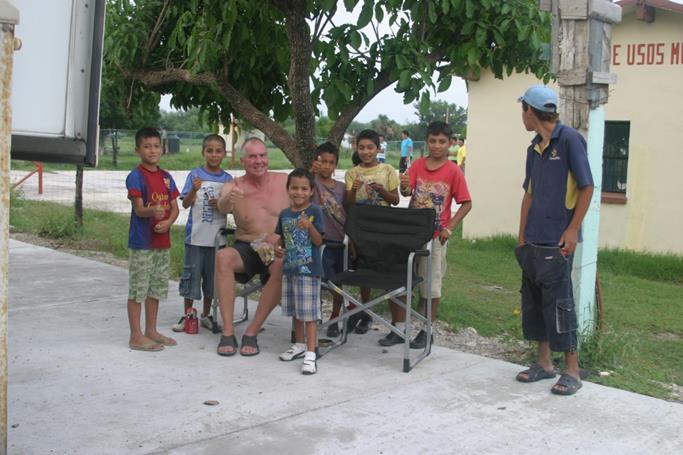 …over and out, the muleskinner and his sidekick
Julie notes "I envision another sleepless night due to the tension level. How many more sleeps, or attempts to sleep before the border you ask? Who knows?"
"These are just petty problems though that we shall overcome. We are reminded that yesterday, it was 2 years since we lost our friend Loren Melnyk, after a courageous battle against a horrible cancer. He is missed daily by family and friends who wonder if that void will ever be filled. Thinking of our Melnyk girls and hoping time is beginning to heal."