Day 99 – Thursday, October 3, 2013
This started out to be a really lazy day and it ended the same way. What a treat! The weather is fantastic here this week. It is in the low 30C's and very little humidity. The sun shone all day and there was a perfect breeze blowing. This is the good life. We had fresh fruit and yogurt for breakfast (Julie notes "I had purchased cottage cheese yesterday and was almost as excited when I opened the lid to find the creamy white goodness I was hoping for as Brad was about his McDonald's coffee – I know my sister Susan doesn't understand this delight over cottage cheese but Mom did, and would sneak my bowl away from me for extra nibbles when I wasn't looking") and I grilled up a couple of nice thick ribeye steaks for supper along with vegetable skewers and potatoes. Good eats. Julie notes "I second that!"
I went for a swim twice today in the outdoor pool. Julie notes "In case you were all wondering if I took that shower I promised yesterday, well I did and it was delightful. Not near as fun as showering while standing on an ant hill or under a mango tree in a Bombero's parking lot but good none the less. I also took a dip in the pool. It was clean and a delightful bathwater temperature. And no clear and present danger of sharks or other aquatic life, if you don't count Brad and a few other residents of the park." I also walked the loops in the RV Park looking at the wide variety of RV's people are driving from the highest end motorhomes to tent trailers and everything in between. We are the only truck camper. Julie notes "No one has come right out and complimented him on his unit but I bet they are admiring it from behind their closed blinds." We just enjoyed the sunshine and relaxing in the warm dry air and visiting with a few of the folks staying here. Oh yeah, we also worked diligently on updating the blog and trying to get caught up. 😉 Julie notes "He is a real blog task master. 'Aren't you done yet? What more could you have to say? Hurry up! Quit calling me the Windmill Man.' And so on. But my duty is to you the readers so I just let him windmill away while I get the facts to you no matter the cost to me personally."
I unloaded the camper from the truck so that we would have a vehicle to run around town in and I also need to get some basic servicing done before we head out again.
Our next door neighbours were mother Doris, and daughters Laurie and Linda, from upstate New York on their annual adventure. They were easy to talk to and great neighbours. We had many good visits with them during their stay and shared a lot of laughs. They had a great sense of humour and took everything in stride. Julie notes "We sent them off downtown on the city bus to check things out for us. If they didn't return they had willed us their deluxe Class B travel van with all the bells and whistles and bathroom and TV and kitchen unit and and and…"
I think Julie is much happier to be here than she looks in this picture; in fact I know it. Julie notes "WTF? (Why The Face?) this time you ask? I think he is probably saying 'Hurry up it's your turn to blog!' Either that or all of this reading in peace and quiet is getting tedious and I am wishing my personal book reader Karen S. would hurry up and arrive."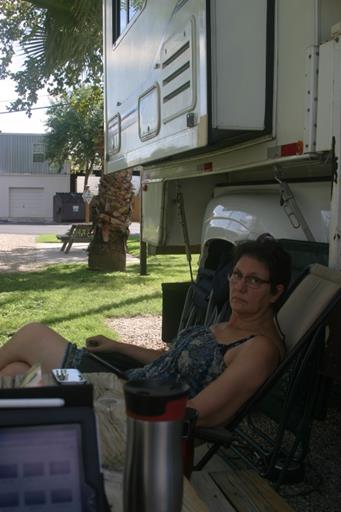 Julie working diligently on updating the blog. Julie notes "Nice form eh? Or at least that is what all the guys here are yelling at me as they drive past in their scooters."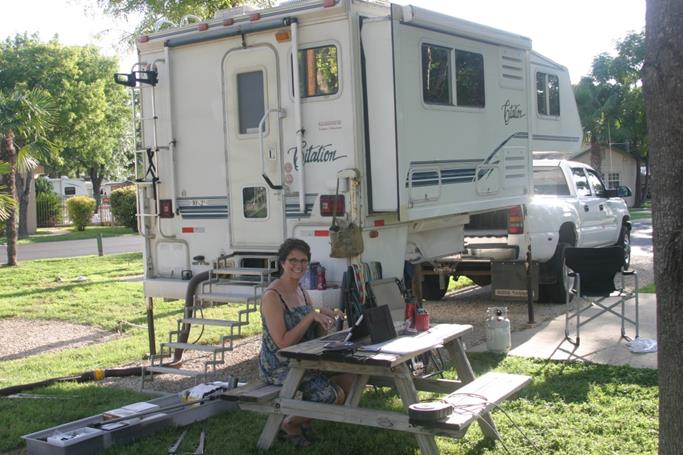 One of the streets in the RV Park. Nice place, if I haven't said that already.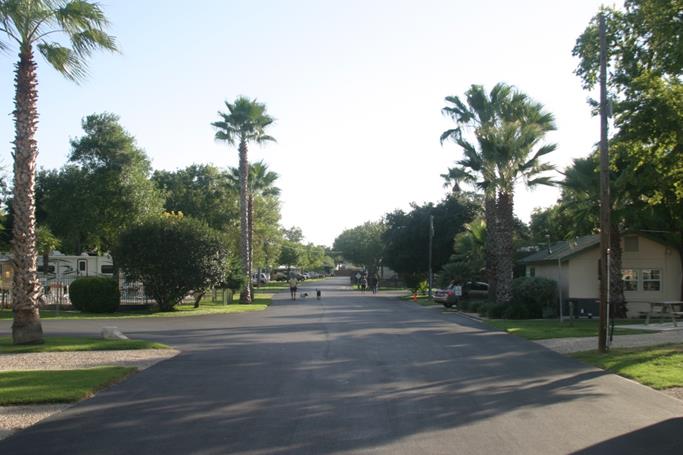 …that's all for today folks, over and out, the muleskinner and his sidekick
PS: Kelly, We don't know what those structures are either so you let us down. We think they are the Mexican equivalent of a teepee or a jungle gym for King Kong, or… Julie notes "or a giant umbrella style clothes line, you would need some industrial sized clothes pins though."