Day 101 – Saturday, October 5, 2013
We are still enjoying our San Antonio stay in the Traveler's World RV Park. Today, after we had our coffee and breakfast, some more blogging, and just relaxing around the park, we headed downtown again. This time we planned to grab some lunch and then visit the Alamo and do some more River Walk exploring. The weather has been just about perfect; sunny, around 30C, no humidity, and a nice breeze.
The first stop was Schilo's Delicatessen, a San Antonio institution, for lunch. First though, we had to find it. It is not on the River Walk but on street level above the River Walk. After following our GPS and asking an information attendant we found the place right where it was supposed to be. Julie notes "Lesson #101 in the better wives club handbook 'Don't make innocent suggestions or ask any questions at all when your husband is in GPS mode. The anger he feels for the GPS, which is having difficulty deciphering between the 2 street levels, and taking you on a circuitous route in the heat of the day, may be transferred on to you.' Can you spell CRABBY?"
Lunch was excellent and the atmosphere and service was top notch. Julie notes "The cool air temperatures and cold drinks soon cooled our tempers as well."
After lunch, we headed over to the Alamo. The Alamo is free but we purchased the audio tour "wands" to help us understand the exhibits a little better. Touring a museum is one of those things that tests a marriage. (Julie notes "Well it tests OUR marriage. Can't speak for other couples but I bet they walk hand in hand reading each exhibit together.") I completed the tour in the recommended allotted time of 45 minutes. Julie, on the other hand, spent at least 2+ hours reading every placard and inspecting every display. Julie notes "The fellow who told us it would take about 45 minutes was a big fat liar. The only way to complete that tour in 45 minutes is by running from spot to spot, pushing down old people and mothers with babies, leaping displays and security ropes and screaming 'Oh MY GOD are there still 18 more tour stops before I can get out of here? Which pretty much describes how Brad tours." Being the patient husband that I am, I waited for her across the street under a beautiful old oak in the Alamo square plaza with nary a complaint. This is something we have understood about each other since visiting the Royal Ontario Museum in Toronto on our honeymoon. Again, I accept our differences with complete grace and understanding. Julie notes "I should also mention at this point that his exact words were as we entered the building 'You take your time Honey Bunches of Oats and I will just wait for you in the square where I will welcome you with open arms after you've sated your inquisitive mind with knowledge.' This is not how things played out when I returned to the square, thinking I had really made good time as there were plenty more displays that I hadn't even glanced at, let alone read thoroughly. There was a whole display on belt buckles and another on bullets that I will never read about so that I can forget immediately. The guy waiting on the bench under the lovely oak tree was almost the same guy that was angry at the GPS. Again can we spell crabby? (small letters this time because he was trying to pretend he wasn't."
After my snide comments to her when she finally exited the Alamo, we decided to wander around the River Walk some more. Earlier in the day, we spied a street vendor with a Mexican souvenir we liked and planned on picking it up on our way back to the bus. Needless to say that we forgot and merrily hopped on the bus back to the RV Park. Oh well, maybe we will drive back tomorrow and pick it up.
Our Schilo's experience. We both ordered ruebens; one of their specialties. I had the homemade split pea soup and Julie had the red cabbage. I also sampled one of their dark German beers, Spaten Optimator, and Julie had a root beer. Julie notes "Homemade root beer which is also one of their specialities. No A&W rootbear in sight though. The spicy red cabbage was good too but it was missing the magic ingredient, bacon, how Maria makes it for the lab luncheons. Bacon makes everything better."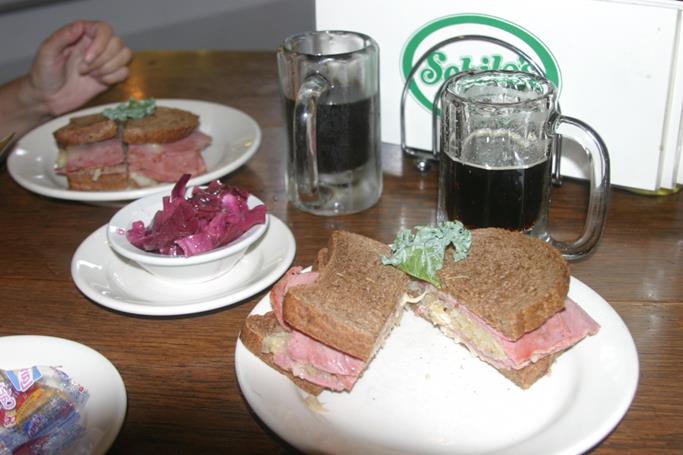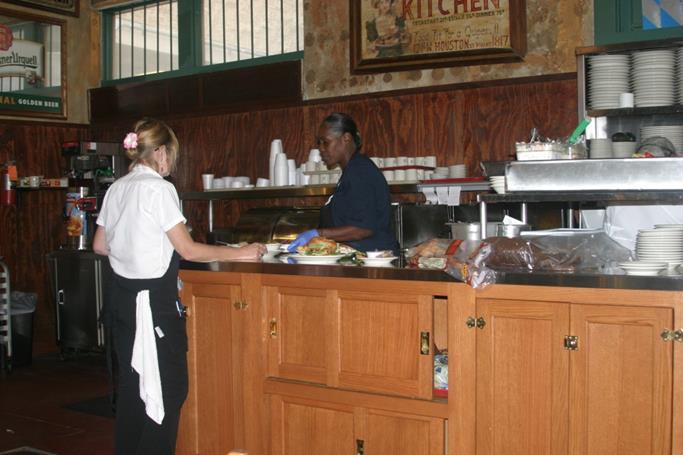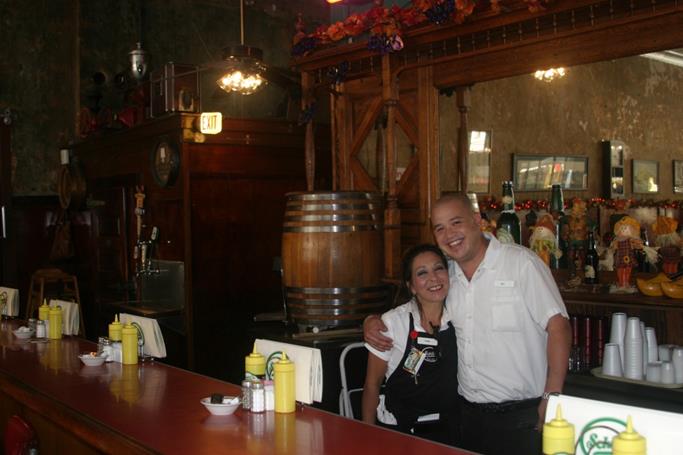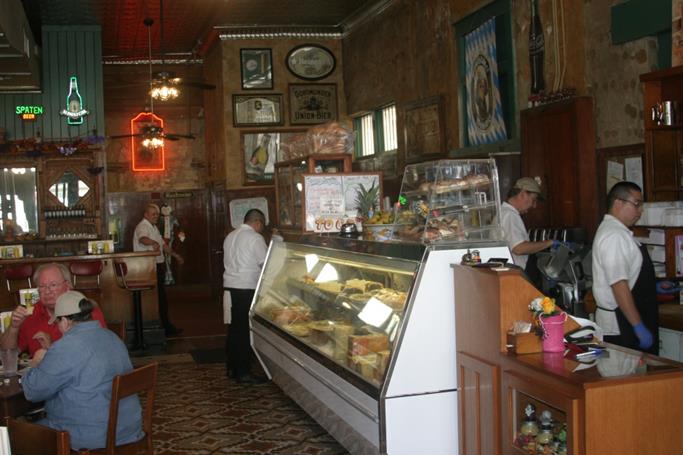 Then it was on to the Alamo. We're excited to learn all this new stuff that we will promptly forget if you ask us later. Julie notes "I will remember the Alamo. Or at least enough of the history to really distort the facts if someone is crazy enough to ask me about it. If I have the dates correct I was just a teenager when all of these events really took place so you know how teenagers are. They just don't pay attention to current events. I've got my listening ears on now though. But first I have to go and get this audio device changed from French to English. Which I forgot to mention up above, is one of the reasons I got a little behind on the tour schedule compared to the Windmill tourist."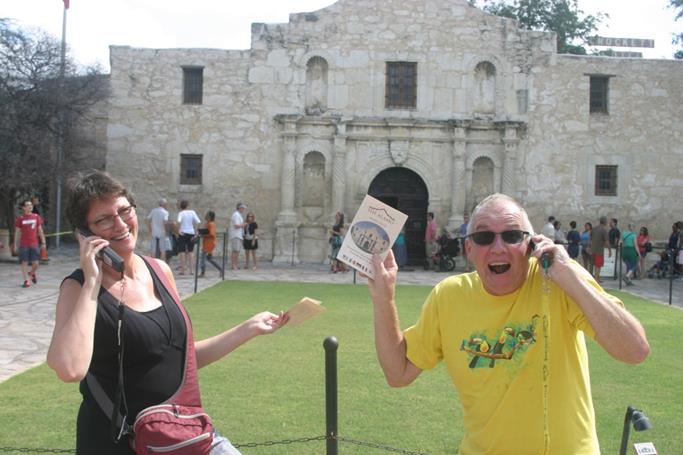 An old very large oak tree, well, and squirrel in the Alamo courtyard. Julie notes "Not the only squirrely thing in this courtyard."
After our 2+ hours (not complaining) at the Alamo we needed a drink. I'm not sure why she needed a drink but I sure did. We found Joe's Crab Shack and had some appetizers and drinks. Julie notes "One more time, can you spell CRABBY? I thought Brad would fit right in at Joe's CRAB shack considering his mood. I deserved that drink. And I even resisted buying him the t-shirt that said 'Bite Me'. It was a nice way to end the afternoon and immediately wash away any knowledge I'd acquired with that jar of marguerite. We are really enjoying the great restaurants around here and are eating and drinking too much but who cares, really?
…over and out from the muleskinner and his sidekick
Julie notes "I'm surprised but none of the pictures we took included the many fine young men and women walking about in their air force blues. We heard it was a graduation weekend for them and there were hundreds enjoying the city with their families. Fit and trim and tidy in their uniforms a slight contrast to the rest of us ambling from ale house to restaurant. Cheers to the youth!"
"And speaking of youth, a good way to get banned from the Alamo forever, apparently, is urinating in or around the grounds. Not that we know anyone, like a younger brother, who would do such a thing, right Alison?"