Day 102 – Sunday, October 6, 2013
Today we had some fresh coffee and relaxed in the morning sunshine before heading downtown to pick up our souvenir we forgot yesterday. We had a bit of a storm last night with some rain, lightning, and thunder but it cleared up and is another beautiful day although a bit cooler (again, not complaining).
We drove downtown and circled a few streets until we found the Alamo and our street side vendor. Julie notes "He makes it sound like a calm little jaunt, now doesn't he? But let me tell you a secret, it wasn't. He likes to shout out questions like 'Is this the street? Did we turn here? Is this one way? Is that policeman waving at us? Is that parking?' Trust me he doesn't really want answers. It's the driver brain trying to make contact with navigator brain. If you speak, you just mess with the system. But if you don't speak then that causes trouble too. It's not easy being the princess, just saying. PS he has no memory of this because these 2 brains have to wipe clear to be ready for the next challenge." The traffic was very light on a Sunday morning so I was able to pull over to the curb, put on the 4-way flashers, while Julie made a deal with the lady out the side window. She said the piece was on sale for $25 less than we had planned to offer. Sometimes things just go your way. I hopped out and helped her put it in the backseat for the ride home and off we went. Julie notes "I was just about to say 'But we have this much more money already counted out for you, are you sure you won't take it?' But Brad gave me the wide eyeball look just in time. Hope she didn't see us high fiving and yeehawing down the street. Brad couldn't click his heels though because he was driving."
Once back at the park, I cooked up some eggs with leftover steak, vegetable skewers, and toast. Yummy brunch. We relaxed around the park, I went for a swim, we blogged some more, and visited with new folks who arrived in the park. They are from Coronach, Saskatchewan and they have heard of our friend Denise's family from Rockglen. Small world. Julie notes "Oh we got the goods on Denise and family, that's for sure. They asked if Denise is the one who calls the River Walk, the canals? We couldn't lie."
I also changed out our water filter cartridge today as we were approaching the end of the old one's useful life. It was quite dramatic to see what it had cleaned from the supposedly clean drinking water we had been filling the tank with and probably even more dramatic on what it cleaned that we could not see. The Seagull IV by General Ecology is a high-end water filter we had purchased specifically for this trip and I guess it worked as we never worried about the quality of our drinking water. Julie notes "Blech! Thank you filter."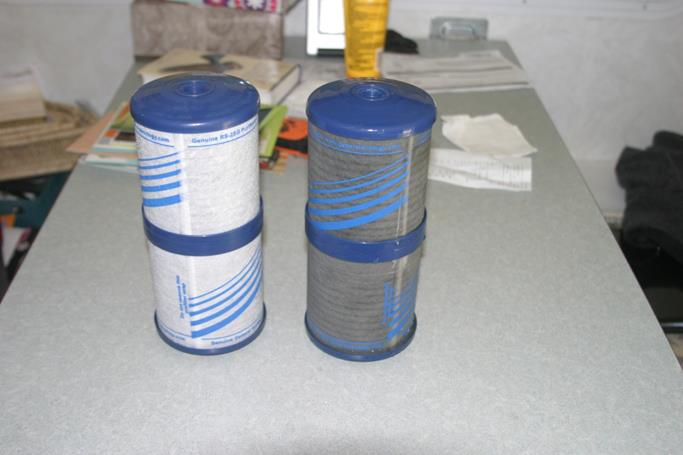 For dinner, we wandered across the street to the Taqueria Guadalajara (Jalisco Style) Mexican Restaurant.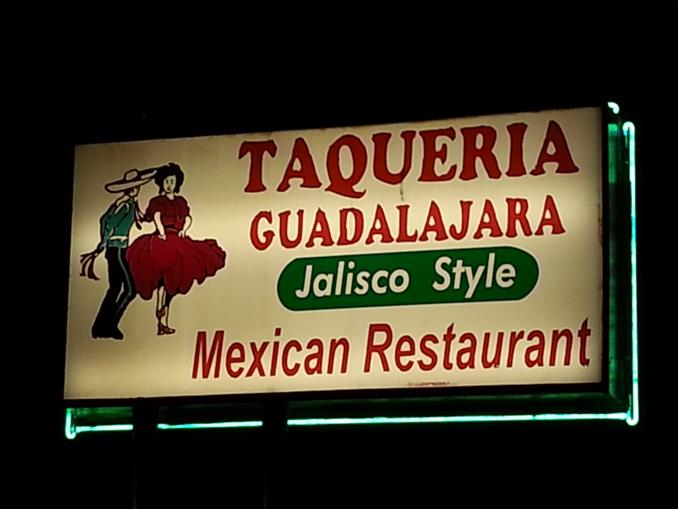 This is how Julie looked after eating her dinner. I'm not sure why, as the food was actually quite good but their Margaritas need some work. Rule #102A; don't listen to the lady in the pool who tells you the Margaritas at the place across the road are really good. Maybe she just hasn't had a good Margarita. Julie notes "That is not a good face and it was not a good margarita so yes maybe they go together OR maybe I thought the photographer was just snapping a shot of the empty plate as asked so instead of smiling pretty for the camera and giving you my glamour pose, my thoughts reverted back to that yucky margarita. So as a public warning, if you don't want to see this face, make good margaritas. My apologies to everyone who had to witness this."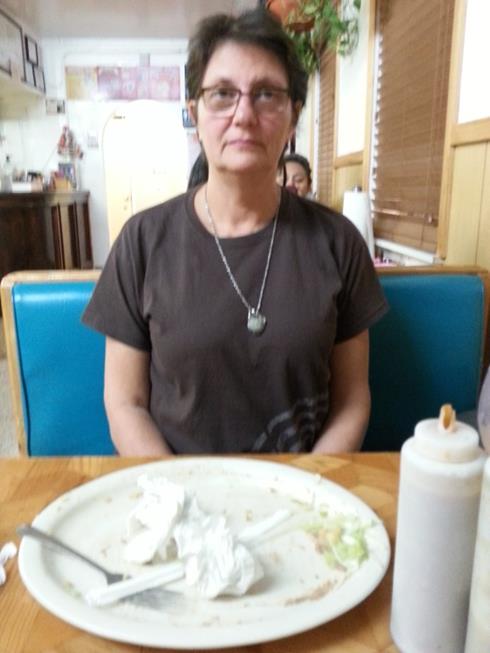 Rule #102B; Look on the walls of the restaurant BEFORE you order. If you see this machine, be wary, be very wary, be very very wary. Julie notes "We figure the staff probably tap into this occasionally as it seems like a busy family eating spot and if the 2 screaming toddlers were any indictor, it can be very noisy."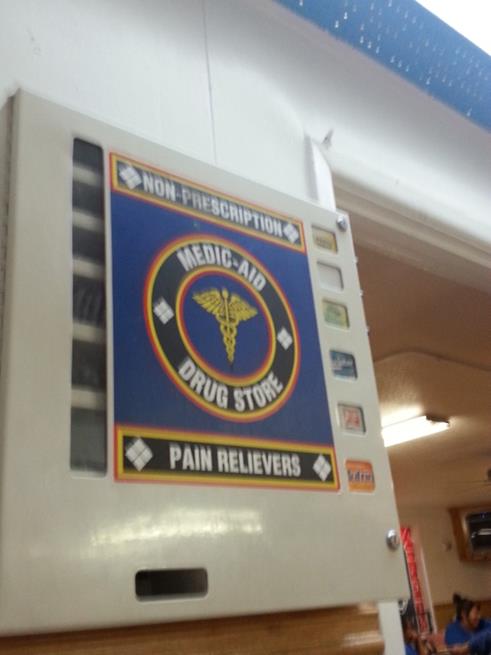 Or maybe they seated me here because they saw I was with Julie "the-record-holder-for-the-longest-Alamo-visit-ever" Emond. Julie notes "Oh hardy, har har. I didn't wear my sash to the restaurant so how would they even have known."
…over and out for today folks, carry on, the muleskinner and his sidekick
PS: Sorry about the picture quality today (or maybe you didn't even notice) but these are mostly phone pictures.
Julie notes "Trailer parks are interesting places. We've done a lot of people watching over the past few days but cannot figure out what the heck is going on at one of the more permanent RVs. We need Brad's sister Janet here to decipher all the relationships; who's married to whom and who is working and how many people live there and why is that guy covered in bandages, and so on. It's driving us crazy. When can you be here Janet? Start checking the train schedules."