Day 105 – Wednesday, October 9, 2013
We relaxed around the Kerrville State Park this morning until the noon check out time. Julie notes "I waited until just the right song came on the iTunes before I was able to drag myself out of bed. Cat Stevens singing 'Morning has broken' inspired me." I wanted to hit the #1 rated restaurant in Kerrville, a BBQ joint call Cal-Bob's. It was a few miles north of Kerrville on the highway we were taking to Fredericksburg; our next destination. We were not disappointed and Cal-Bob is one person. I asked the guy there if he was Cal or Bob and he replied that he was both. J He loves what he does and his passion comes through in his customer service and food. Julie notes "I bet you can hear the giddiness in his description above. I'm surprised he could sleep last night after he had told me this was our planned lunch spot for today. Almost like Christmas Eve and Cal-Bob does resemble Santa a bit. We also met a nice couple from France who were working in Austin teaching Spanish at a French school. Now that I type that out it seems very suspect and it may be possible they were just French culinary spies trying to find out the BBQ brisket secrets and take them back to France. The French have always had trouble trying to get people to like their food. Except for poutine of course."
After lunch, we headed on to Fredericksburg and found an RV park. Once we had a site booked, we headed off to Luckenbach, TX thanks to Debbie and Gord's recommendation. We spent an hour or so at Luckenbach, population 3, listening to some country music, having an ice cold Lone Star, (Julie notes "A cold Mike's Hard Margarita for me, thanks.) and meeting some other visitors. We made a connection with Peterborough, ON where Julie's brother, Quentin and wife and family live, and also race horses with my sister Janet and brother-in-law Rick and niece Jenny. They have a nephew in Peterborough who has race horses. Plus the nephew's last name was Casselman, the same as Julie's grandmother. Yes, it's complicated but it all made sense over a beer. Julie notes "It was like we were long lost family. But as the Luckenbach motto says 'Everyone's someone in Luckenbach' and they were right. Wonderful Texans some turned Arizonians. They were 2 sisters and husbands, the one couple celebrating their 59th anniversary trying to catch up to the other couple who would soon be celebrating their 64th. And a lovely daughter who was taking them around to all of their favourite haunts. They were on their way to another dance hall and then it was to a bar for 3 hours because they couldn't miss 'the baseball game'. It was a fun encounter in a very nice little spot. And now you should be all singing the Willie Nelson and Waylon Jennings' song 'Take me back to Luckenbach, Texas.' I would go back again for sure!"
We then went to Wildseed Farms, as recommended by our new friends. It was a large, expensive gardening centre. They sold gardening decorations, souvenirs, food, and wine. Julie notes "I know he really tried to mask it in his comments above but this was not Brad's favourite kind of place but it was beautifully laid out full of all kinds of things and gorgeous displays. It is also touted as being one of the largest producers of wildflower seed in the nation. At different times of the year, (we're assuming) there are tours of the wildflower fields and butterfly gardens etc. There was just the one large field of cosmos that we could see, but it was very pretty. Brad even said so. But all he could see was the mark up on the Mexican goods we could've loaded up on and sold across the border, making our fortune."
We headed back into Fredericksburg and toured the town a bit before driving back to the RV Park.
Everything is bigger in Texas, even the chickens. Julie notes "I hope he's not out in the streets playing chicken!"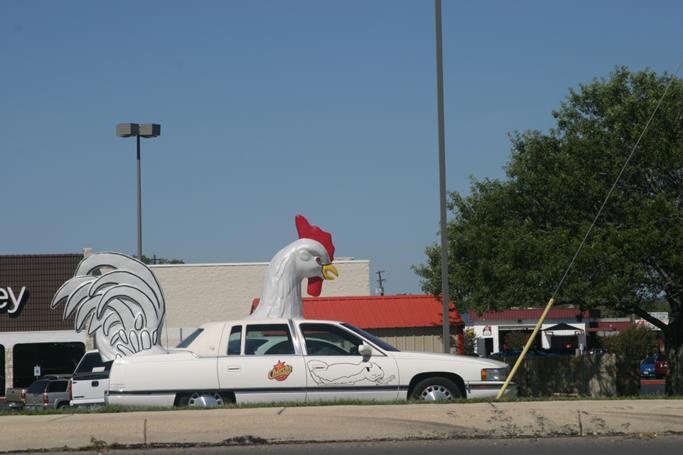 The highlight of my day!
Not much from the outside but the food was outstanding.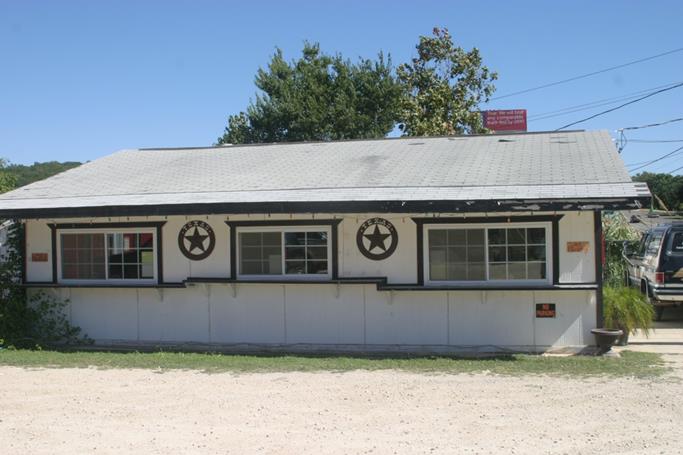 The pitmaster, Cal-Bob. Julie notes "And Brad's new hero!"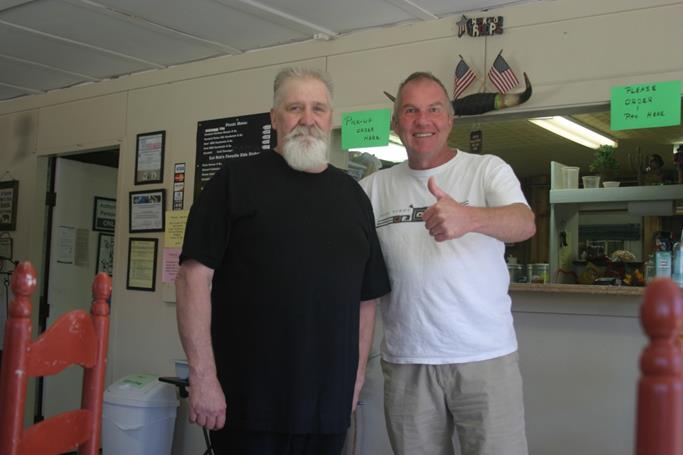 …and he shared some of his tips with the muleskinner. Julie notes "This is what hero worship looks like."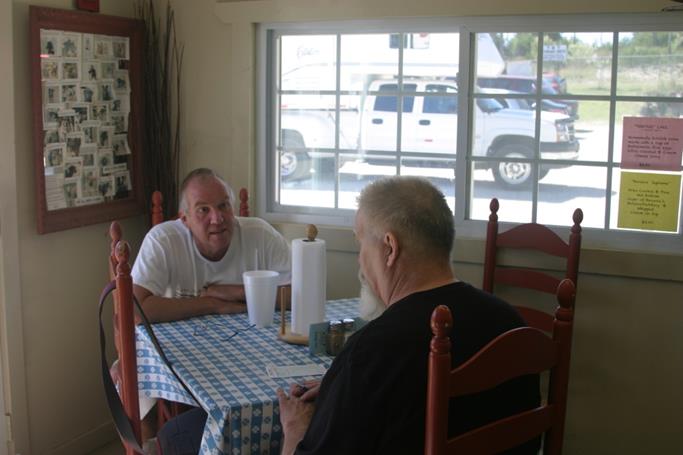 …and even took me in the back to explain his custom made smoker. Julie notes "This is the picture he took after recovering from fainting with glee."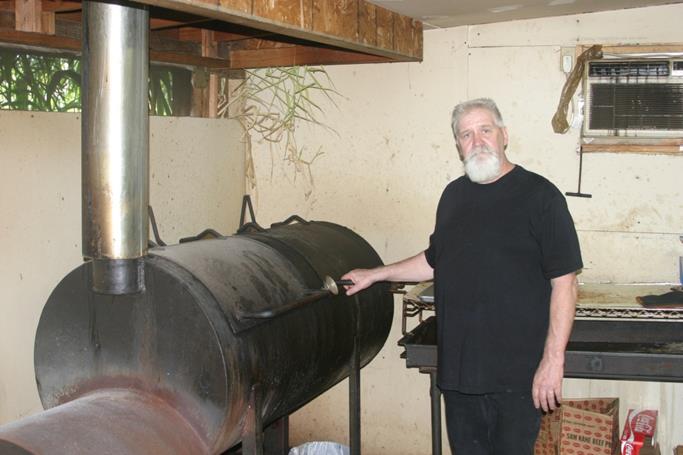 Downtown Fredericksburg. Julie notes "The town has solid German roots and many wineries where you can taste their wares. Just ask Gord and Debbie. (One of them had to sleep off a few 'samples' on the tour ride back to their hotel.)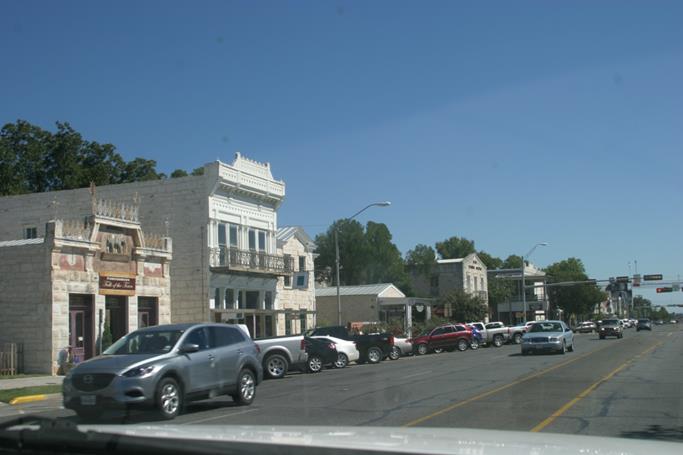 Lukenbach, TX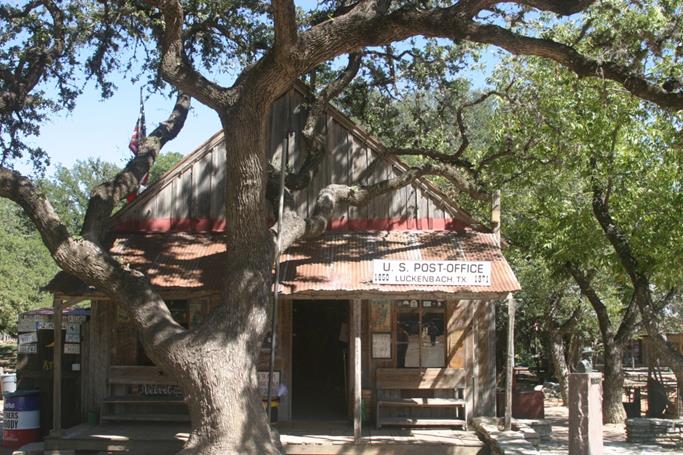 The old counter in the store was exactly the same design as my dad's general store counter that we had refinished and use in our dining room. Their wood panels had been replaced with lexan but the design and materials is an exact match. Lukenbach, TX and Camborne, ON – another connection.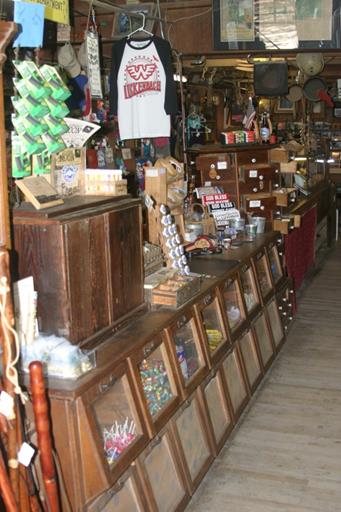 A rooster and chicken for Melodie.
David Harris performing. Great voice and very talented.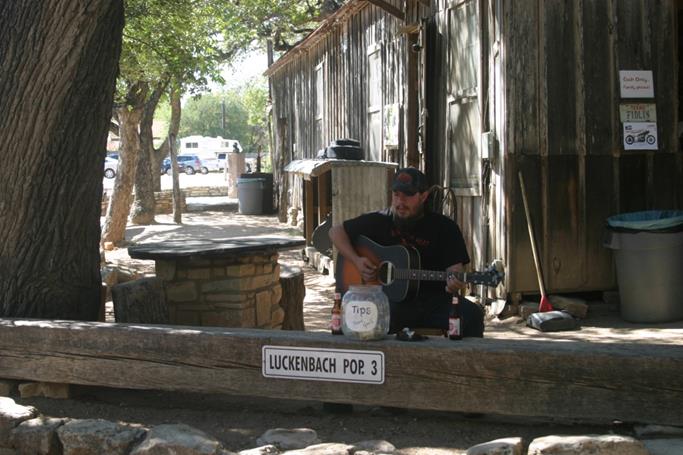 The washrooms at Lukenbach. Julie notes "Dang that Mikes Hard Margarita! But these were nicer on the inside than I had imagined. But my 105 days on the road have pretty much prepared me for anything."
Wildseed Farms. Julie notes "Brad says 'These are pretty!' See I wasn't lying. He did say that."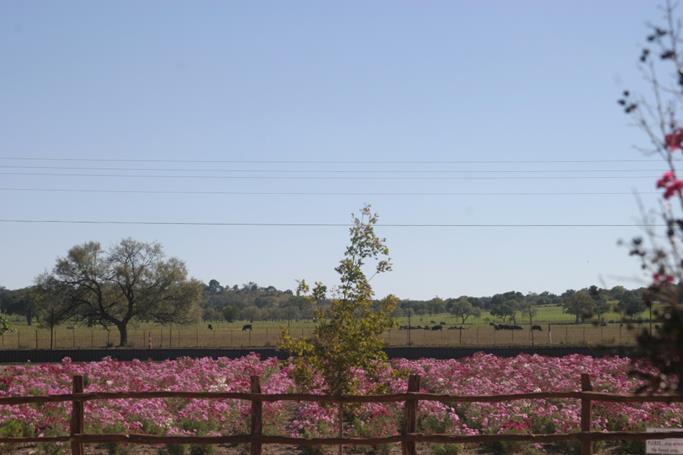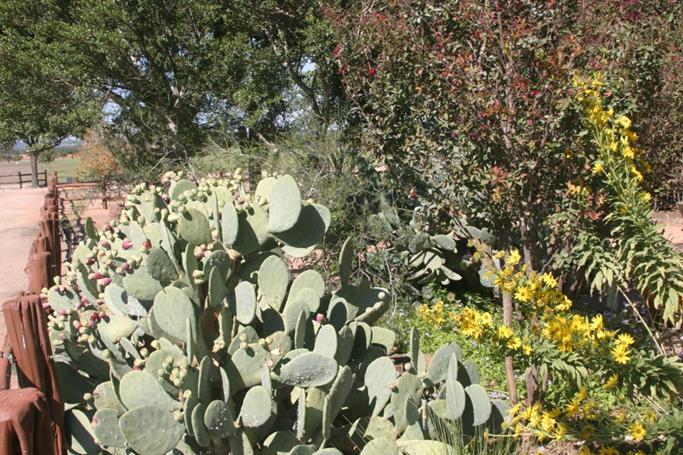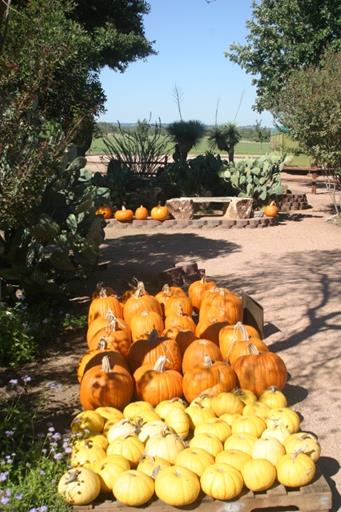 And finally, Gourd Campbell was only here for a day and they've already named a festival after him. Julie notes "Unfortunately we'll be gone next weekend and will miss this. Good thing we got to spend time with the real Gourd and his little Pumpkin the other night."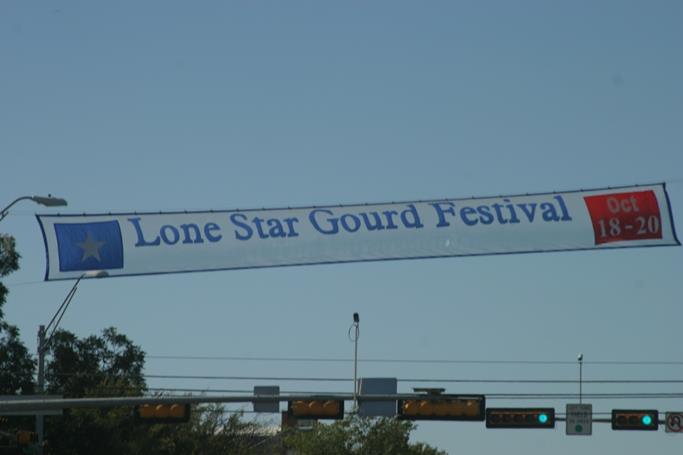 …over and out, the muleskinner and his sidekick