Day 106 – Thursday, October 10, 2013
The Oakwood RV Park we stayed at near Fredericksburg is not nearly as nice as our San Antonio RV Park. It had full hook-ups but it was not as well maintained, the sites were much closer together, and just not our kind of place but was OK for one night.
Having said that, we still didn't rush away too early. We putzed around until 11ish and then headed out.
Julie notes "We were ready to leave but Brad's tablet was in the midst of a very long update on a very slow wiffy. So we had to wait for the technology to catch up with us for a change. During this time we heard of the passing of Harry Hambrook, who was the dad of Kathy, my bestest friend growing up. More tears as I recalled all the adventures we had had, with my other mom and dad, Jean and Harry, in the background, doing all those things parents do but with wonderful English accents and a haunted house to boot. They also took Kathy and me, two teenagers if you can imagine, for my first trip from Ontario to BC, camping along the way in their tent trailer. Mr. Hambrook, who kept insisting I could now call him Harry, reminisced with me at Mom's funeral about how Kathy and I played badminton across the country at each campsite in hopes of attracting the attention of the young camp rangers. If any young people are reading, this proved futile but we got pretty good at badminton. He was a master craftsman in carpentry and was sought after for projects large and small. We have a beautiful recipe box that we cherish, received as a wedding present. The little village of Moscow will miss the outspoken sensibility and sense of humour of a good neighbour and friend. His family will miss a smart and caring husband, dad and granddad. Our thoughts are with them."
Our first stop was a local BBQ joint called Cranky Frank's. It was really the name that attracted us and not its Trip Advisor rating. It reminded us of one of our Grande Prairie friends who I share a certain outlook on life with and we have been known to solve quite a few world problems if we have enough beer. I had a brisket sandwich and Julie got the pulled pork sandwich. It was good, but not Cal-Bob good. Julie notes "Mine was a bit on the dry side. Cal-Bob would never allow that."
We then trekked north to Enchanted Rock State Recreation Area and did the summit trail hike to the top. That helped burn off some of the sandwiches. Julie notes "I certainly sweated off my sandwich or at least sweated my buns off trying to keep up with the long legged Windmill man. I was expecting to see a beer parlor or another BBQ joint at the summit by the speed he was heading up those rocks."
After the hike, we headed north and west along some secondary highways to San Angelo State Park where we are camped for the night. There should be a very large lake here but as far as we can tell it is completely dry. It was another beautiful afternoon and evening. We relaxed outside and watched a parade of vehicles head to the group area for some type of celebration. My sister Janet wasn't here to tell us what was happening so we had to ask our friend Lola. She thought it might be a group of Moonies having a Unification Church gathering and we should be careful considering we are still in Texas. haha It turns out it was the State workers of this area having a BBQ. Julie notes "Or so they say…"
Our site #11 at Oakwood RV Park with our neighbours from the Netherlands, a young couple with 2 small children, who had shipped their unique looking RV to Halifax, traveled across Canada and then south into the US. Julie notes 'Marrika and Petri and Monkey, the little girl's cuddle toy. The kids were too shy to tell us their names but liked to peek around the camper at us. We are pretty strange looking."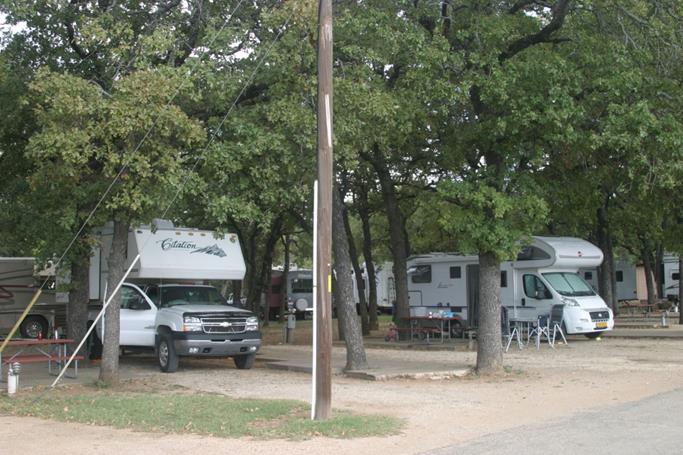 Crazy er uh Cranky Frank's place
A brisket fresh from the smoker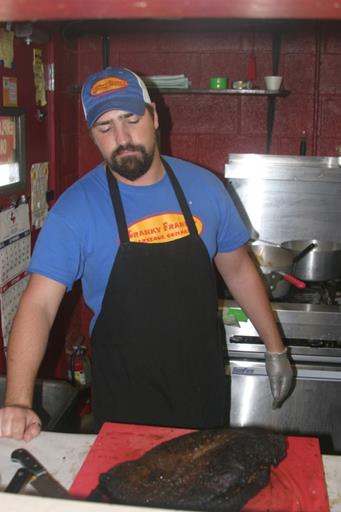 Another chicken for Melodie. Julie notes "Better not 'steel' this one."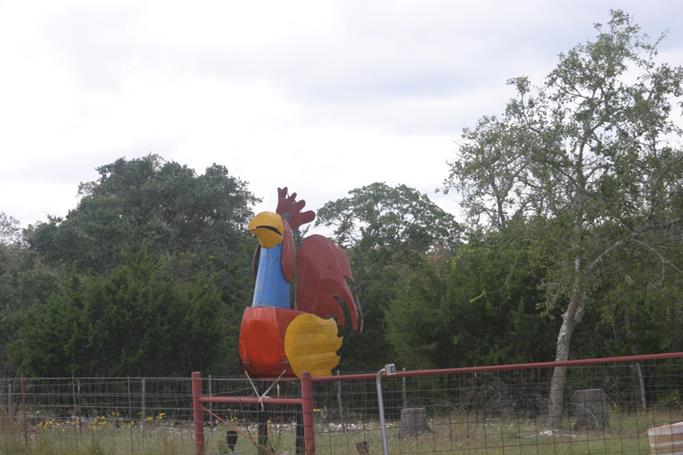 Texas hill country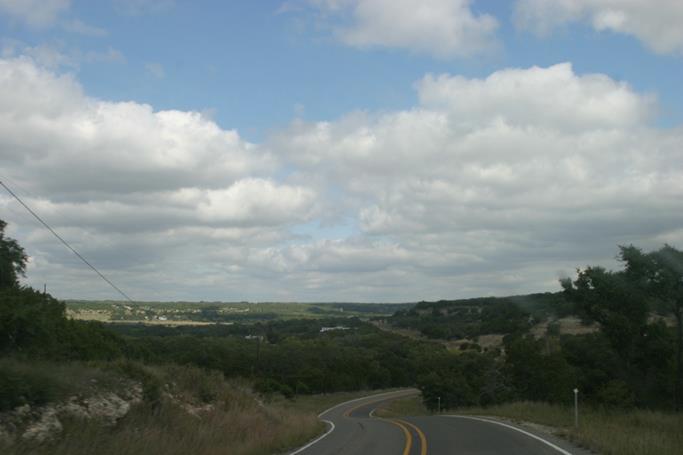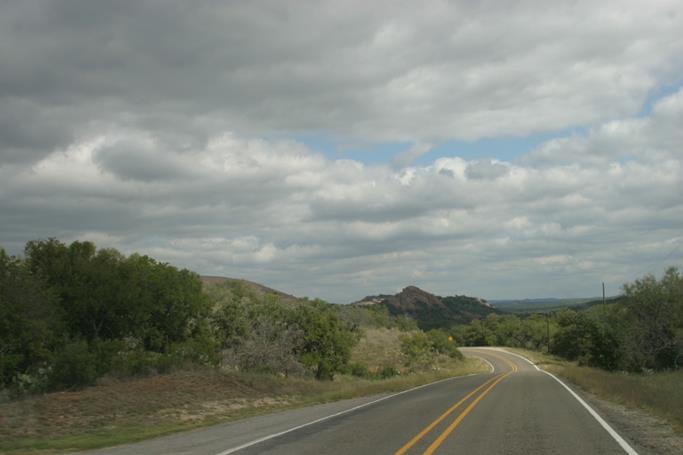 Approaching Enchanted Rock Julie notes "Where did all of that nice cloud cover go when we did our climb?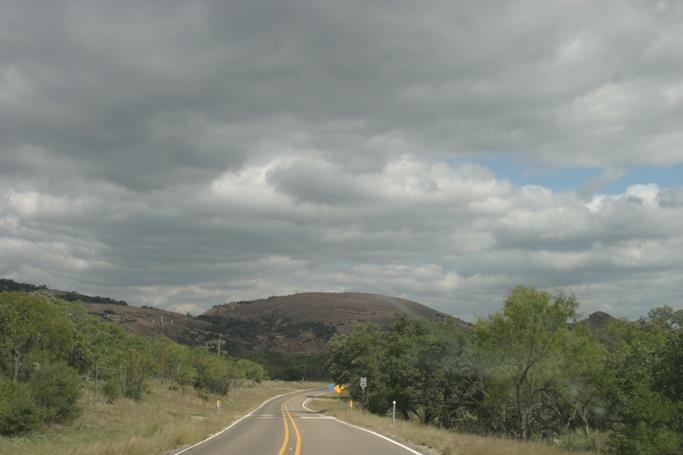 On the trail to the summit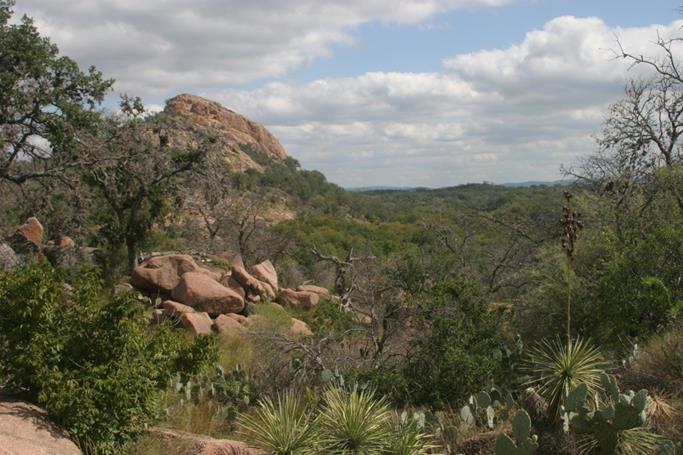 At the summit. We tried to take a "jump in the air with the camera on time delay" photo. We were not coordinated enough and tired out before we got a picture with our feet off the ground. You will just have to live with this one.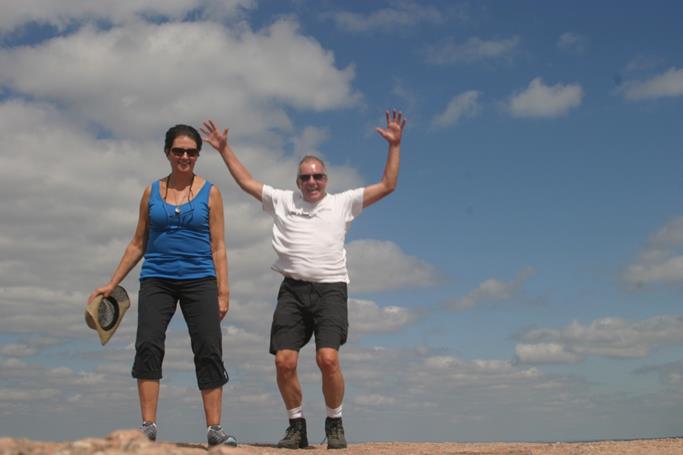 …or this one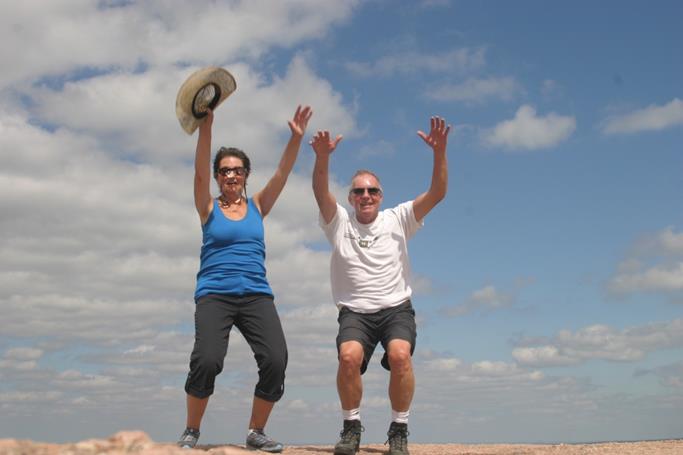 …believe me, there are more but I will stop here
Julie notes "Brad yells out 'nice boulders!' A girl can't hear that too often."
The view from our site in San Angelo State Park. Julie notes "I tried to buffalo Brad into thinking these were the real deal. But unless it's on a BBQ pit he is no longer interested in wild game."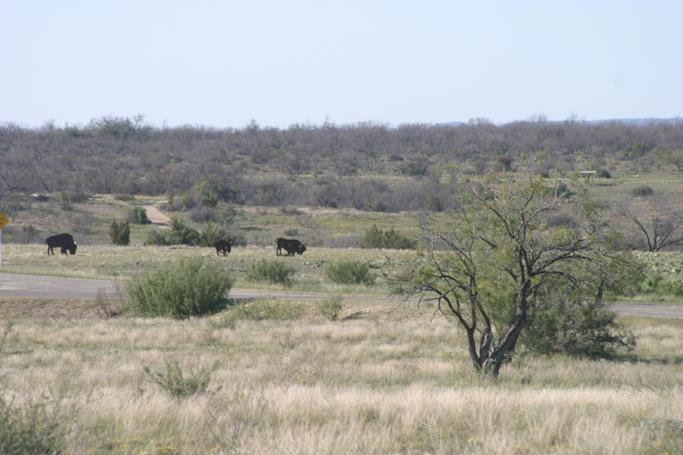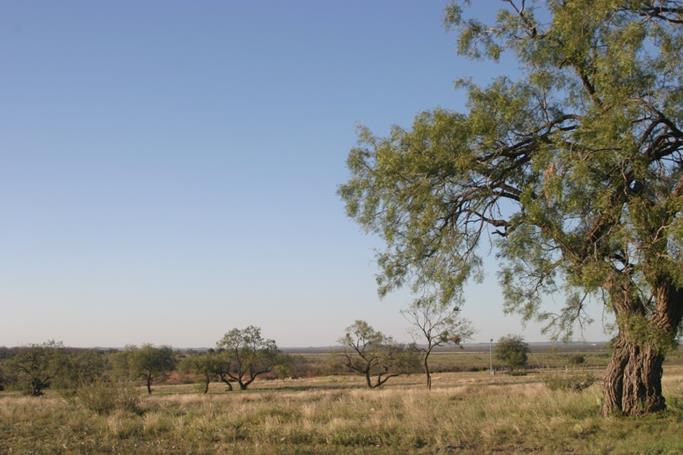 ..over and out, the muleskinner and his sidekick
Julie notes "I purchased some real glasses before this trip, progressive lenses on the suggestion of the eyeball specialist. Up to then I had been pretending that the reading glasses were doing the trick and the distant world was just naturally becoming blurrier and blurrier. I picked these new glasses up the day before we started this trek. Since I'm prone to losing or breaking my reading glasses I attached them to the lanyard you see dangling around my neck in most every picture. I had heard mixed reviews on progressive lenses but from the first minute I started wearing them I loved them. My world was in focus again far away and close up. Amazing! That was until our first hike to the Mesa Verde cliff dwellings. There is a reason you don't see any hieroglyphic pictures of the ancestors wearing bi-focals. They all perished over the edge of the cliff because looking down through the lens made them take those big exaggerated steps and plunk, next thing you know old 4 eyes is plunging into the canyon and was today's human sacrifice. (I don't think the Anasazi actually had human sacrifices. They didn't have to because of all the people with glasses like mine getting dizzy and high stepping over the edge.) Lesson #106 'Dangerous places to wear progressive lenses are;
Mesa Verde cliff dwellings (as explained above);
skinny fort steps where you have to angle your hips one way and your feet the other, those must've been miniature soldiers or contortionists;
unevenly staggered Mexican stair cases, especially after an unevenly poured Mexican margarita;
darkly lit movie theatres where you walk up the steps to your seat, with popcorn and a drink and the sign that says 'watch your step' is in Spanish;
the edge of a volcano, active or not, one high step too many and you are volcano burps;
slippery mossy path ways, which are usually near a falls or a fast flowing river unless you're a strong swimmer or a loud screamer;
any climb up a Mayan ruin can become a tumble down a Mayan ruin, they were built this way hundreds of years ago so that the bespectacled tourists of today will continue to fall and appease the gods, those Mayans knew what they were doing, they had that calendar that predicted exactly this scenario;
the San Antonio river walk, which is fairly flat but the motion of the river flowing past plus the 3 bottles of wine you just shared with the Campbells flowing through your veins plus those danged distorting lenses could just put you over the edge and flowing with the ducks;
and finally as proven today, hiking rock strewn mountainsides with progressives can make you look like you are high stepping over rattlesnake dens when you are really just trying to gauge the next step, this is all fun and games (and lots of extra exercise) until you twist an ankle, high step into a cactus or get made fun of by hikers not wearing glasses (and believe me this one hurts as much as the other two)."