Day 121 – Friday, October 25, 2013
We filled up on another free breakfast this morning thanks to American RV Park. After breaky, Julie did up a few loads of laundry in the nice laundromat and met a new friend from California. JuIie notes "Time flies when you are chatting and sweating, fluffing and folding. My new friend, Maurie, was a retired teacher and her husband a retired civil engineer. A perfect match of personalities she says, so take note Jordan and Alison! We bonded quickly over a dog hair in washing machines discussion and pretty much discovered that we were awesome. It was a fun distraction while the undies churned."
I spent 45 minutes on the phone with AT&T trying to add more time and long distance to our phone. You would think that should be easy but because we don't have a US zip code, I couldn't use the automated systems. Like all the gas pumps here, they want to verify your credit card against a zip code for security. If you don't have one, you are out of luck and move into the manual systems. Eventually, it was all processed and we were good to go. Julie notes "Who should we call? Besides the bank people who we have already called who won't return our calls. Feel free to send us money if you like but Brad is growing out his scary eyebrows out to deal with them properly."
We hit the road about noon for a 200 kilometre jaunt to Ojo Caliente Hot Springs. We stopped for lunch at the Terra Restaurant at the Santa Fe Four Seasons. A very nice resort in the mountains near Santa Fe. Julie notes "Now this was my kind of truck stop. Luckily for me we had passed all the usual highway lunch stops and took a chance on this off the road surprise. Marvelous food, beautiful scenery and the valet was too adorable in his attempts to serve our every need. On our way out he was really selling the free hot cider on deliciousness and hotness and he was right, it was delicious and hot. Emily, I'm just saying, I think he might be available and he seems to be your type."
After lunch, we drove the remainder of the way to the RV Park at the hot springs resort. We booked a site for two nights. After relaxing for a bit, we headed for the hot springs and soaked in most of the seven different natural pools; some arsenic, some iron, some soda. They tell us it is good for us. (Julie notes "We were slightly 'depressed' that the lithia stream was out of service. And despite the claims that it is good for gastric and other issues, I could not convince Brad to take a big swig of the arsenic water. Will have to sneak it in to his drinks, etc. as per usual.") We certainly felt relaxed and re-energized. Julie notes "The RV park needs a bit of engineering so folks who intend on camping usually need a relaxing soak after they've finally circled the wrong way, been stuck at the dead end, scraped all of their sides with brush as they try to back into a site made for a clown car pulling a teeny clown RV and final unchained the 'no exit' gate and headed for somewhere, we're not sure where. But it was a piece of cake for someone who has been stuck in the narrow 1700 era streets of San Cristobal. The pools were very soothing after dark. They were also apparently quite sensual and I guess the arsenic, etc. breaks down all inhibitions to public shows of affection or that is what several young couples would have us believe. We were tempted to show them a few moves hence probably getting a few 'ewww yuck, what are those old people doing?' but likely the pool to ourselves. We aren't prudes but I'm pretty sure that is what you rent the moonlight private pools for."
We headed back to the RV for a nice salad and some leftover roast beef. We should sleep well tonight after soaking in the hot springs, having a nice bottle of wine, and a good supper. Julie notes "Yes feeling delightfully water logged and there is a pitter patter of rain on the roof. Might have to apologize to Thermometer Man as we mocked him before supper for predicting rain with blue skies. Might have to name him Genius."
Albuquerque Freeways. We didn't make any wrong turns today. Julie notes "I had a different view of Albuquerque today and am impressed. They have made this overpass and boulevards, etc. very eye pleasing in a New Mexican style."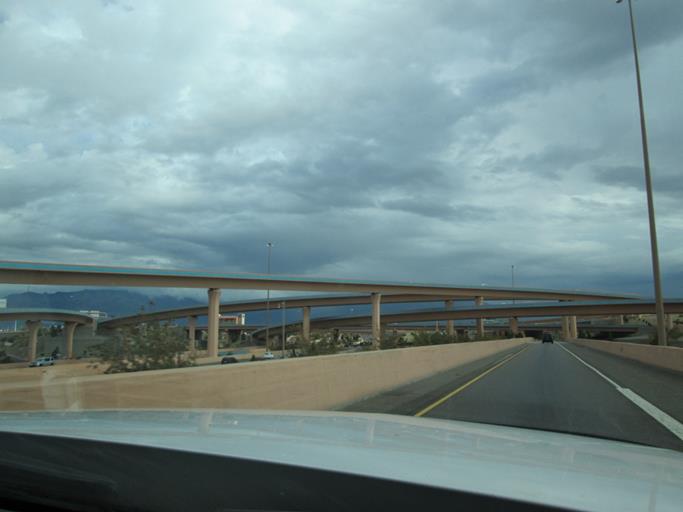 My lunch was the special tuna tacos of the day with rice and beans.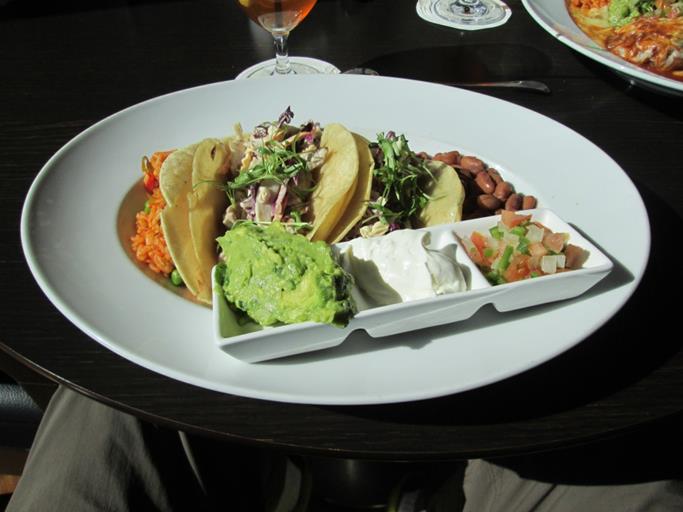 Julie had the delicious sweet crab chili relleno. Julie notes "Can't usually go wrong with the waitress's personal favourite."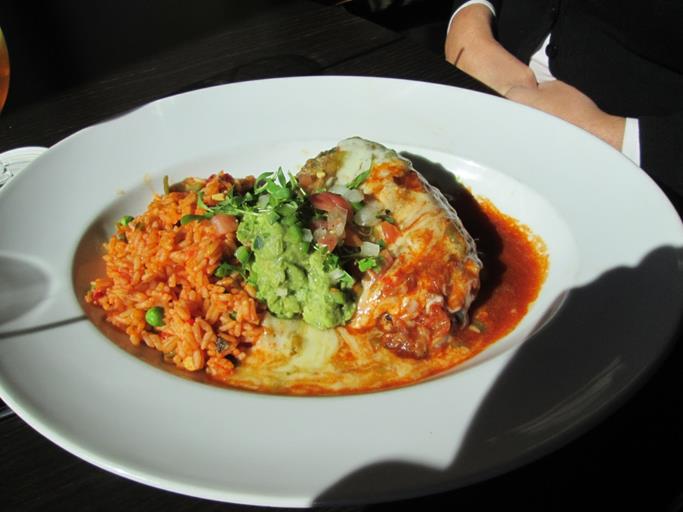 Terra restaurant at the Santa Fe Four Seasons. Julie notes "Truck stop extraordinaire!"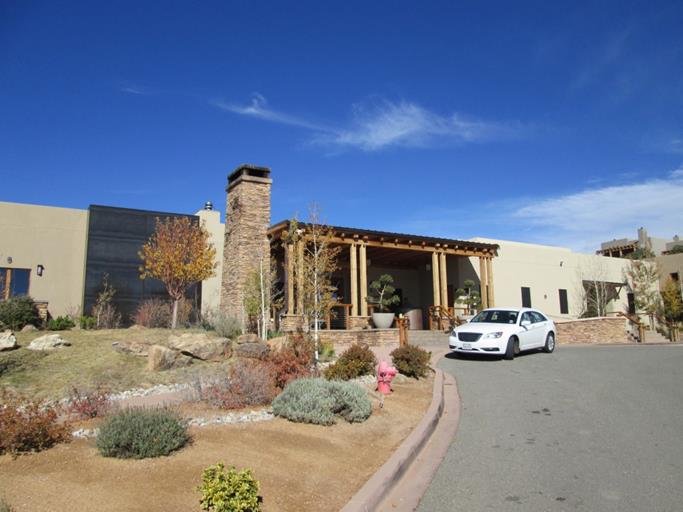 Julie notes "Our suite at the 4 Seasons with kitchenette, queen bed, compact bathroom and wheels."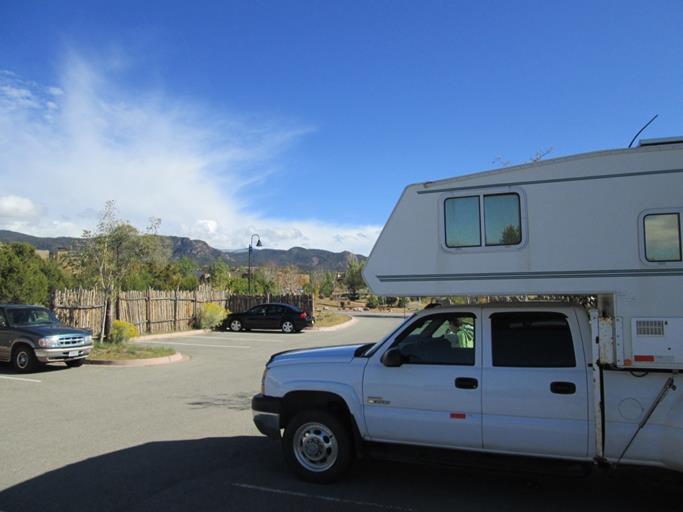 The bridges are really interesting. Each has a unique decoration.
The sky and mountains near Santa Fe.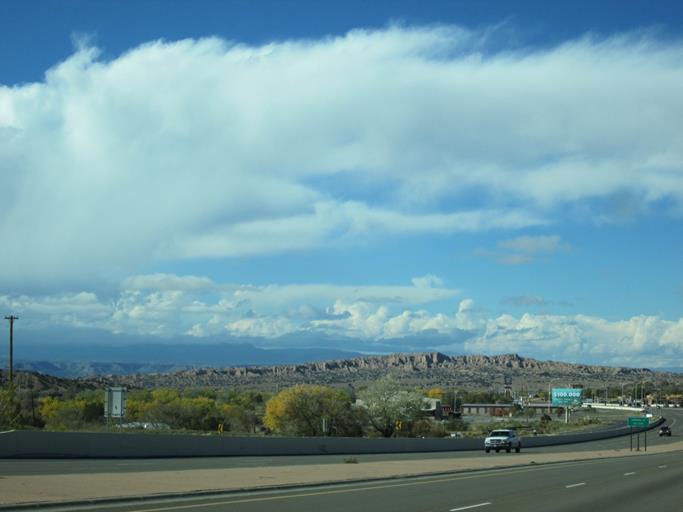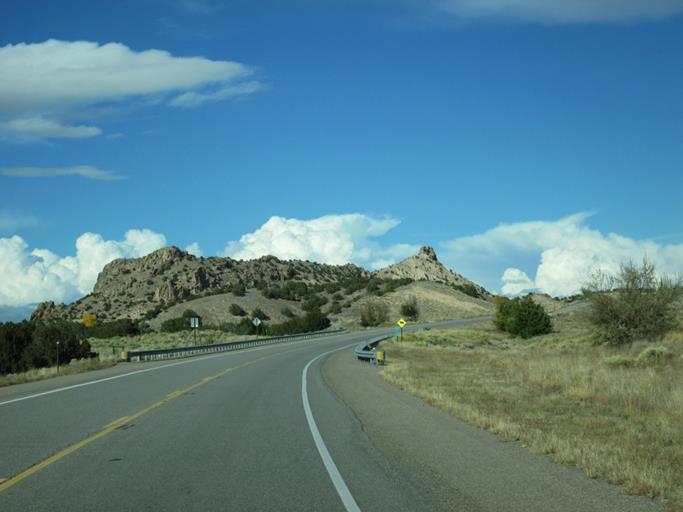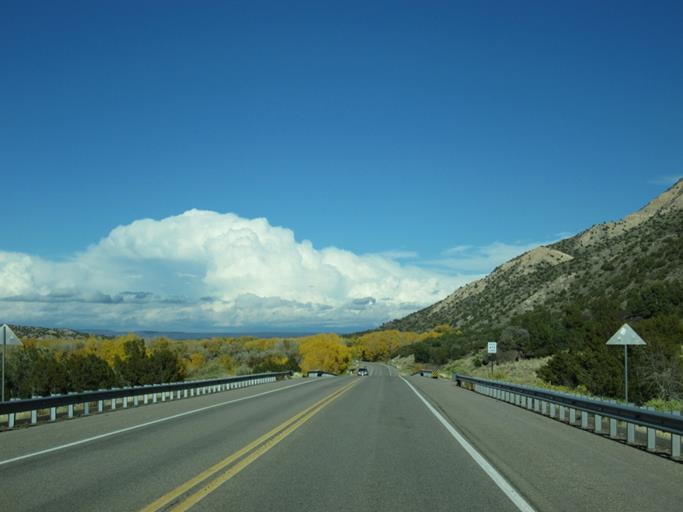 This is what I am travelling with! I was trying to figure out the new camera time delay photo settings. This is what I captured. Julie notes "I know all of the guys out there are wondering where to buy one of them there cameras so they can capture such a purdy prize."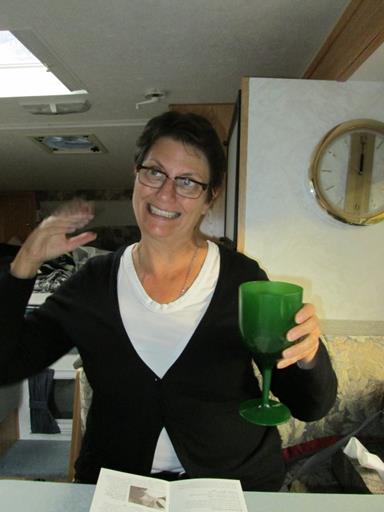 …over and out, the muleskinner and his sidekick
Julie notes "Hmmm seems like someone 'forgot' to post the daily winning old windmill picture. So here it is. Not my best. Had a perfect one lined up but due to operator error all I got was the tail fin. Also in case you thought this obsession was controlling my life, I just want to mention that twice in the past few days I have refrained from ordering the 'Old Windmill Cheese dip' and 'Old Windmill Cheese platter'. (I really wanted to though but I was strong, and so was the cheese, probably."