Day 126 – Wednesday, October 30, 2013
Last night was very windy. There was a wind warning in effect and the temperature was much cooler. It was around 8C at 11:00 AM this morning. Before leaving Chaco Culture NHP today, we toured one more site called Chetro Ketl. It is a site beside the more famous Pueblo Bonito. Between the two sites is a trail along the cliff face containing many petroglyphs. We spent an hour or so touring the site and the trail. We saw 11 of 12 of the petroglyphs but could not find one of them. Julie notes "I love these National sites, as most have self-guided tour books that you pick up at the beginning of the trail and drop off once you've completed the loop. Also now I know Karen S.'s joy of reading out loud to someone who isn't really listening and is trying their best to get away from you. These National sites have taught me how to speed read out loud through pages of informative and sometimes difficult to pronounce literature while walking along trails, up and down stairs and rock steps, on the brink of great kivas, beside looming delicate walls, in gale force wind, wearing progressive lenses, all the while trying to keep up with the long legged windmill man and enjoy the beauty of the sites as well. I think I have developed one more skill to add to my resume. But we do have fun. And man we would still be standing there staring at the blasted (well mostly chipped and pecked) petroglyph wall trying to find that last inscription if the call of granola bars and a warm truck hadn't finally broken the spell. Another reason to go back and visit in the future."
We then headed south the 150 or so kilometres to Gallup, NM. We hit some weather as cool as 2C at the Continental Divide, which we've crossed many times. It is somewhere around 7,300′ above sea level.
We found Earl's Family restaurant in Gallup for a late lunch. It was rated by Trip Advisor as #9 of 51 Gallup restaurants. The local native artisans bring their wares through the restaurant trying to make a sale. Julie bought a few items from one of the native ladies who hand makes her jewellery. Julie notes "There were some beautiful wares and the artisans are very polite and non-intrusive. I bought one little bobble from one older woman and I forgot to ask her name. Then Kathy Lee approached us and her infectious salesmanship hooked me. Her silver goods were lovely and her seasonal sale prices tempting but she had me at 'Hi I'm Kathy Lee, but I'm not here with Regis.' Nice doing business with her. I forgot my brother's sage advice on how to order liver so it doesn't arrive as shoe leather. No nothing to do with sage but ask for it medium rare. But the yummy fried onions and not bad gravy made it pretty tasty anyway." We then checked into the USA RV Park. We got set-up, checked some email now that we have wifi again, checked a few phone messages, and got caught up on some banking. The temperature in Gallup was about 6C cooler than Grande Prairie, AB when I checked the weather network. It was 3C in Gallup and 9C in GP. Julie notes "Something's wrong with that picture. Is Jim Bob o.g. (Outside's Glacial) playing a practical joke on us GP'ers? But it is still a dry cold as Jim Bob would've said."
Once it got down to 0C, we decided to walk to a nearby restaurant, the Ranch Kitchen, for supper. Number 12 of a short list of Trip Advisor rated Gallup restaurants. The restaurant is called Ranch Kitchen, advertises Mexican food, and is run by a Middle-Eastern couple. I ordered the Mediterranean starter salad and beef shish-kabobs with humus and rice. It was very good. The beef was cooked perfectly and the humus was nice and garlicky. Julie went with the Mexican side of the menu and ordered a taco salad. Not so good. Julie notes "I was still full from my shoe liver lunch so thought I was playing it safe and would get a big pile of lettuce and a sprinkle of hamburger with the rest of the fixings. It is not often that I don't clean my plate but I just couldn't eat the taco shell full of hamburger/potato/carrot mixture (the standard New Mexican taco filling) with just a sprinkle of shredded lettuce melting on top. The opposite of what I was expecting. Oh well. Live and 'burp' learn they say."
Chetro Ketl and Chaco. Julie notes "Another giant celebration kiva. My theory, not widely accepted, is that these were originally designed to be swimming pools but then had to change plans when they realized they only get 9.5 inches of rain per year. So they covered them with wooden roofs and began planning elaborate ceremonies which are still honoured and practised today. It all worked out."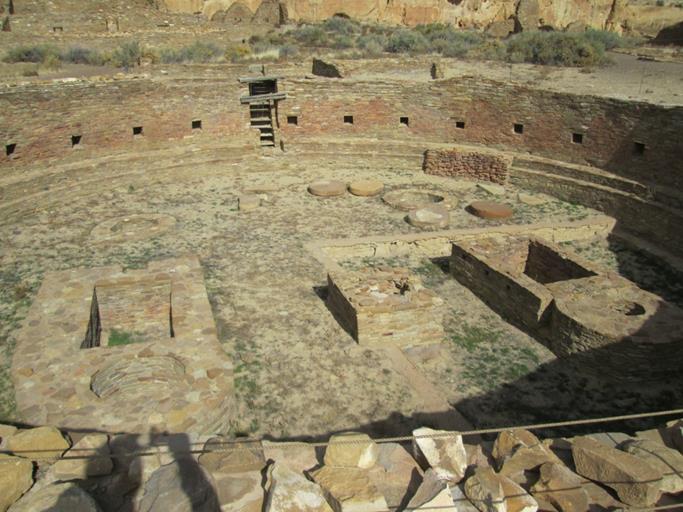 Julie notes "The beautiful Fajada Butte again through the doorway. This was used as a signal tower and a manmade ramp was made on one side. This made it easier for the fire starter to run up and invite the neighbours for a swim in the kiva (during rainy season if you are a supporter of my theory) or for a grand celebration if you wish to believe the many archeologists and anthropologists who have spent their lives studying this site."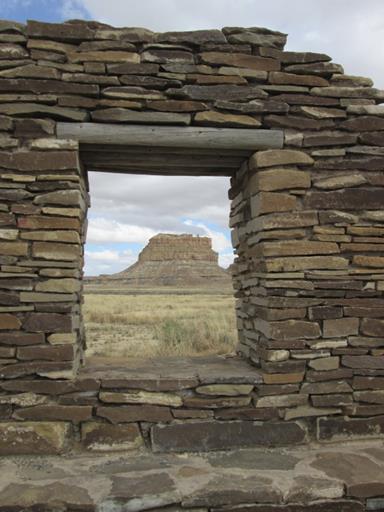 The road south from the park towards Gallup. We had been warned that this road was mostly unmaintained and extremely rough. Supposedly, it was in worse condition than the road in from the north side of the park. We found out that this road was actually much nicer, and smoother to travel, at least today. Julie notes "My theory, again not widely accepted, is that the people, including the park service, who recommend using the north route, have a brother-in-law who owns a tire shop close by."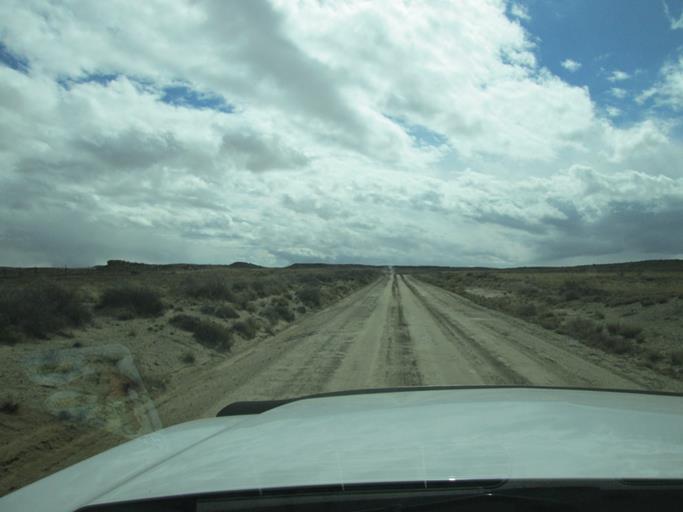 Threatening skies.
Red rock cliffs along I-40 towards Gallup (and more threatening weather).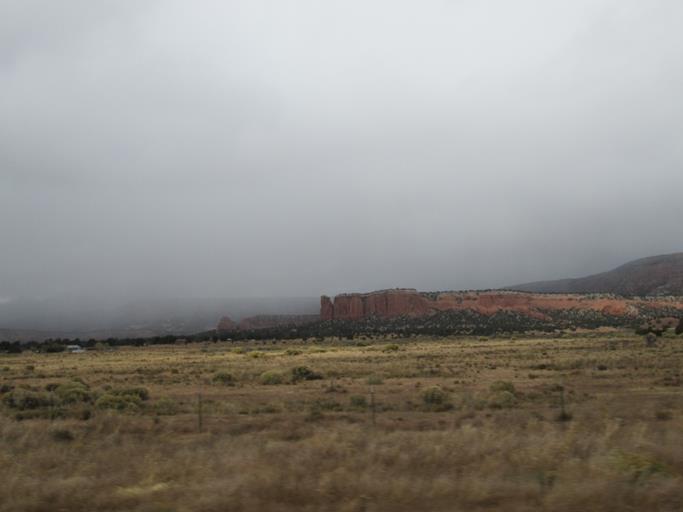 A little taste of home! Julie notes "Jim Bob o.g. (Obviously Guessing) however started the day wearing sunglasses under a mostly sunny sky, smiling like a warm fool."
Some of Gallup, NM along old Route 66.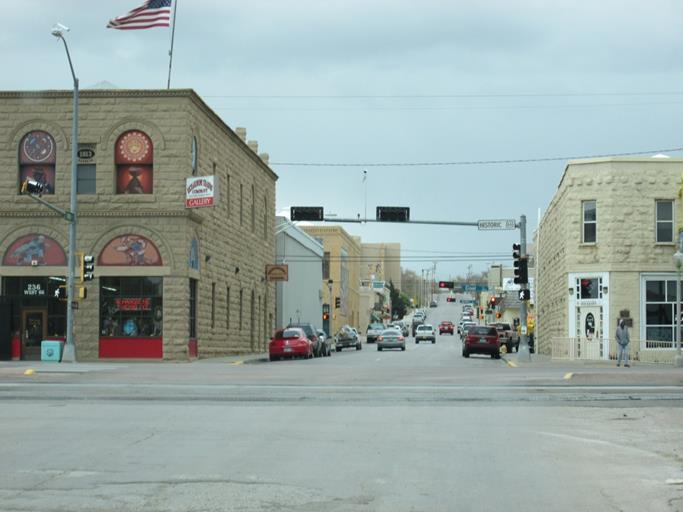 Many of the old signs and buildings have been preserved from the heydays of Route 66.
…over and out, the muleskinner and his sidekick
Julie notes "We have been trying to catch some wildlife shots for our nature lover followers. So far we have a great shot of a praying mantis and snake. We were being very stealthy and they were being very co-operative and after posing for some great money shots we finally realized they were dead. So out of respect for all, we will not post those. We have seen another 'road-flyer' or a 'ditch-runner' (we refuse to call them roadrunners as they have refused to run down the road like on the cartoon.) Speaking of roadrunners we have been serenaded to sleep by coyotes in the Chaco canyon, wonderfully eerie. And Brad and I each have identified a WTF bird. Brad's was a 'Weally Terwiffic Fwyer' (not to be confused with a Prairie chicken he says, which would be a Weally Terwiffic Frier'). I looked out the window one morning at a bird pecking a tree and said WTaF? Was That a Flicker? By the time I got the binoculars out, looking through them with one lens cap still on it and exclaimed 'WTF?, WTF! Where's The Focus?, Where's That Flicker!' the elusive WTF was gone With The Flock."