Day 132 – Tuesday, November 5, 2013
We are spending another day near Cottonwood, AZ in the Dead Horse Ranch State Park. After breakfast, we decided to do an easy 0.5 mile loop trail. Julie notes "Okay, he fails to mention we pretty much lost the original trail after only 0.1 miles but were following the river, could see people, dogs and the park still at this point as there were lots of popular paths. We ran into a horse tour guide and his mounted touree and he assured us a circular route in the other direction would take us back to the campground. We were long past the 0.5 mile hike by now and I was beginning to regret my choice of hiking attire, which did NOT include a hat, water bottle or shorts (or common sense, I know you are mumbling to yourselves). Luckily we had thought to bring the camera and the phone. So we record our last dehydrated minutes I suppose." Then Julie saw a sign for an old abandoned limestone kiln that we just had to see. Julie notes "On the 'map' it showed the kiln was only 'this' far up the trail (imagine finger and thumb almost touching). But that map didn't indicate a distance or scale. You probably know where we are going with this. (Too bad we didn't know where we were going.)" The 0.5 mile loop turned into a 5.0 mile trek through the mountains and desert. Mainly, because we walked right by the kiln, even took a picture of it, without knowing we had just passed the landmark. Julie, not being one who would turn around and give up, insisted we continue forth. When we reached a "Y" in the trail and the boundary of the park and were heading further into the wilderness unprepared, I convinced her we had missed it and we should turn around. On the way back, we spotted the "prominent" sign with the word "KILN" a few hundred feet from our origin. Julie notes "It was a skinny little metal sign faced the wrong way for those ascending. Plus I had been told at this point, after a progressive lens vertigo moment, to keep my eyes on the trail, 'no gawking around because it is narrow here.' I will be sending a formal complaint to the signage people." We followed some new trails and roads back to the campground with the help of Google Maps on our phone showing us the way. Julie notes "This is Brad's fancy way of saying we were a bit lost again once we hit low ground and the myriad unmarked and semi marked path system. But we sure felt like we had earned out water and sandwich when we finally got back from our 'half mile' trek. Hardly any big rocks this time Aunt Doreen! We were heeding your advice, kind of sort of."
The afternoon involved food and drinks, showers, recliners, and sunshine. Then we headed into Cottonwood to the Old Schoolhouse for dinner. A #1 pick on Trip Advisor. The Chef Chris and his wife and Front-of-House manager, Laura, started the restaurant 8 months ago and have turned it into a real success with their great service and excellent food, all in a unique and fun environment. We've had the pleasure of eating at some great and interesting places on this trip, and this one ranks right up near the top of that list.
The Cottonwood ½ mile trail on a beautiful warm fall morning.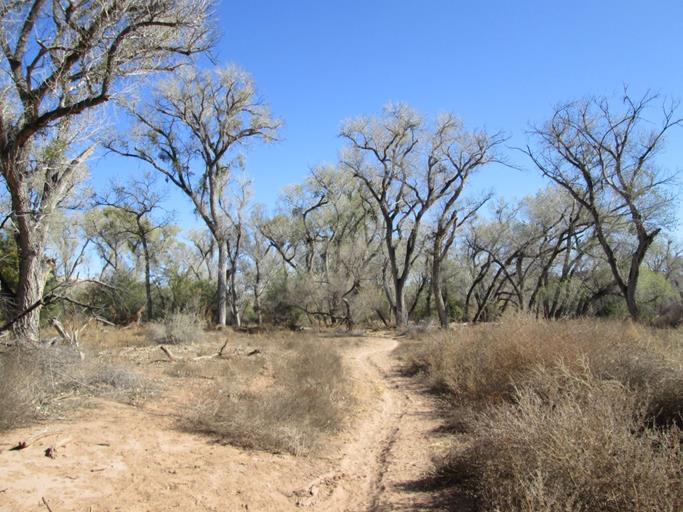 The hike to find the "kiln". This is the picture we took of it hiking uphill and not knowing what we were looking at. It is the white hollowed out area with the rubble below.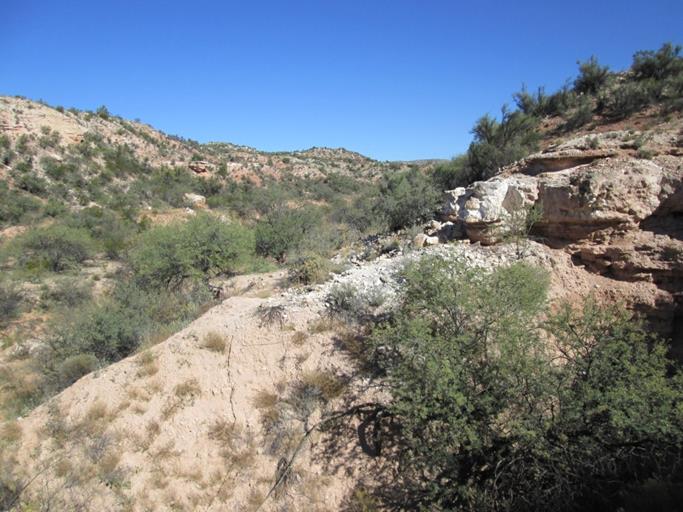 Here it is on the way back once we knew what it was and after hiking 4 more miles!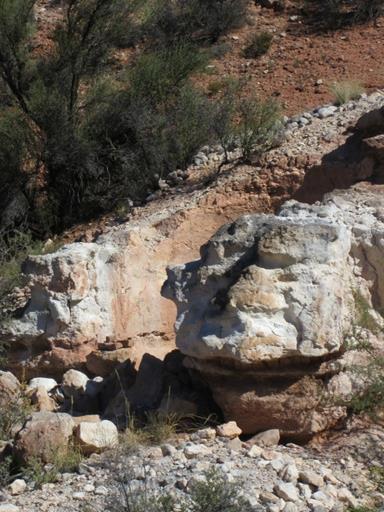 Julie, part way to the top, saying "Where is this kiln?". Julie notes "We are going to find that dang kiln if it "kilns" us.  I am also saying 'Where is my hat, water bottle and a bathroom?'"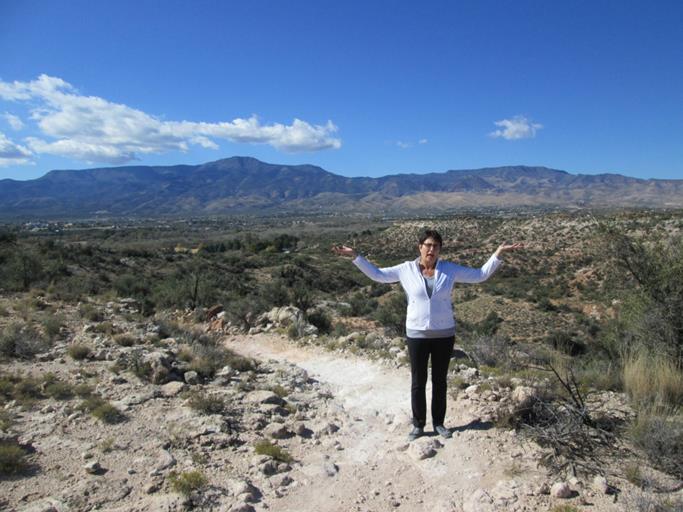 At the park boundary, heading further into the backcountry, asking the question "Where is this kiln?". Julie notes "We were pretty sure we didn't want to go to the 'Rattlesnake Wash' as the other sign was pointing. We were planning a non rattlesnake shower later that day."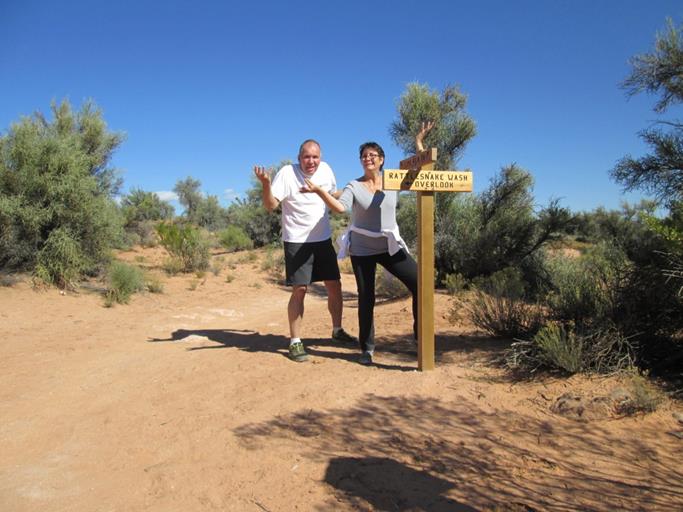 The trail.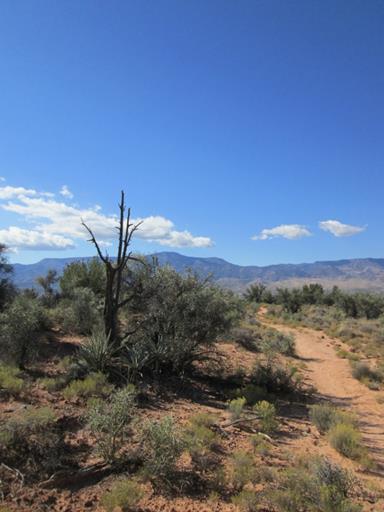 The old fire pit graveyard that they don't show you on the brochures. You have to hike unprepared and somewhat lost to find these kind of sites. Julie notes "Who's name do I have for Christmas. This would look good in your backyard whomever you are."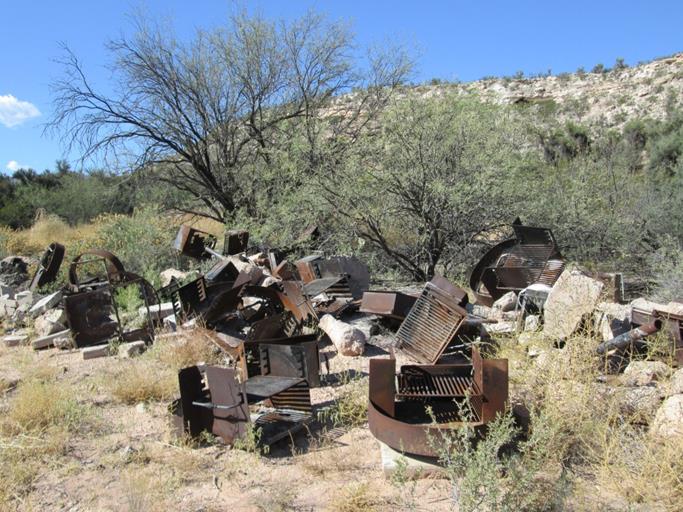 The Old Schoolhouse Restaurant in Cottonwood, AZ.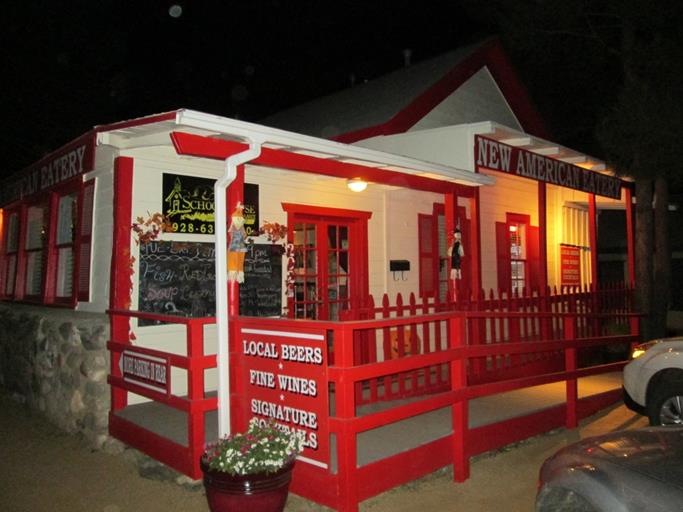 I tried the local Arizona beer, Oak Creek Amber Ale, and Julie tried one of the house drink specials, a Hibiscus Margarita. Julie notes "I was trying to act like I shouldn't go to the principal's office for drinking alcohol on school property."
Pork belly and dates with beans appetizer.
Duck Carnitas Pot Stickers.
Demi Glazed Pork Osso Bucco for the muleskinner. Julie notes "The chef/owner Chris's favourite dish. Top marks for him!"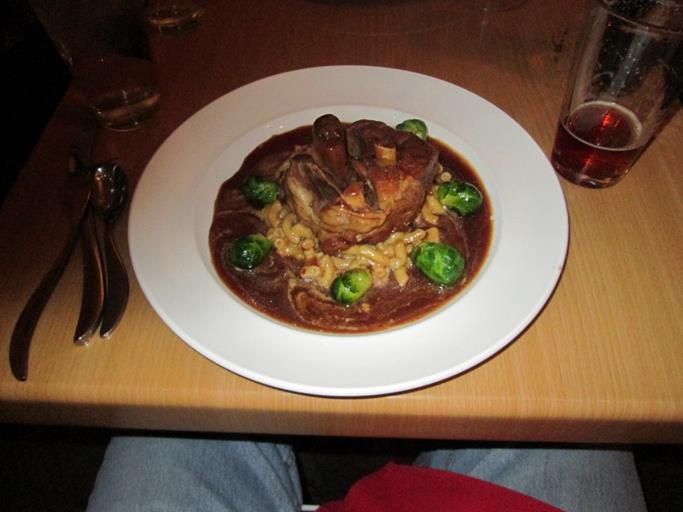 Pan Seared Diver Scallops for the sidekick. Julie notes "The front of house/owner Laura's favourite dish. Mmmm and she schooled me well. A++++++++++++++++++++ as Mrs. Kennedy, Enterprise Public School would've marked."
Peach Cobbler desert for our dining neighbour who wanted to be in our blog. Julie notes "We were lucky again to meet this wonderful couple, native to the area and full of pride and hints as to where we should visit and eat. We were so immersed in trying to remember all of their suggestions and trying not to get expelled for taking cheat notes and talking in class, we have forgotten their names. But thank you!"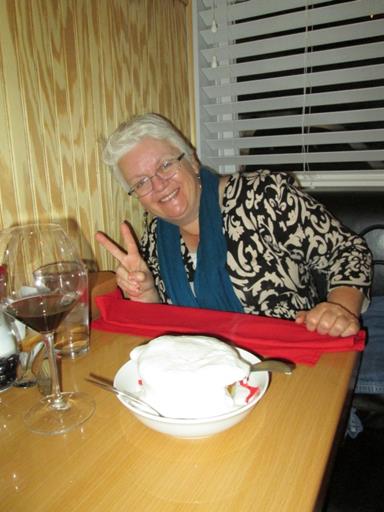 The owner, front-of-house manager, Laura. A great ambassador of Arizona and especially Cottonwood.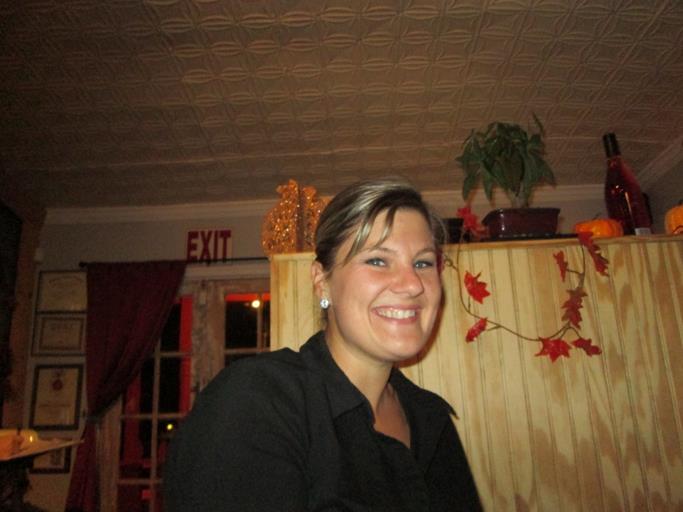 The wine list, on the old blackboard. Julie notes "They were impressed that we had travelled to the top left wine bottle and lived at the next wine down from that."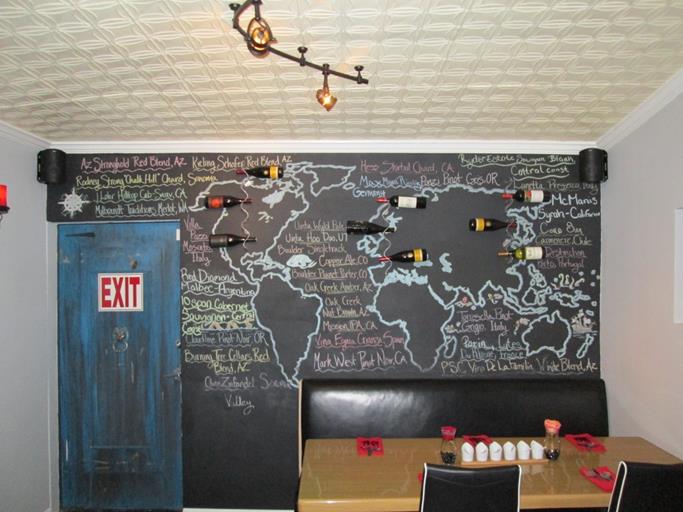 …over and out, the muleskinner and his sidekick
Julie notes "Lesson #132 (in my best Mr. T impression) 'Don't be a fool, stay in School!'"