Day 133 – Wednesday, November 6, 2013
Today, November 6, was Julie's Dad's, James David Holmes, birthday. He would have been 83. There was a lot of reminiscing throughout the whole family. Also, many tears were shed and much laughter shared by having so many good memories. Miss you Jim. Julie notes "We celebrated in grand style Dad. You would've loved this drive today. (Sisters Janet and Suze not so much, even though the guardrails were plentiful.) And the iTunes didn't let us down with lots appropriate mountain, driving, living and loving and 'missing you' kind of tunes. Of note, Krista once again beautifully sang 'Wind Beneath My Wings', Bob Seeger made us aware of the impressive surroundings with 'Like a Rock' and we had just settled into the campground when dad's favourite song 'Oh Canada' brought us all to attention. (Yes I have Oh Canada on my iTunes and you should too!"
Today we left Cottonwood and headed southwest towards Quartzite, AZ., Q, as it's known, is a small town in the desert of southwestern Arizona at the junction of I-10 and Highway 95. It is well known in the RV world for the Bureau of Land Management (BLM) dispersed camping areas that surround Quartzite and also because of the warm dry winter weather. January and February are especially popular because of the Gem and Rock shows. It is estimated over 1,000,000 RVs visit Quartzite every winter. Julie notes "Notice how casually he talks about this. I have heard for years about this dream destination of his so he was fairly giddy the closer we got to Q. (This is probably how Kelly H. feels the closer she gets to her HQ (Husband Quentin)."
The route we chose was a secondary highway, 89A, through Jerome to Prescott, AZ. Highway 89A is known as the Mingus Mountain Scenic Road and we now see why. We then continued southwest on mostly secondary highways. Julie notes "I see has forgotten to mention that he drove most of this first part of the windy trail without his ToeMogeAh in gear. For those of you who don't speak Kelly and Quinn Montgomery-ese, this means Tow Haul Mode. Boy did he feels silly."
We stopped in Prescott for lunch at the highly rated Bill's Pizza. It is a great little place in the touristy area of Prescott, with great food in a fun atmosphere. There are a lot of neat little towns we will need to come back and explore later; places like Cottonwood, Jerome, and Prescott all seem like neat places to re-visit. Julie notes "Okay, this was an awesome place with great food and very friendly and funny service from Derrick, our waiter. Derrick told us his name at least twice and we heard him announce it as many as 10 times as new customers entered the restaurant. Brad called him by his name, Derrick, to take our order. At the end of our visit I leave Brad alone for 2 minutes while I used the facilities and he says to Derrick while he is paying the tab, 'So are you the Bill of Bill's Pizza?' Then Brad explains to me as we are leaving that that is not Bill the owner but he is great at his job. And I'm looking at him in my sexy but quizzical way and said 'Who are you talking about? You mean Derrick?' And he gets that look and says 'Oh yes, I guess he did mention his name now that you mention it.' Honestly! 2 minutes, I swear, and he has them thinking they should call the little men with the white jackets."
We fueled up after we arrived in Quartzite and then headed out into the desert to find our perfect camping spot. We choose the short-term visitor area known as Road Runner. We have acres and acres of beautiful desert to ourselves. Luckily, Julie let me buy more firewood in Prescott and we had a nice fire as we watched the sunset.
A revitalized street in the old Cottonwood area. Lots of restaurants and shops and funky little places. Julie notes "and wine tasting boutiques."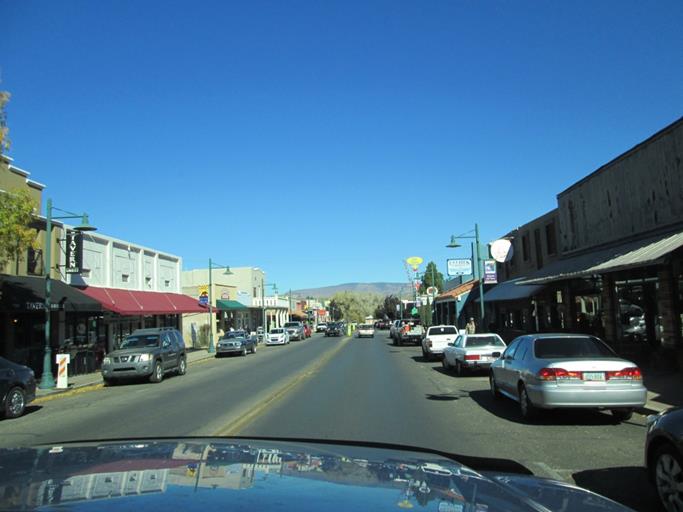 Entering Jerome after the climb up the mountainside. A former copper mining town that has been revitalized as a tourist town with B&B's, restaurants and shops. Julie notes "This looked like a fun, bustling little town, clinging to the side of a mountain. Adding it to the 'hope to be back to visit' list."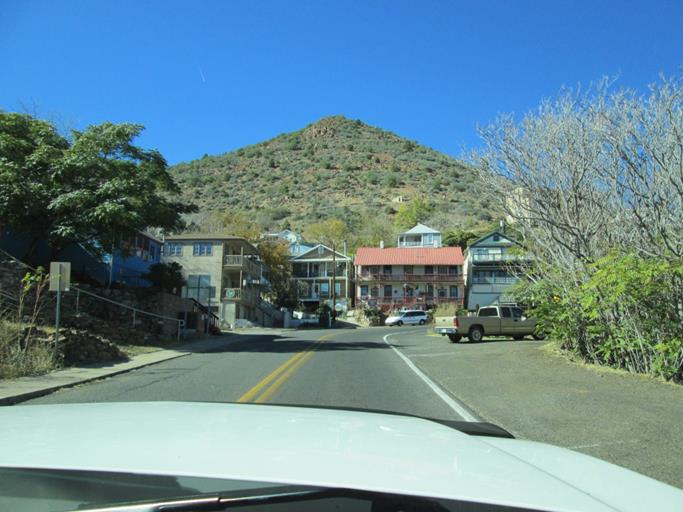 Mountainside properties in Jerome. The road climbs through the town in a series of switchbacks with the property on one side perched high above you and the property on the other side way below you. Julie notes "Don't be sending the kids or the dog for that matter, to the front yard to play."
Highway 89A, the Mingus Mountain Scenic Road. Julie notes "Note the guardrails gals."
A view back into the valley around Cottonwood.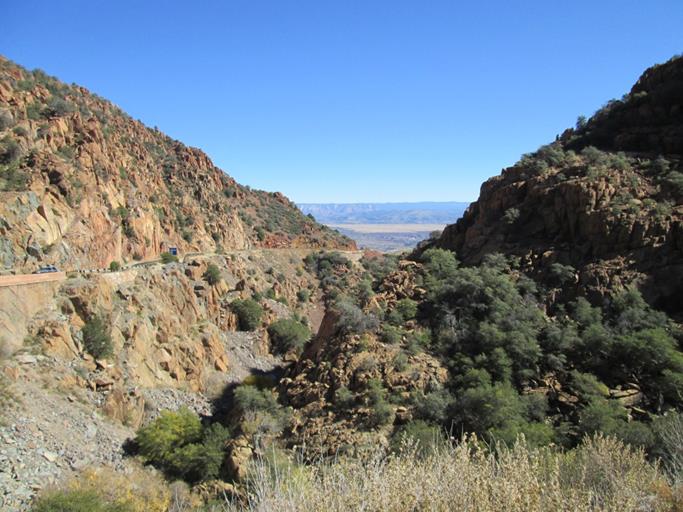 She just doesn't listen, and I thought it was just me? Julie notes "I was only wearing my reading glasses so was trying to get close enough to read that sign."
If you look closely, you can see the highway winding its way up the mountainside. Julie notes "Guardrails galore gals. You'd love this trip."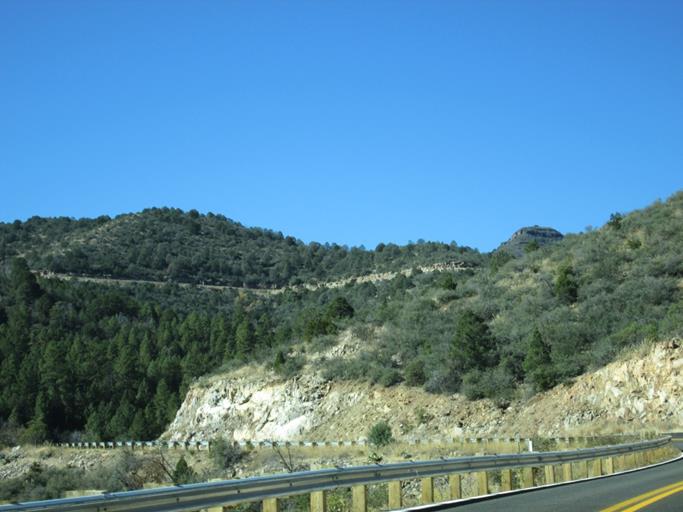 Descending into the Prescott Valley area.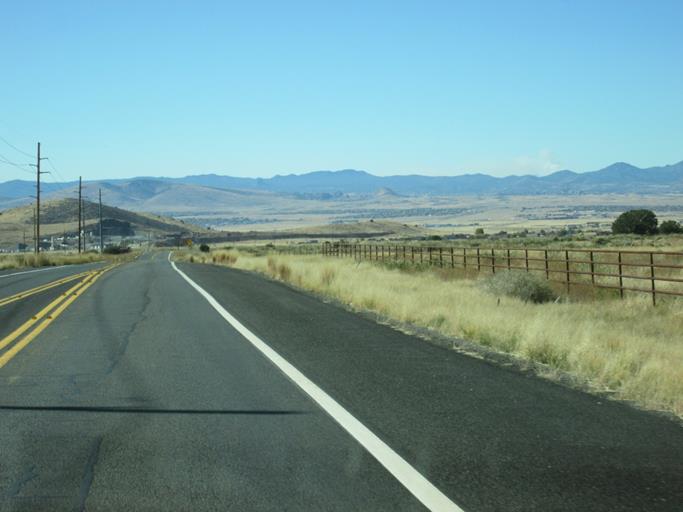 Lunch stop in Prescott at Bill's Pizza. Julie notes "Hi I'm Derrick, but you can call me Bill." Brad notes; You will note that I do not point out every little mistake Julie makes to the world via our blog. J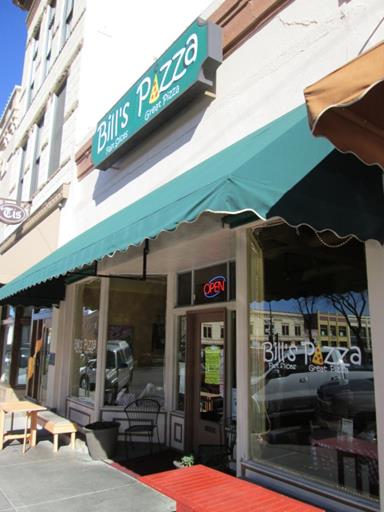 Our 10″ gourmet pizzas. Delicious and enough left over for another slice or two with supper. Julie notes "Brad's was the Northern Italian. Yummmm."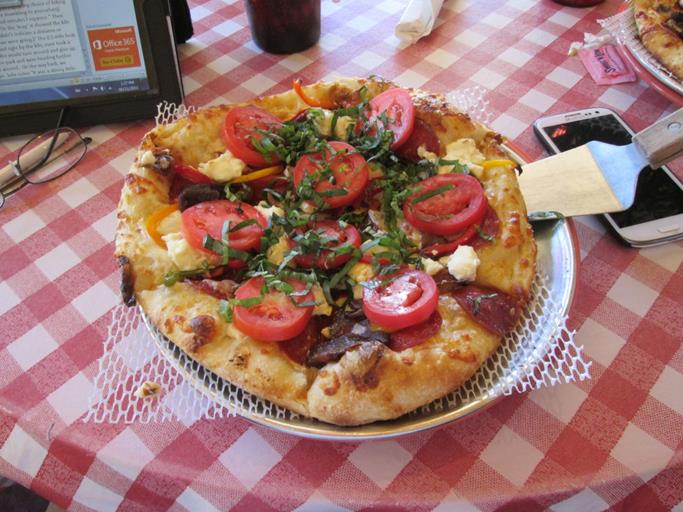 Julie notes "Mine was the 'Cristine's Rocker'. Oh so good!"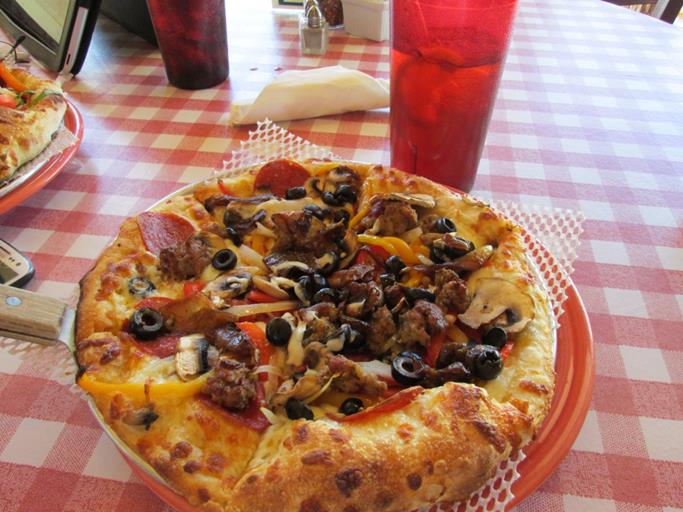 The descent west of Prescott back down into the desert. You may note there is only one lane. The uphill traffic uses a separate divided highway that climbs up another section of the mountainside. Julie notes "Janet and Suze, also please note the ditch protection. Or as Jim Bob og would say 'Obvious Guardrails'."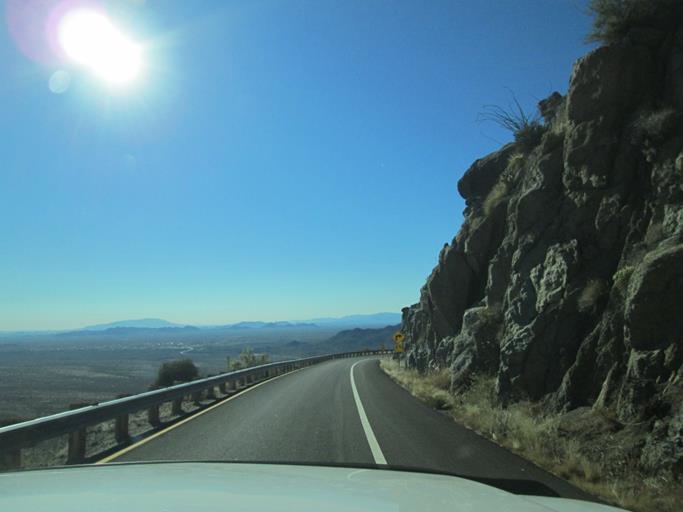 A little variation on the windmill for you viewers. Today Julie presents a Native American on a horse. Julie notes "I like this money shot. I wonder though if he speaks Windmill?"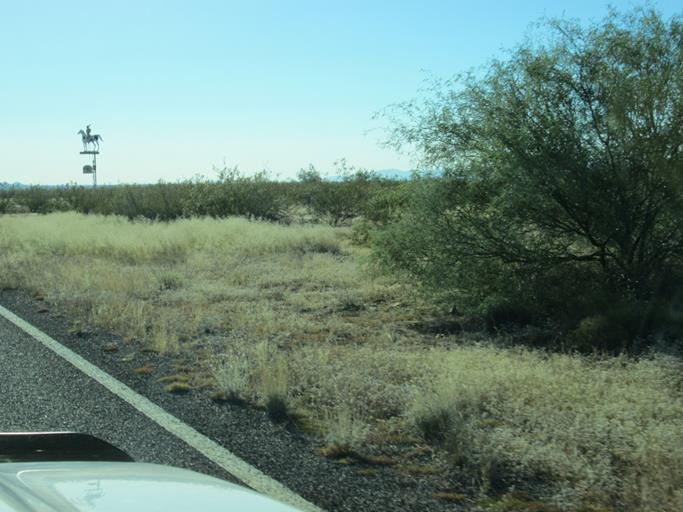 Our campsite in the Quartzite desert.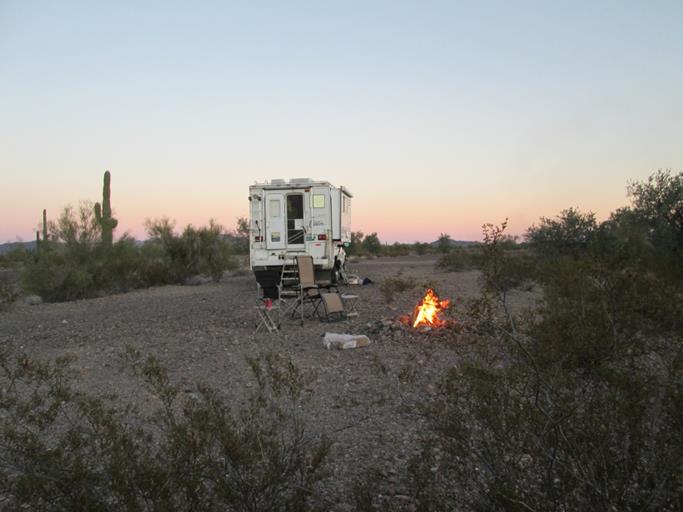 The muleskinner in his happy place. Julie notes "Very peaceful. Even the cactus is giving the peace sign."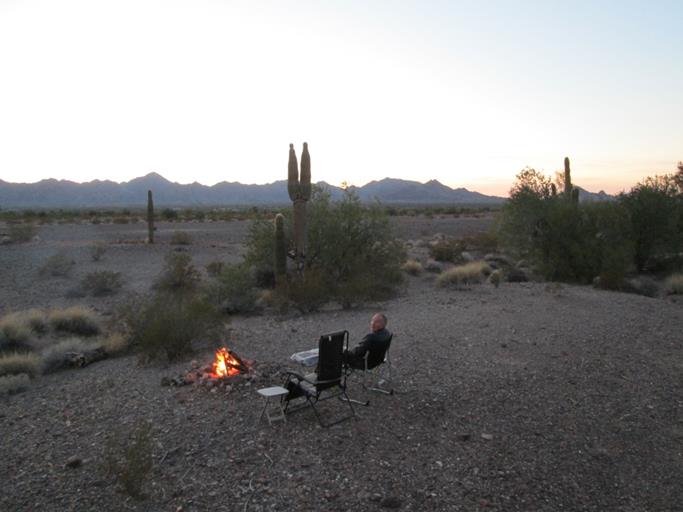 …over and out, the muleskinner and his sidekick
Julie notes "Cheers Dad! There is an extra sparkly light in these skies. The experts might debate that it is Venus but I'm pretty sure it is the candles from your cake. Miss you. P.S. 'Hey Jude' also played today so thanks for arranging that."