Day 152 – Monday, November 25, 2013
Susan and Julie and I were the only ones left in Moscow this morning. The rest of the family had made their way back to their respective homes. Julie notes "The place felt a bit empty so we turned up some motivational iTunes. Well the Anne Murray tunes motivated Susan to go have a shower anyway. And some others had us speaking fake German or whistling poorly. Annoying enough to keep Brad working away outside and leaving us to fill the table and kitchen with 'treasures'." Julie and Susan continued their cleaning, sorting, and organizing. I began packing and wrapping some things Julie wanted from her mom and dads to take back to Grande Prairie.
One of the items is an old antique very large HEAVY wooden cabinet. One of Jim and Vera's neighbours dropped by and was coerced into helping me move the cabinet to the deck to be wrapped. I think it must have weighed close to 200 lbs and was a good lift for the two of us but we made it. Julie notes "Suze and I frantically looked for CPR instructions and the number for 911 amongst all the papers we were sorting as we watched from a safe distance. Luckily neither was required. Harley will be thinking twice before he drops in unexpectedly again. I think I heard him mutter WTF? (Wife Too Frail?) to lift WTF? (Weighty Tall Furniture?) WTF! (Well That Figures!)"
Susan, Julie and I were invited to Corrie and Brenda's for dinner. Their son Robin joined us at their home near Violet, ON. Brenda prepared a delicious stew served over mashed potatoes after our appetizer of salami and cheese. We had a good visit over dinner, wine, and dessert.
Harley and I moving the cabinet to the deck. Julie notes "WTF! (Watch That Frog!) And those toes!"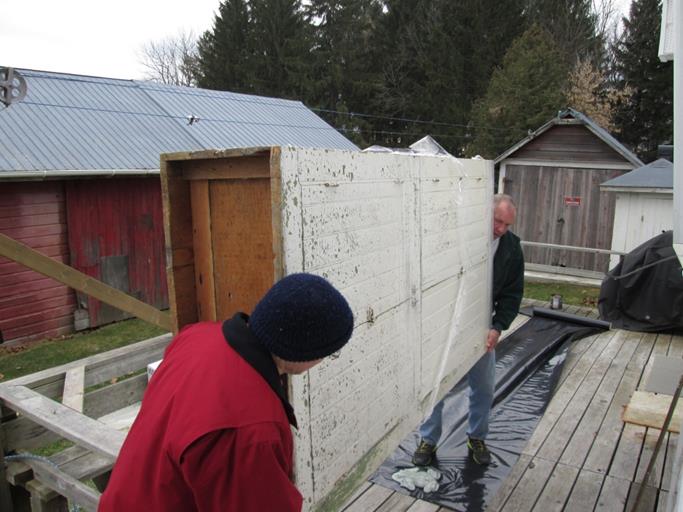 Harley and I showing our pipes. Julie notes "WTF! (We're Tough Fellows!) Thanks guys. We realized after that maybe we should've emptied the bricks and rocks and shells out of the bottom of it before the move. Don't tell Harley."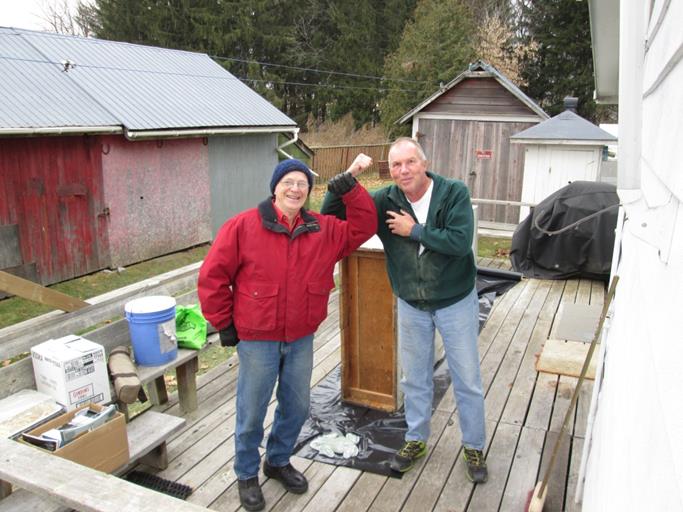 Some of the sorting, packing and organizing happening on the kitchen table. Julie notes "We kept telling Brad, 'only the stuff that was on the table' was going to Grande Prairie, but every time he turned around the table would magically refill."
Corrie and Brenda in the kitchen. Julie notes "Somebody is getting the finger. I think it might be me."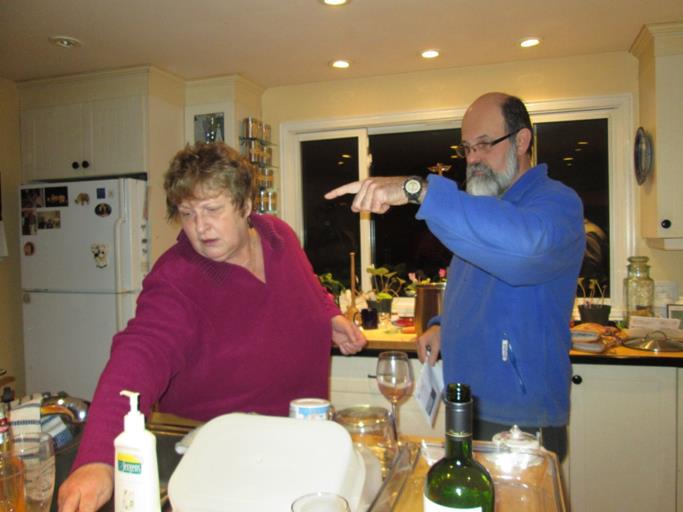 Susan and Robin enjoying a drink.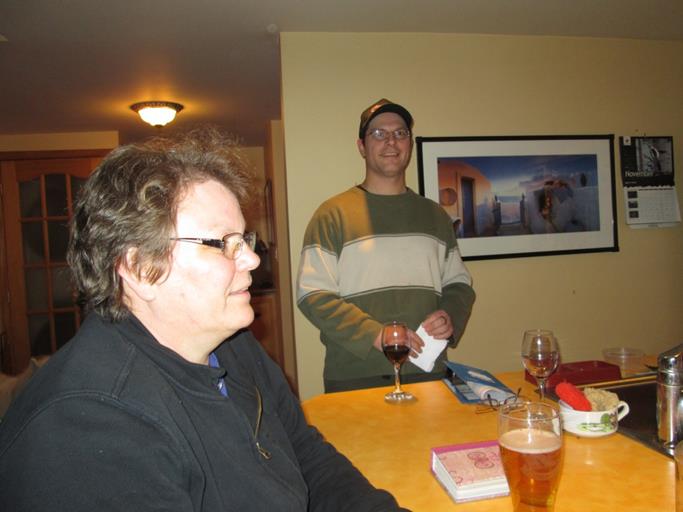 The gang at dinner. Julie notes "Brenda is waving a lovin spoonful of mashed potatoes. Which segues to my reference the other day as we got closer to home, of the Lovin' Spoonful singing 'Darling Be Home Soon'. Corrie and Brenda, were good friends with Lovin' Spoonful band member Zal Yanovsky, who was chef and owner of the Chez Piggy restaurant, in Kingston, where Brenda has worked for many years."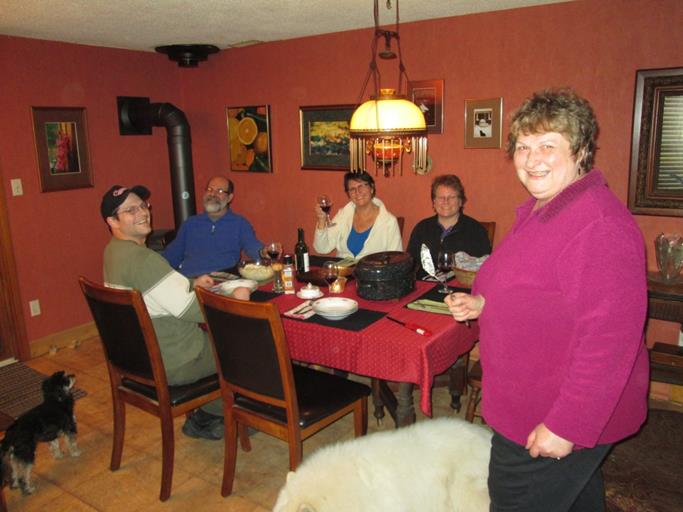 …over and out, the muleskinner and his sidekick
Julie notes "That is not a polar bear in the above picture. That is WTF (Woolly Tubo Friend) the Samoyed, and by Robin's side little Jet Li. Not seen, but always present, guarding Corrie and Brenda from crazy family and in laws, is WTF (Willow The Fierce) an old rescue Great Pyrenees who becomes more protective as she ages. We just remember to move slow and steady and no sudden movements and everyone was happy."