Day 153 – Tuesday, November 26, 2013
This morning was the community coffee get together in the Moscow United Church. They community holds a morning coffee get together the last Tuesday of the month. It's a good chance to meet with Jim and Vera's neighbours and get caught up on the happenings around Moscow. Julie and Susan know most of the names and people and I fumble my way along. It is a great community and a great group of folks. Julie notes "Well we know most of the names but are not guaranteed to get the right name to the right person. There was no doubt who we were though as I heard many times throughout the morning how much I looked like Vera. A compliment I hold dear… now. When I was a young mother and just came home sporting a new perm and the four kids jumped up and down adoringly shouting 'Mommy, you look just like Grandma!' I was not as flattered. Time changes those kind of viewpoints."
I ran a few errands in the afternoon to pick up some packing supplies at the hardware store, check out the new butcher shop in Harrowsmith, and also the Harrowsmith Bakery and grab a few more groceries in Yarker.
I made some spinach and feta stuffed chicken breasts for dinner and cooked a small roast beef for tomorrow along with some left over potatoes and broccolis. Julie notes "The dish fairy has been missed. But my fingernails are nice and clean."
We all watched a movie on the computer, checked the email and internet on our phones, and then called it a day. Julie notes "Brad's night to pick a movie again. He was given another chance after last night's crowd were left mumbling WTF? (Why This Film?) while watching Brad's pick 'Couples Retreat'. Not likely to win any awards in any category. And I also ask Jason Bateman, an actor I like, WTF? as well. But Brad's choice tonight was pretty good. The 'Invention of Lying' was quirky but funny. Just like us three watching it."
The Moscow group at morning coffee. Men at one end, ladies at the other. Julie notes "Hmm one end of the table seemed to eat more goodies than the other end of the table. Don't you be eyeing our fruit cake, gents."
Julie notes "My other mother growing up, Mrs. Hambrook, Jean, perusing our photos. She is looking wonderful and she let me have a little cry on her shoulder when we talked about missing Harry."
Julie and Susan kept finding treasures in the boxes they were sorting through. I don't think this made the cut and may have ended up in the burn barrel. Julie notes "It was shiny and sparkly and in pristine condition so we can see why mom would've wanted to hang on to. But as we did often throughout the week, we said 'Sorry Mom/Dad' and it was sent as a smoke signal up to them."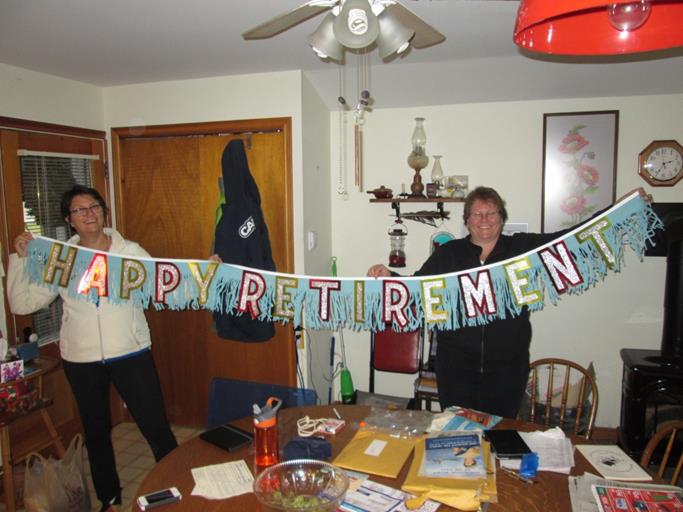 The Canadian spinach and feta stuffed chicken – very patriotic don't you think?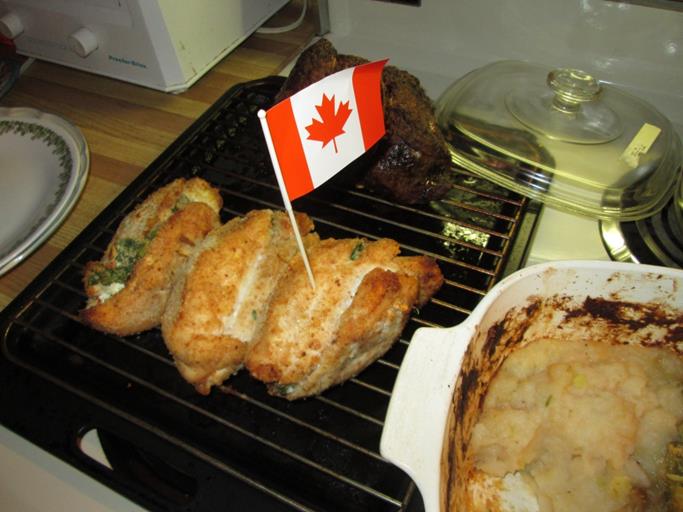 …over and out, the muleskinner and his sidekick
Julie notes "We have been having a good time sorting through stuff, reading old newspaper clippings, finding more stories, sorting through cards. A hard job to do on one's own but with Suze and I tag teaming, it takes a bit of the sting away. Some things just needed one more touch before saying goodbye. Some sorted to go to others for their decision. Many conversation starters and some 'WTF'? (What's This For?) Thanks for making us think Mom and Dad."