Day 164 – Saturday, December 7, 2013
We spent the day with our son Jordan, daughter-in-law Alison, and granddaughter Melodie.  Rhonda and Michel (Alison's mom and dad) dropped by for coffee and a quick visit.  They had just returned from Phoenix so we got to compare some stories.  Julie and I got to spend a few hours of alone time with Melodie while Jordan and Alison studied for exams and completed papers. Melodie was not feeling very well in the morning but perked up by supper time. She put on quite a show for us.
Melodie having a nap in Alison's arms.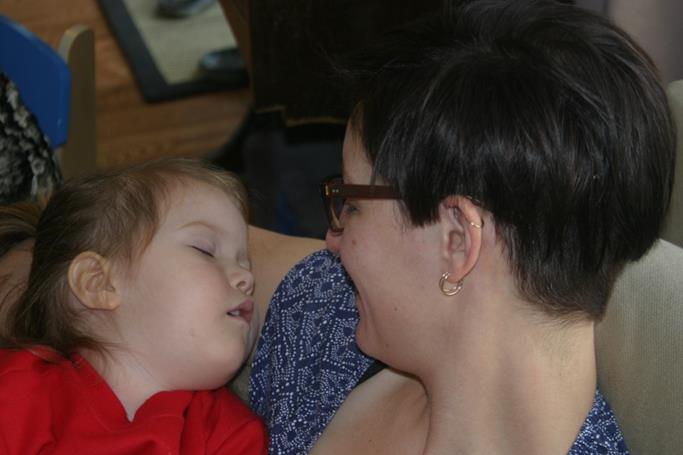 Melodie and Grandpa.
Jordan and Alison made us a delicious stew. Perfect on a cold day. They also made homemade bread in the breadmaker we gave them because we could never get it to work. They don't seem to have any problems with it. I think they secretly bought a different model. J Julie notes "They managed to do all of this and get their homework done! Impressive. And as for the 'brickmaker' as we affectionately called the breadmaker while we owned it, I am pretty sure Alison snuck to bakery while she was out 'writing a paper'. That bread was delicious and nothing like the doorstops or airballs we produced in the past."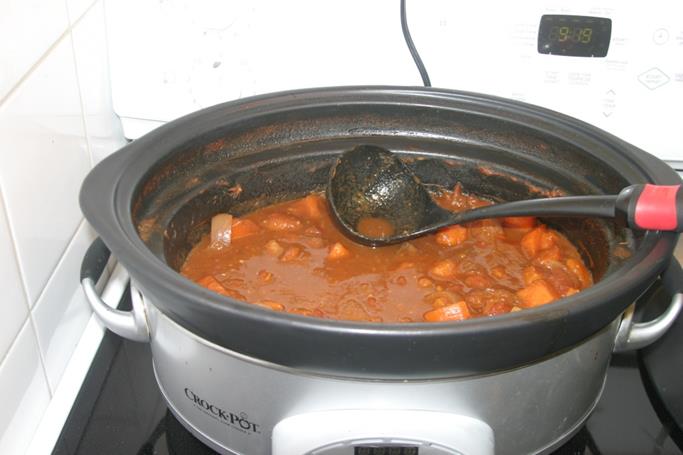 After supper, Melodie was feeling much better and treated us to some of her dance moves. Julie notes "She does some great, jumps, lunges, arm waves and bum shakes but no twerking despite the fact that she is dressed like Miley Cyrus."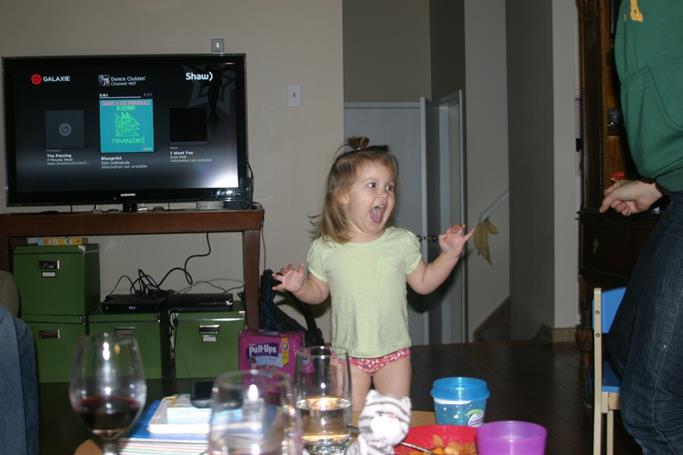 A great day of relaxing with family. It is good to be back in Alberta and we are looking forward to getting home.
Julie notes "Yes we had that warm and fuzzy feeling spending the day with Melodie and her handlers. It got especially warm at one point when Melodie was climbing all over me and stops and proclaims 'I peed on you Grandma'. Nothing a change of clothes couldn't fix and we were back to reading books, watching 'the Kitty Movie' (Puss 'n Boots) and generally relaxing and mentioning every few minutes 'I peed on you Grandma'.
…over and out, the muleskinner and his sidekick