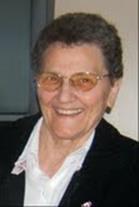 Holmes, Vera Gladys – January 21, 1932 – August 2, 2013
In the comfort of her own home and with family by her side, Vera left us to be with her maker and her beloved husband Jim after an unbelievable and courageous battle with a very ugly disease. She and her sweetheart Jim are together again for all eternity along with her parents Wendell and Clara, her brother Wendell, and in-laws Jack, Ethel, Mike, Bert and Phil and niece Rebecca.
Born in Dryden, ON, Vera was the fourth child in a family of six.  She leaves behind three sisters whom along with her, were affectionately known as "The Ugly Stepsisters".  Elsie, Doreen (Steve) and Hazel (Bert) will miss her immensely as well as her "little brother" Herb (Lynne).  She will also be greatly missed by her sister-in-law Janet (Phil) and brother-in-law Ron (Mary).
Vera and Jim were married on February 14th, 1953 aboard the H.M.C.S. Magnificent in Halifax Harbour.  This is where she began her inspection of maternity wards across the provinces as she gave birth to her five children in five different hospitals.  They moved to Moscow in 1959 and there they put down roots.
She leaves behind 5 loving children that she raised to possess good values, creativity and generous hearts.  Sad beyond words to say goodbye to their precious mom are; Corrie (Brenda), Julie (Brad), Susan (Ron), Krista (Jim) and Quentin (Kelly). Their lives are forever changed but they will carry on with their love for each other and the legacy of an inherited wonderful sense of humour.
Those 5 children have given Vera 13 grandchildren; Joel, Robin, Jaime, Jordan, Kristin, Emily, Jacob, Randi, Sean, Adam, Harrison, Isaac and Peyton and 3 great grand children; Kylie, Melodie and Lukah, all whose lives have been enriched by the love of their Grandma Vera from near and far. Also saddened by this loss are Vera's many nieces and nephews who too were blessed by her great sense of fun.
Vera was a skilled tailor and 'crafty' lady and all of us are left with many treasures fashioned by her own hand over the years to remember her by such as suits, coats, fleece jammies, silk pigs, grocery bags, maple leaf placemats, bottled ropes and so much more. Happily her many tall tales have been encapsulated in a book; 'Grandma Vera's Bedtime Stories'.
Vera was a very humble and gracious lady who loved her family and friends unconditionally and who worked tirelessly in support of Moscow United Church and her community. She was a member of the Women's Institute and the United Church Women since 1960.  She is fondly remembered for her quick wit and silly escapades including costumes, props and poems which continued in spite of the battle she was fighting.
The family would like to thank the staff at Kingston General Hospital, Lennox & Addington Hospital in Napanee and the incredible homecare providers from CCAC, St. Elizabeth Health Care and Paramed, without whom we would not have been able to fulfill her wish to be at home.  A special thank-you to Carol, Janie, Karen, Donna and Suzanne. Our heartfelt gratitude also to the entire Moscow community for their endless caring and support.
Family will receive friends and neighbours at Moscow United church on Friday, August 9th from 2pm to 4pm and 7pm to 9pm.  A W.I. traditional service will be performed on Friday, August 9th at 6:30 pm prior to visitation. A funeral service and celebration of a life well lived will be held on Saturday, August 10th at 1pm. In lieu of flowers, memorial donations to Moscow United Church or a charity of your choice would be greatly appreciated.  Arrangements can be made through Payne's Funeral Home in Odessa, ON.