The first Phase of this trip will take us from our home in Grande Prairie, AB, Canada to Tuktoyaktuk, NT, Canada and back.  This part of the trip will be just over 6,000 kms round trip. For this leg of the adventure we will be using our truck, but not the camper.  It is our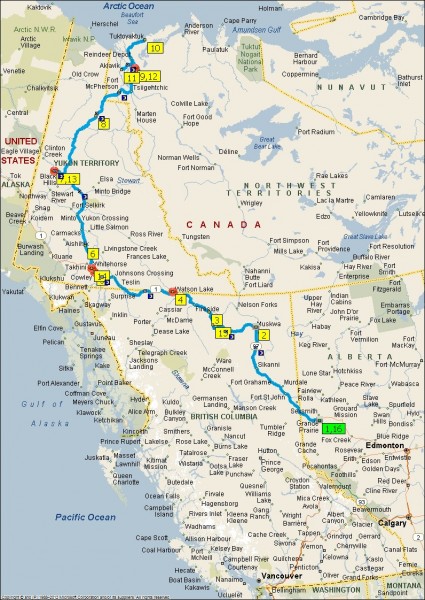 intention to drive the Ice Road to Tuktoyaktuk and Aklavik from Inuvik, NT, Canada.  We will stay in hotels along the way.  Based on my research, the best time to travel the ice road is from mid-March to early-April.  Daylight is getting longer at this time of year and the ice road is in the best condition for travel.
A big part of the trip will be driving the Dempster Highway. The Dempster is one of the truly great Canadian roadways. Completed only in the late 1970's, the Dempster is still the only fully public road in North America to cross the Arctic Circle.  Inuvik means Place of Man in the Inuvialuit language.
From Inuvik, we will travel on the ice road to Tuktoyaktuk, with a side trip to Aklavik. The only time you can travel by road from Inuvik to Tuktoyaktuk is during the winter months (i.e. January to April approximately) on the temporary ice road on the Mackenzie River. The ice road allows for road travel to both Aklavik and Tuktoyaktuk from Inuvik. During the rest of the year, road travel is not possible.
A general itinerary is below;
 
 Location
 Location
Daily
Total 
First Choice 
Second Choice
Date
Day
Start
 End
Km
Km
Accommodation
Accommodation
March 27, 2013
1
Grande Prairie, AB
Fort Nelson, BC
589
589
Woodlands Inn & Suites – (250) 774-6669
Lakeview Inns & Suites – (250) 233-5001
3995 50th Ave South, Fort Nelson, BC, V0C1R0 Canada
4507 50th Avenue South, Fort Nelson, British Columbia V0C 1R0
March 28, 2013
2
Fort Nelson, BC
Watson Lake, YT
523
1112
Laffing Loon Bed and Breakfast – 867-536-7636
Air Force Lodge – (867) 536-2890
Robert Campbell Highway, Watson Lake, Yukon Y0A 1C0
136 Adela Trail, Watson Lake, Yukon Y0A1C0
Take Robert Campbell Highway   (Hwy 4) approximately 7.5km towards Ross River. The Laffing Loon B&B will   be on your left, approximately 250m past the turnoff to Mt. Maichen.
Liard River Hotsprings, BC
891
Hotsprings
March 29, 2013
3
Watson Lake, YT
Whitehorse, YT
423
1535
Northern Lights Resort & SPA – (867) 393-3780
High Country Inn – (867) 667-4471
March 30, 2013
KM 1402 Alaska Highway
Lot 1178 Gentian Lane, Whitehorse, Yukon
4051 4th Avenue, Whitehorse, Yukon Y1A 1H1
explore
Whitehorse, YT
SS Klondike National Historic Site
explore
Whitehorse, YT
Old Log Church
explore
Whitehorse, YT
Log Cabin Skyscraper
March 31, 2013
5
Whitehorse, YT
Dawson City, YT
555
2090
Aurora Inn – (867) 993-6860
Westmark Inn – (867) 993-5542
April 1, 2013
5th Avenue and Harper Street, 1G0 G0B Dawson City
5th & Harper Streets, Dawson City, YT, Y0B1G0
stop
Highway
Braeburn Lodge
cinamon buns
view
Highway
Five Finger Rapids
view from highway
stop
Highway
Tintina Trench overlook
explore
Dawson City, YT
Diamond Tooth Gertie's Casino
explore
Dawson City, YT
Palace Grand Theatre
explore
Dawson City, YT
Commissioner's Residence
explore
Dawson City, YT
Jack London's cabin
explore
Dawson City, YT
Robert Service's cabin
explore
Dawson City, YT
Bonanza Creek road &   Discovery Claim & Dredge #4 National Historic Site
April 2, 2013
7
Dawson City, YT
Eagle Plains, YT
408
2498
Eagle Plains Hotel – 867-993-2453
KM 371 Dempster Hwy, Dawson, YT Y0B 1G0
stop
Highway
Picnic
April 3, 2013
8
Eagle Plains, YT
Inuvik, NT
363
2861
Nova Inn Inuvik – 866-374-6682
Inuvik Capital Suites – 877-669-9444
300, Mackenzie Road, Inuvik, NT, X0E0T0
198 Mackenzie Road, Inuvik, Northwest Territories X0E 0T0
stop
Highway
Arctic Circle crossing
explore
Fort MacPherson
Lost Patrol found after they perished by RNWMP Corporal   Dempster
April 4, 2013
9
Inuvik, NT
Tuktoyaktuk, NT
180
3041
Tuk Inn – 867 977-2381
Tuktoyaktuk, NT XOE 1C0
stop
Highway
Lady of Lourdes schooner
view
Highway
Pingos – mountains literally made of ice
explore
Tuktoyaktuk, NT
sod houses, churches and the community "freezer"
explore
Tuktoyaktuk, NT
Northern Early Warning site (formerly DEW Line)
explore
Tuktoyaktuk, NT
Arctic Ocean
April 5, 2013
10
Tuktoyaktuk, NT
Aklavik, NT
238
3279
Drive ice road to and from Aklavik
Aklavik, NT
Inuvik, NT
119
3398
Nova Inn Inuvik – 866-374-6682
Inuvik Capital Suites – 877-669-9444
300, Mackenzie Road, Inuvik, NT, X0E0T0
198 Mackenzie Road, Inuvik, Northwest Territories X0E 0T0
April 6, 2013
11
Inuvik, NT
Dawson City, YT
770
4168
Aurora Inn – (867) 993-6860
Westmark Inn – (867) 993-5542
5th Avenue and Harper Street, 1G0 G0B Dawson City
5th & Harper Streets, Dawson City, YT, Y0B1G0
April 7, 2013
12
Dawson City, YT
Whitehorse, YT
534
4702
High Country Inn – (867) 667-4471
4051 4th Avenue, Whitehorse, Yukon Y1A 1H1
April 8, 2013
13
Whitehorse, YT
Muncho Lake, BC
712
5414
Northern Rockies Lodge – 800-663-5269
Mile 462 Alaska Hwy, Muncho Lake, BC, V0C 1Z0
April 9, 2013
14
Muncho Lake, BC
Grande Prairie, AB
827
6241