Day 156 – Friday, November 29, 2013
Julie notes "Weeeerrrreeee BAAAAAackkk! Sorry for the delay but being back in Canada seems to keep us quite busy."
Today we left Moscow, ON with a truck load of treasures from Jim and Vera's "Holmestead". Julie notes "We were barely on the road and the old song 'Ya load 16 tons and what do get?' A whole lot of memories (and maybe deeper in debt if you believe the song). It was a cold, clear day with a blanket of snow on the ground. We were heading to Peterborough to meet up with Julie's brother, Quentin and his wife, Kelly. We drove the 401 to Cobourg and then north on Highway 28 after a Timmie's stop. Julie and I vegged out watching a movie while Quentin finished up some work. Julie notes "We were very well behaved and tried not to bother Quent and his staff Penny and Helios." Once Kelly arrived home from work, we all headed out to Costco. Julie notes "WooHoo! We haven't been to a Costco in a long long time. But no matter how much we hounded Kelly and Quent, they kept telling us Christmas was coming and would not buy us anything. WTF (Way Too Frugal). WWTFT! (We Want That Frivolous Thing!) WTF (Watch This Freakout!) And then we were firmly told to settle down or we would be going home without supper." After Costco, Quentin and Kelly had planned a dinner night out at Hot Belly Mama's restaurant in Peterborough, ON. Hot Belly Mama's is a funky little Cajun and creole place in the downtown. Peterborough has lots of great restaurants in an active downtown area. After dinner and some more goodbyes, we headed back to my sister Janet's place near Cobourg, ON.
The truck loaded up for the trip back to Alberta. Julie notes "WTF! (White Truck Full!)"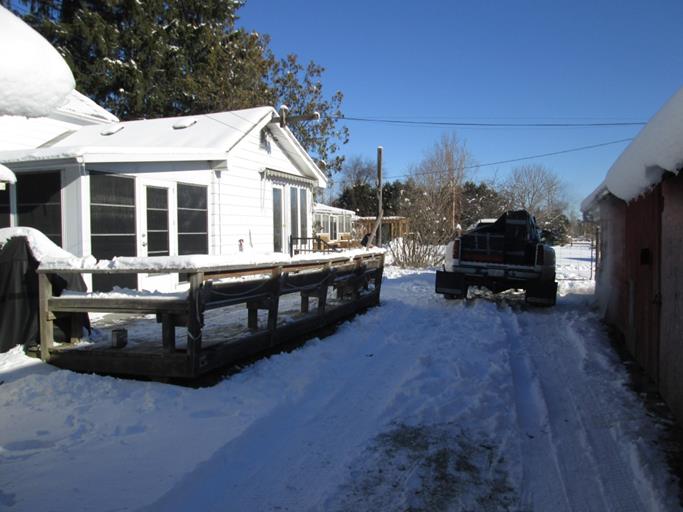 Saying goodbye to the old "Holmestead" on a clear, cold, snow covered morning. Julie notes "No looking back and the iTunes spared me until later in the day to play Rosemary Clooney's version of 'This Old House'. The tears were lessened a bit by the fact that the family will gather there at least once again for their Christmas dinner."
An old restored building on the Napanee River seen on our drive through Yarker, ON near Moscow. Julie notes "Beauty little spot. For those of you who know the area WTF (Watch Those Falls) to the right side of the bridge. A couple years ago someone's empty car rolled down that incline and across into the river and floated under that bridge to finally get hung up in those falls. It took several agencies and some engineering know how to retrieve it. This is also about the exact spot that I used get dropped off by the one bus to wait for the other bus to pick us up and take us on into Napanee. We were always a bit scared of some of the Yarker kids, so us country bumpkins from the sticks of Moscow hung together for support. And we made it!"
A Napanee windmill.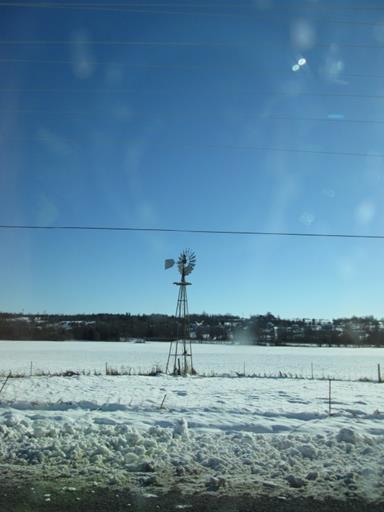 One of the Cobourg Timmie's. Julie notes "The appeal hasn't worn off yet. Sorry I didn't get a picture of Brad swooning at the sight of each one."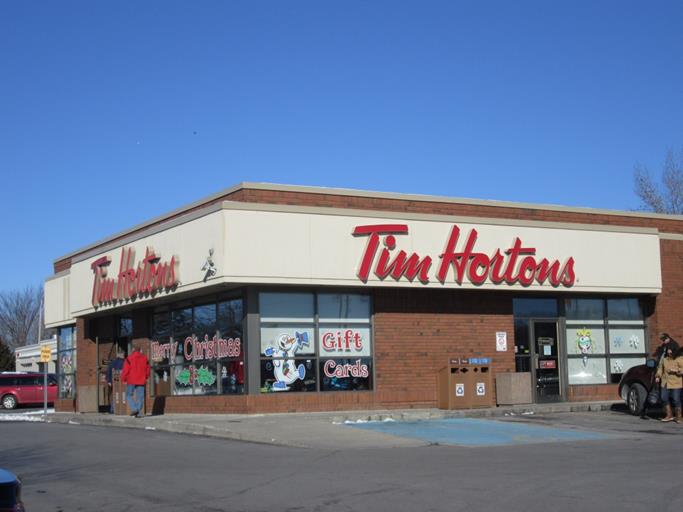 Quentin and Kelly's place in Peterborough complete with roof top solar generation. They sell the power to the grid through a metre and buy back the power they need for their own use. A really cool set-up. Julie notes "Or is it a really 'warm' set up what with the solar sunshine and all?"
The new addition, Helios, bugging the older and wiser Penny. Julie notes "I think he meant 'hugging' not bugging. Helios is saying 'WTF!' (Wuv This Feline!) but Penny is 'WTF!' (Watch These Fangs!)' This is Quent's office staff on one of their WTF (Way Too Frequent) coffee breaks."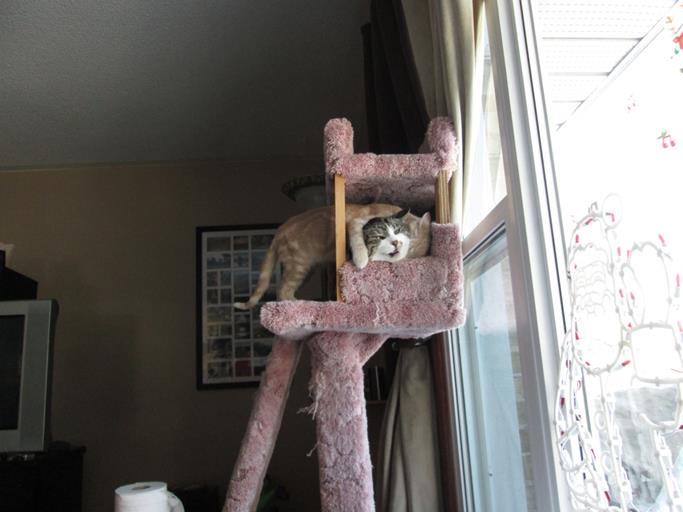 The siblings separated once again.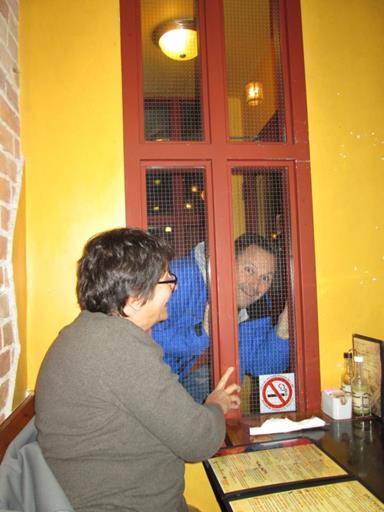 Reunited! The Muleskinner, his sidekick, Quentin, and Kelly. Julie notes "That was scary! He is the baby you know."
We had a great dinner; Julie had the Shrimp Carnivale with their famous sweet potato fries; Quentin had the New York strip steak special with sweet potato fries; trend-setter Kelly had the Veggie Po'Boy but added some pulled pork with sweet potato fries; and I went with the Kansas City pulled pork sandwich and their Cajun roasted potatoes. It was followed up with some shared desserts. The atmosphere, service, and food were all amazing. Oh yeah, the company too. It is a real treat to get a waiter who is personable and knowledgeable and also very patient explaining the menu even when they are busy. Julie notes "Yes ditto that."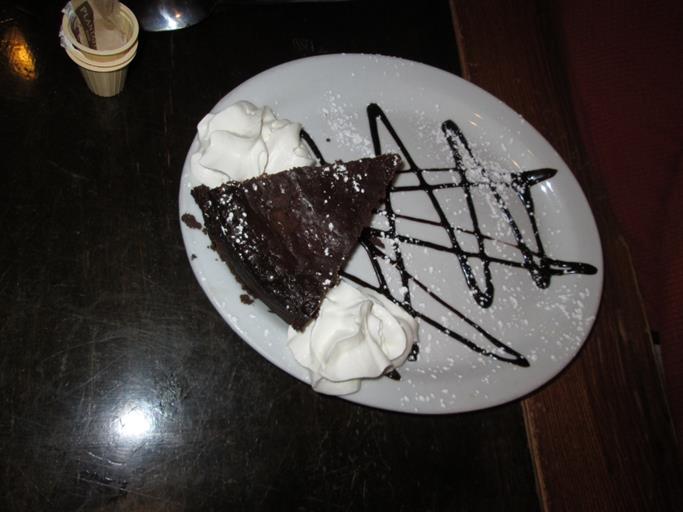 …over and out, the muleskinner and his sidekick
Julie notes "Sorry to my twin sister in law Kelly for making her sit in the jump seat in the back. But as I understand it was more comfortable than trying to squeeze in to the nonbudging car seat. It was fun being the go between for you and Quent as you tried to communicate. Good thing Quent knows his way around Peterborough better than you. I think that was what he said anyway."