We started our Ice Road adventure today driving from Grande Prairie, AB to Fort Nelson, BC, while our tans are still sort of fresh from our recent Mexico trip. We drove about 580 km today.  This is the first stage on our Pan American highway adventure. It was a gorgeous spring day with sunny skies showing off the distant mountain peaks and temperatures around 4C-5C. As you can see in the pictures below we did the tourist photo op at Mile Zero in Dawson Creek. We were 'those' people popping out in between traffic to get the shot. Only got honked at once though. Will have to try harder next time. We stopped at the Alaska Highway Mile 80 rest area for lunch. We have a couple of coolers with us and made some great sub sandwiches to go along with our remaining Tim Horton's coffees. Julie notes  'This rest area had wonderful warm and clean washrooms.' She is taking after her parents who were our washroom inspectors on previous trips. But I have to agree with her. Tonight we are staying at the Woodlands Inn, a locally owned hotel. Very nice room but some of the lights don't work so I am typing this to the light of the TV. That is my excuse for any errors you might find.  We tried the One restaurant at our hotel for supper.  Rated #2 on Trip Advisor for Fort Nelson.  The #1 rated restaurant, Triple G, was closed. 🙂 or at least that was what we assumed  the snowbanks in front of the main door indicated.  Pretty good food at the One even though it was our number Two choice.  Some great thai curry mussels as an appetizer.
Entering BC
Alaska highway sign post at Mile 0 in Dawson Creek, BC
Trying to get a picture without getting run over! 🙂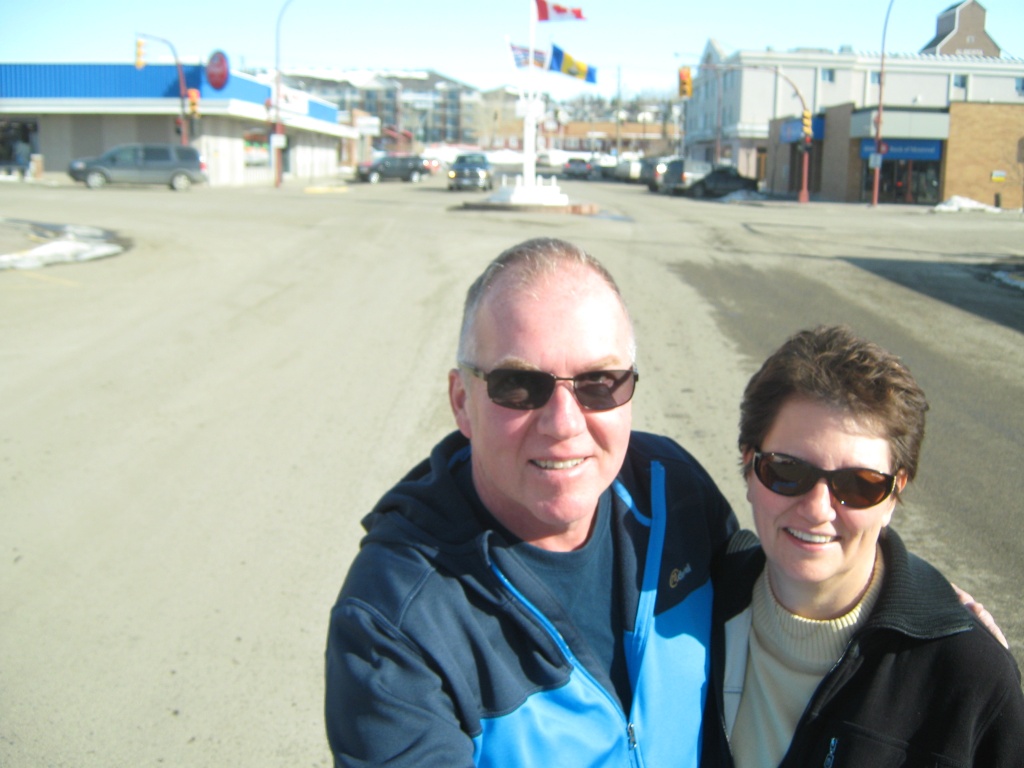 A typical view along highway 97 in northern BC.