Day 161 – Wednesday, December 4, 2013
After a stop at Tim Horton's for some breakfast, we were on the road to Thunder Bay, ON. We drove 471 kilometres to Julie's cousin Carol and her husband Brian's place. They had graciously offered us a room for the night. The day started out clear and cold and the roads were mostly bare but by the time we reached Nipigon the weather had moved in and it was beginning to snow. An hour or so later, as we reached Thunder Bay, the snow was really coming down. A real Canadian winter day!
Julie's breakfast porridge with her nephew Adam's homemade butterfly gift. Julie notes "A Grandma Vera tribute, porridge and her butterfly pattern. Thanks Adam."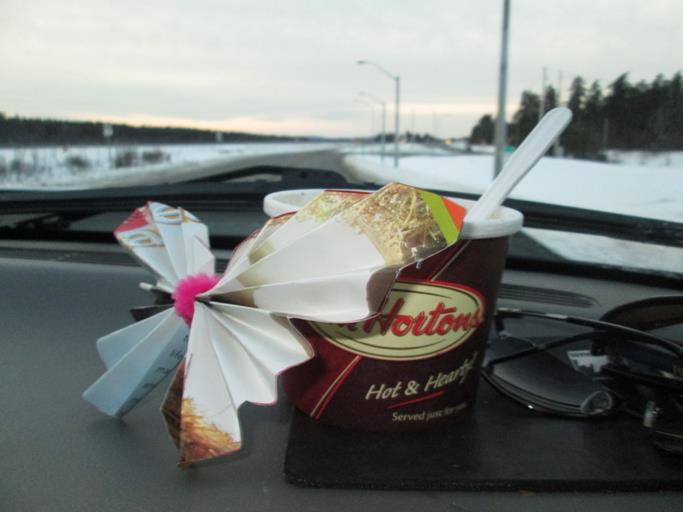 Leaving Wawa and their well-known town symbol, the Wawa goose. Julie notes "I think this answers the 'goosing' question that was on everyone's minds. Everyone should start their day off with a giant goose! iTunes quickly picked up the theme and played a Grandpa Jim song appropriate for the drive and our adventure, singing 'This land is your land, this land is my land, from the Arctic Circle, to the Great Lake Waters, this land was made for you and me.'"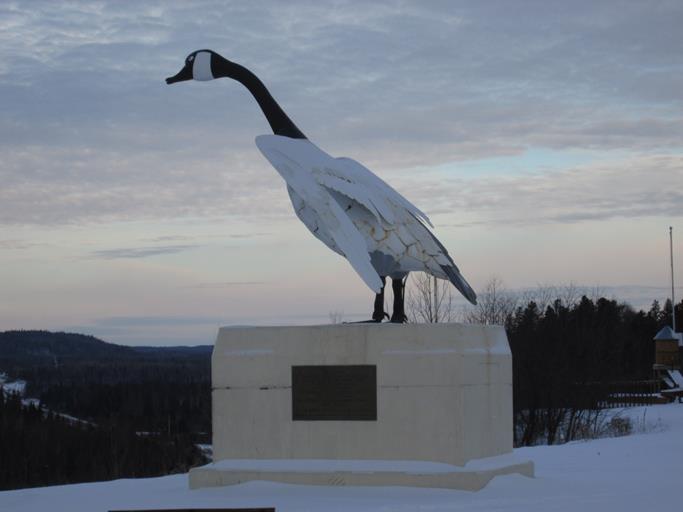 A rock cut on the Trans Canada on a clear cold winter morning. Julie notes "'Country roads, take me home' I sang in perfect harmony with John Denver. Not sure why Brad kept turning the music up. It was almost like he was trying to drown me out? That couldn't be it though. Maybe he just needs his hearing checked."
A Lake Superior view with trees, rocks, a ship, and a truck all in one shot. The only thing missing is a windmill. Julie notes "He beat me to it. But this is one of our favourite drives unless we hit weather (or almost hit a moose as has happened in the past). Are you ready for a WTF? (Wow That's Freaky!) This has happened before as we've driven along this beautiful shore of the Lake Gitche Gumee. As the skies of 'December' got gloomy and we looked out over the lake, Gordon Lightfoot's ballad, 'The Wreck of the Edmund Fitzgerald' started playing. Goosebumps, either from the coincidence or the drop in temp as we drove towards the cloudy weather. You decide."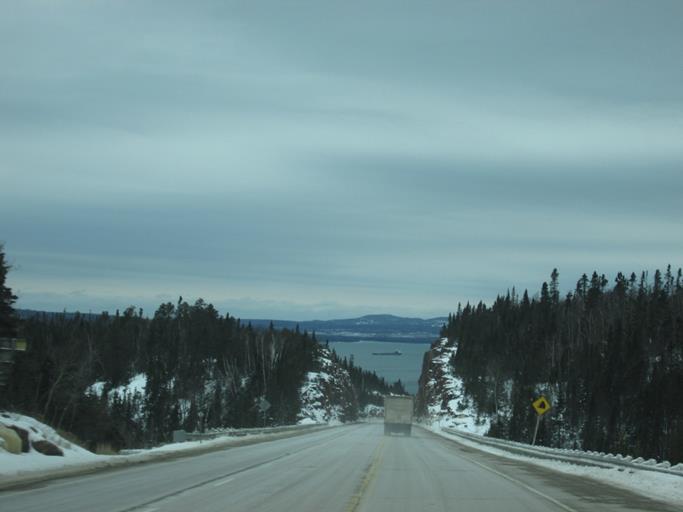 We stopped in Nipigon for a late lunch. This was the first day open for Audrey's Restaurant. Her and her husband had spent the last month and a half sprucing up the old restaurant and just opened up this morning.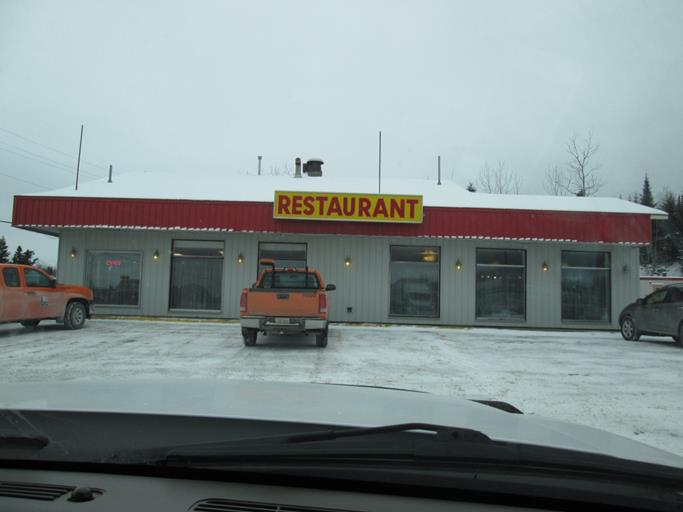 Here's Audrey posing in her restaurant with her new menu. Nice friendly folks. We wish them all the best in their new business venture.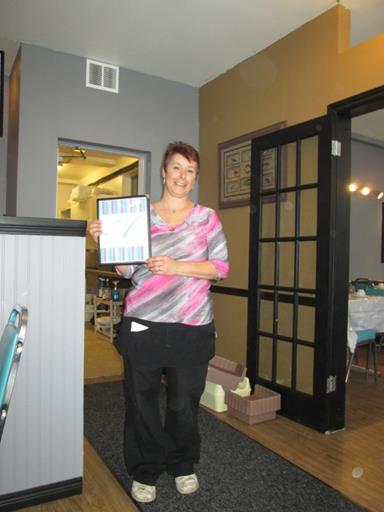 We re-tarped the truck behind Tim Horton's after picking up some supplies at the Nipigon Canadian Tire. The first tarp had started to shred and rip after 2 or 3 days of travel. I bought a heavy duty tarp this time and hope it lasts for the rest of the trip. Julie notes "WTF!" (Weather Tarp Frayed!)"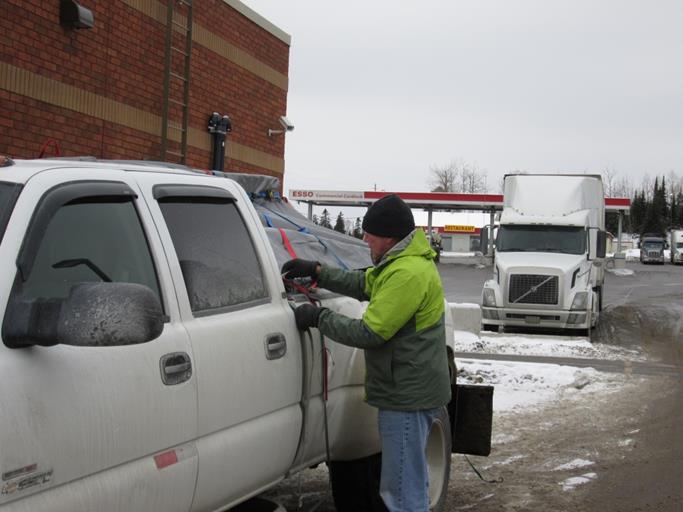 Both the weather and roads started to deteriorate as we neared Thunder Bay, ON.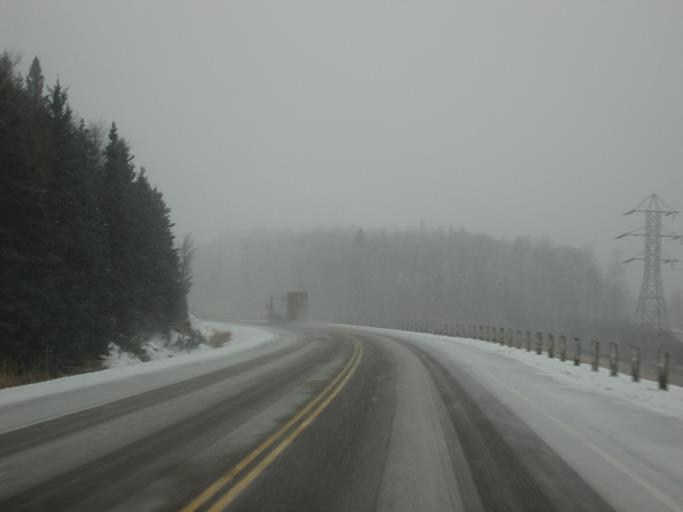 We were into a full blown snow storm when we arrived at Brian and Carol's beautiful acreage near TB.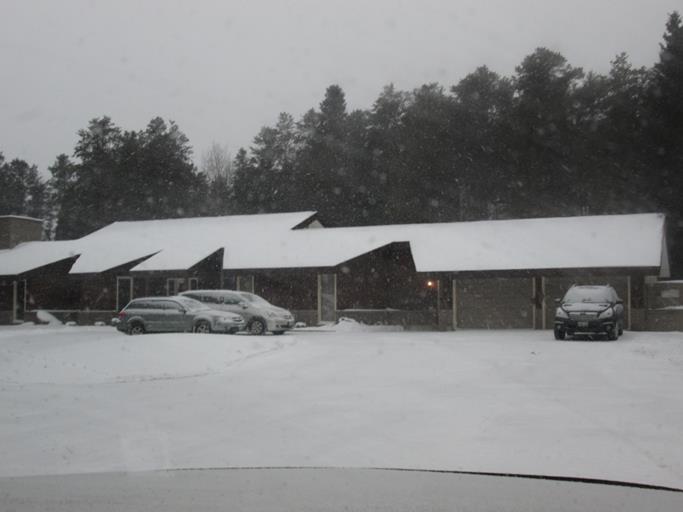 Julie's cousins and cousins-in law and aunt. From L to R; Carol, Connie, Aunt Doreen, Bonnie, and Judy. Lynn was not able to make it because of the storm. Steve is relaxing in the background. He is known to all Doreen's sisters as "the cute guy". Julie notes "These are wonderful gals. Aunt Doreen is my Mom's slightly older sister and best friend while they were growing up. And I do believe she may have been the instigator of many of the crazy antics the USSR (Ugly Step Sister Reunion) got up to when all the sisters started travelling together after their child rearing years were behind them. At least that's who Mom pointed the finger at. Most of those stories are not printable on this forum."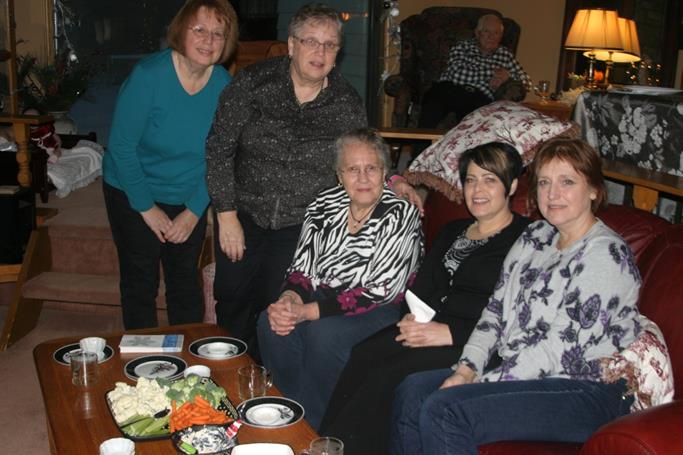 The men folk talking about manly stuff. L to R; John, the muleskinner, Doug, Brian (seated), and Andy. Julie notes "What do you think they're talking about? They might be all trying to guess how John broke his ankle because he isn't quite sure."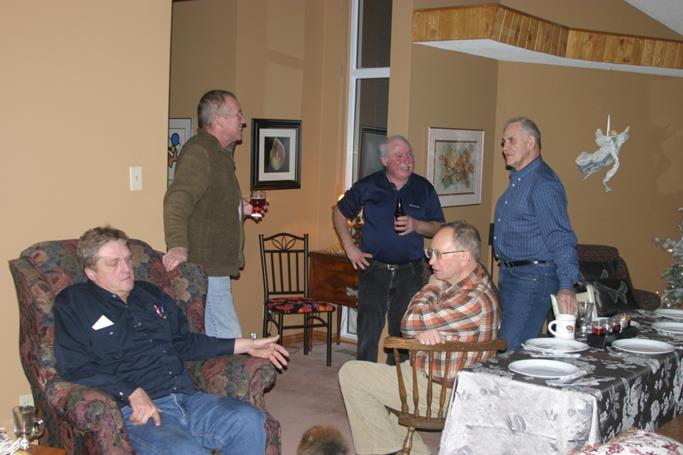 Carol and Brian hosted an amazing dinner for the group. Julie notes "Mmm delicious meal and the company superb."
Andy and Doug at the buffet. Julie notes "Andy is asking 'But where are the buns?'"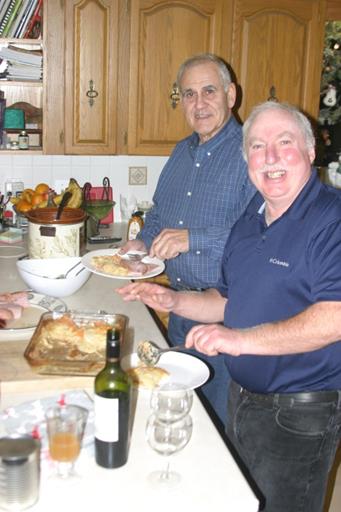 Lyle and Lynn missed a great dinner because of the weather but we also missed out on the buns because they didn't make it. J That was the joke of the night and we're just kidding. haha It was a terrific meal with good folks. They always welcome us as we travel through the area. Even when we tell them not to go to any trouble, they always do. Julie notes "Aunt Doreen told me they could fuss over us if they wanted to. So we didn't argue."
Aunt Doreen has become an accomplished watercolour painter and presented Julie with one of her beautiful paintings. After reading the blog and seeing the pictures, she knew Julie would love this windmill painting, in particular. Julie notes "Just one of her many talents. Just like all of the Holmes and their offspring she is very creative in all aspects. And funny too. Plus one of our loyal blog followers and commenters. I was overwhelmed when she gave this to me. It is definitely the money shot of the day. Now I know you are all wondering what my talent is being a Holmes. Hmmm I know there must be something."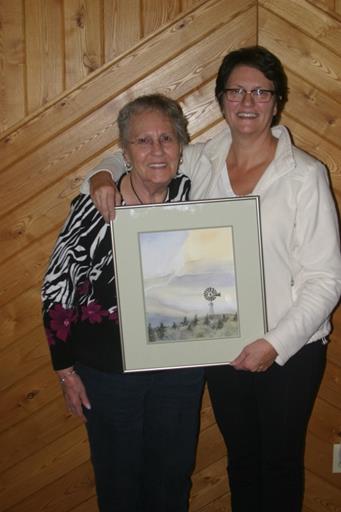 It was a great evening with relatives and we can't thank them enough for their hospitality. Julie notes "Sorry for importing that big black spider into your house. We are just glad it scurried out of the cold box of treasures before ending up at Aunt Doreen's house. Good news is that that is one less spider at the Moscow Holmestead."
…over and out, the muleskinner and his sidekick
Julie notes "P.S. Don't let us forget the delicious ham sandwiches in the fridge that Carol and Brian made for us."