Day 159 – Monday, December 2, 2013
Today we left my sisters place near Cobourg and headed to Julie's sister Krista, her husband Jim, and their children Adam and Harrison's home near Orillia, ON. Before leaving Cobourg, we swung by to say goodbye to our #1 (one of many #1 followers, so don't be too jealous, OK?) blog follower, Red, and her husband Alf. Then we headed in to Julie's other sister, Susan and husband Ron's place. Once we got on our way it was a nice easy drive heading north-west on secondary two lane highways through small towns and farms to Krista and Jim's.
Red and Alf in their driveway.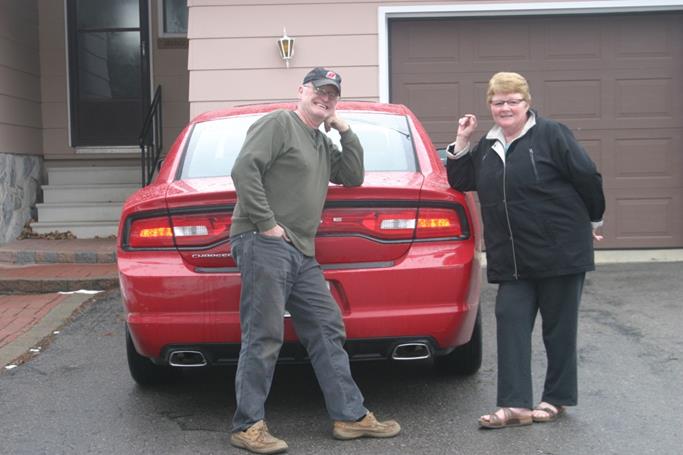 Alf is a very accomplished machinist and builds hot rods for fun. This is his current project car. An incredible machine!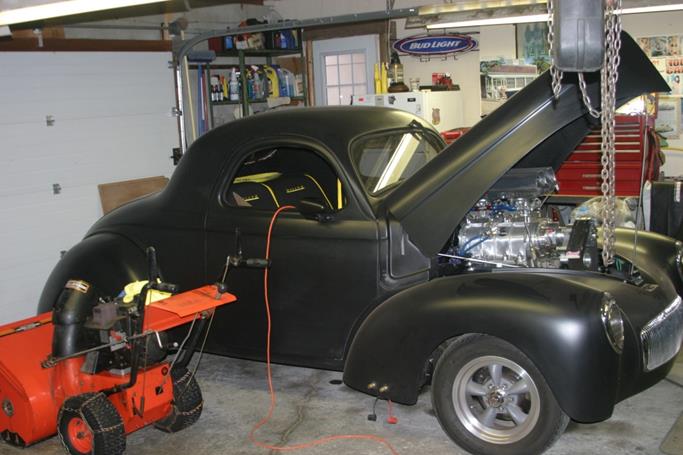 Red was ready to hit the road with us, I think. Either that or she was ready to leave me behind? Julie notes "Well if it hadn't been for Red's sore foot we would've been out of there like Thelma and Louise!"
Julie going up to Ron and Susan's door. Julie notes "Ding dong, Avon calling."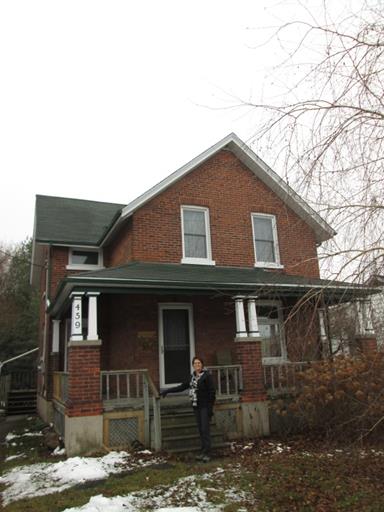 Ron and Susan in their newly renovated kitchen. Note the beautiful old hardwood floors that Ron restored. Julie notes "Looking good! The house and the lovely couple too of course. All the work has paid off and the place looks great! Lots of work but super results."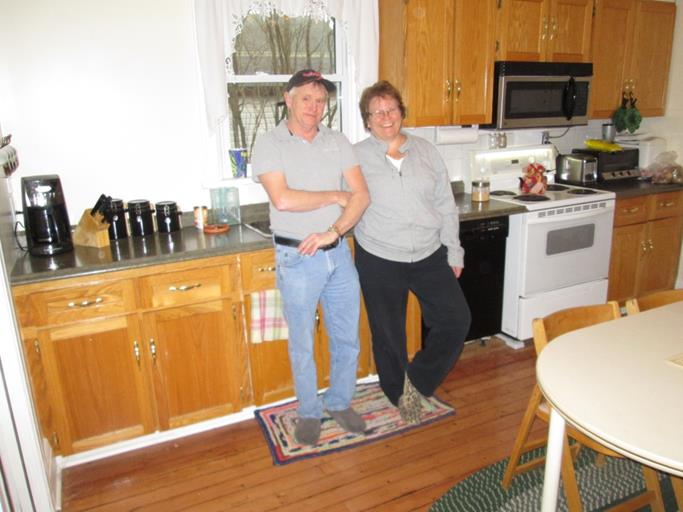 We passed by numerous old southern Ontario farms along the way. Julie notes "No windmills so I became a little obsessed with silos. Wonder what Freud would theorize about that?"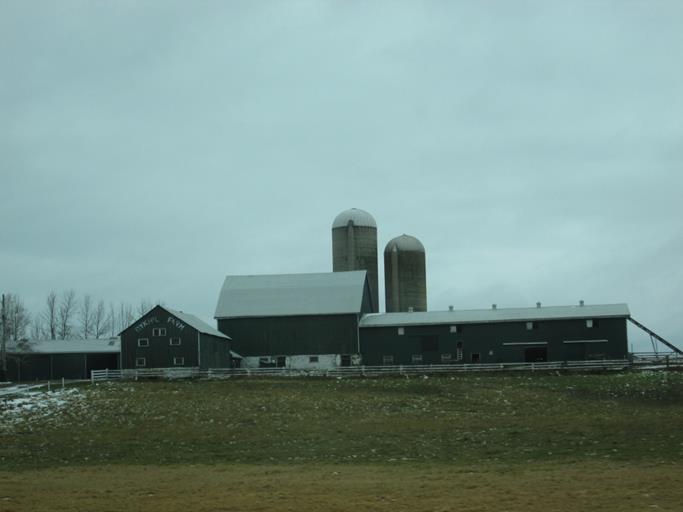 We stopped in for a tour of the Orillia Opera House where Krista is the manager. Julie notes "A grand entrance by our tour leader! I can just see her dressing up as a Carol Burnett character and coming down those lovely spiral stairs. That is what I would do if I worked here. It was very interesting to see the entire behind the scenes stuff that we as patrons don't even know exist. And the projects and renovations are always ongoing in a historical building. Kudos Krista for a job well done. They were prepping the place for April Wine's concert at the end of the week. Now does that take anyone back to their formative high school years?"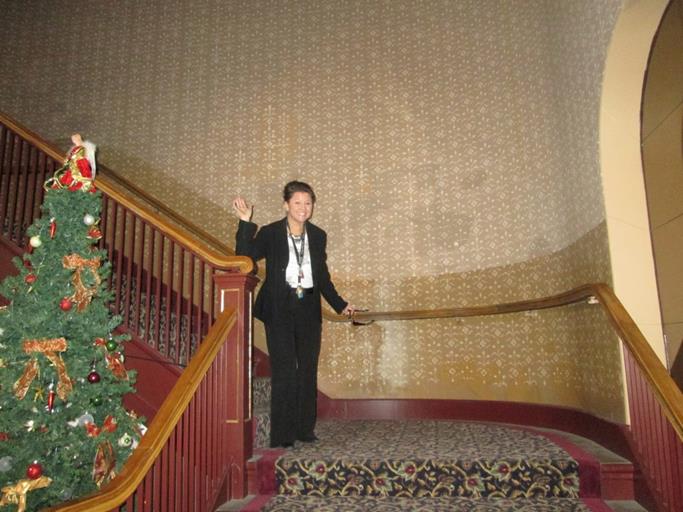 This is a painting of the Opera House in a completely different setting. Julie notes "We were really getting into it. But I kind of look like a Canadian King Kong grabbing on to those turrets. And Brad is saying 'Wow! Look at those turrets!"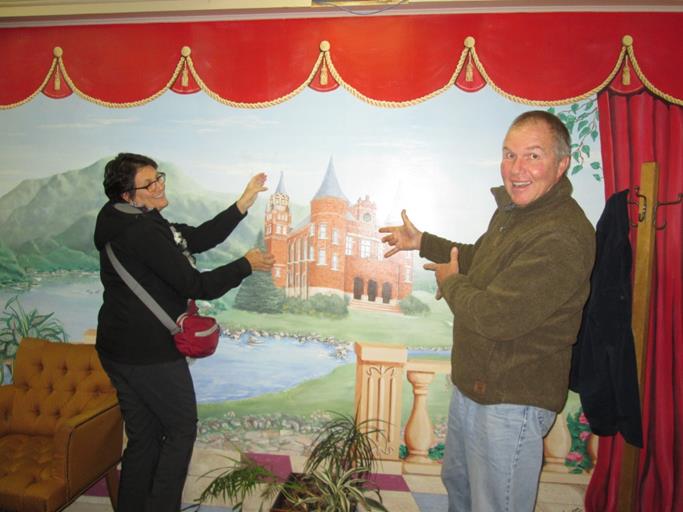 Krista was short on entertainment for the day and asked Julie and me to perform. We did our classic routine. Julie notes "Believe it or not, this was spontaneous. No practise at all. April Wine, eat your heart out!"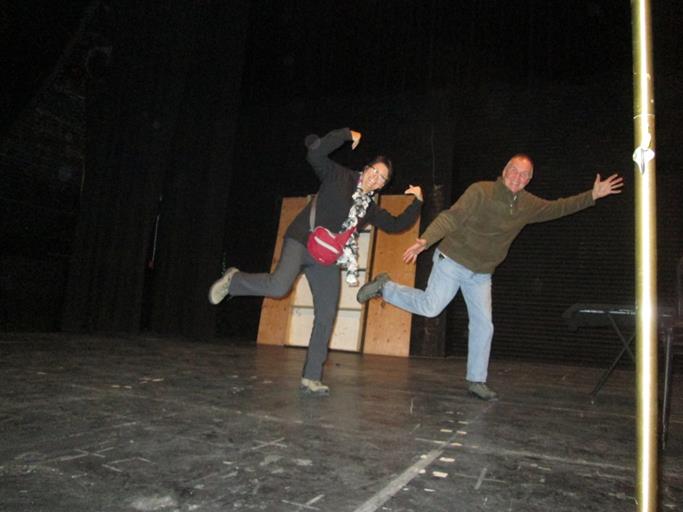 Everyone in the audience thoroughly enjoyed our moves. We brought the house down. Look at their reaction. Julie notes "I think I heard the janitor or someone yell 'Silence is Golden, eh!' Not sure if it was a request for that song or just a comment on our performance."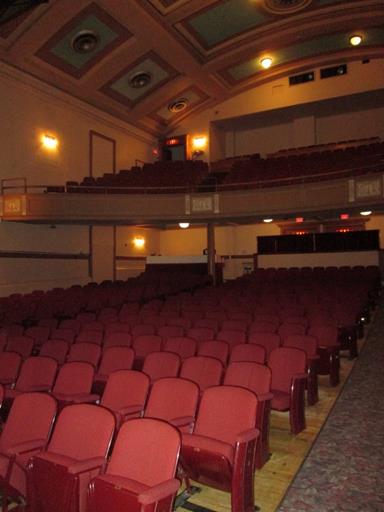 After the Opera House visit, it was time to head over to their acreage, Four Storey Acres, where we were greeted by their number one son, Adam. Harrison was also there to greet us. Julie notes "That Harrison is just too fast for our camera to capture him. But for those of you who don't believe he exists, he is real! Trust me. And he loves Murdoch Mysteries. The boys quickly got us comfy in front of the TV, provided entertainment and snacks and tea until their parents came home. Then they invented some snowball hurling devices and headed outside. We were invited to join in the snowball fight but these guys were experts and we did not have appropriate snow attire." Jim, along with the help of his sons and wife, has developed a first class maple syrup operation. They produce some of the finest maple syrup in southern Ontario. You know what I mean if you've been lucky enough to sample their product.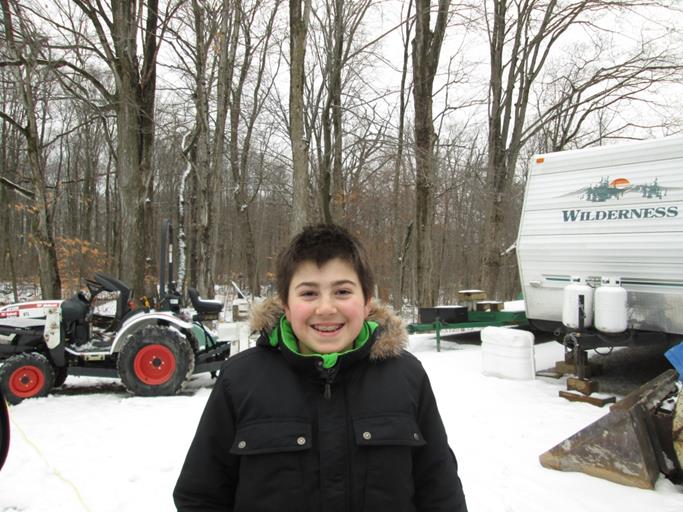 Julie notes "After a great BBQ steak meal with all the fixings, cooked by Jim and helpers, followed by a new episode of Murdoch Mysteries, with piano pieces played by both boys during commercial breaks, and a maple liqueur aperitif we were ready for bed. For some reason we both dreamt that we stranded on a desert island. Maybe the effects of too much liqueur?"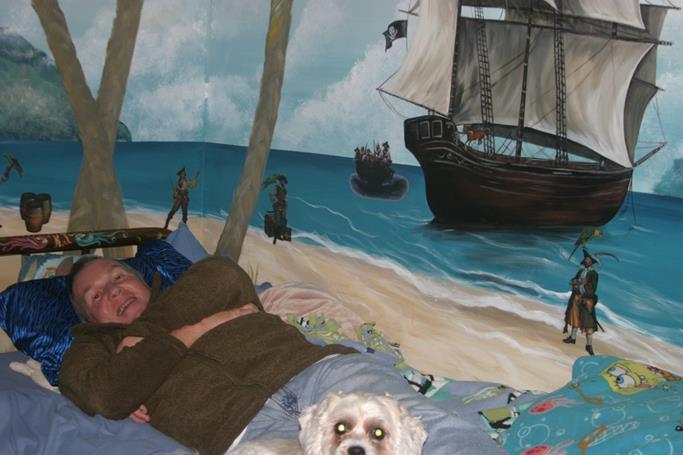 Julie notes "And it felt like tiny little horses were riding over my hips and kicking me in the head. Either the liqueur or the cold I haven't been able to shake. One thing I should've learned on my travels but have forgotten I guess is close your mouth if you are sleeping under a toucan tree."
…over and out, the muleskinner and his sidekick
Julie notes "It was sure great getting another chance to hug all of the above wonderful folks before we really set off on our homeward trek. Thanks Four Storeys for taking us in on short notice. See you in the morning for more hugs before we hit the road. And Harrison please make sure you let me know when the next new Murdoch episode is on so we can see if your theory is correct. Adam, thank you for the cup of medicinal tea and the toe and shoulder rub. It was just what the doctor ordered. Thanks to Jim and Brad for doing up all of the dishes. Thanks to Krista for getting through her evening council presentation without hurting anyone. We do not have time to swing by the jail on our way out of town tomorrow."