Day 160 – Tuesday, December 3, 2013
Okay, today we are really homeward bound. Jim, Krista and the boys were up early getting ready for their day. Their household is busy in the morning with breakfast preparations, making lunches, getting the boys organized for school, and making sure the overnight guests had some fresh coffee. We drove 806 kilometres from Orillia to Wawa, ON. Julie notes "Wawa, Home of the giant goose! I am hoping they give out 'I got goosed in Wawa' certificates. If not I may need to contact their Chamber of Commerce to suggest that idea. I think it would really 'fly'."
Jim and Krista getting ready for the day. Julie notes "Notice their beautifully renovated kitchen as well."
Some last minute visiting with Adam over breakfast. Julie notes "Another meeting of the minds. Wonder what they were pondering. I just hope Brad wasn't helping him with his homework! Especially since he isn't wearing his glasses."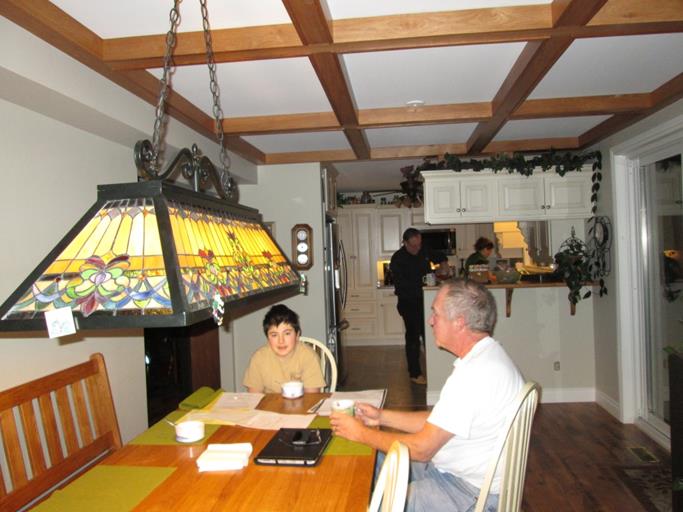 Julie and Harrison saying their goodbyes. Julie notes "I am the one on the right and the elusive man of mystery (including Murdoch Mysteries, as I have mentioned previously) is on the left. He is a very nice, smart young man who among many of his wonderful attributes, lets his crazy aunt hug him."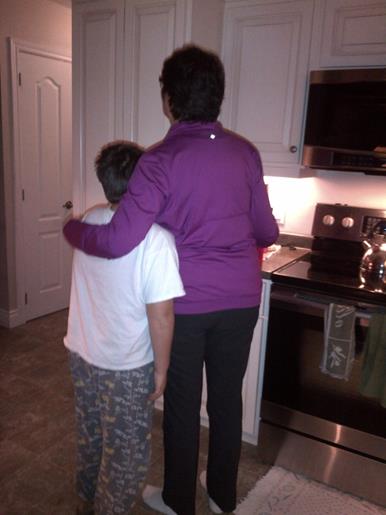 We took our first break at Parry Sound Tim Horton's because Julie spotted Bobby Orr's jersey in the window of his hometown Visitor Centre. Julie notes "Now a great Timmie's commercial would be me walking in there and Bobby Orr serving me my 'green tea, one bag in, one bag out, two milk, two sweetener'. But no such luck. I may send that in to their marketing department as a future idea. Although that may not wash as Tim Horton was a Toronto player and Bobby Orr spent most of his illustrious career as a Boston Bruin (until my hockey crazed girlfriends and I ruined his knees when we jumped him that fateful night outside the Maple Leaf arena dressing room, on his way to his bus – come to think of it, maybe best we never actually meet him in person again, right ladies? You know who you are. I wonder if we're mentioned in his new book though, eh?)"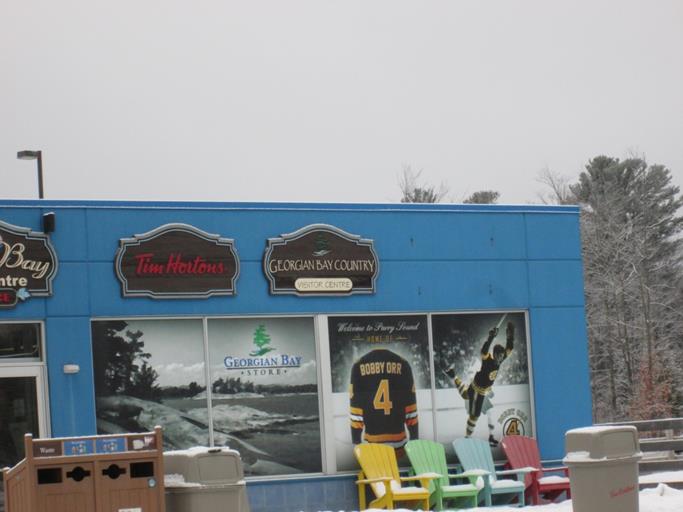 Fresh snow and overcast but the driving was good and the highways mostly clear.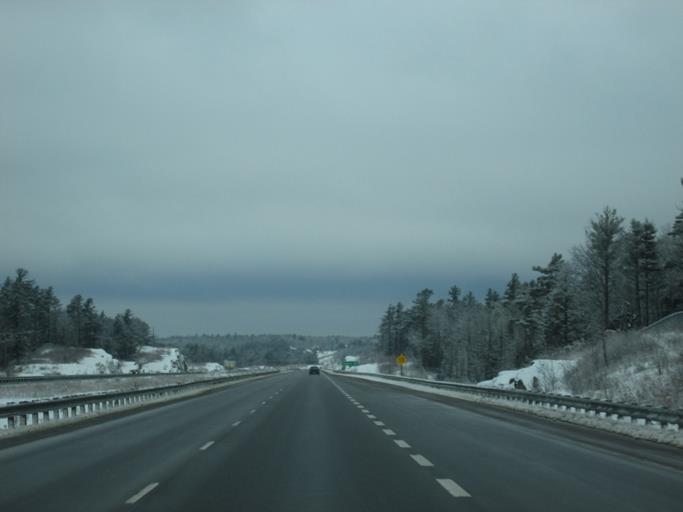 We stopped in the Soo (Sault Ste. Marie, ON) for a late lunch at Casey's Grill in the Water Tower Inn. I had the Cobb Salad.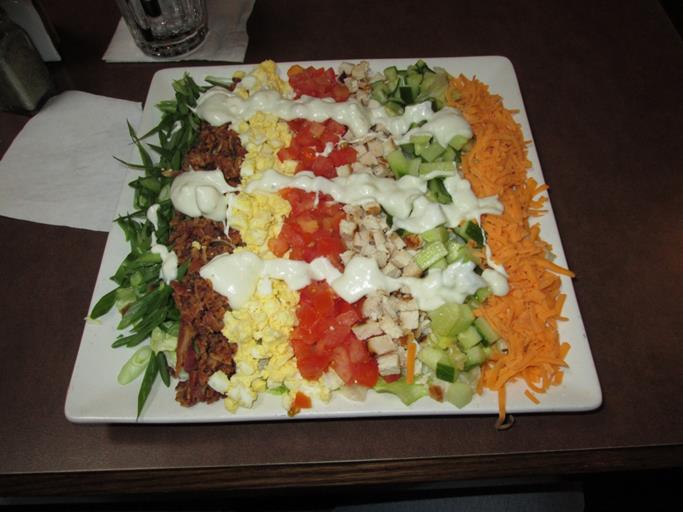 Julie ordered the Sandwich Slider Combo with a pulled pork and a rotisserie chicken salad slider along with the roasted red pepper soup. Both our meals were very good.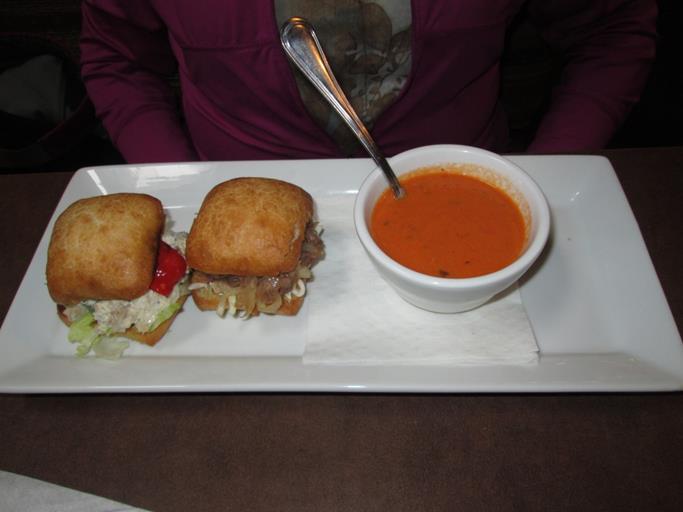 After filling up in the Soo, with food and diesel, we headed north on Highway 17 following the north shore of Lake Superior to Wawa. This is a beautiful scenic drive, winter or summer. We have travelled this route many times and it never gets old. The rock cuts through the Canadian Shield and the views over Lake Superior are awe inspiring. Julie notes "Some might say spectacular. The only thing missing is a windmill or three."
We found the Parkway Motel just before the entrance into the town of Wawa and got checked in after negotiating a rate of $69.00/night. It's a small older motel but has been somewhat renovated and is very clean. We relaxed for a bit before heading into town to find a restaurant. Julie notes "Nice new soaker tub awaiting my return. Ahhh."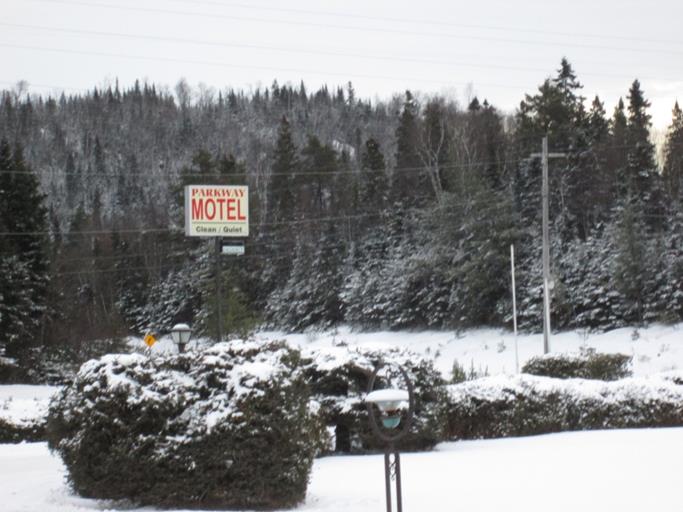 We found the Wawa Motor Inn for dinner and located the restaurant under the giant Canada goose. It was a busy spot. Julie notes "We noted that several establishments were closed, likely for the season as summer is the height of their business so be careful when you're using Trip Adviser or it might lead you on a merry 'goose' chase in Wawa. But we did find a couple places despite their darkened signs. In this case the lights were OFF and no-one was home." It was our waitresses' first day on the job but she was an excellent server and obviously came to this job with some past experience. The food was good and seemed mostly homemade. Julie notes "Brad doesn't want to say what we had in this cool old place with the giant pulley thing hanging in front of the huge beautiful fireplace. (The new waitress wasn't able to enlighten us on the history of that but I bet she'll find out for the next customers.) The restaurant was just in the midst of changing hands so were still working on what their menu should include. We volunteered to try out their very plump and juicy wings and of course someone needed to ensure their fries were up to standard. No goose on the menu though so the giant goose on the roof is somewhat false advertising. Or maybe they were goose wings we were eating. That would explain their size?"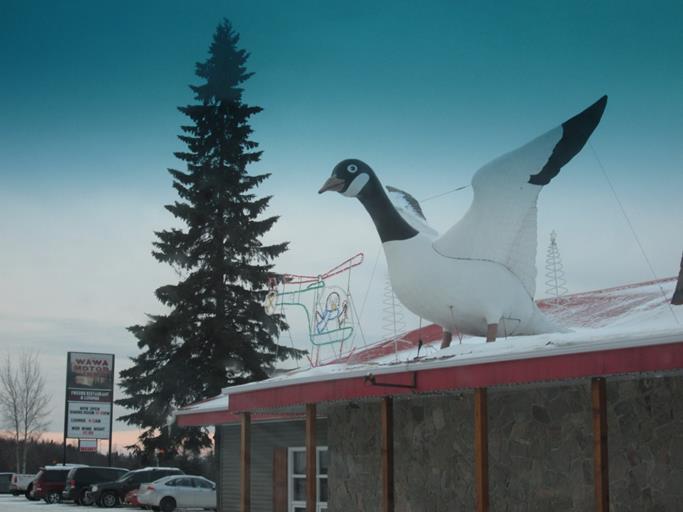 …over and out, the muleskinner and his sidekick
Julie notes "As we left Orillia, Gordon Lightfoot's home town, after saying our goodbyes, Gordie sang to us 'that it must be wanderlust' because 'every highway lets me slip away from you.' Then Bette Midler and Linda Ronstadt sang about 'Sisters' And I found myself 'hammering out love, between my brothers and my sisters', as we drove along, followed by 'Suzy Q. I love you.' So thanks for everything family. We keep you in our hearts as we travel along. And if you dare, stay tuned to see if I earned 'I got goosed in Wawa' certificate today."