Day 137 – Sunday, November 10, 2013
Julie and I spent most of the day putzing around, running some errands, and doing a little cleaning and packing. We were at the Schnepf Farms for most of the day. The farm still had the remote control helicopters in one field and the tractor show in other areas. Julie notes "Today was the day! We were very excited! Luckily all of the tractors revved up early in the morning getting us up out of bed. We were wiling away the hours trying to fill time waiting for our friends to arrive. Brad even risked the questionable shower house so he would be huggable when the mystery guests arrived. Too excited to sit still we were buzzing just like the toy helicopters over our heads so headed out on errands. We knew our friends appreciated clean undies as well as clean bodies so the quest for a local lavanderia was launched.
A few of the tractors being loaded. Julie notes "A momma and her baby."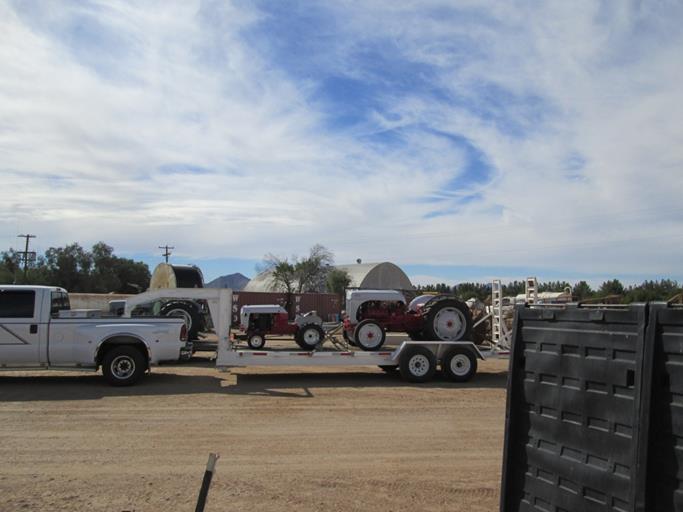 Julie notes "A daddy, hiding behind the bush, and son."
This little gal was right next to the spot where we will store the camper for a few days and she was quite vocal. Julie notes "She'd quietly wait until you were just next to her and let out loud 'BLECCCKKKK' like she was throwing up, making you jump and drop the clean laundry you were carrying. Then I'm pretty sure she'd chuckle. Although she's not a billy goat she might've been hoping for some clothes to nibble on."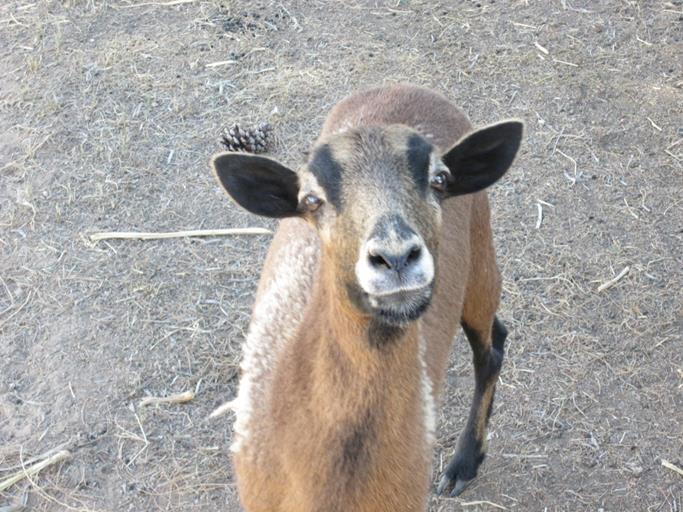 We had a lot of laundry to do before our friends would be picking us up at the campground. We searched some of the local shopping areas in search of a Laundromat but had no luck finding one. After having no luck in our Laundromat quest I found this one where Julie could do all of our laundry the old fashioned way. I couldn't convince her that this was a good idea, so we headed back to the campground where they had a single washer and single dryer. Julie thought this might be better than the creek. Julie notes "He figured if it's good enough for the Queen…But her highness must've used the last drop to wash Prince Phillips breeches because we were up the Queen's Creek without any Wash water."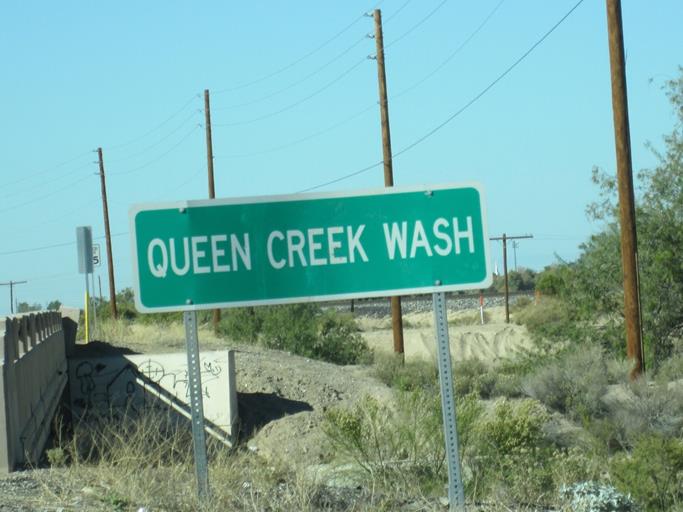 Julie notes "The plane boss, the plane! Brad has been watching the flight of our mystery friends and they had been delayed in transit. That was okay because the laundry was still chugging away at the fairly respectable campground laundromat. Then they arrived! Dan and Lola came to pick us up from our deluxe campground. After hugs and kisses they were tempted to stay with us after we showed them the hot tub and gas grill full of pine needles and dirt along with other unique amenities (including a goat that sounds like it is tossing up underwear) but since it looked like most of the helicopter and tractor events were over we decided to check out their digs instead." After storing our truck and camper at the farm for a few days we were off to visit with our friends Dan and Maureen Pearcy, Lola Wright, and Brenda Montgomery. Dan and Maureen have a house at the Encanterra Development in the San Tan Valley near Phoenix. Our other friends from Grande Prairie, Bill and Mary Ann Smith, graciously offered us their home right next to Dan and Maureen's, while we visit this week. Encanterra is a beautiful resort development with a full golf course, restaurants and bars, pools and a spa. Julie notes "Wow! No goats but Wow! Anyway!"
The grill master, Dan, preparing some delicious tender pork tenderloins and grilled peppers. Julie notes "Yes tender tenderloins may sound redundant but they deserve the title of tenderness squared!"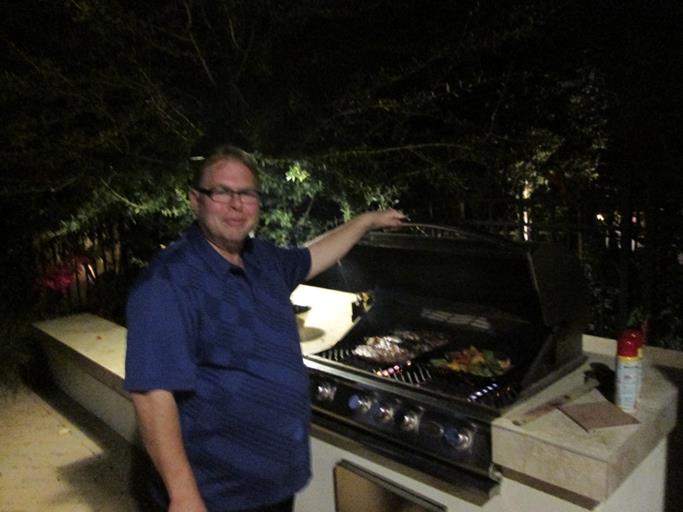 The group around the outdoor patio space with a cozy fireplace. Julie notes "We all must still be trying to keep the mystery guests a mystery as we seem to be hiding our faces. Head of the table, Maureen,(hostess extraordinaire) to right around the table, me, Brenda (mystery guest #1), Harvey, Dale (fellow Grande Prairians/ En Canterrorites) and Lola (mystery guest #2 also known as Kelly M.) Kelly M. is back in GP plowing snow, not able to join his wife Brenda for the trip. Lola slapped on a mustache and became Kelly for the week. Kelly has phoned already to check on how his holiday is going so far."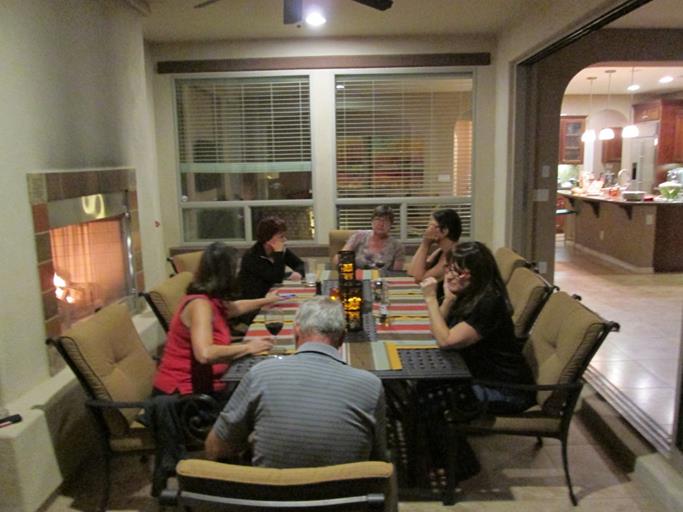 Dan. Julie notes "This man knows his tenderloin! (hmmm It's okay to say that right?)"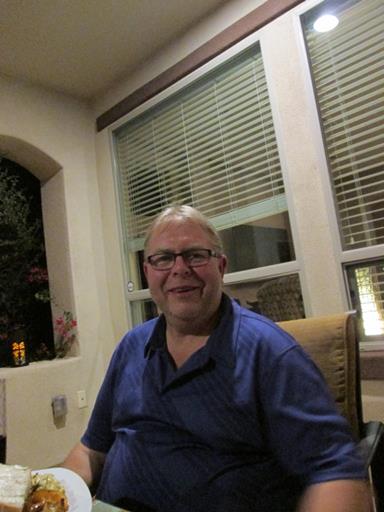 Maureen toasting with Lola hiding behind her wine glass. J Julie notes "It's okay, the mystery surprise friends' names have be announced. No need to shield their identities further. Lola you can also remove that fake walrus mustache. (uhoh I might be in trouble now! Hopefully not, by the hair of chinny chinny chin."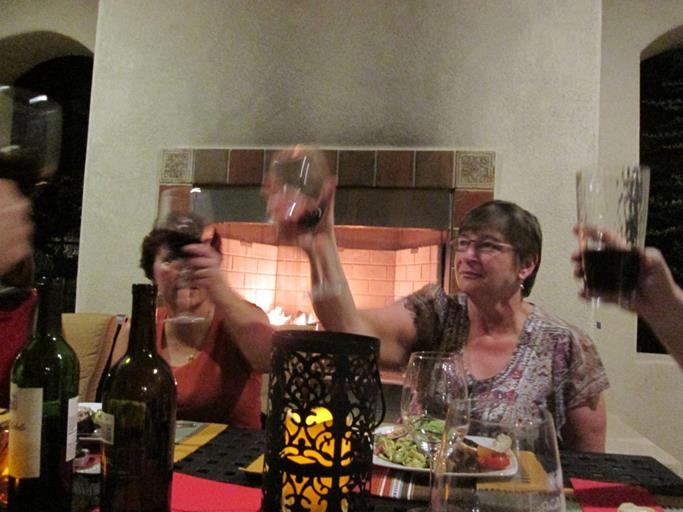 The feast of pork tenderloin, pasta, salad and grilled peppers prepared for us by Dan and Maureen. Delicious! Oh yeah, and some great bread. Something I missed while traveling through Central America.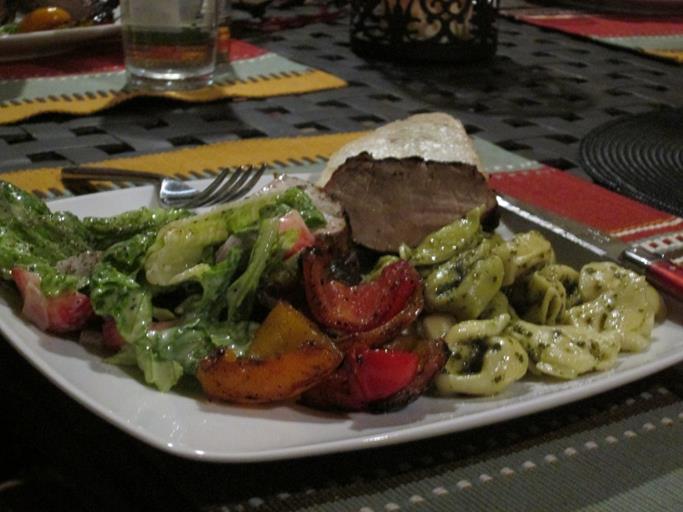 …over and out, the muleskinner and his sidekick
Julie notes "Kelly M., so far you seem to be having a wonderful holiday. Which is good. You deserve it. Word is you are planning a massage and maybe a pedicure! But we are still missing you."