Day 7 – Tuesday, April 2, 2013
I forgot to mention yesterday, April 1, that is was 33 years ago that we left Camborne, ON for a few years in the West. Who would have thought that 33 years later we would be in Eagle Plains, YT? Julie notes "We celebrated in the hotel restaurant surrounded by an amazing display of stuffed wildlife including musk ox, moose and mountain goats and historical pictures telling the story of the Mad Trapper of Rat River. This might seem strange to some but I've been travelling with a mad old goat for years, 33 years in fact."
We arrived in Inuvik, NT today after driving the northern half of the Dempster highway from Eagle Plains, YT. Another amazing drive. The temperature today varied from a high of -16C to a low of -24C. Julie notes 'Until yesterday our temps had been wavering plus and minus 6 degrees around zero. We remembered what serious wind chill felt like today. Brad has blocked the weather app from my phone so that every day is a surprise. He HAS however emphasized a couple times today that he is getting his long johns out for tomorrow. That is a bit worrisome."
Shortly after leaving Eagle Plains, YT we crossed the Arctic Circle – 66o 33′ North. WooHoo!
After crossing the Arctic Circle, I tried to convince Julie it was like joining the mile high club, but she wouldn't be fooled so easily, (again) haha :-). Julie notes "You can only fool me with that kind of line four times and then I'm on to you!"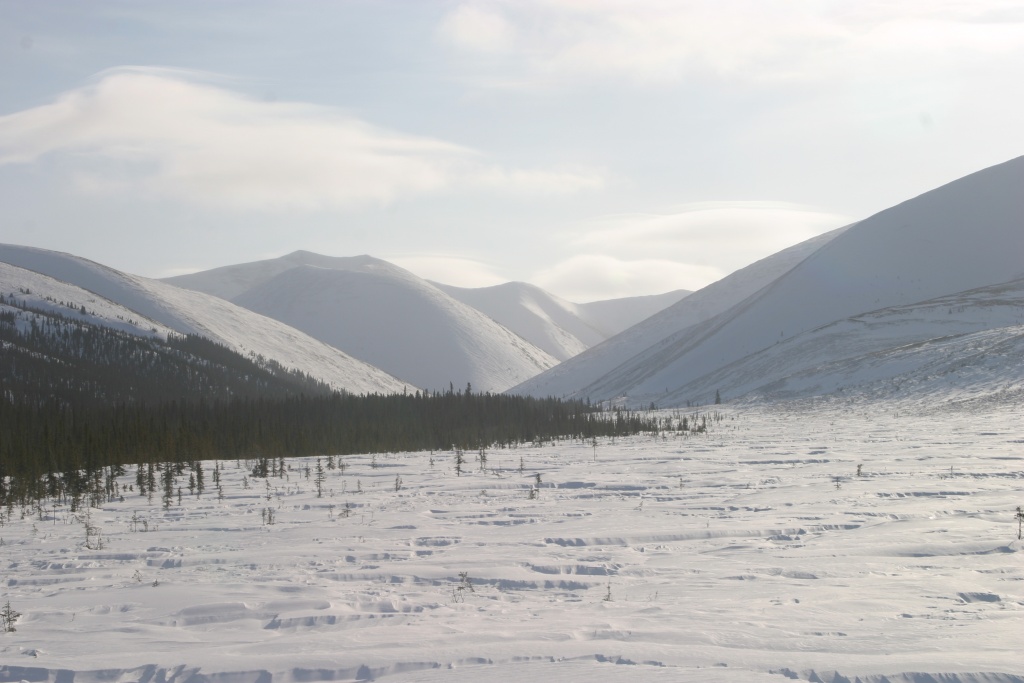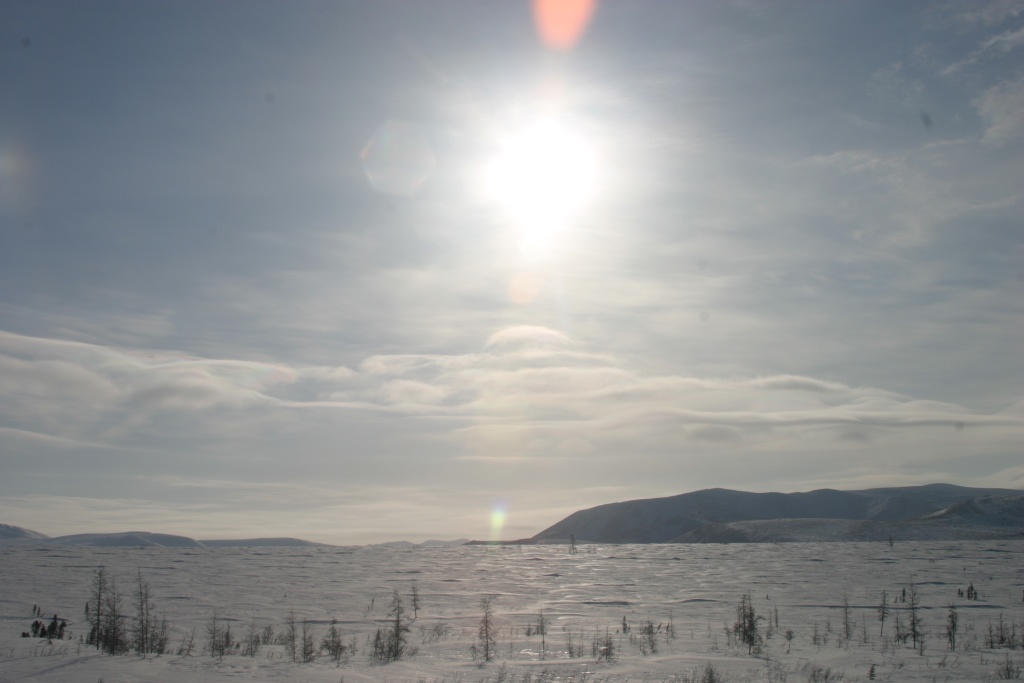 Soon after crossing the Arctic Circle, we crossed into the Northwest Territories. Time to set the clocks ahead an hour.
We stopped in Fort McPherson, an aboriginal community of about 900 people on the banks of the Peel River, long enough for Julie to mail a postcard to some family.
We crossed the MacKenzie River ice bridge at Tsiigehtchic (Arctic Red River). After a brief tour of the hamlet, we stopped for lunch in the middle of the mighty MacKenzie River. Julie notes" And in case you are wondering, NO Arctic Circle Mile High funny business in the middle of the MacKenzie River either!"
A church is perched high on the banks of the river. Julie notes "Probably to keep an eye on people parked in the middle of river who are thinking about joining the Arctic Circle Mile High club."
We arrived in Inuvik with time to tour a bit of the town.
We found our hotel and prepared to check-in. The Nova hotel was rated high on Trip Advisor and did not disappoint. Julie notes "Well it might still disappoint someone who really wants to be inducted into the Arctic Circle Mile High club."
But where else in the world can you check into your hotel with 4 dog sleds parked out front? Julie notes 'Well that just turned me to mush. haha get it?"
…over and out from Inuvik, Brad notes "wink, wink."
…on to the Ice Road tomorrow to Tuktoyaktuk