Day 25 Sunday, July 21, 2013
We left you for the night in Sanderson, TX Canyon RV Park. We were soon to discover that a railway line runs right beside the park. And because of a nearby crossing, the whistle is blown right at the campground. Can you say L-O-U-D! Thankfully, there were not too many trains during the night.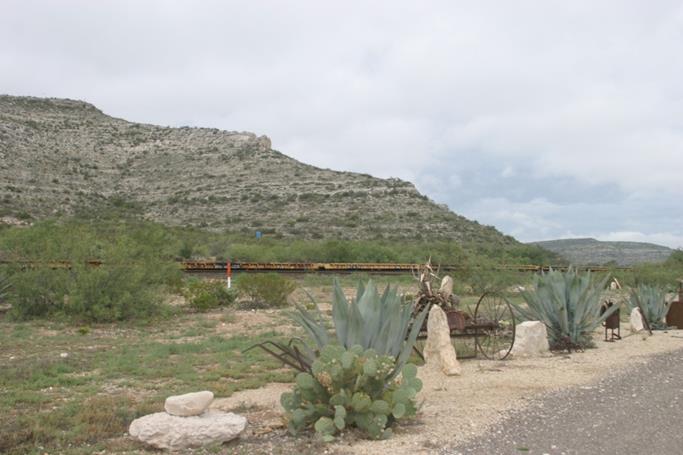 We headed south east following the US-Mexican border to Falcon Lake State Park, TX. We are about 100km from McAllen. We crossed the very scenic Pecos River. There is a very large presence of the Border Patrol agency along this stretch of highway. We were stopped at one Immigration Control point on the highway where our passports were checked. Julie Notes "Do we have any relatives down this way as the very nice border guard reminded us of cousin Matt. He was impressed with the size of Brad's 'unit'. I'm trying to get used to all the attention that Brad's unit seems to draw. Women gasp and admire from afar, children point and men just come right up and touch it, walk around it, ask questions and then give me that knowing nod while Brad smiles proudly."
A gravel trail parallels the highway and numerous 4X4 vehicles patrol back and forth. We were sometimes less than 1/2km from the US-Mexican border.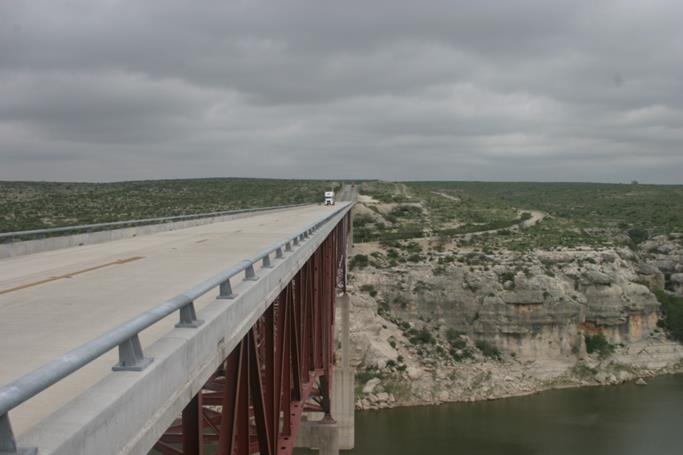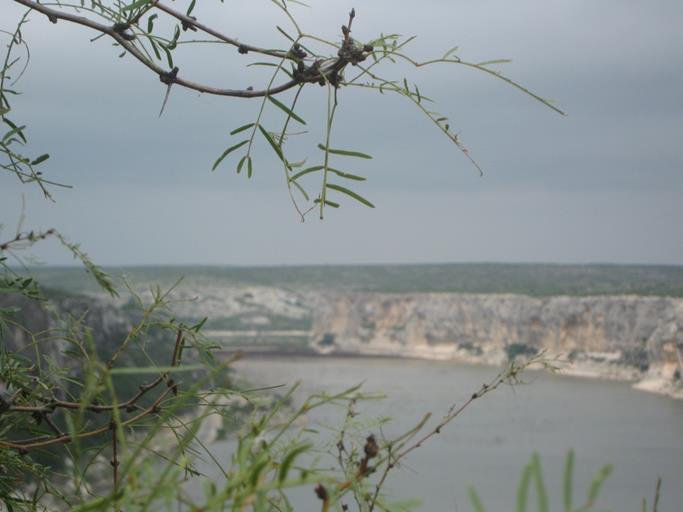 Squinting in the bright sun… Julie notes "This was the last time we got to say we were the coolest couple 'west of the Pecos' because this is the Pecos River we are crossing. Now we are of course the coolest couple east or maybe south of the Pecos. Luckily we are naturally cool as the temperatures were NOT! We met a nice young couple on this bridge from McAllen, Texas. They were excited and upbeat about their town and gave us 'must see' and 'must eat at' ideas."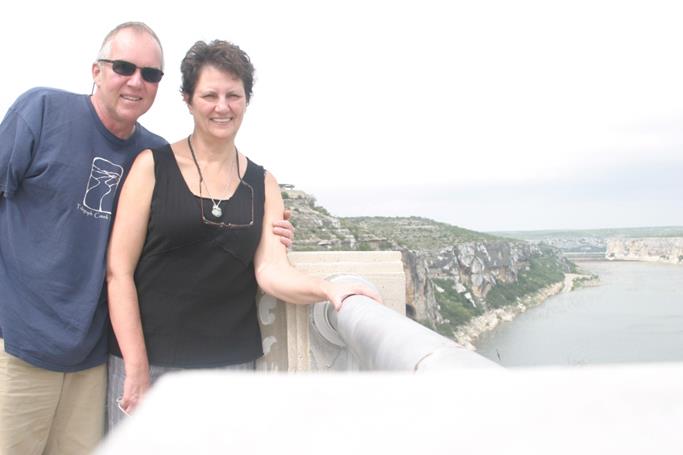 Border Patrol vehicle and gravel trail.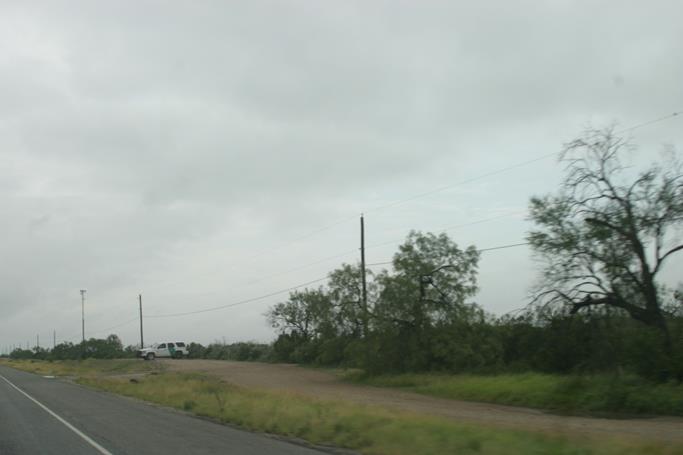 Soon to be replaced with a torrential downpour.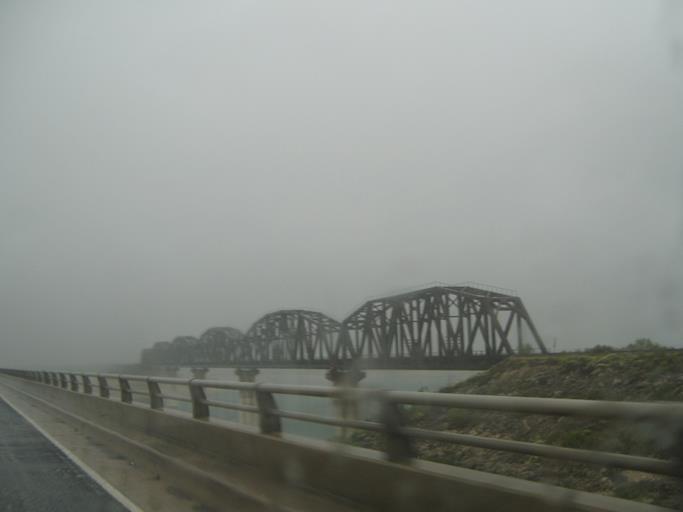 We stopped for a late lunch at Danny's in Eagle Pass, TX. A Mexican franchise restaurant. It was busy with locals having brunch in their Sunday finest. Pretty good for a franchise and the portions were "healthy". Julie notes "It soon became apparent that my grasp of the Spanish language was limited. The waitress did not want to know that 'The turtle eats an apple.' I promise you Alison, our daughter in law, and a Spanish teacher, that we will get serious about learning some more phrases. Melodie our granddaughter is more fluent at 2 years old "
In Laredo, TX we passed by the very large World Trade Bridge. Julie notes "On the road we also passed 'Harrison Ranch' for our nephew Harrison. And we went through a little speck of a place called Dryden. And we gave a shout out to my Mom's family who hail from Dryden, Ontario"
I stopped for fuel in Laredo. The temperature was 38C. I said to the clerk that it was pretty warm. She said "You're not from around here, are you?" To which, I replied "No, we're from Canada." She said "Welcome to Hell!". J
Our site in Falcon Lake State Park.
And finally, can someone tell us what these poles with a hanging arm are used for. We have seen variations of these in Colorado parks and now in Texas. There is one per site. We are stumped. Let us know what you think.
Julie notes "BEEP, BEEP, VAROOOOOOM! Look what we spotted and chased in the campground! The Greater Roadrunner. Kind of an uppity name for such a little guy and they apparently are not fond of the Canadian paparazzi. To add to our list of birds we have seen are the Common Hawk Feathered Ravenlike bird, the Kooky Cuckoo (not to be confused with my own domesticated Crazy as a Kuckoo for Cocoa Puffs husband) and a variety of the Invisible Bush Singing Bird. It may be a big year Alison!"
…carry on folks, the muleskinner and his sidekick "Beep, Beep!! Varoooooom!"