Day 33 – Monday, July 29, 2013
Alternate Title: A good day in Tampico; Didn't get pulled over by the police and didn't get hit by our crew. Julie notes "Which is more than we can say for the rest of our crew."
Today we left the church campsite at 6:30 AM sharp. We headed to El Tajin. The site of ancient ruins. We had to travel though the large city of Tampico. We arrived into the chaos of Tampico traffic around 8:00 AM during rush hour. No one got lost but the larger fifth wheel traveling with us was pulled over for the second time to check papers. We were holding up traffic on a busy 4-lane major highway until they decided he was OK to go. Julie notes "I forgot to mention yesterday that the Rambos, the owners of the 5th wheel, were awarded the 'first to be pulled over by the police' award. They also claimed '2nd and 3rd' in that category today. The big 5th wheel with a utility looking truck seems to catch the eye of the law. But once they see the little pelirrojo (red haired) navigator, Wally Wally Bing bang, they seem assuaged."
Sunrise this morning as we approached Tampico.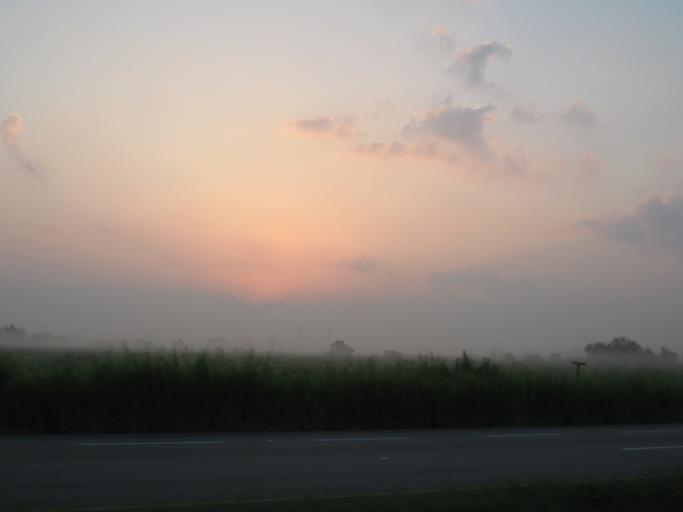 Driving in Tampico. At one stop light, the leader Norm thought he put his vehicle in park to open the passenger side window while the light was red. His vehicle however was in reverse and moved backwards right into Victor's van. No serious damage but a little embarrassment and harassment from the group. Julie notes "As the today's title indicates we've encountered mucho, mucho topes since we've entered Mexico. Who knows what they are?"
We crossed a very large bridge and because of some lane construction we were able to pull over on the bridge for an incredible view of the river and city below.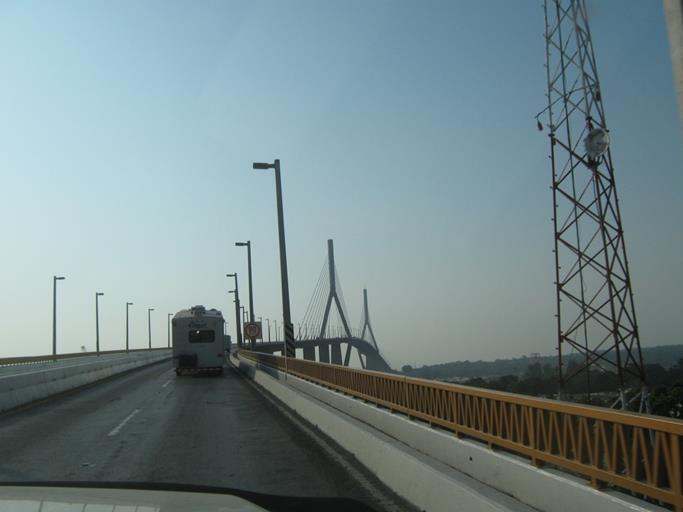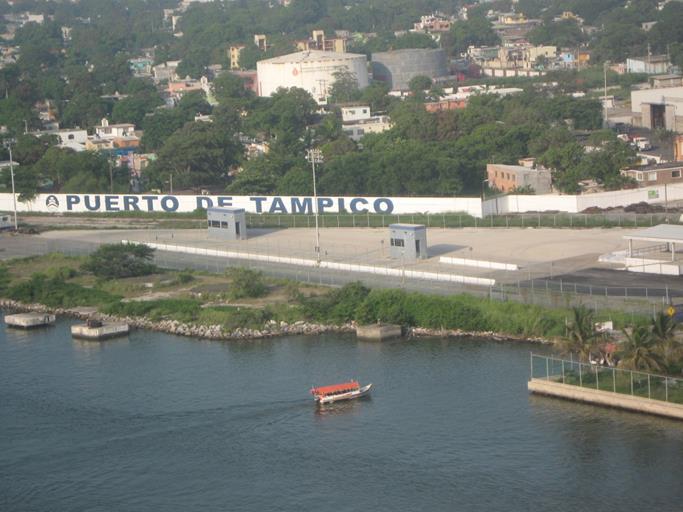 We stopped for a break at an abandoned Pemex station and had a chance to take in the views.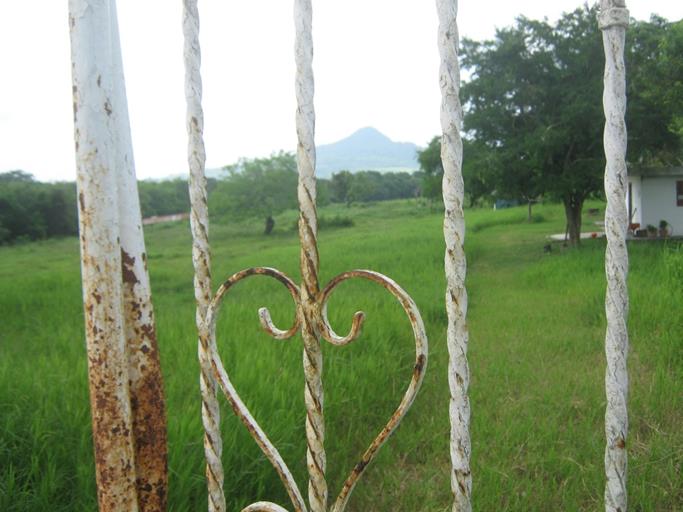 Rhett, the son of Justin and Alyssa, traveling with us as far as Panama.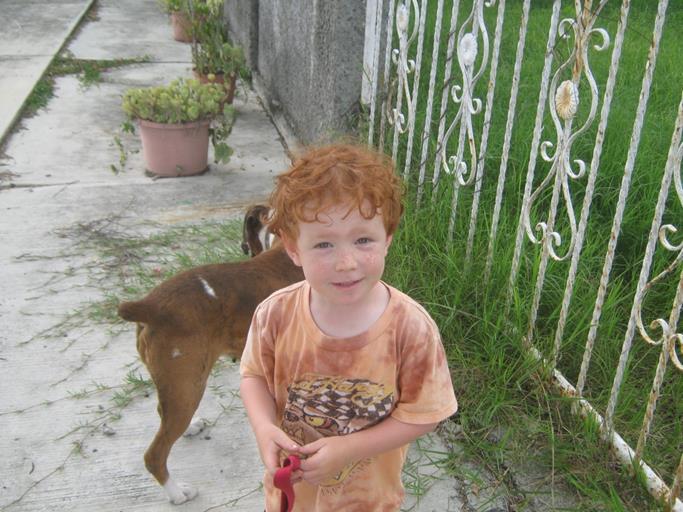 Julie notes "And below is the 'cute' former peliorrojo that I get to spend every minute of the day with for the next 118 days. Please submit your vote on which one you think is the cutest."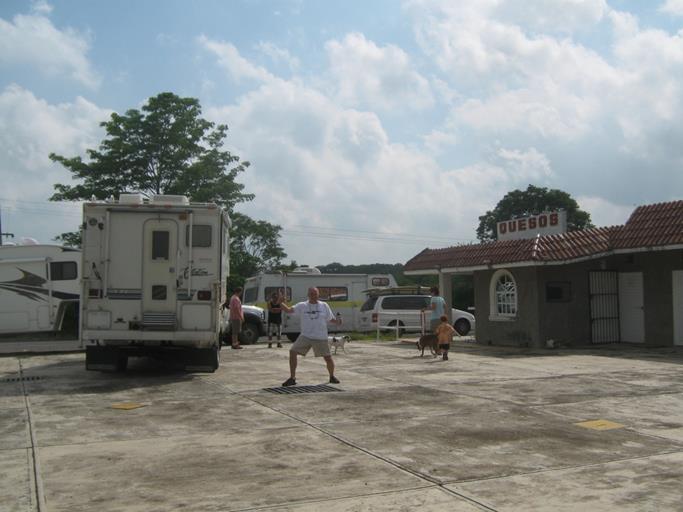 Only a short trip down the highway we stopped again to buy some fresh cheese in a region full of dairy farms. Julie notes "Everyone look at the camera and say 'queso!'. This was a string type cheese with lots of salt. Kind of reminded me of white squeaky curds but in a big string stretchy string ball."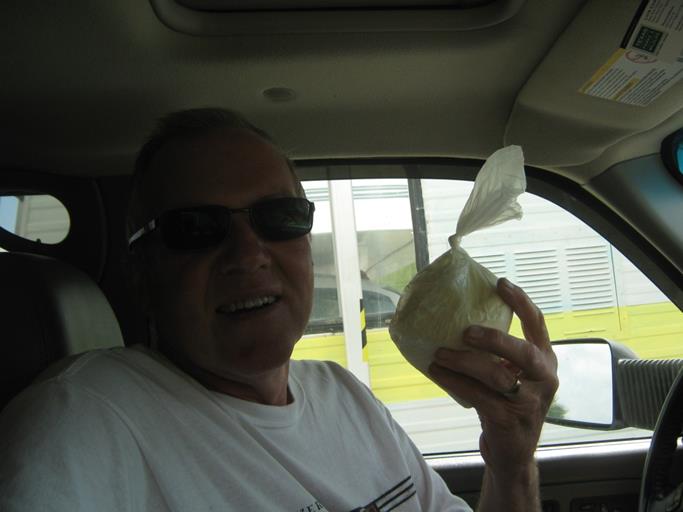 It was some good I must say and I think Julie enjoyed it as well as you can see. Julie notes "Someone forgot to say 'queso' for the camera. I think she might be saying 'back off this is nacho cheese'!"
After the dairy farms we were into the city of Naranjos. The orange growing centre of Mexico. Full of orange groves and statues celebrating their crop. Julie notes "Conveniently for us trying to grasp some Spanish as we travel along, Naranjos means 'orange trees'. And 'peligrosa curva' means 'dangerous curves'. Brad's all too familiar with those. Wink wink."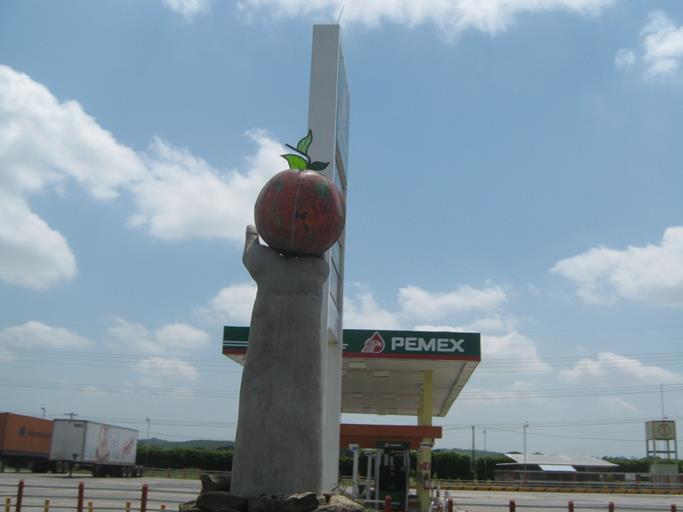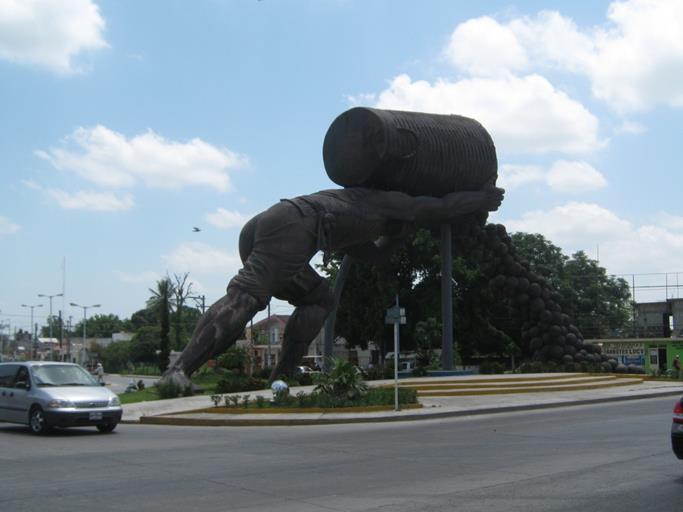 In the next major town we passed, the traffic was quite congested at one of the major intersections. The kid on the bus was so close, he could have reached out and grabbed the RV. Julie notes "Not the first or last time I gasped 'OMG!'. I think I understand better now why they're such a devout people."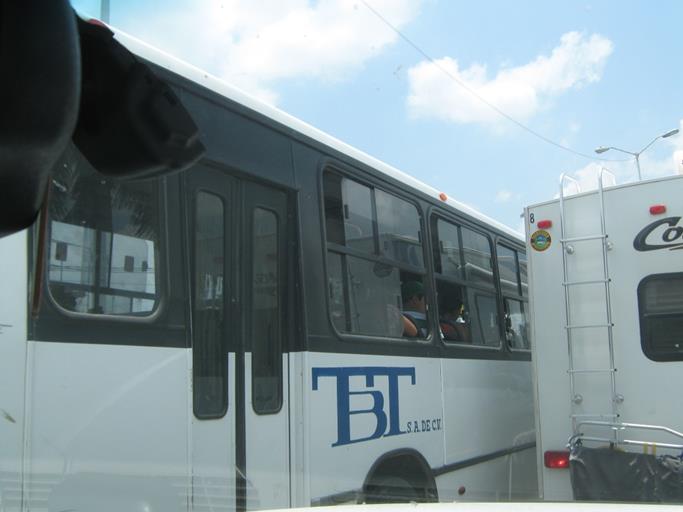 Our campsite for the night in the El Tajin parking area. We will tour the site tomorrow morning, hopefully while it is cool. Julie notes "We have redefined in our heads what constitutes 'cool'. It's based on sweat production and beer consumption. Clothing is just something to wipe your sweat out of your eyes. Good thing my shirts are long. Or that could also increase beer consumption."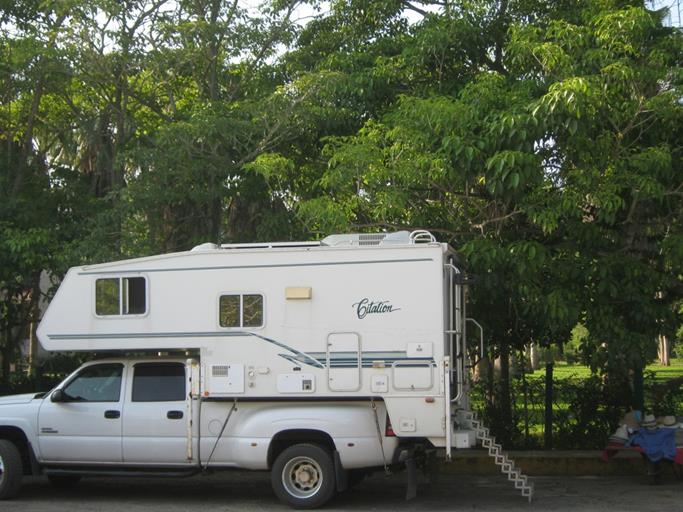 …carry on folks, the muleskinner and his sidekick
Julie notes "Brad and I both had a 'Jim dad' moment at the same time today as we were driving through a town. The song 'The Crystal Chandelier' was playing on itunes and a swarthy older shirtless man was stretching on his balcony. At the same time we said 'Hey, that reminds me of dad/Jim. The song for Brad and the man, who I was pretty sure was about to give a Jim style Tarzan call, was my trigger. Miss you dad."