Day 41 – Tuesday, August 6, 2013
Today we left Tapachula, MX and headed into Guatemala. We hit the border about 15 km south of Tapachula at 7:30 AM. We exited Mexico without too many issues and entered the no-man's land between Mexico and Guatemala. At 7:30 AM the place was already humming along. Street vendors, money exchangers, hawkers, and people with nothing better to do filled the streets. It ended up taking us four hours to get all the various paperwork out of the way and get the outside of the vehicles sprayed with some herbicide or insecticide – not really sure which – but I kept the windows closed and the A/C off because the guy spraying was all suited up and wearing a mask. I guess they usually want to spray inside the vehicle and RV but Norm, our guide, had persuaded them not to.
We had most of the street blocked and people trying to tell us where we should be parked. Eventually, the police made us move into an off street parking area with more entertainment. Used Toyota trucks are extremely popular. They drive them from the US and sell them in this lot. There was also quite an auction of old microwaves, old blenders, irons, and clothing. There was even one little old guy carrying a refrigerator on his back using a head strap. There were also quite a few young boys with homemade shoe shine kits trying to convince me to polish my sandals I think.
Sunrise approaching the border with the Guatemala mountains in the background.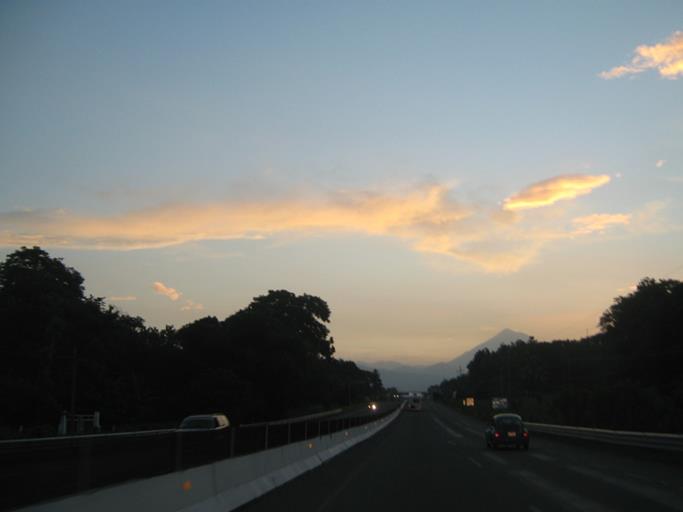 The intermediate zone of chaos.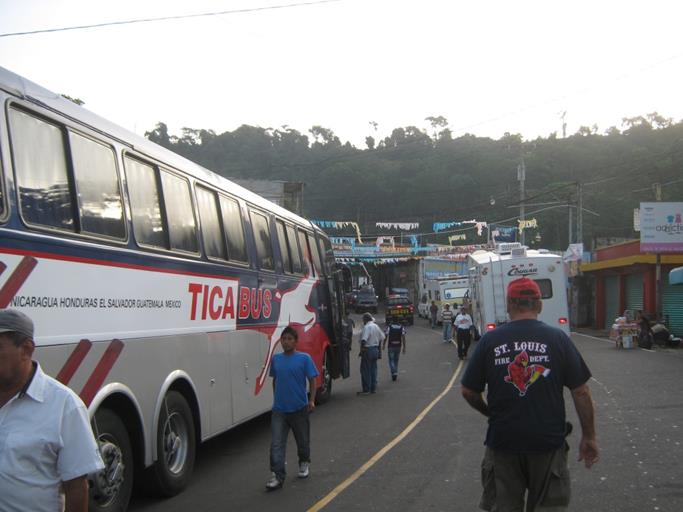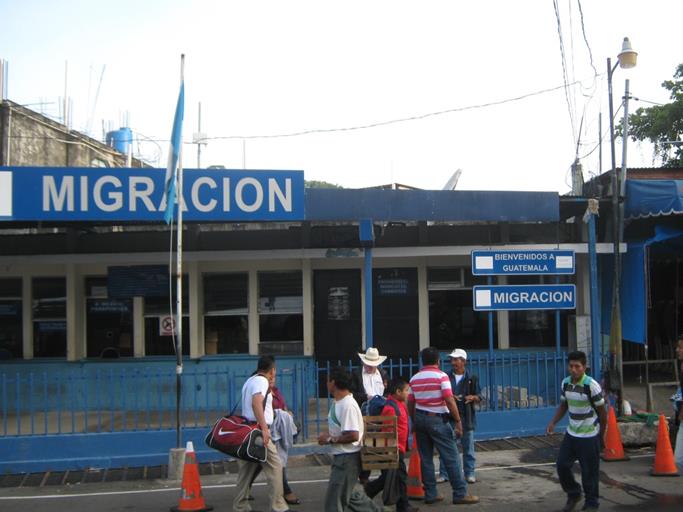 The auction zone in the off street parking area.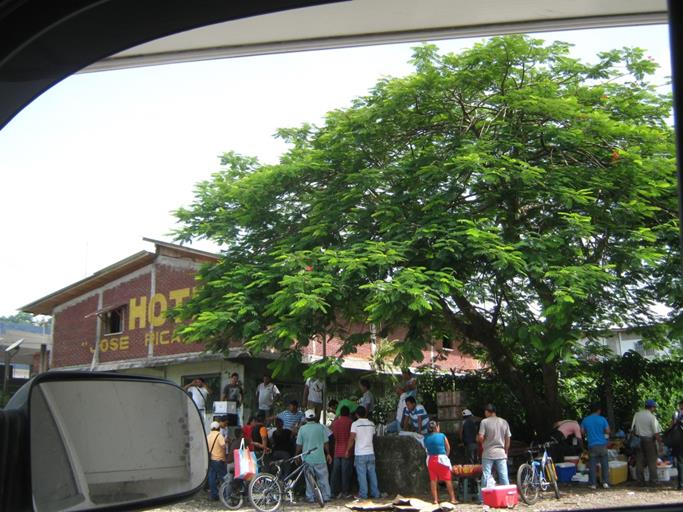 Toyota truck land.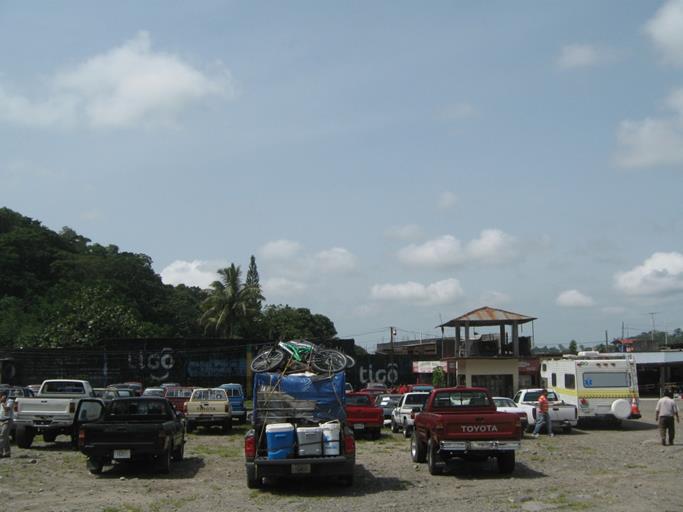 A load of fresh bananas on a Toyota.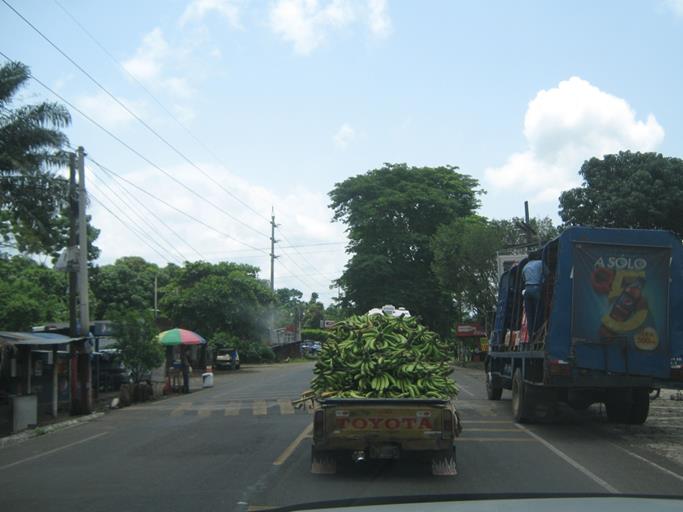 One of the buses heading down the highway. Note the 3 guys hanging out the door.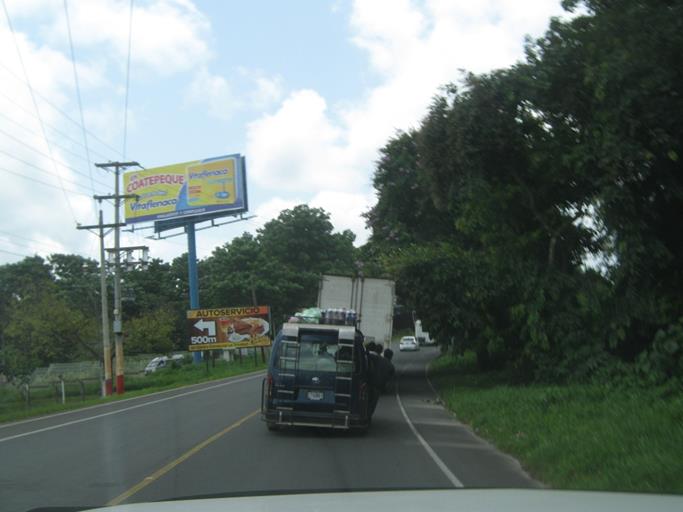 The opposite of our friend's Kakwa Stone operation in Grande Prairie. J This old lady, along with many others, sits alongside the highway and crushes rock with a small hammer and sorts them into various sizes for sale. It is really quite amazing what people will do to make a living. It makes you appreciate what we sometimes take for granted in our Canadian lives.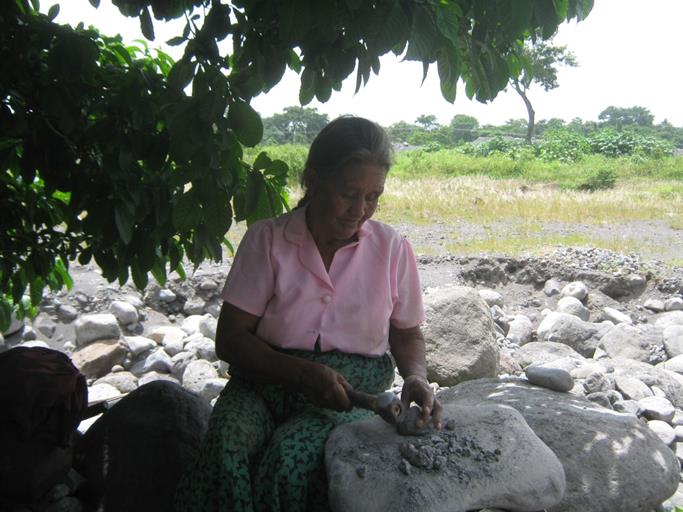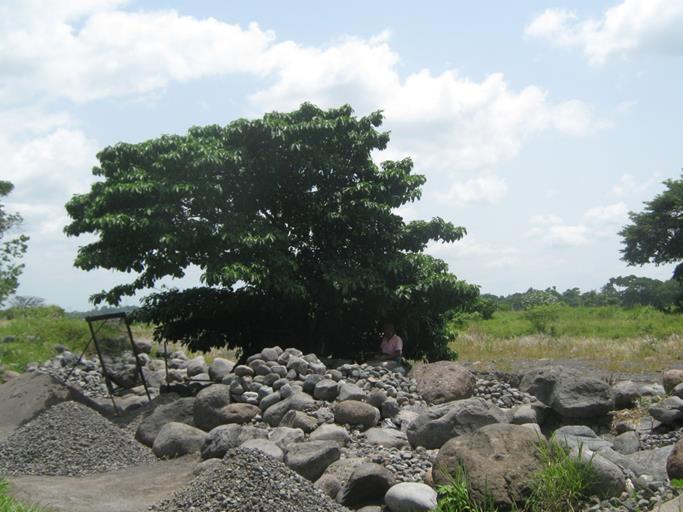 We stopped for lunch at a Pollo Campero. It is a chain of fast food table service restaurants serving extra crispy fried chicken. It seems to be very popular and even had free wifi. Norm and Victor really liked it. I thought it was OK but I won't need to eat there again for a while. I think I would like to get back to trying some better local cuisine.
Tonight we are staying in a very nice RV park close to an active volcano. The sky is glowing red behind the park as I sit here and type up this blog report. The temperatures here are more moderate as we are much higher. It is a very comfortable 24C. The park has a natural hot spring. I enjoyed a Jacuzzi with the natural fed water at 44C and then a real shower. The men's showers are outdoors. Good thing the park is empty and it was dark. The ladies showers are more discreet. I understand they get curtains and indoor showers.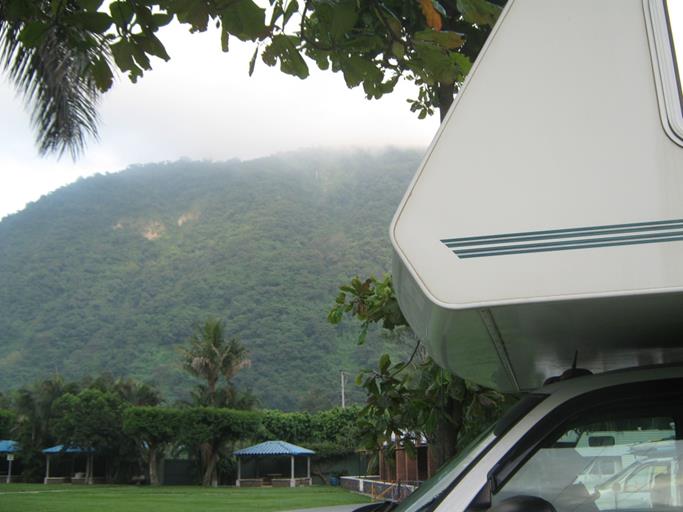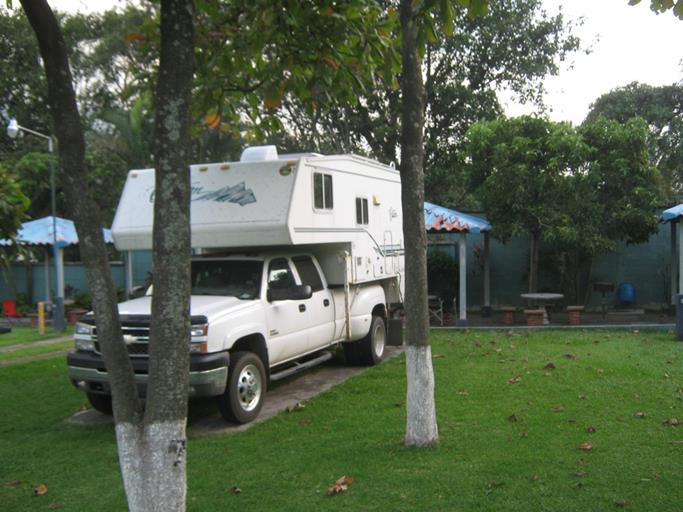 …over and out for today, the muleskinner minus his sidekick. My thoughts are with the Ontario Holmes family.