Day 52 – Saturday, August 17, 2013
I guess the good life is not for me. After eating at sketchy places all through Central America with no ill effects, I get caught at the nicest hotel we've seen on the trip. The only thing I ate that Julie did not eat was the ceviche. Lesson #1 – Don't eat the ceviche from a buffet no matter how nice the hotel. I will spare you any further details but Treda is the medication of choice for situations like this. Julie notes "Now don't get excited thinking Brad won the award for 'the first person to break out the Treda'. I was awarded that honour a couple weeks ago after I purchased some beach vendor (who looked just my dad) candied squash. Some folks thought I deserved it just for trying such an odd combo. But when in Rome or Mexico….., I do worry though that this means I will not be seeing any more 'nice restaurants' for the rest of the trip because of Brad's experience. He may shy away from those ritzy buffets. We shall see."
We had a short easy drive today and therefore left a little later than our normal departure time – about 8:30 AM. The highways in Nicaragua are the best we've experienced through Central America. They are similar to highways in North America. We had the chance today to stop at the Masaya Volcano. Julie and I drove the road up the mountain in the national park to the rim of the volcano. It is quite an amazing site. Julie notes "Notice how I have politely shied away from comparing his gastric condition to an erupting volcano despite this being the perfect set up for that joke. I am quite proud of myself for my candor. I am always thinking of his feelings."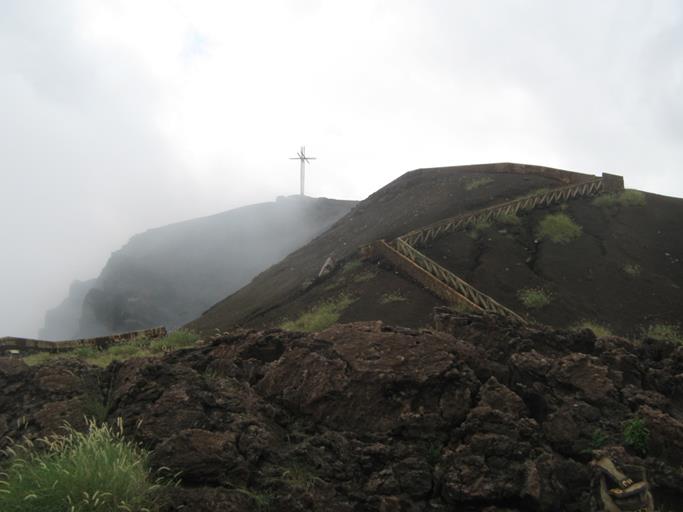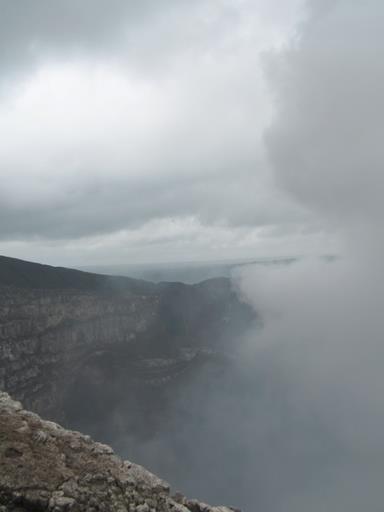 Julie trying to get back at me for the border campsite. Let's just say it was not her favourite spot. Julie notes "He bounced right back up. Damn those 'one size fits all' hard hats and volcano fumes! He's harder to get rid of than hot lava on a shoe."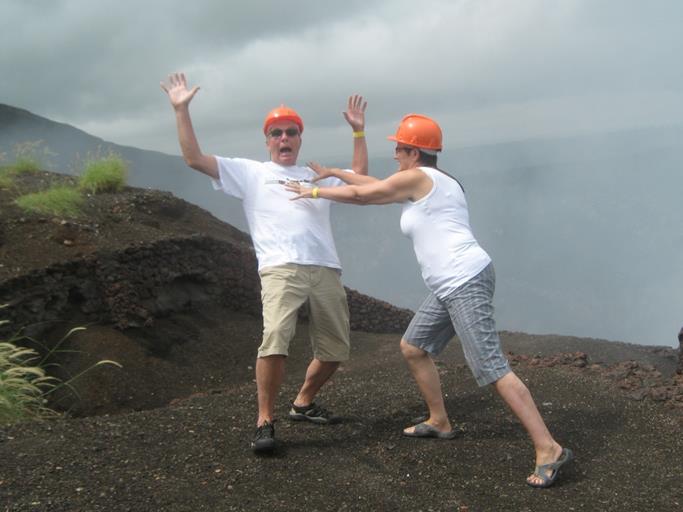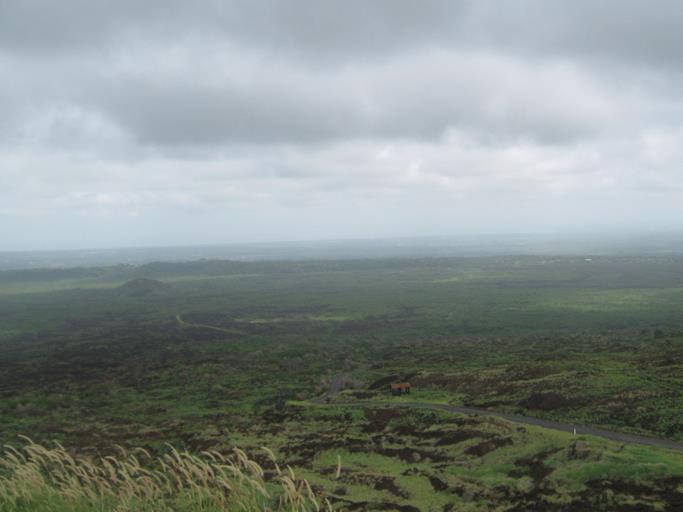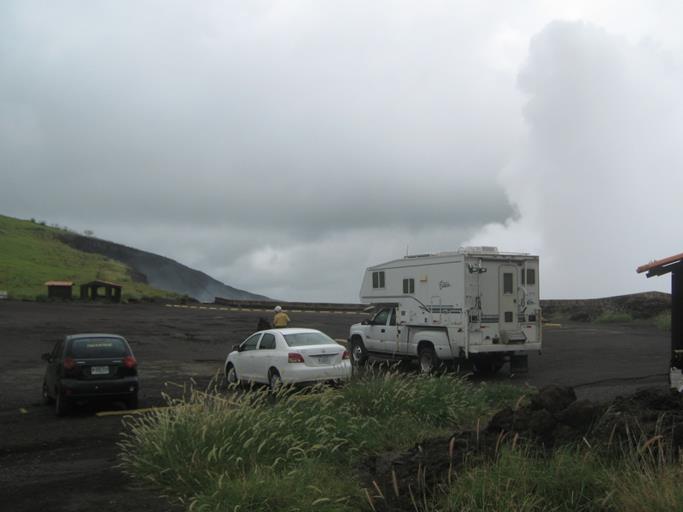 Some of the lava fields below the volcano.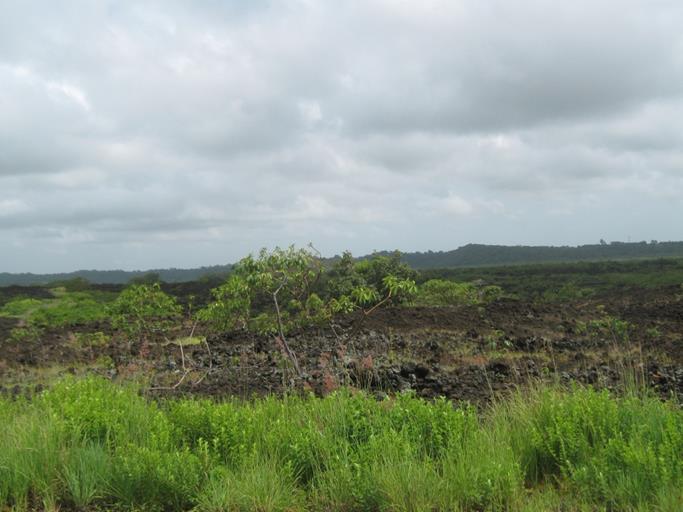 After spending an hour or so at the volcano, we headed on towards our destination; the beach near San Jorge, Nicaragua on the shore of Lake Nicaragua. We will spend 2 nights here. I spent the afternoon laying low and having a long siesta trying to recover from the effects of the ceviche. Hopefully, all will be well tomorrow with the help of medication and rest.
A mother holding her infant on the back of a motorcycle in heavy traffic. Just one of the modes of travel here. Only the driver gets a helmet. Julie notes "Driving anything without multiple passengers might be considered a sin here. Bicycles with 2 or 3 passengers, motorbikes with up to 5 riding, (2 adults, 3 kids, the baby bouncing on mom's knee to the side), trucks packed full of school kids or families, road construction crews riding on the flat beds with their equipment, farmers riding on top of the cattle trucks, people just catching a ride to town and hopping out at their stop, cars and taxis are filled to the brim. No wonder they seem surprised when just the 2 of us emerge from our house on wheels."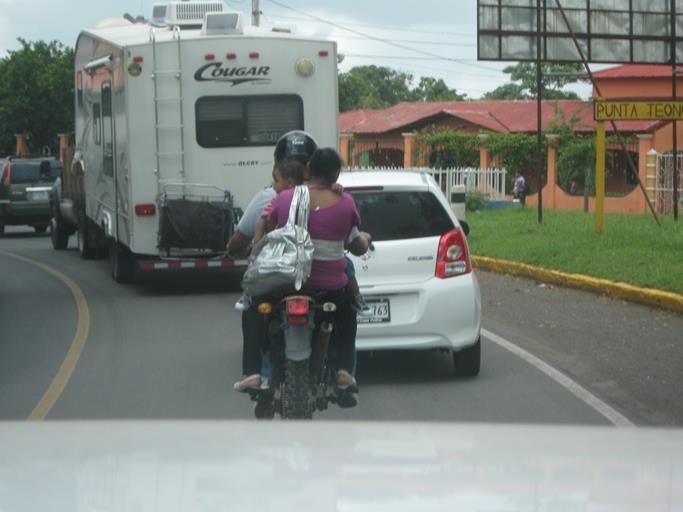 A view from our campsite on Lake Nicaragua. The constant breeze is wonderful with the temperatures in the low 30's. We have a view of 2 volcanos, Concepcion (5,280′) and Maderas (4,500′) on Ometepe Island. Julie sighs "Ahhhhhhhh…."
…carry on folks, the muleskinner and his sidekick.
Julie sighs again "Ahhhhhh…"