Day 69 – Tuesday, September 3, 2013
We left our Pacific Ocean Costa Rica beach and headed back to our Lake Nicaragua San Jorge beach. Deja Vue! Julie notes "or maybe it should be Deja View?" This involved another dreaded border crossing. This time wasn't so bad however. It was later in the day and not too busy. It still took a few hours but that is starting to seem pretty quick. My patience is wearing a little thin though when I challenged a 300 lb trucker for jumping the queue. An English speaking supervisor quickly intervened to tell me that he is a "driver" and that is how it works. I promise to never ever complain about the Canada/US border crossing ever again. Julie notes "Yes Brad picks the most sensitive time, as we're about to get our passports stamped into Nicaragua, to display his machismo. I calmly reminded him that I don't know how to either hail an ambulance or make bail in Espanola so if he didn't want to spend the rest of his life living in limbo between Nicaragua and Costa Rica he better regain his cool. I was planning to pretend I didn't know him when the clerk took several extra minutes scowling over his passport. But she let us through and no blood or tears were shed, just the usual amount of sweat."
This was planned as a one night stop but our illustrious tour leader is claiming to have vehicle problems. We shall see what happens.
An early morning view of the Pacific from our RV. Julie notes "Eric Clapton sang to us yesterday 'Alberta, Alberta, where'd you sleep last night?' and this is the answer to that. He also sang 'Alberta, Alberta, where you been so long?' I told him to read the blog like everybody else."
Costa Rican countryside in the rainy season.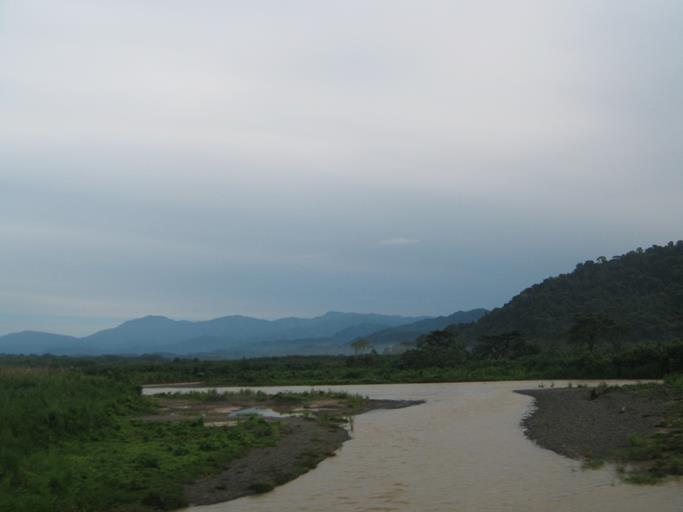 A canopy over the roadway. Julie spied 6 monkeys in a tree. I was too busy dodging potholes and missed seeing them. Julie notes "Melodie, can you sing "6 little monkeys sitting in a tree, along came Grandpa Brad, as noisy as can be, Grandma saw the monkeys, and waved one down for tea, now there's 5 little monkeys, sitting in a tree."
Norm, our tour guide, impersonating the Wicked Witch of the East from the Wizard of Oz. He is checking his fuel transfer pump that apparently stopped working. Julie notes "If he is the wicked witch then maybe those were flying monkeys I saw! Yikes! Who does that make us then? Suggestions? I have to admit a couple times that I have clicked my ruby flip flops together and said 'There's no place like home, there's no place like home.' (I really only have blue or black flip flops so that is probably why we're still here somewhere over the rainbow.)"
Wind power generation on the shores of Lake Nicaragua. Julie notes "You thought this was going to be Brad's butt didn't you? Well I sure did."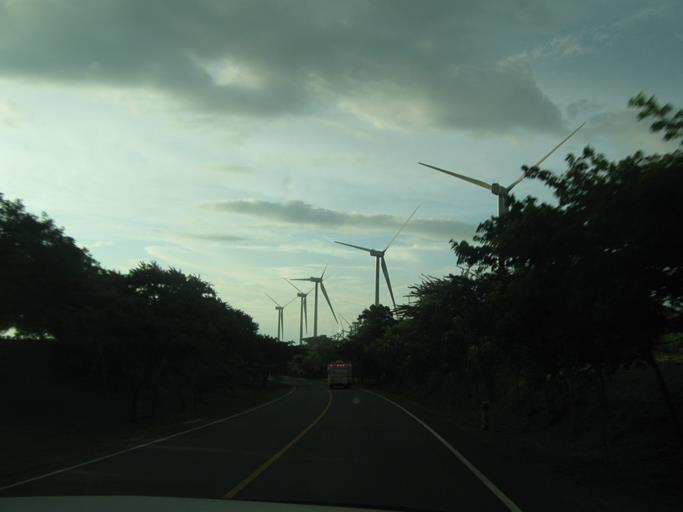 …over and out, the muleskinner and his trusty sidekick Julie notes "After all of this salt water and rainy season weather, the RV and I are starting to show signs of becoming his 'rusty and a bit mouldy' sidekicks."
"Also, now that the 'gasp' across the continents has subsided, once news filtered out that we would not be able to continue our quest at this time, we wanted to thank everyone for their comments of support and encouragement, either through blog or email. I did allow my head to swell a little bit as well with all the accolades but I share those with my courageous Mom, sister Suze, brother Core, Uncle Herb, Aunt Hazel, Cousin John, Cousin-in-law Lynn…(unfortunately the list is endless) and of course mi esposo Brad. All of whom who have battled or are battling stupid cancer with the support of amazing families and friends at their sides. Please keep the blog comments coming. They are the fuel in our tanks that keep us going. Otherwise we just have each other's comments and as you could guess, those are wearing thin."