Day 87 – Saturday, September 21, 2013
We got up this morning and had a quick cup of coffee and yogurt and headed off to the town square fountain to meet our Antigua tour guide at 9:30. Julie note "As usual Brad has skipped over a few details. We WERE ready well ahead of time and planned on a nice coffee in the square while we waited for the tour to begin, then the following scenario unfolded… 'Don't bother with your purse.' he tells me. 'I have everything we need in the backpack. No I don't have the dictionary; no you better bring your spare keys. Just take the one for the camper door off the ring and leave the rest behind. Hand it to me. And I will drop it accidentally down behind all of the stuff as I reach into the back seat of the truck. Okay well, I can't find it and we are now almost late for the tour. Run! Damn it! I don't care if you're going to twist your ankle on those wet cobblestones!' Well at least that is how I remember it."
We met Roberto and 3 other tour participants as scheduled. Julie notes "One couple was just on vacation in between their gigs as social workers doing wonderful deeds in foreign lands. And the other person was on her way to a 2 week yoga retreat. Then there were the 2 old curmudgeons who have been living in a camper for months. I wonder if strangers would've been able to tell who was who just by looking at us? But we all got along famously and it was great to chat in between the tour guide's comments. I think some of their zen may have rubbed off on us. Feeling much calmer."
We walked through the old town, a UNESCO World Heritage site, touring churches, hotels, ruins, and crypts and markets. Again, we took close to a hundred pictures today.
Of course, near the end of the tour you visit the Mayan jade jewellery and gift shop. Julie notes "I am usually pretty good at avoiding jewelry and gifts but they had me at 'Mayan'." After we escaped the gift shop we headed off for lunch to La Pena del Sol Latino. I tried the Guatemalan traditional dish "Pepian de Pollo". Julie tried the delicious grouper fish specialty dish. Both were excellent and Mariella, our waitress, associated me with Brad Pitt – both for looks and name, I think? Julie notes "I sell the image by having lips just like Angelina Jolie."
We found a lavenderia and I dropped off our bag of laundry. Julie notes "This wasn't the day and a half adventure to find the laundromat like we had had last week, but it was a few wrong turns and extra cobblestone blocks on the old tender tootsies after the morning walking tour."
I then toured the outdoor market in the pouring rain. People just seem to ignore the rain. The place was very busy, even with the pouring rain, on a Saturday afternoon with all the locals doing some shopping. Julie notes "There is no scramble to get out of the rain here. They may need to cover their wares but for the most part people just keep doing what they're doing. I myself have been caught in the rain disproving for the most part that I am so sweet I must be made of sugar."
We then headed off to a nearby "hippy" style restaurant; the Rainbow Café. They had some great live music as we ate and enjoyed a few drinks after a big day of walking. Julie notes "Very Bohemian and there was a great visual right across from our table of how I will look in 20 years when I am getting my groove on to the funky beats and my granddaughter is politely herding me towards the door. I apologize ahead of time Melodie. And speaking of herds, a herd of 12 unicorns came into the bar. True story. We had only had one drink so no pink elephants were with them. They were mostly European unicorns enjoying their last touring night together before heading home. Great costumes and they loved it when Brad photo bombed one of their pictures. I know they wanted us cool cats to hang out but it was already 8 pm and well past our bedtime. So it was goodbye to the unicorns and hello to counting sheep."
Ruined walls around our camping compound.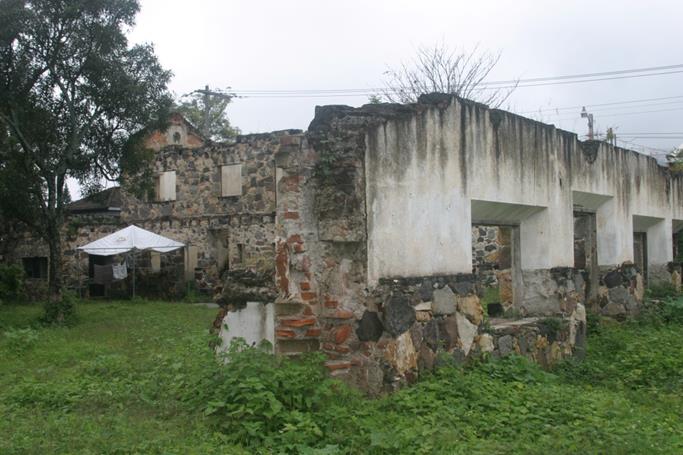 An old chained and padlocked door on the compound wall. Julie notes "Wasted a lot time trying to get in here before we found the real entrance. Turns out picking locks isn't as easy as it looks on TV. McGiver we ain't but we were sure impressed with added security measure."
The fountain in the town square at our tour meeting point.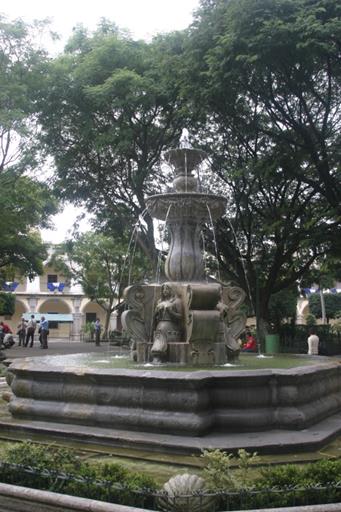 These two little guys were posing for a picture their parents were taking in front of an old cathedral. Julie notes "I tried but they wouldn't let me keep these 2 precious tykes."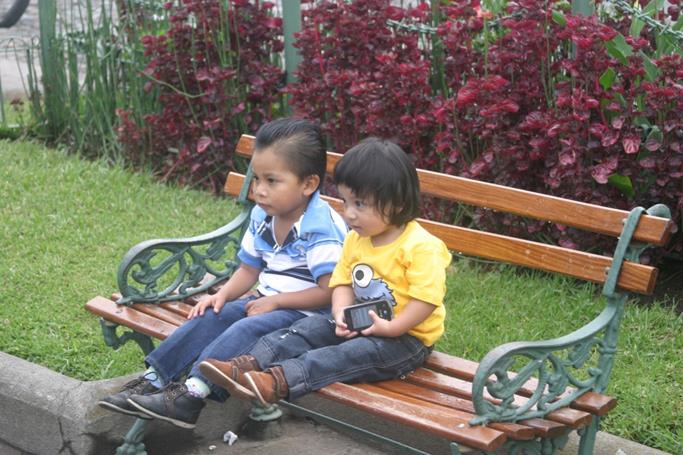 Ruins of an old cathedral.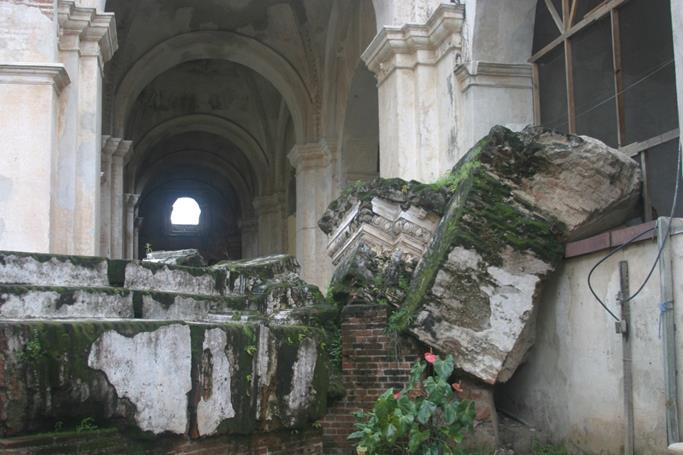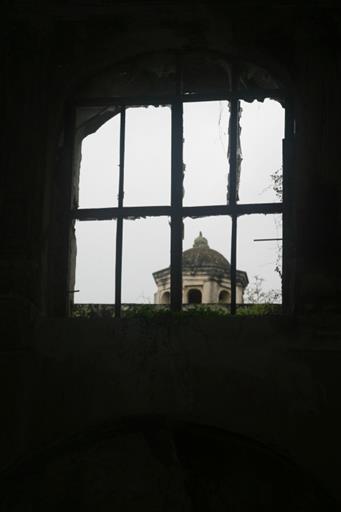 Julie notes "Do these ruins make me look younger?"
Typical street scape. Julie notes "These cobbled streets are not recommended for flip flops, high heels, platform or strappy sandals, etc. We've seen many a man practically carrying their significant other from one sidewalk to the other. The ladies love their fancy shoes here. The men do too but they don't usually wear the strappy ones."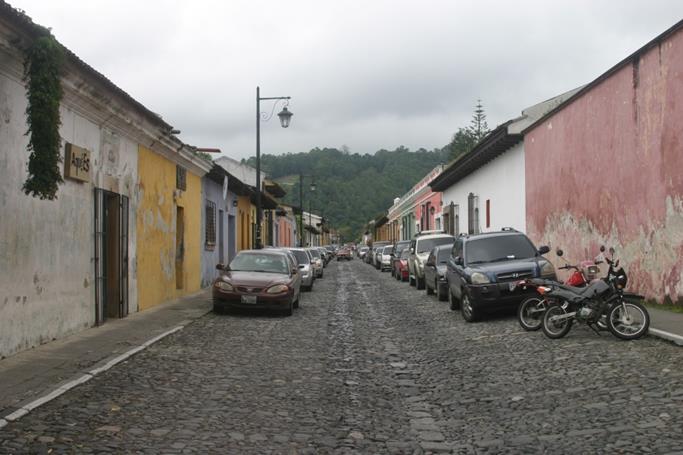 'Old school' lavenderia – washing stations in one of the other town squares. Julie notes "I was a little worried this was my only laundry option. Especially since it was beside an old convent. I don't know how many times my mother told me to 'get thee to a nunnery' during my rebellious teenage years."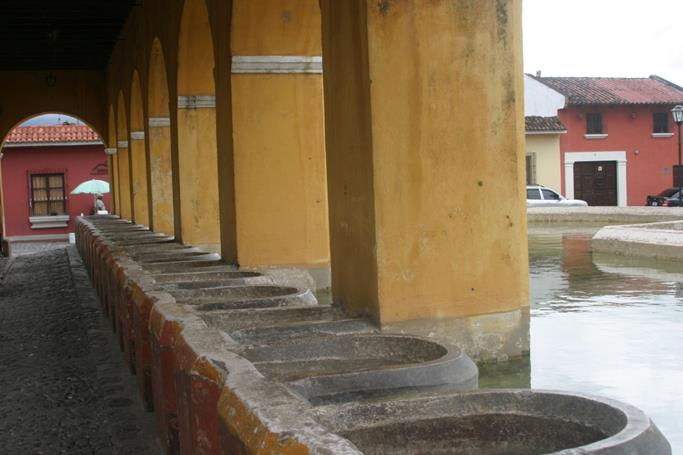 Traditionally dressed native men.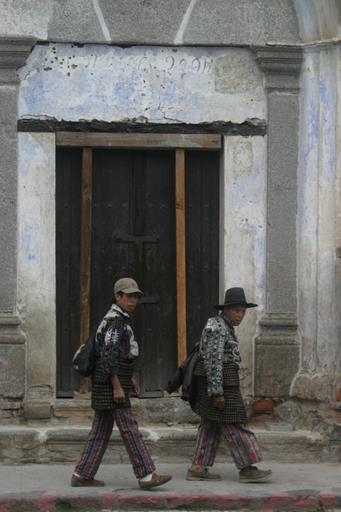 More ruins
A young mother on "take your kid to work" day. Julie notes "Selling traditional fruits, drinking a salty traditional soup and carrying the cutest baby ever in the traditional way. They wouldn't let me have her either."
Another street vendor telling me how much my wife would like some of her jewellery. Julie notes "She wore me down with her cuteness and I bought a little something. A little something for Melodie since I will likely embarrass her in 20 years or sooner."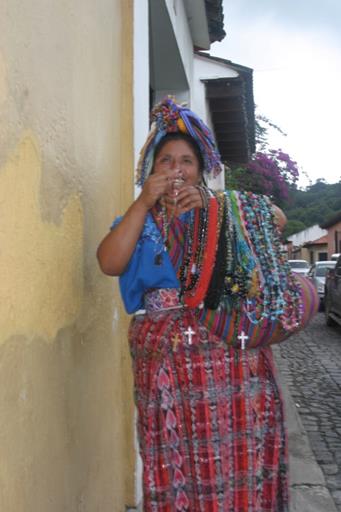 A courtyard in the Hotel Santo Domingo.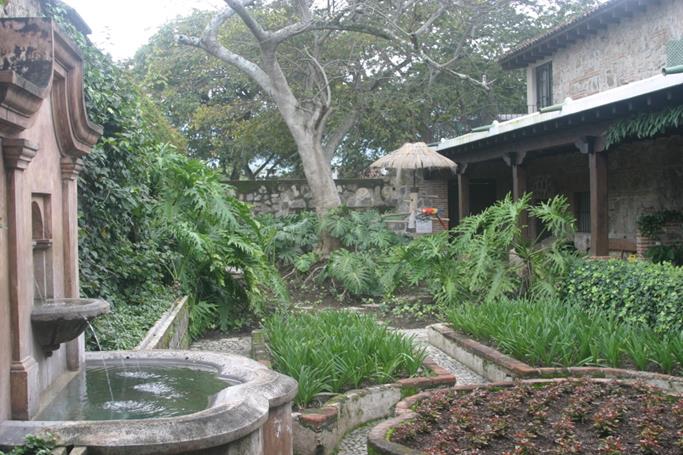 …that's all for today folks, take care, the muleskinner and his sidekick
Brad notes "After empting the entire contents of the truck, I found the key in the last place I looked". 😉