Day 108 – Saturday, October 12, 2013
Firstly, Happy Birthday to our little (6'3″) boy, Jordan Robert Emond who turns 28 years old today. We are so proud of our kids and what they have accomplished. Jordan is in his 3rd year of Engineering at the University of Alberta. His wife, Alison, is on a sabbatical from teaching and is also in Edmonton taking a Languages program. They purchased a condo in Edmonton, and can all be together this year looking after our granddaughter, Melodie. Julie notes "Happy birthday Jordan. Two of your wedding songs played yesterday on the iTunes, a day early. However 28 years ago you were not a day early but rather about a week late. The beginning of your stubborn streak but you were worth the wait."
It really got quite cool last night. We were at about 3,600′ above sea level and the temperature dropped to 10C or lower at our Brantley Lake State Park campsite. Julie notes "We have sad news. We think after several attempts with fresh batteries to revive our little thermometer boy, he is officially in a coma. He has been stuck on 832 hours and temperatures of 32 C for several days now. Brad and I are at a loss as to whether we are cold or hot or sweaty from humidity without the thermometer boy indicating the temperature and the proper attire for the weather. We knew for sure this morning that it was definitely not bathing suit weather despite what thermometer boy was wearing. Time to retire him to the weather gauges in the sky and search out a new one. Maybe one that can actually control the weather. I hear the Russians are working on something like that."
After some coffee and homemade bagels, ham, poached eggs with cheese, we backtracked to Carlsbad to visit the Living Desert Zoo and Gardens. It was well worth the $5.00 admission fee.
Then it was off to lunch at the #1 Trip Advisor rated restaurant in Carlsbad, NM; the Trinity Hotel Restaurant. My "the kid" bacon mushroom burger with tomato basil soup was excellent. Julie went with the ½ grilled cheese and tomato sandwich and chicken tortilla soup. Soup was excellent but the sandwich needed work. Julie notes "I think they maybe have never had anyone order the 'half and half', advertised on the menu as a cup of soup and one half of my choice of the gourmet sandwich section. I was promptly told that not 'those' gourmet sandwiches, only 'these' gourmet sandwiches were eligible. Okay so I settle on the item called the 'gourmet' cheese and tomato sandwich. Well perhaps for this cook gourmet means 'skimpy' as my one slice of regular cheese didn't cover the half slice of bread, nor did the one slice of tomato. It was grilled nicely though. Lots of butter and that makes up for most short comings and Brad handed over his tomato and onion so then it was gourmet. We left contented. I bet there is a lesson in there somewhere but not sure what? Any suggestions?"
After confirming that the Carlsbad Caverns were closed due to the federal government shutdown, we headed off towards Alamogordo, NM. We picked a state park nearby Alamogordo as a destination; the Oliver Lee State Park. Julie notes "We really picked this direction because we figured this was another place named after our friend Gordo who had just been to see the Alamo day before yesterday. The fellow at the visitor centre didn't seem to think there was any connection but I did notice there was a street named Debbie. Coincidence? Well maybe." We left the flat desolate landscape of West Texas and Eastern New Mexico and climbed to over 8,600′ above sea level at Cloudcroft. From Cloudcroft you descend a few thousand feet to the valley floor. The temperature went from 17C to 28C. Julie notes "I almost feinted when I saw a sign that said 'watch for snowplows' right before we came to the Cloudcroft ski hill. Yikes! But no flakes falling at 17 C."
Our little guy a few years back. Julie notes "Your dad and grandpa Albert had to beat up Willie deWitt to get that hat. At least I think that is how the legend goes."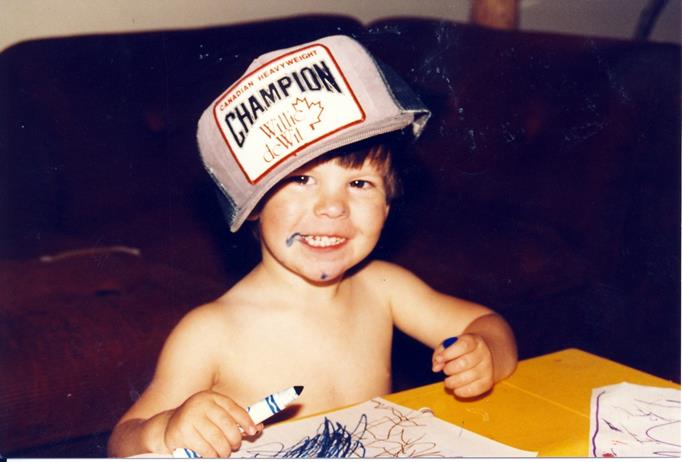 Our Brantley Lake State Park campsite. Julie notes "There was water in this manmade lake. A nice change from the last couple we've seen."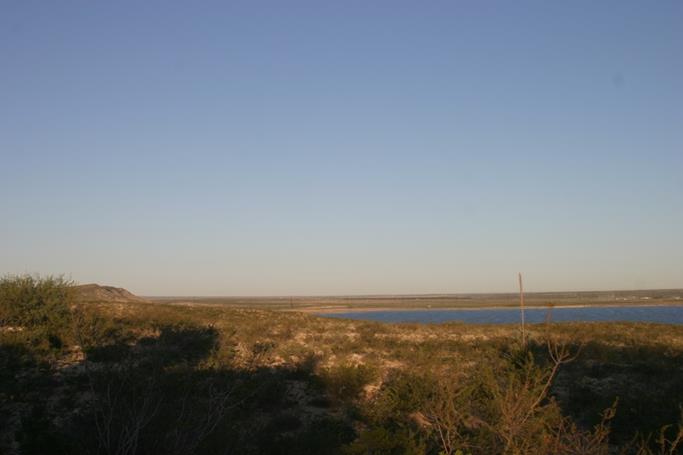 A Javelina in the Living Desert Zoo & Gardens. Julie notes "Turns out the sign was correct, they don't like to be petted and they do have tusks like sharp little javelins. Lesson #108 'Always carry Band-Aids, in case you decide to pet a javelina.'"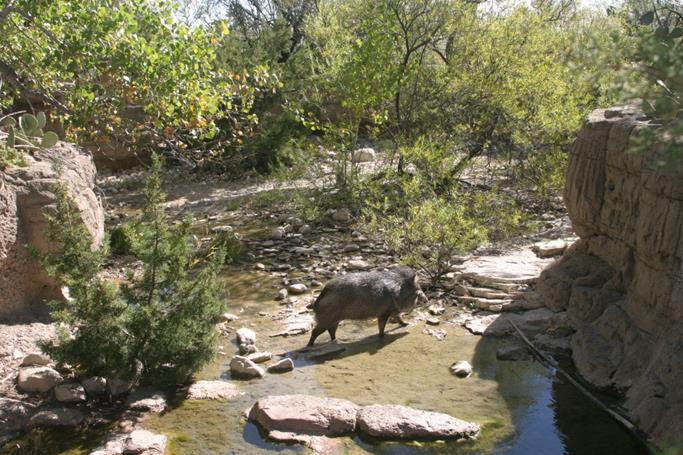 Living Desert Zoo & Gardens. Julie notes "Lesson #108a 'Always carry a margarita glass with you as the delicious prickly pear margarita is made from the purple fruit of this cactus.' You'll notice the fruit is gone, some thirsty person got here before me. Drat!"

Julie notes "Lesson #108b "Don't attempt a stare down with a tortoise unless you have a lot of time on your hands."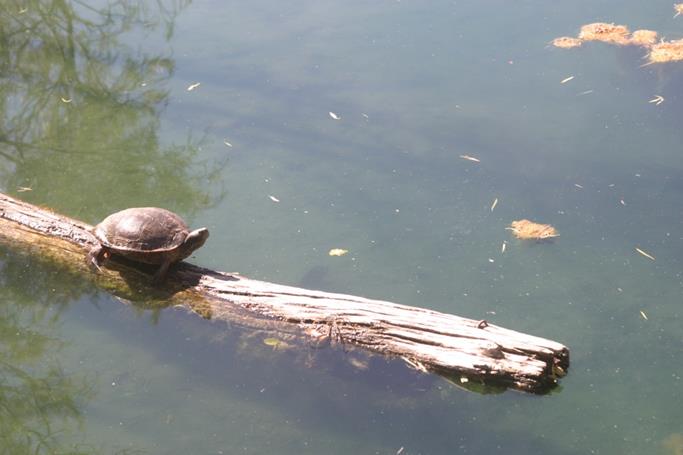 A rose between two thorny cacti? Julie notes "Lesson 108c 'Always carry tweezers and a mirror in case you accidentally back into a cactus.'"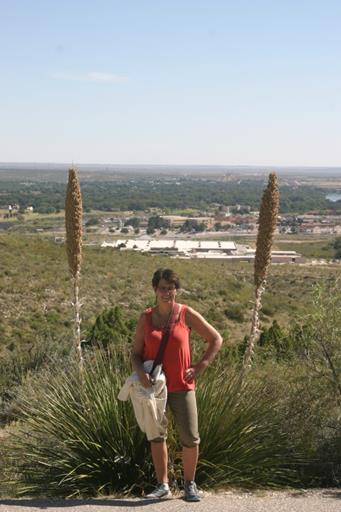 An interesting specimen? Julie notes "Any comment here will get me into trouble so I will just go with the saying 'Don't sweat the petty stuff, don't pet the sweaty stuff and don't pluck the prickly stuff'."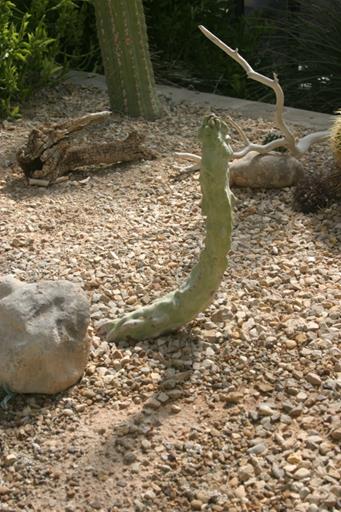 Crazy Canucks on the trail. Julie notes "Refer back to Lesson #108c and remain on good terms with your partner and you may not need the mirror. Kind of a twist on 'I'll scratch your back if you pluck mine.' And yes we are wearing sweaters despite thermometer boy being only clad in his bathing suit again today."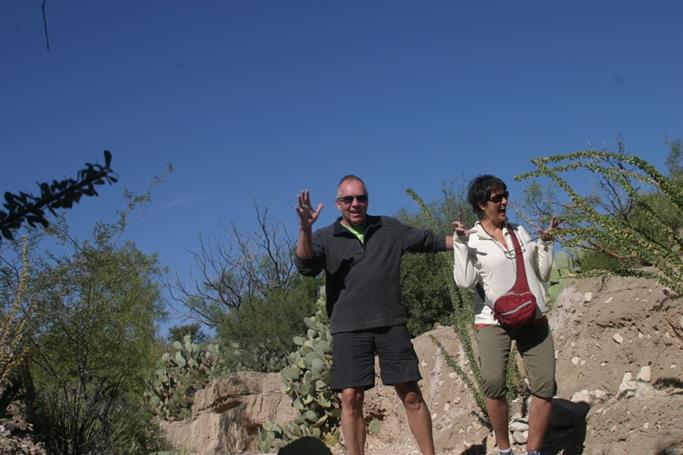 Our lunch spot; The Trinity Hotel.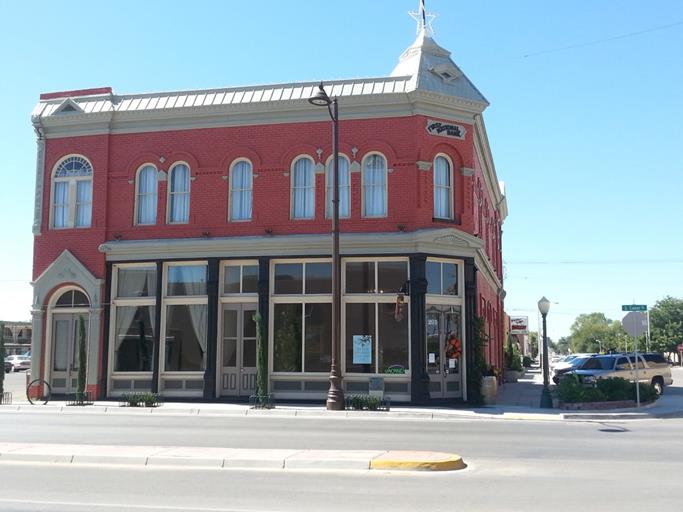 A sample of life in Eastern New Mexico; Oil, trains, trucks, industry, and IHOP all in one.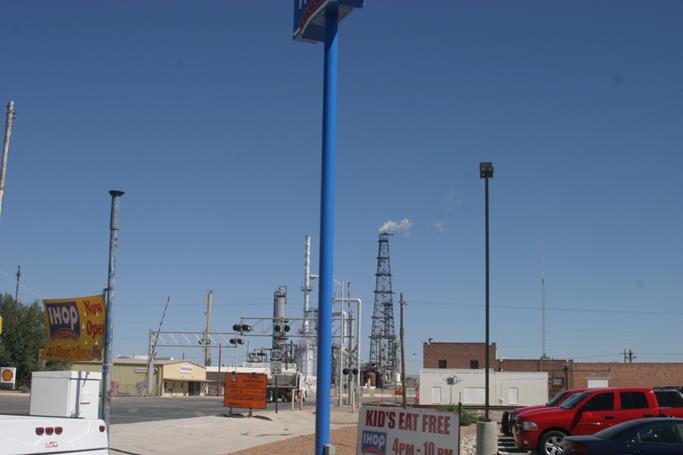 NM real estate.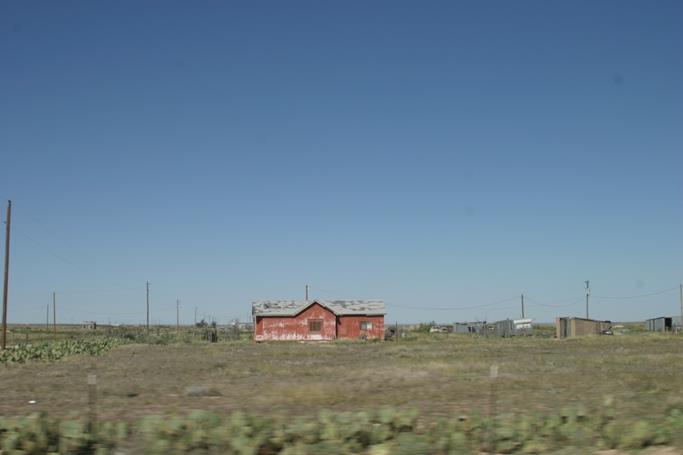 …and highways.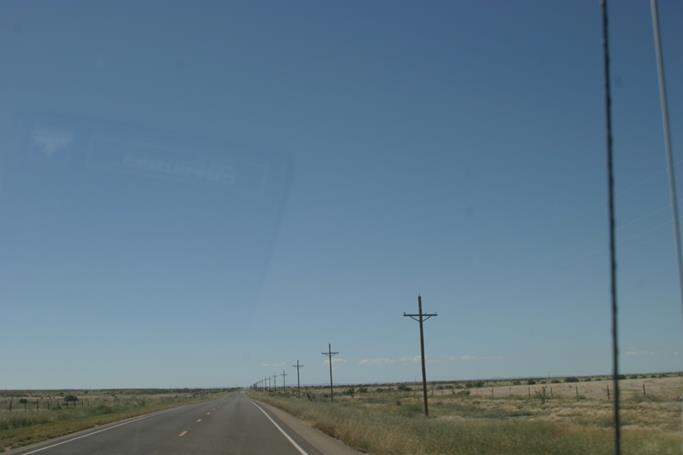 Changing landscape heading west on Highway 82.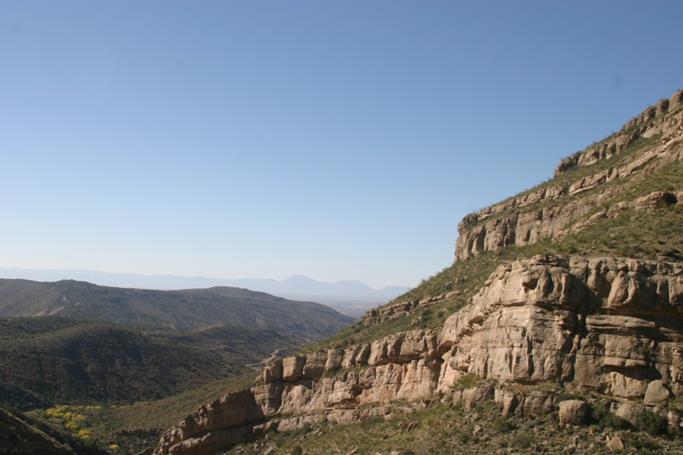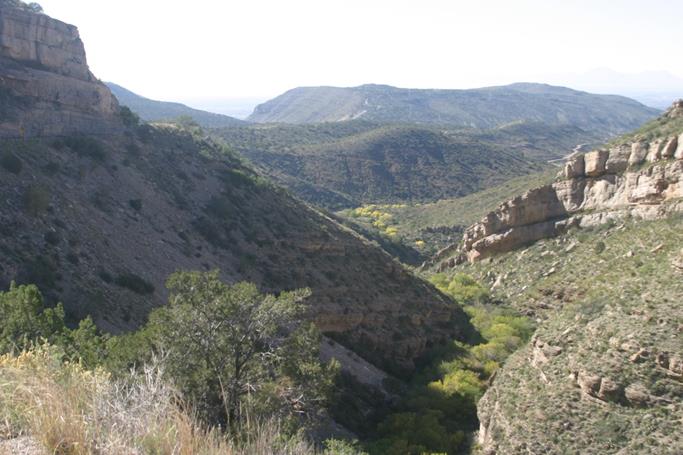 A view from our campsite in the Oliver Lee State Park near Alamogordo, NM.
Julie notes "He caught me just winding up for my daily cartwheel practice. I've been thinking of going professional but don't want to chance being disqualified if cartwheeling becomes an Olympic sport. The same goes for the sidestroke in swimming."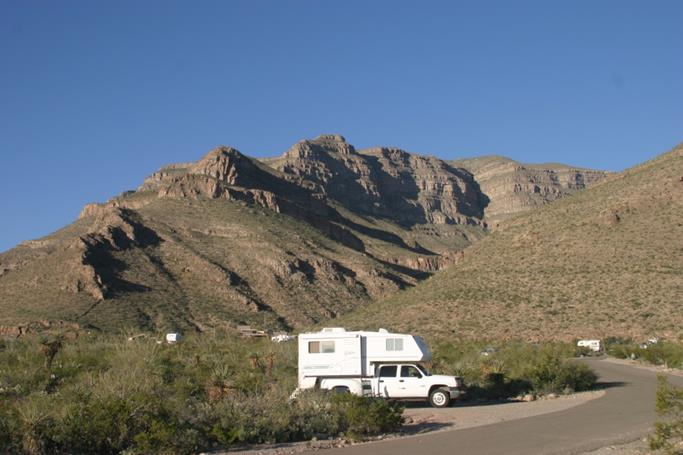 …over and out, the muleskinner and his sidekick