Day 118 – Tuesday, October 22, 2013
Ah, the pampered life. We awoke in our beautiful room at the Hyatt-Regency. The room was very spacious and well appointed. It was so nice of them to offer a bottle of water to hydrate for only $5.00 US. haha It is a first class hotel, no doubt, but my only pet peeves are $5.00 for a bottle of water and no free wifi in the rooms (only the lobby). Wifi is $10.00/day otherwise. Doesn't make sense to me in this day and age but I guess it's a good money maker for them.
We had a terrific buffet breakfast in the Forque Restaurant with eggs cooked to order and all the other delights. Julie notes "My favourite was the sautéed veggie dish (squash included, Susan – you should maybe rethink your anti-squash position)." We used some of the free lobby wifi for a while and then headed out for a walk. Julie notes "The 'free' wifi was quite 'wiffy' and we were not the only ones waving our arms around trying to locate a cell signal, so before we slammed our many electronics to the ground in frustration we decided to walk it off."
We got some directions to head to Central Avenue a few blocks from the hotel. There are some really neat old buildings and quite a few restaurants and shops, but also a lot of homeless people and some sketchy characters. It is an odd mix of well-dressed office types and some of the down and out people. I think we were in between somewhere on that scale and stood out as out-of-towners. We weren't really too hungry but wanted something to eat for lunch. We hemmed and hawed over a few places and finally settled on Schlotzsky's Delicatessen. Let's say this was not our favourite lunch. Food was OK and the staff were friendly enough but the place needs some cleaning and food needs a revamp. Lesson #118: Note to Self: Use TripAdvisor ratings numbskull. Julie notes "This is part of the Historic Route 66 and many of the old style signs are still in use making places look unique and enticing. The interesting looking restaurants were always across the street and we wouldn't notice until we'd crossed that they were closed due to all kinds of reasons. Lesson #118a – Don't get desperate, just because you have been shot down a few times. Take a breath, remember that you're not that hungry and don't be afraid to walk away even if you've made your way to the counter implying that you might order something unless the order clerk is kind of scary looking.' Not surprisingly I had half of my interesting pizza left and took it away in a takeout container. I had been wondering where I could leave it as we had no fridge in our room and it looked like someone in the neighbourhood could use it more than I, when we past another group of folks and one young fellow asked if he could have my left-overs. He had just been released from jail, was his story. I was happy to deliver them to him and he was grateful to receive so that was good."
We smartened up though in time for dinner. We booked a 7:30 PM reservation at La Crepe Michel. A very good choice. It is tucked away in a small courtyard in some of the real Old Town area. It is a very small restaurant with only half a dozen tables in our room and some more in the back. The French food is all prepared fresh and is amazing. We enjoyed a nice bottle of French wine. We shared some mussels and pate as appetizers. I had the filet mignon with Roquefort sauce and Julie had the duck breast. Julie notes "Magret de sherry' to be exact." Both delicious. The #6 rated restaurant of 1,404 proved much better than the #622 rated. J Julie notes "Loved it there. Cozy and quaint and you got to hear everyone's conversations. I figured our lives are very uninteresting compared to all of their stories but Brad says we just spill all of our juicy beans in the blog. I'm not sure we're very juicy but I was definitely airing a lot of wet if not dirty laundry there for a while."
Julie getting to know some of the locals outside our hotel in Old Town Albuquerque. Julie notes "Just asking directions to a good eatery for lunch but unfortunately we didn't listen and went the other direction."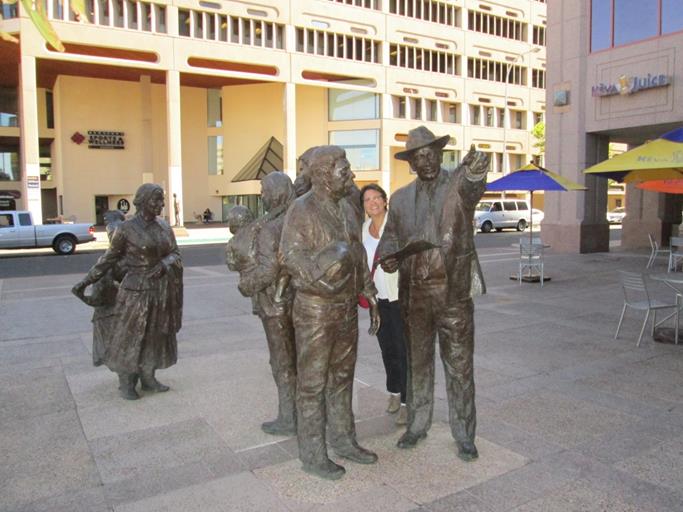 One of the funky old buildings, the Kimo Theatre, on Central Avenue.
La Crepe Michel right next to the Cat House. Julie notes "Luckily the Old Town Cat House' was closed for the day. Unusual hours for a Cat House according to Brad the Old Tom. He opted to return to the hotel with his Mouses I mean missus."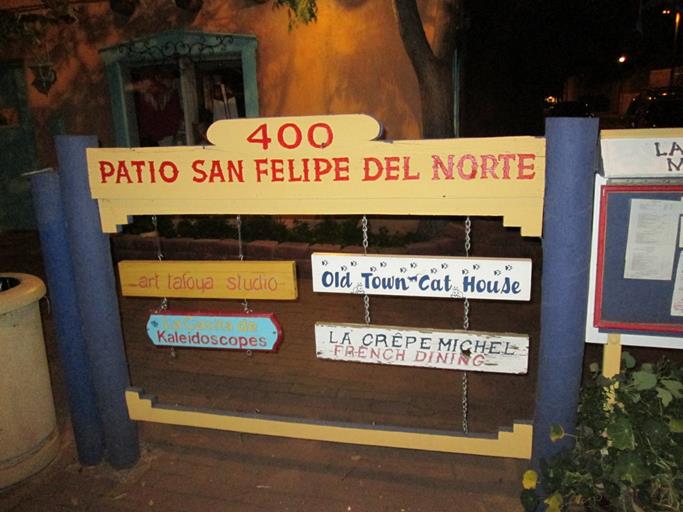 Enjoying a great dinner. Julie notes "Yes I have a hair appointment booked for tomorrow."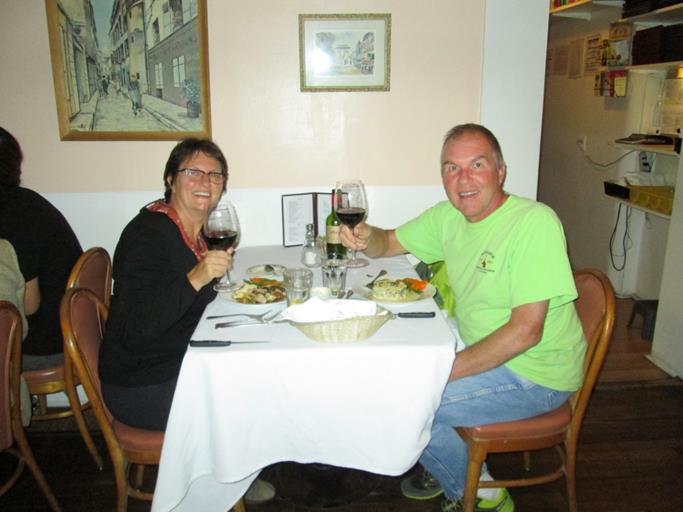 …over and out, the muleskinner and his sidekick
Julie notes "Another tub soak! Aaaaaaahhhhh… And some Modern Family reruns from the comfort of the soft fluffy bed. If I can hear over someone's 'post bottle of good wine and French food' snores."