Day 151 – Sunday, November 24, 2013
Today, a family get together was planned. Julie's brothers and sisters and families along with other relatives arranged a dinner at the "Holmestead". Twenty people and five dogs were in attendance for a great pot-luck meal of pate, cheeses, deviled eggs, cabbage salad, buns, ham, mashed potatoes, broccoli casserole, brussel sprouts, onion pie, sweet potatoes, squash, and desserts of apple crisp and banana split cake. Delicious!
Below, Peyton is concentrating on her homemade banana muffin for breakfast. Julie notes "Oh what a cute little monkey. She had no fear of Uncle Brad stealing that from her as he is still haunted by a bad childhood banana experience. But I helped myself to one or two. Yum yum, thanks Kelly! We also got to try some delicious homemade applesauce that the Storey boys had made in mass production at their Four Storey Acres. A trial expansion to their Maple Syrup product line perhaps? The taste testings' were well received. With Brad as his toast wing man, Jim whipped us up a deluxe breakfast as well. And where there are meals there are always dishes so kudos to Ron for being the best and most dependable dishwasher, day in and day out! So much appreciated!"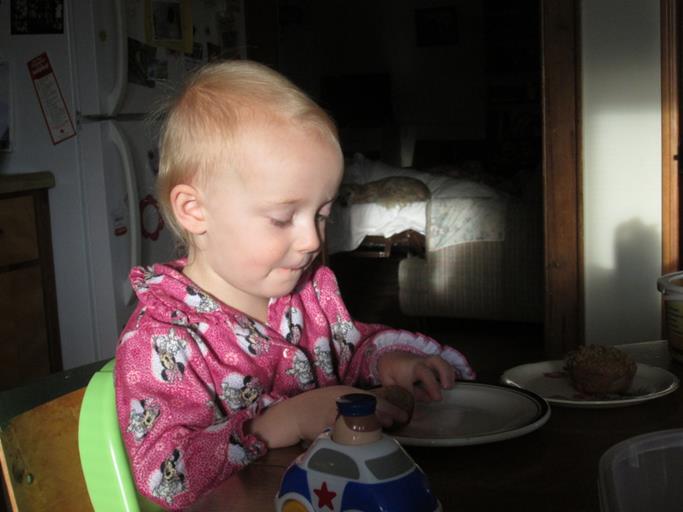 Sorting through some of Vera's handy work. Julie notes "Isaac is saying 'WTF? (Where's The Fleece?). We were choosing treasures from what was left over from the 'Vera's Table for Martha's Table' fundraiser that the community had had the week before. It was a sentimental journey for us all, feeling and touching and trading and collecting and sizing up gifts for others. Suze will set up another 'Vera's Table for Martha's Table' at the community breakfast coming soon with the remaining items to sell for a good cause."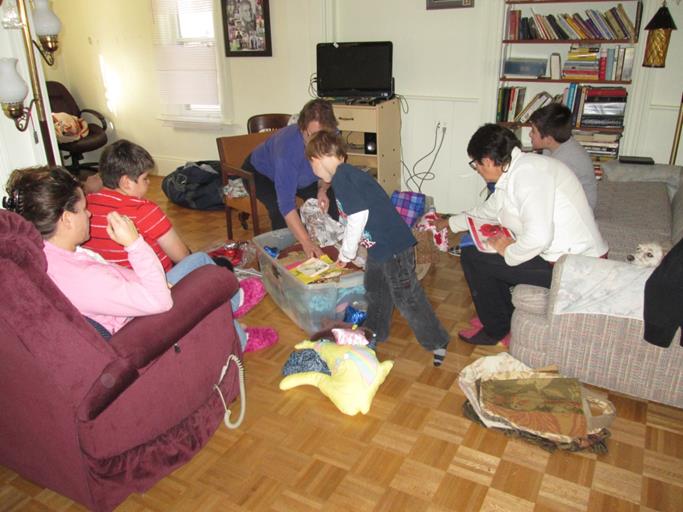 Around the kitchen table again. Julie notes "Peyton is still working on that full course Playdough meal so we had to supplement with cheese and amazing pate and such to keep the rumblies away. Get cooking Peyton!"
Visiting and storytelling during Happy Hour. Julie notes "I seem to be looking confused in these last two pictures. What do you suppose is going on in that little pea brain? WTF? (Where's The Fois gras?) or is it called pate?"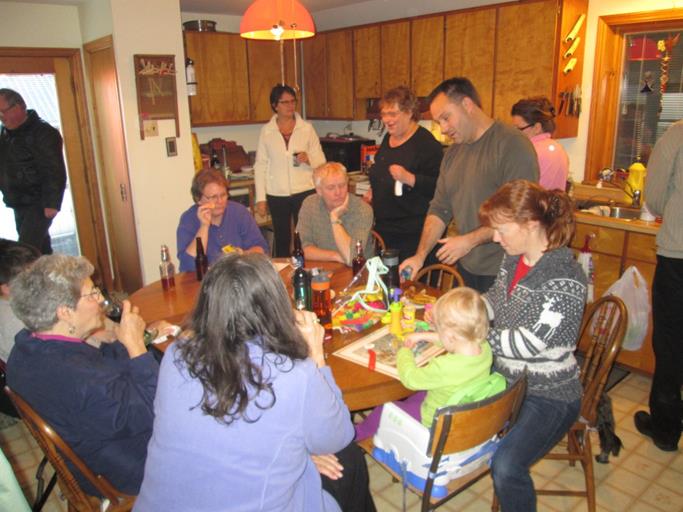 Our special guests, Aunt Hazel (Vera's sister) and her daughter Cindy, made the drive from Pickering to join us for the day. Julie notes "Aren't they beautiful? And I am not just saying that in hopes that they will adopt all five of us orphans. Cindy is the gal who made and donated the beautiful quilt for the silent auction at the above mentioned Vera' Table last weekend. She is also the main chauffeur, body guard, and dessert maker extraordinaire for our precious aunts Hazel and Elsie."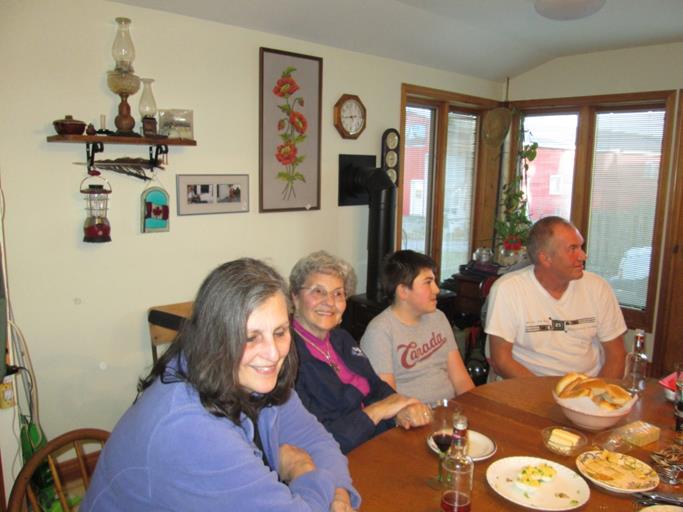 Susan and Ron's daughter, Randi, and her new family addition. Julie notes "One of our 5 canine dinner guests today. Have a good look at the cute little 10 week old puppy now because based on his gene pool she may be able to get a saddle and ride to Moscow once he gets growing. Sweet puppy and all the gang played nicely, most of the time. The same could be said about the humans as well."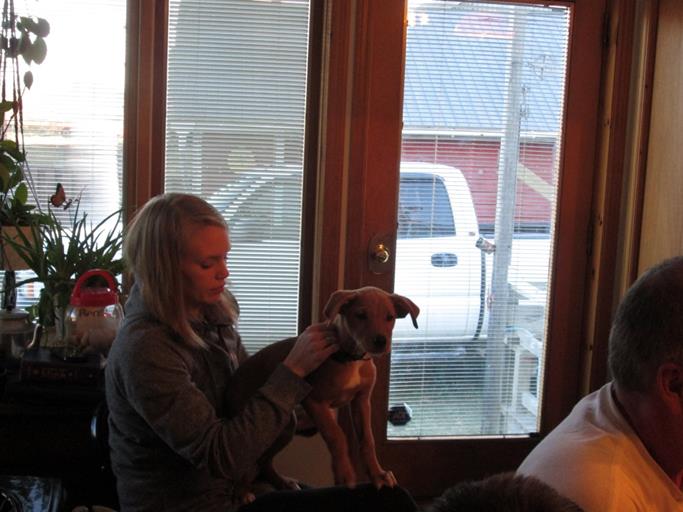 …a great celebration day with family, over and out, the muleskinner and his sidekick.
Julie notes "WTF!(Wonderful Time Family!) But WTFWH. (Wish The Folks Were Here.) Love you all. And keep gathering around the kitchen as much as you can.