Day 103 – Monday, October 7, 2013
We are staying one more day in San Antonio at the Traveler's World RV Park. We found out that our good friends, Debbie and Gord Campbell, from Grande Prairie are in San Antonio. We made contact with them, after our other friend Lola from Grande Prairie, helped us technically challenged people. We made arrangements to meet them for drinks and dinner. Julie notes "In this day and age this should be as simple as a well placed text but if you recall we have this fancy, smancy unlocked cell phone with very few contact numbers in it. Also as we mentioned before we are not really sure how to answer it if on the very rare occasion someone calls. We had success once but it turned out to be a fluke. We punch the phone shaped lights and swipe and shake and yell into it WTF? What's The Fluke? So in the meantime we tried email and FaceBook to try to make contact with the elusive Campbells but then figured they didn't want to be ringing up their phone bill checking that kind of stuff on holiday. Besides I am sure they had 'better' things to do with their time. So back at the ranch an increasingly frustrated Lola, who is listening to our non-progress but rooting for us to make contact says 'Hey remember that thing called a phone call? Why don't you try making one to the hotel they are staying at?' Simple enough solution for those of you who know how to answer your cell phones. But I bravely called the hotel and left a message. Almost immediately, before we had a chance to practise our WTF (What's the Fluke) routine, our cell phone rings and I toss it like a hot potato to Brad who starts punching and swiping and hello-ing to beat the band but to no avail. So we do the only thing a person could do in this situation. We accept that the phone has beaten us and google 'how does a person answer a phone call one of these crazy freaking android phones'. The answer was there so we're not the only ones doing the WTF phone call dance. And the rest is history as you'll read below."
We got some chores done today in preparation for moving on tomorrow. Julie cleaned the inside of the camper, did some laundry, and got things organized. Julie notes "One of the things I did was clean out the fridge so I now have a much more detailed answer to the little spill quiz I sent out the other day. It is actually quite complicated so I can see why no-one attempted to answer it. I scrubbed the bathroom and vacuumed. Brad had already washed the floor inadvertently yesterday when he made a miscalculation on where the water flow was diverted while he was changing the filter. It worked out nicely for me. And last but not least I unloaded everything under the kitchen table. If you recall that is where our little toad friend escaped to. I am not sure what I was hoping to find but I found nothing. No toad, no toad carcass and definitely no Prince Charming. (He of course was out cleaning oil filters.) Not sure what happened to the little fellow. Hope he didn't croak! (Sorry couldn't resist.)"
I finished cleaning and oiling my S&B air filter, re-organized the stuff in the back of the truck (including the firewood we've carried across 13 borders) and we both did some blogging. I had a swim in the pool as it was around 30C again today with blue skies and a nice breeze. It will be hard to leave this place. Julie notes "Brad pointed out some bundles of mesquite for sale down the road. I told him no!"
We caught the bus downtown to meet up with the Campbell's at their hotel, the luxurious Omni La Mansion del Rio. They have a beautiful room with a small balcony overlooking the River Walk. Julie notes "OOOooo lah lah. The only thing missing was a butler and they could've used one as they were enjoying the view from their balcony and didn't hear us knocking, so we took a seat in the comfy 'waiting area' outside their suite and texted them to answer their door. We were thinking they may have set us up for a Gord style practical joke and we were actually at someone else's room. But it was a good reunion though when they 'finally' let us in." Deb and Gord had made a reservation for us at the hotel restaurant, Las Canarias (ranked #4 of 3,726 on Trip Advisor). After a few drinks and getting caught up with each other, we headed down to the restaurant.
We all tried the fixed price 3 course menu. Each course had a choice of 2 or three items. For an appetizer, Julie and I had the crispy and smoked Lockhart quail, Gord had the hearts of romaine lettuce and charred corn salad, Debbie had the warm spinach salad. For the main course Debbie ordered the Patagonia salmon and the rest of us had the braised beef short ribs. For desert we all tried the Caramel Popcorn Crémeux. Oh yeah, and we shared 3 bottles of Ruta 22 Malbec.
I can't speak for the Campbells but it was a great evening, and a great dinner with great friends. But wait, the night wasn't over. Gord wanted to take us to a surprise location.
Debbie and Gord on the patio along the River Walk at the Las Cararias restaurant. Julie notes "Gord, as I said is a joker and kept the poor waiting staff on their toes but they rose to the occasion. He did almost get our bottle of wine taken away as he pretended it was substandard but we were quick to not let that happen!"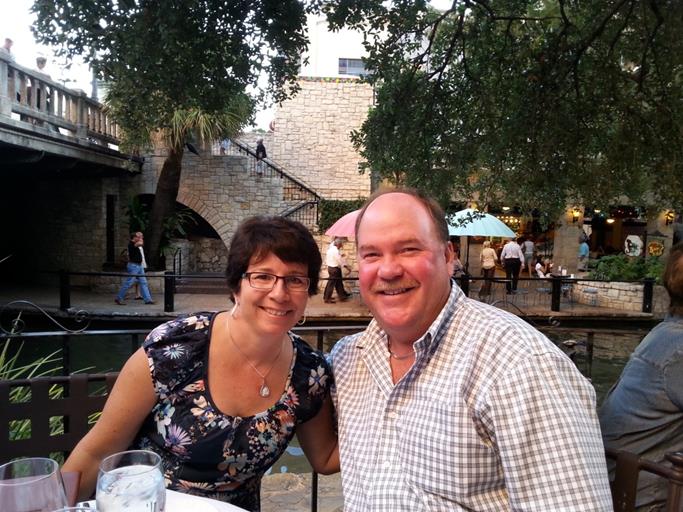 The view from our table looking up as the sun was going down.
The blurry hearts of romaine lettuce and charred corn salad. And we were only on the first bottle of wine; well for Julie and me at least. Debbie and Gord had done a wine tour that day in Fredricksburg.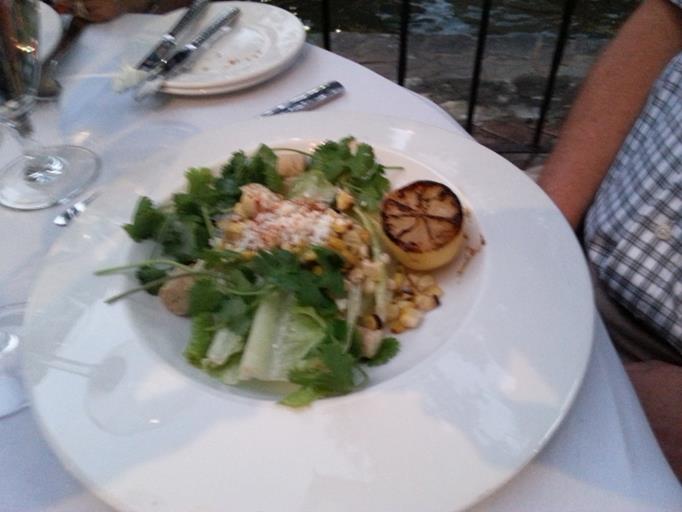 The crispy and smoked Lockhart quail. Julie notes "This was sooooo yummy. Col. Sanders eat your heart out!"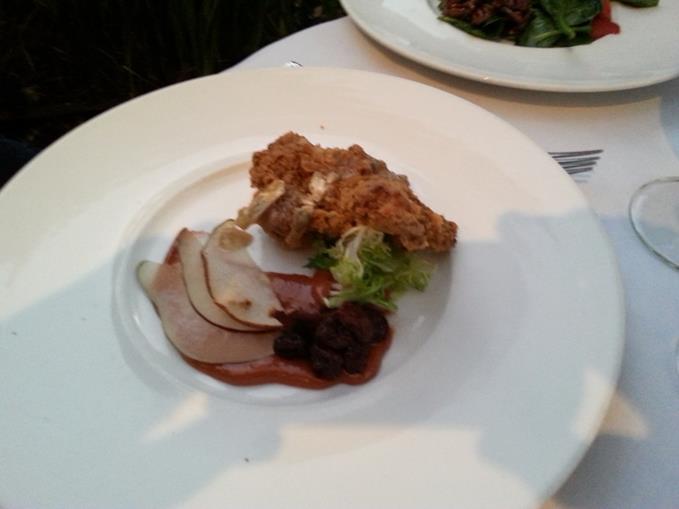 The warm spinach salad.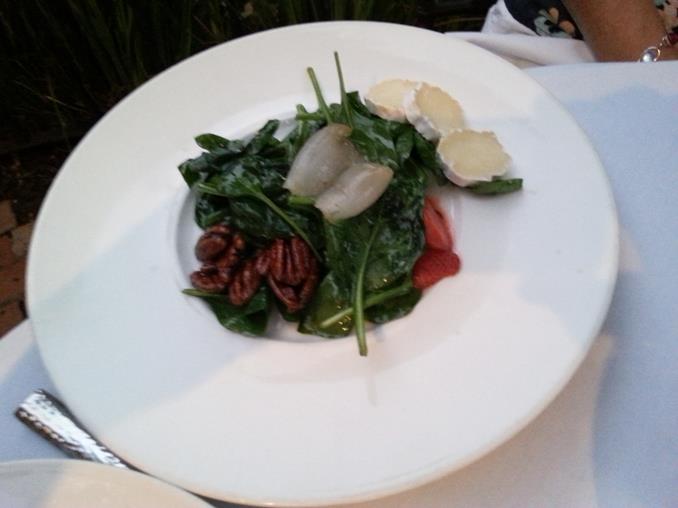 Main course.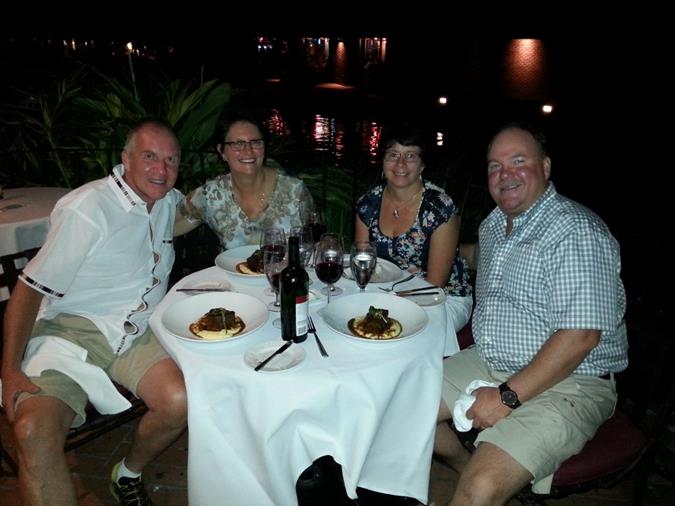 The two Julies. Julie notes "We invited this lovely lady to join us as she waited for her husband. She'd been listening to our conversation and joined in and then realized that my name was Julie the same as her's. We Julie's have to stick together. There aren't a lot of us. She was named after Julie Ann Nixon on the day that President Kennedy was inaugurated. I was supposed to be named Gem, an ancient spelling of Jim, my dad's name, but then the fairies that found me in the forest decided to go with the Gaelic spelling Jewel or Julie. It's also very possible I was named after the long row of Jewels in my family tree but I know for a fact there was a pumpkin patch and magic of some kind involved. I'm the one on the left and by the way my eyes are up here!"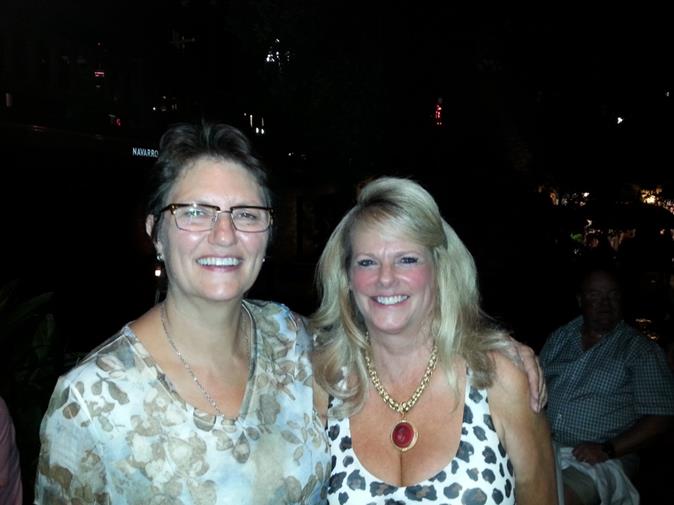 The two lab techs. Julie notes "Practically twins. I am the one with the 'Navarro St. halo."
They asked me to join their 5 piece band but I wasn't ready to come out of retirement just yet. Julie notes "These guys (sans Brad) were awesome. You can't see the fiddler here but hey played an amazing rendition of 'The Devil Went Down To Georgia.' Even snapped a string on his bow. We gave them a nice tip and they gave Brad a good tip 'Don't give up your day job, buddy!'
Third bottle of wine and desert.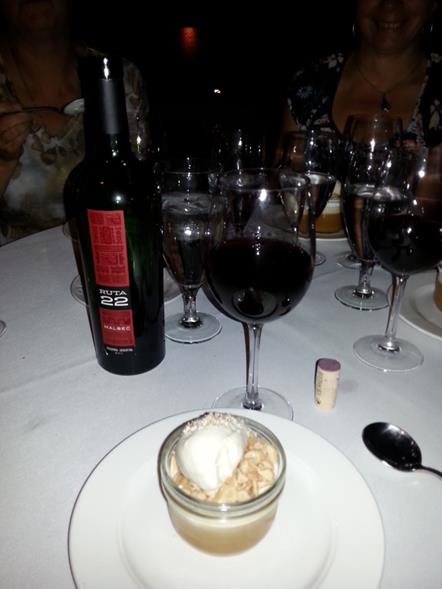 Gord wanted a second helping of desert.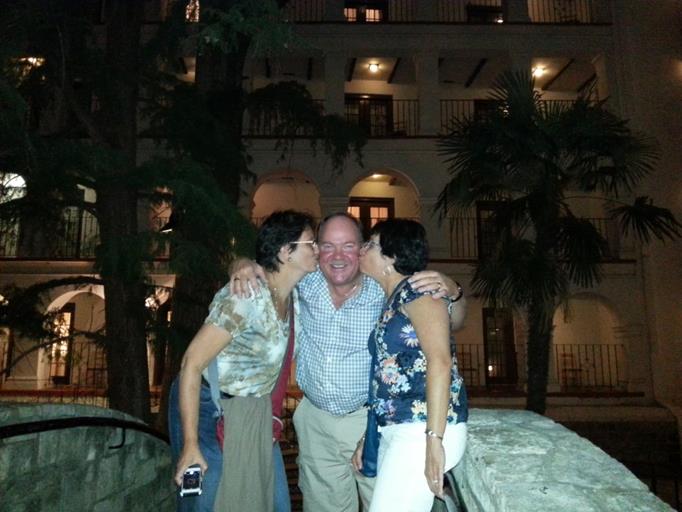 Finally, we headed to Coyote Ugly where we actually got ID'd. We did show our age though by only staying for one drink. Julie notes "Interesting premise where the paid dancers don't strip but the hope is that the patrons will. Debbie said she was game in the best interest of you bloggers out there. But despite Gord volunteering us, we were not chosen. I blame myself as most of these people had probably already seen me topless on the 'misleading' bus tour the other day. And they were probably looking for something new(er). Sorry about that Deb."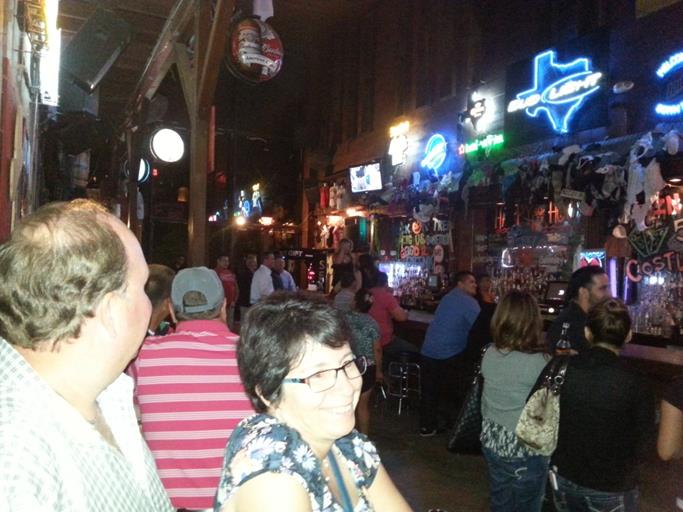 One thing is for sure; you will always have a good time when you go out with Debbie an Gord. Julie notes "Ditto that! So glad we worked through our electronic handicaps and made contact. It was a taste of home away from home. Enjoy the rest of your vacation guys. You deserve it. And because we were so intent on meeting with you we now know how to answer our phone. Probably will be a few more months before someone calls us again so I hope Brad wrote down the instructions."
…over and out the muleskinner and his sidekick
Julie notes "As mentioned above, scrubbing out the fridge gave me a whole new insight on my messiest to messy quiz as you'll see below. This list doesn't not include the stuck cardboard and stains and other sludge that seems to dwell in the dampness of RV fridge. It was not a pretty sight. Some soap, bleach, pot scrubber and elbow grease and it is much nicer in there. Until our next explosion."
Place in order of messiest to least messy the following spilled items that you found after a bumpy day on the road where the vibration can actually unscrew lids off of jars and plugs out of water bottles and crack eggs and bottoms of yogurt containers and…
Marmalade – Worst! You wouldn't think so but it starts to harden on contact. I am still chipping it out of crevices and those little pieces of orange keep showing up stuck in the weirdest places. Don't tell TerriLynne, my marmalade buddy, but it almost made me hate marmalade.
Nacho cheese sauce – YesYo Cheese. What a mess! – Seemed to liquefy on contact with other items and take on a life of its own.
Salsa – messy but much better contained in a fridge than dropped lidless on the floor which has been done other trips. But what is cheese sauce without salsa as these 2 spills happened at the same time! Woohoo! Break out the nachos and gather around the fridge.
Orange flavoured water – very long lasting and sneaky – couldn't figure out where it was all hiding – finally found it a couple days later in the plastic egg carton. All the egg shells were died orange. Almost felt like Easter. But then saw that 3 out of the dozen were broken and spoiled and most of the rest were cracked. But they were all contained in their orange loveliness. No egg messes, yet.
Sour cream – Not bad – Gloopy and gloppy but generally stays in one place
More sour cream (remember we kept buying it thinking it was coffee cream) Worse than the other time – Stayed mostly on the container on the shelf below, but that container fell out on the carpet when the border guard was checking our fridge. Not on his shoes luckily.
Blueberry yogurt – sneakiest – kept finding little dribbles here and there sporadically, not really knowing what it was. Then finally realized that the bottoms of all of the individual containers had dribbly cracks in their bottoms, but then who doesn't?

Horseradish sauce – probably was the easiest – it was on the bottom shelf so no drip through, but did not try to salvage it. I think it had old marmalade stuck in it.

Large 20 L jug of water that we didn't secure because we thought it was too heavy to fall over – Category all its own – BIG flood but the floor got washed, along with the rug, clothes and other things that had fallen into the flood as we were bouncing along but it answered Brad's question at a gas station stop of 'why is there water running down out of the truck'. We were drying out towels and clothes and rugs for days in the humid climate. Lesson #103 "If it might fall over then it WILL fall over. Especially if there is a chance of making a big mess when it falls."